Word Count:

4500
Summary: In love, time is relative, until they run out… Regulations limit time digger Ish and time cop Kabal, born years and worlds apart, to two dates a year, making every date precious. But when Kabal announces his retirement at their tenth anniversary, what should have been a happy occasion might be their last night together. Previously appeared in Storm Moon Press' Sweethearts & Seduction anthology
A Time Traveler's Valentine
Word Count:

84610
Summary:
Praise for Daughter of Maat:
"Sandy Esene has written a real page-turner. It's Dan Brown goes to Egypt with a delightful dash of Harry Potter thrown in. A wonderful read and she's got the Egyptology right!"—Bob Brier, Author of
The Murder of Tutankhamen
"If you like Egyptian Mythology and the excitement of Indiana Jones adventures, this book is for you!"— Pat Remler, Author of
Egyptian Mythology A to Z
Alex Philothea's quiet life as a research archeologist changes forever when she is tracked down by a secret society, the Keepers of the Holy and Noble Maat. Alex's father died years ago during an excavation in the remote Egyptian desert. The circumstances of his death have always been shrouded in mystery. Now the leader of this obscure organization promises to unlock the answers she has been searching for; the only thing she must do is save humankind.
Follow Alex into a world of myth and magic where the lines of reality blur at every turn.
Daughter of Maat
Word Count:

41000
Summary: Terror lies waiting in the jungle island of Flores. Terror in the form of cryptids called ebu gogo. Terror for the cryptozoologists who dream to discover them. The one thing Lewis Dare wants more than anything in the world is to discover the ebu gogo - three-foot-tall cryptids in the genus of Homo rumored to live in Indonesia. But Lewis Dare's ex-wife Linda, wanting to beat the famous cryptozoologist at his own game, has rushed to Indonesia in order to discover the ebu gogo before he does. On the Indonesian island of Flores, their dream to discover a cryptid becomes a nightmare when the ebu gogo turn out to be primitive, savage, sex fiends. Warning: Ebu Gogo has repugnant sex, disgusting nudity, nauseating violence, unlikable characters, deranged humor, and cruelty to furries. It's a lot of fun.
Ebu Gogo
Word Count:

100000
Summary: Psychic suspense: "Welcome to Paradise," archaeologist Susan Dunne hears on arrival at the Caribbean island to research petroglyphs and unravel the mystery of her brother's drowning there.  But this sunny tourist paradise conceals dangerous secrets – violent native unrest, a sunken treasure guarded by legendary Jumbies, and a bloodthirsty cult. She's more troubled by her own psychic visions of a shadowy murderer. Susan literally dives into her investigation of the sunken treasure ship where John drowned, and its link to the photo of underwater petroglyphs he'd sent before his death.  To find the truth, she must work with her number one suspect – Vic Manden, the salvage expert who was working the site with John.  Resisting her attraction to the unpredictable combat vet Manden, Susan is soon in over her head in more ways than one. The only way through the murky intrigue is to dive deeper into the tantalizing clues of her visions.
Islands
Word Count:

98000
Summary: The Big Cinch embeds readers in a magic-laced St. Louis, once known as Mound City, home of the indigenous Americans' Mississippian ancestors. Little evidence of their civilization survives in 1924, apart from the popular Piasa monster image, invoked to sell plows as well as ornament civic pageants. Sean Joye, a recent Irish immigrant, tried to avoid fae attention and ignore his magical abilities since childhood. A young veteran of 1922's Irish Civil War, he aims to atone for his assassin past and make a clean life in America.  Sean helps a wealthy, powerful, magic-dabbling family—founders of the most exclusive club in town, the Piasa Lodge--with a discreet inquiry or two. Sexually involved with a secretive, high-society flapper, he falls hard for her fiancé, a Great War flying ace with a few secrets of his own. But Sean asks the wrong questions about a kidnapped toddler and missing Native American artifacts and becomes a suspect in his lover's bludgeoning and a tycoon's murder. Can he master the paranormal abilities he's rejected for so long in time to protect the innocent and save his own skin?
The Big Cinch
Word Count: Information not available
Summary: They think they're ready for this mission. They're wrong. The Terran Federation is finally at peace and ready to begin serious exploration. The TFS Pike is the newest ship in the Fleet, purpose-built for deep space missions. Four kilometers long, with a crew of four thousand, she's well-equipped for the years ahead. If only her crew was as prepared. Ensign Nicole Crozier, the former Premier of the Luna Free State, has left politics behind to pursue a career in the Fleet. But her stint as the Artemis Minister of War has landed her in Tactical instead of Science, her passion, and she's not happy about it. Still, she's been promised a chance to switch tracks, so for now she'll deal. Everything changes when Nicole discovers a rogue planet, and she's given command of the landing party. She's irritated her superior but that's the least of her problems when an ancient alien artifact emerges from the ice. As Nicole and her team explore the interior, the planet and her team vanish. The crew of the Pike must use all the tricks and tools available to get their missing people back. When they finally do, Nicole brings aboard a discovery which could change the course of history. Or end it. If you're a fan of Star Trek: Voyager, Battlestar Galactica 2003, Interstellar, or 2001: A Space Odyssey, then this is for you.
The Ghosts of Tantor
Word Count:

115,000
Summary: SECOND EDITION When Captain Rafe Lancaster is invalided out of the Britannic Imperium's Aero Corps after crashing his aerofighter during the Second Boer War, his eyesight is damaged permanently, and his career as a fighter pilot is over. Returning to Londinium in late November 1899, he's lost the skies he loved, has no place in a society ruled by an elite oligarchy of powerful Houses, and is hard up, homeless, and in desperate need of a new direction in life. Everything changes when he buys a coffeehouse near the Britannic Imperium Museum in Bloomsbury, the haunt of Aegyptologists. For the first time in years, Rafe is free to be himself. In a city powered by luminiferous aether and phlogiston, and where powerful men use House assassins to target their rivals, Rafe must navigate dangerous politics, deal with a jealous and possessive ex-lover, learn to make the best coffee in Londinium, and fend off murder and kidnap attempts before he can find happiness with the man he loves.
The Gilded Scarab
Word Count:

110,000
Summary: Rafe Lancaster is reluctantly settling into his role as the First Heir of House Stravaigor. Trapped by his father's illness and his new responsibilities, Rafe can't go with lover Ned Winter to Aegypt for the 1902/03 archaeological digging season. Rafe's unease at being left behind intensifies when Ned's fascination with the strange Antikythera mechanism and its intriguing link to the Aegyptian god Thoth has Ned heading south to the remote, unexplored highlands of Abyssinia and the course of the Blue Nile. Searching for Thoth's deadly secrets, Ned is out of contact and far from help. When he doesn't return at Christmas as he promised, everything points to trouble. Rafe is left with a stark choice – abandon his dying father or risk never seeing Ned again.
The God's Eye
Word Count:

111,600
Summary: **First Place Winner 2019 Rainbow Awards: Best Gay Historical Romance. ** **Third Place Winner 2019 Rainbow Awards: Best Gay Book.** SECOND EDITION: Something is stalking the Aegyptian night and endangering the archaeologists excavating the mysterious temple ruins in Abydos. But is it a vengeful ancient spirit or a very modern conspiracy… Rafe Lancaster's relationship with Gallowglass First Heir, Ned Winter, flourishes over the summer of 1900, and when Rafe's House encourages him to join Ned's next archaeological expedition, he sees a chance for it to deepen further. Since all the Houses of the Britannic Imperium, Rafe's included, view assassination as a convenient solution to most problems, he packs his aether pistol—just in case. Trouble finds them in Abydos. Rafe and Ned begin to wonder if they're facing opposition to the Temple of Seti being disturbed. What begins as tricks and pranks escalates to attacks and death, while the figure of the Dog—the jackal-headed god Anubis, ruler of death—casts a long shadow over the desert sands. Destruction follows in his wake as he returns to reclaim his place in Abydos. Can Rafe and Ned stand against both the god and House plots when the life of Ned's son is on the line?
The Jackal's House
Word Count:

81,000
Summary: Explore the birth of a new world! Journey through time and space to the intricate biosphere of Juno, where three species have been birthed by the gods. First the Kuhifadi, inheritors of sun magic, able to do great deeds with magic stored in their bodies. Second the fearsome Uchafumlaji, technological savants who live in the depths of the ground. Third the weird Ngisikaa, a species uplifted from animals through communal memories. Small decisions and single individuals will affect the tide of history. Learn of the first Ngisikaa to meet death, whether a Kuhifadi will make the sacrifice to become a mage, and if an Uchafumlaji can build a bridge to the past. These stories and more will create The World of Juno! With content by: Nick Bright and Brent Lambert, C.J. Hosack, Nate Battalion, Daniel Eavenson, Malcolm F. Cross, Katie Cordy, William C. Tracy, N.L. Bates, Reese Hogan, Cedan Bourne, Robin C.M. Duncan, and X.M. Moon Genres: Science Fiction / Fantasy / Adventure / LGBT and Non Binary Market: Adult
The World of Juno
Word Count:

80000
Summary: Uncover the startling truth before time runs out in this complex search for an ancient treasure. Alex is a former basketball player who has always been able to bend time. These days he teaches physics and parents three quirky children alongside his unusual wife. When the administration at his high school wants to resume its connection with organized hate groups, Alex can no longer remain the quiet bystander. He must stand up and fight for what he believes is right. Just when he has his hands full at school, Alex is drawn into a treasure hunt. An old high school rival and a handful of his grad students lost an obsidian box years ago containing partial directions to a big discovery. The box has mysteriously reappeared and Alex's code-cracking skills can help locate hidden relics containing remaining clues to the treasure. But can he do it fast enough to beat another unknown team of treasure seekers? As both of Alex's situations grow more dire, it becomes clear he must tap into the abilities he left behind. Can he manipulate time for the people and causes he cares about most?
Twists of Time
Word Count:

73000
Summary: "Your bullets can't kill me. I'm already dead. Inside and out." When his fiancée is brutally murdered on Valentine's Day, Ash Corvus is unwittingly plunged into the nightmarish world of the Arpadeem, or as the movies call them… Vampires. What begins as a personal quest for revenge becomes a struggle for the fate of the city itself as Ash's search takes him into Cedar Rapids' secret criminal underworld. Ash must cast off his humanity and become a monster himself if he hopes to bring vengeance upon the monster who murdered his love… the man with the scar. A dark, violent thriller from the author of The Weller and War of the Worlds: Goliath!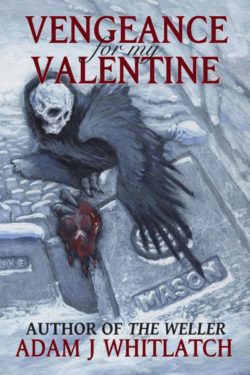 Vengeance for My Valentine
Word Count:

102000
Summary: Kerys Loring hopes an expedition to a distant alien ruin will make her career―assuming she lives long enough to still have one. Her last team made a significant find, but her bosses took all the recognition and grant money. When Avasar Biotechnology appeals to her unique combination of experience and desperation, she jumps at the chance, even if it means leaving her little brother behind for a three-year trip. At least she'll be thousands of light-years away from her abusive ex. Within minutes of arrival, her excitement shatters at the sight of her ex already there. Clinging to the hope his position with botanical sciences will keep him away from her team, she forces herself to continue. On her first day in the ruins, she makes a profound discovery… but something goes terribly wrong. Her domineering ex soon becomes the least of her problems as an unstoppable alien threat plunges Wayfarer Outpost into chaos. Trapped in an isolated facility with death stalking every corridor, Kerys finds herself up against an even more insidious threat than ancient aliens: the truth.
Wayfarer: AV494