Word Count: Information not available
Summary: Welcome to the last of the great flying Cities! It's 9172, YE (Year of the Empire), and the future has forgotten its past. Soaring miles over the Earth, Autumn, the sole surviving flying city, is filled to the brim with the manifold forms of humankind: from Human Plus "floor models" to the oppressed and disfranchised underclasses doing their dirty work and every imaginable variation between. Valerius Bakhoum is a washed-up private eye and street hustler scraping by in Autumn. Late on his rent, fetishized and reviled for his imperfect genetics, stuck in the quicksand of his own heritage, Valerius is trying desperately to wrap up his too-short life when a mythical relic of humanity's fog-shrouded past walks in and hires him to do one last job. What starts out as Valerius just taking a stranger's money quickly turns into the biggest and most dangerous mystery he's ever tried to crack – and Valerius is running out of time to solve it. Now Autumn's abandoned history – and the monsters and heroes that adorn it – are emerging from the shadows to threaten the few remaining things Valerius holds dear. Can the burned-out detective navigate the labyrinth of lies and maze of blind faith around him to save the City of Autumn from its greatest myth and deadliest threat as he navigates his feelings for his newest client, the handsome golem Alejandro?
A Fall in Autumn
January 1, 2019
Word Count:
75000
Summary: Sleepwalking may be the death of me… again. I thought things would get better now that I no longer had assassins after my head. Although it's fun eating people who misgender me, I'm just so thirsty all the time. And until I improve, I'm barred from seeing Jack, my were-jackal boyfriend. My babysitter, I mean 'vampire mentor,' isn't much help either. As if things weren't bad enough, the amulet that started this mess is whispering to me. Calling me somewhere. I think it might be my mysterious maker. Judging by the trail of bodies they're leaving across the globe, I don't want to know what will happen if I can't keep resisting.
Bloodline of the Ancients
July 13, 2022
Word Count:
125662
Summary: When humans forsake the temples, the gods need to find other employment. Hades opens Brandywine Investigations after his divorce and his subsequent move to the modern world. If he was hoping for boring infidelity cases and lost dogs, he's sorely mistaken as murder and mayhem find his agency and his extended family at an astonishing rate. Includes: Canines, Crosshairs & Corpses: Brandywine Investigations #1 No Enemy But Time: Brandywine Investigations #2 Dragons, Diamonds & Discord: Brandywine Investigations #3
Brandywine Investigations: Open For Business (BI 1-3)
April 27, 2016
Word Count:
72000
Summary: Vampires and werewolves live long lives. The Sleepless City saga might have ended but the story continues… Welcome to the Vampire Guard, where legend and myth meet science and technology.   Vampires make the best spies. Throw a smart-mouthed werewolf in with three vampires, mix well, and The Vampire Guard's newest team is bound to become one of their greatest assets. Super spies with a full range of skills. Warrior, hacker, thief, and scientist.  They get in, do the job and get out before the bad guys ever know what hit them. Forge, Blair, Declan, and Lucas are thrust into the world of high-tech spies and top-secret espionage conspiracies. Recruited into the world's most elite and secret organization with one singular mission. Protect those who can't defend themselves from ruin. Life becomes complicated when an impending Presidential visit to their town, Boggslake, throws them headlong into the world of the vampires and werewolves of the Vampire Guard. Very quickly they uncover and confront a werewolf terrorist organization known as the Qiguan. Together they must thwart an assassination attempt on the open waters of Lake Superior while tracking a previously unknown biological weapon controlled by the Qiguan—a weapon which may very well mean death for one of them.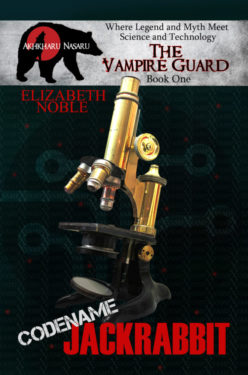 Code Name Jack Rabbit
January 12, 2021
Word Count:
79,025
Summary: Solving mysteries is her business. Finding love is her dream. Will combining the two get her killed? Victorian Era England. Stetson revels in being unconventional. So when society shies away from her independent nature, the bold woman creates an imaginary boss and opens her own detective agency. And her keen observational skills, convincing disguises, and Holmesian methods quickly bring in a string of tough-to-crack cases. Struggling to squeeze a personal life in around a series of hazardous investigations, Stetson worries she'll never find a woman of like-passions. But with her heart set on true love despite the risk, she carries on hunting for the perfect relationship. Will her clever escapades lead to death… or delight? Daring Duplicity: The Wellington Mysteries, Vol. 1, Adventures of a Lesbian Victorian Detective is a collection of five sequential novellas, each encompassing its own exciting mystery while furthering the story of Stetson's life in London. If you enjoy crime dramas, Victorian era fiction, or a sweet lesbian romance, then you'll love award-winning author Edale Lane's Daring Duplicity. Order yours today!
Daring Duplicity
January 19, 2022
Word Count: Information not available
Summary: Charlie Harrington not only sees the dead and speaks with them, he can make them real. Lucky for him, because the love of his life, Ethan, isn't among the living. While their relationship is unusual, things are good between them until Charlie is accused of murder and Detective Daniel Briggs walks into his life. Then, for the first time in years, Charlie is attracted to someone alive. Ethan knows he should step aside and let Charlie live his life, but he just can't give Charlie up--even if staying with Charlie may eventually kill him.
He Speaks Dead
July 20, 2014
Word Count: Information not available
Summary: Reva and Ansee face fresh threats as a new evil is imported into Tenyl and threatens the city with an undead plague. Constable Inspector Reva Lunaria's life is looking up. She's managed to put two groups of unruly adventurers in jail and she gets word that her boyfriend, Aavril, has just arrived in port. She is looking forward to a relaxing dinner, a present, and maybe some time getting reacquainted after Aavril's long absence. But Aavril's ship has delivered more than a cargo of spices and exotic merchandise and a new evil begins to take root within Tenyl. Reva's romantic evening is spoiled by news of a double murder. It should be a simple case, except that the victims have disappeared. Reva's investigation barely gets started before Lord Constable Inspector Betulla contrives a way to get Reva suspended. With Reva temporarily off the force, the murder investigation is given to Constable Inspector Pflamtael, who is looking to find the fastest resolution to the case. Meanwhile, Seeker Ansee Carya investigates what appears to be a simple missing person case, until he discovers that the missing people – including the two murder victims – have become zombies. Now, Reva, with the aid of a halpbloed cleric, must work from outside the constabulary to figure out who is creating the undead, and how to stop the creatures before all of Tenyl becomes infected.
Joy of the Widow's Tears
June 2, 2020
Word Count: Information not available
Summary: Death comes for us all. But sometimes it comes early, because it's sent. Everything seems to be going great in Christopher's world. Newly married and promoted, he's even hammered out the dents in his relationship with his brother Marley. Then a death in the family shakes the foundations of his world. When the word comes down that it was murder, then only the best forensic investigator of the Chiron Defense Force will do to assist the Travellers in finding the culprit. And that happens to be Marley. When the investigation begins to lead to one of their own, however, the question changes: was it murder, or treason?
Mercury
May 31, 2019
Word Count:
53000
Summary: Years ago, empath Elijah Long made a bad decision, and he is still paying for it. He's kept hidden from his abusive werewolf ex for years, but when he wakes in a dark room, cuffed to a wall, he knows he's out of luck. Elora, his psychic sister, will come for him, he just has to endure long enough to give her a chance to find him. Captain Kol Jaecar of Rockshade's Paranormal Investigations Department detests slow times at work, so when Elora wants time off to search for her brother, Kol treats it as if it's a real case and starts an investigation. What he assumed was a brother not picking up when his sister called turns out to be something else. Elijah experiences people's emotions so strongly, it prohibits him from living a normal life. Spending time in the city is out of the question, yet it's where Elora takes him once she finds him. Elijah does his best to keep his distance, especially from the growling man Elora brought to his rescue. Elijah will never make the mistake of getting close to a shifter again. The moment Kol smells Elijah, he knows he's his mate, but how to get close to someone who doesn't want to be near you? The man who abused Elijah is still on the loose, and Kol calls in the entire team to hunt him down. But how are they to keep Elijah safe when he can't be around people? And how will Kol stay sane if he can't touch his mate?
Mind Scrambler
SALE
January 30, 2021
Word Count:
105000
Summary: RETURN TO THE MEAN STREETS OF AUTUMN Valerius Bakhoum is dead and buried. Too bad he's still flat broke and behind on the rent. Unsure what to do with himself—and of who he is—Valerius resumes his career as a detective by taking up the oldest case in his files: where do the children go? Throughout his own youth on the streets of Autumn, last of the Great Flying Cities, Valerius knew his fellow runaways disappeared from back alleys and other hiding places more than anyone realized. Street kids even had a myth to explain it: the Gotchas, who steal urchins away in the night. With nothing but time on his hands, Valerius dives in head-first to settle the question once and for all and runs smack into a more pressing mystery: who killed one of Valerius' former lovers? And do they know Valerius is still alive? Stalk the shadows of Autumn's hidden places by Valerius Bakhoum's side as he shines a light on secrets both sacred and profane, ones with shockingly personal connections to who he was—and who he might become. New Life in Autumn is the sequel to the Manly Wade Wellman Award-winning A Fall in Autumn.
New Life in Autumn
June 9, 2022
Word Count: Information not available
Summary: In a city whose gritty underbelly might try to eat you... weird creatures that normally inhabit band dreams roam the streets. Lovecraftian horror have day jobs, things that defy imagination are running convenience stores and fast food joints. Twila Matthews, an underpaid shapeshifting private detective is hired on a simple missing person's case. But when she finds her target dead, an unraveling conspiracy leads Twila and her crew into the darkest parts of the city in direct confrintation with the most evil and diabolical of monsters. Published by Black Bed Sheet Books
Night Shall Overtake
June 1, 2014
Word Count:
48821
Summary: More than fifty years before Leah Corbyn became a werewolf, Amélie Orne was cast out of werewolf society, manipulated into taking the blame for crimes she did not commit. After living for so long on the run as a Feral wolf, she found unexpected comfort and companionship from Leah and her lover Amy Oakley. As they grow closer, can she dare to hope for a real future together with them after a lifetime of betrayal and misery? Amélie has allies to stand with her now, but it will mean uncovering secrets long buried, and reopening dangerous old wounds...
Outcast's Song
April 23, 2022
Word Count:
95,000
Summary: Ian Trahan is a science prodigy with a genius streak like no other. Growing up in New Orleans under the strict guidance of a Deacon with a dark side, it leaves no question as to why he chose the life of crime. His understanding and use of DNA, computer hacking and looking like the guy next door, compiles a terrifying character that you will never forget!  Magda Volkov, a native Russian, works for the BAU division of the FBI.  Her clairvoyant ability is something that her director has learned to trust and use to their advantage, especially with a seeming "Ghost Killer" at hand. The deeper she gets into his psyche, the more they are both surprised when their strange vivid dreams begin to intertwine. Childhood experiences shape both the killer and the FBI agent who urgently wants to stop the grisly murders. Delve into the surprise twists and turns of this page turning thrill ride. The occasional comedic relief provides you with a brief release of the terrorizing heart palpitations!  This series is not for the faint of heart. Personas is the first in a new thrilling psychological crime series to come. Log into www.lauralollie.com to subscribe for the updates on the releases of the books to follow.
Personas Series
June 6, 2020
Word Count:
68810
Summary: Variant children are vanishing at an alarming rate. It will take a uniquely mismatched pair of trackers to untangle a web of conspiracy and misdirection to find them. In his isolated cabin, variant Damien Hazelwood avoids human contact as much as possible to prevent attacks of blind berserker panic. But his rare talent as a locator makes him the go-to contractor for tricky missing person's cases and when agents bring him a troubling contract involving missing variant children, he finds it impossible to refuse. Licensed tracker Blaze Emerson can't help being irritated when he's expected to follow the strange, twitchy locator's lead on his latest case. He works alone, he's damn good, and as a variant sparker, he has both the fire and the firepower to take on anything out there. Though he has to admit there's something intriguing about a man who can find people with his brain. ​ With vastly different temperaments and backgrounds, Damien and Blaze need to negotiate quickly how to work together if they're going to crack this case. Add in the sudden appearance of Blaze's outlaw ex, the perils of tracking in the wilds, and a maddening lack of discernible motive or method, and they soon find themselves in as much danger as the kids they're trying to rescue. Variant Configurations takes place in a future Earth where humanity is reclaiming its spot in a gradually healing world. This book contains mentions of past abuse, action-adventure style mayhem, and the beginning sparks of a slow burn, series-spanning relationship.
Rarely Pure And Never Simple
June 28, 2022
Word Count: Information not available
Summary: 1899 years after the Catastrophe, Bridges is run by the Mob. As its steam-driven infrastructure fails, a new faction rises. Can she stop them? The Red Dog Conspiracy follows the story of 22-year-old small-time private eye Jacqueline Spadros beginning from her first major case: the missing little brother of her best friend, whose murder ten years before in front of her still haunts her nightmares. The only clue? A Red Dog stamp across the alley from where the boy was last seen. Dodging the man - seemingly mad - who has publicly threatened her life, placating her brutal, sadistic father-in-law, and dealing with her feelings about her ex-lover, while being married to one of the city's biggest drug lords: Jacqui is a busy woman. Her life is about to get much busier. From the very first page, Jacqui is dragged into a web of lies, secrets, and betrayals which both endangers her life and the lives of those she loves. Dark, gritty, violent steampunk crime fiction which keeps you guessing to the very end. If you like crime fiction, noir, Victorian/historical, gritty steampunk, psychological thrillers, hardboiled mystery, hard sf, dystopian, or mafia romance you will love this set. This digital box set comprises Act 1 of a 13 part serial novel. Included in this set: The Jacq of Spades: Part 1 of the Red Dog Conspiracy The Queen of Diamonds: Part 2 of the Red Dog Conspiracy The Ace of Clubs: Part 3 of the Red Dog Conspiracy If made into movies, this set would be rated R for bad language, graphic violence, smoking and alcohol use, child kidnapping, teenagers murdered (a serial killer is on the loose), and sexual content (Jacqui is married, after all). Welcome to the Family.
Red Dog Conspiracy Act 1
October 10, 2017
Word Count:
82516
Summary: An inhabited planet is not what an interplanetary mining company hopes to find while in search of rare mineral deposits, but the low-tech natives should be won over by a few 'miracles', right? Emily Nandi, the mining company's legally mandated xenologist, isn't so sure. The planet's social structures are complex, fascinating and frustrating – she advocates research and caution rather than the seat-of-the-pants first contact the company president wants. Investigator Shadow is convinced ghosts are watching him until a fellow investigator disappears, plucked from his harduk's back without a trace. When he reappears at the city gates, naked, half-frozen and ill, he brings back a harrowing tale of strangers on a ship high above the planet. From this shaky beginning, suspicion and misunderstanding fuel one culture-clash driven disaster after another, punctuated by apocalyptic prophesies from the oracle, Telluris. This is no way to get to know one's long-lost cousins from Earth.
Rediscovery
March 23, 2016
Word Count: Information not available
Summary: Samantha Rain thought she was a normal woman approaching forty. Until she gets bitten by a hellhound puppy and finds herself thrown into a hidden supernatural world where saying the wrong thing could have dire consequences. With her new hellhound puppy by her side, and the captivating Lilith teaching her the ropes, Sam soon puts her detective training to use and starts uncovering the secrets of the Nox. - The Samantha Rain Mysteries Complete series includes The Case Of The Night Mark, The Case Of The Pixie Deal, The Case Of The Ruby Curse, and The Case Of The Puppy Academy. It is an urban fantasy mystery series with a slow burn f/f romantic subplot and a hellhound puppy.
Samantha Rain Mysteries
July 16, 2021
Word Count: Information not available
Summary: Ever wish things were different? Ivy Velasquez did, so she became someone else. In the 3D virtual world Marionette City, you can be anything you want — but everyone still knows who you are. Driven by her desire for a new life, Ivy takes her future in her hands when she makes another identity for herself. A brilliant designer, Ivy works for one of the huge firms which control the online system the world relies upon for both business and pleasure. But one day, Ivy discovers that her alternate self, Reuben Cobalt, had been murdered. Since alternate identities are forbidden by the firms which control access to the nets and to M City, Ivy has nowhere to turn — until she finds Andersson Dexter. Part private eye, part vigilante and part cop, Dex sets out to uncover Reuben's killer. Since the firms control almost every aspect of life, including law and order, justice for average people comes only at the hands of the outlaw organization to which Dex belongs. Self Made is a murder mystery set in a vision of a future that seems to lurk just over the horizon. But above all, it is a story of how people strive to control their own destinies, and how that desire affects them and the people around them in ways they could never imagine.
Self Made
December 1, 2009
Word Count:
139579
Summary: When things begin to go wrong, they have a habit of going spectacularly wrong, Lord Telluris Marat discovers. Robbed of his visions and his ability to prophesy, he still has his will to fight and his ability to command an army. But the enemy he faces now commands weapons that rival his worst nightmares. Emily struggles with her own visions, and finds herself caught between worlds. Jake Montagna, the president of the interplanetary mining company, has gone off the deep end and will stop at nothing to get what he wants. If only they were in broadcast range of the authorities, Emily could do something. But Arhanna is far out of normal shipping lanes. To stop Jake, she'll have to do it herself.
Shadow and Light
May 18, 2016
Word Count:
99837
Summary: Race, an ex-cop private eye in a world where most people are conditioned so that they cannot commit an act of violence, must release a savage artificial personality, Ralf, that was implanted in him when he did a deep-cover mission as a police officer, to rescue Astra, the woman he secretly loves, from the crime syndicates who have used a drug to turn her into a sex slave. Race succeeds at the cost of the crime syndicates discovering that Ralph is still alive. The syndicates want their assassin back and think nothing of toppling Race's sanity to achieve their ends. Can Race maintain control of his body? Freed of the drug's effect, will Astra return his affections? And what of Ralph, can a sociopath learn to love and what changes might that bring?
Slaves of Love
June 15, 2009