Word Count:

80000
Summary: Beware the demon prince who's sick and tired of running. Federico Duomo is dead, to begin with. But this is only the first bit of Shax's problems resolved. Powerful crime lords and an obscenely wealthy oligarch are still determined to destroy him and his crew, and Fluffy's original owner may be coming after the Brimstone now, too. It would be splendid to be able to take on one thing at a time. Adding to the external conflicts, life on board the Brimstone has only grown increasingly stranger. Shax has no idea what to do with the seven partly human children that Heckle rescued from slavers. Heckle himself has grown short-tempered, even with Mac. Someone from Julian's past catches up to them on Barbary. It's enough to put a demon off his cinnamon buns. Shax isn't panicking, though. In fact he's had it up to his handsome royal nose with the people he loves having to live in constant fear. The fox has turned at bay and the Brimstone's enemies are in for a shock. The demon prince of thieves is coming for them.
A Fine Mess: Brimstone 7
Word Count: Information not available
Summary: How much must one sacrifice for the sake of friendship? Lady Claire Trevelyan has had to deal with betrayal before, but none is quite so painful as the belief that Gloria Meriwether-Astor deserted her and her friends and left them to die under the waters of Venice. But when she learns that Gloria has vanished, can she do the right thing and attempt to find the missing heiress? Of course she must. But this does not sit well with the gentlemen in her life, who had every reason to believe she planned to settle down at last. Suddenly Claire finds herself without a career, a fiancé, or the confidence in her own abilities that has carried her this far.  Worse, Captain Ian Hollys is suffering from the megrims and cannot seem to recover from his dreadful experience as a prisoner. Alice's dream of captaining her own ship in England is scuttled. Tigg is struggling with a revelation that has turned his life upside down—and may result in a betrayal more harrowing than any the flock has yet seen. Will the bond of friendship that has brought Claire and the flock together be the very thing that separates them for good? Or will love tip the balance and prove that what really defines a gentleman of means is none other than a lady of resources?
A Gentleman of Means
Word Count: Information not available
Summary: Will a daring rescue put a wedding and a future at risk? Lady Claire Trevelyan and renowned scientist Andrew Malvern are looking forward to domestic felicity in London—until a desperate and fugitive Alice Chalmers turns up seeking help. Her ship has been seized in the Duchy of Venice and worse, her navigator Jake has been thrown into the dreaded underwater prison from which no one ever escapes. Even the innocent. Lady Claire is about to embark on her career in Munich at the Zeppelin Airship Works. The Mopsies are beginning their final year at school. Andrew Malvern begins to despair of his fiancée ever choosing a wedding gown. But when help is denied from official quarters, the close bonds of friendship and shared adventure demand that they set sail in the airship Athena. There is a brooding evil waiting for them in Venice … an evil that would put an end to the flock's interference once and for all. With an innocent friend's unexpected return and a pair of secret agents who don't want their help … the situation clearly calls for the inner resources of a lady of integrity.
A Lady of Integrity
Word Count: Information not available
Summary: You can choose your friends, but you cannot choose your family ... or can you? Now sixteen, Lizzie and Maggie are educated young ladies who have not been called "the Mopsies" in years … except by their guardian, Lady Claire Trevelyan. With the happy prospect of choosing their own future, the girls can leave their dodgy past behind, and Lizzie can bury her deepest childhood memories where they can do no harm. But is she ready to be separated from Maggie and become the woman she believes she was meant to be? Or will old habits tempt her into defiance—like picking the wrong man's pocket—and plunge her into disaster? But sometimes disaster leads to dreams coming true—dreams of family and a place in the world. Lizzie must decide whether her true family is the one she was born to … or the one she chose long ago when the Lady of Devices steamed into their lives …
A Lady of Resources
Word Count: Information not available
Summary: You can choose your friends, but you cannot choose your family … or can you? Under normal circumstances, Maggie and Lizzie would be delighted to meet their long-lost relatives and be reunited with those who had believed them dead, but when are the Mopsies' circumstances ever normal? With her half-brother Claude Seacombe, Lizzie travels to Cornwall to meet her mother's parents. Maggie goes along, too, since she is part of the family … or so one might assume. But the more time she spends in her grandparents' clifftop mansion, the more she realizes that something is not right, and the events surrounding her own mother's death are more mysterious—and dangerous—than anyone alive suspects. For an old nemesis is preying on the weak and proud, and she cannot stand by and watch. Maggie must straighten her spine, plunge into danger for Lizzie's sake … and prove that no matter the name she bears, she is first and foremost what the Lady of Devices believes her to be … a lady of spirit.
A Lady of Spirit
Word Count:

161705
Summary: An underground city, built centuries ago to ride out the devastating heat. A society under attack. And a young solar engineer whose skills may be the key to saving her city…if she doesn't get herself killed first. When Jossey was ten, the creatures of the aboveground took her brother and left her for dead, with horrible scars. Now, years later, she's a successful solar engineer, working to keep her underground city's power running, but she's never really recovered. After she saves dozens of people during a second attack, she is offered a top-secret assignment as a field Engineer with Patrol, but fear prevents her from taking it…until Patrol finds bones near where her brother disappeared. She signs on and finds herself catapulted into a world that is far more dangerous, and requires far more of her, than she ever imagined. The creatures and the burning heat aboveground are not the only threats facing the City, and what she learns during her assignment could cost her her life: one of the greatest threats to the City may in fact lie within. With thousands of lives at stake, can she act in time? Aestus is an adult dystopian science-fiction series set centuries after climate change has ravaged much of Earth. An epic story of vengeance, power, shifting loyalties, and survival that looks at just how far people will go to protect what they love, brought to you by science writer S.Z. Attwell, Aestus paints a picture of a world in which far too little has changed. 
Aestus, Book 1: The City
Word Count: Information not available
Summary: It's her first job...and it's already going wrong. Freshly graduated from university with a degree in engineering, Crystal approaches her placement on the wormhole-constructive ship Crossing Paths with nothing but enthusiasm. But while Crystal gets used to the ins and outs of a multispecies, multicultural ship, tension brews both at work and back home. Not murdering her coworker Jai is hard enough; the last thing she needs are the terrifying errors cropping up on her maps. Reality and space are either tearing themselves apart - or someone else is attacking them. With conspiracies lurking everywhere, friendship won't be enough to see her through these dangerous new problems... Fans of Becky Chambers' Wayfarers series will enjoy this sometimes joyful, sometimes dark personal adventure set in a world of politics, bureaucracy - and piracy.
And The Stars Will Sing
Word Count: Information not available
Summary: History is a Lie. One final battle will decide whether Humanity will survive to tell the tale. Welcome, to the End of Days. Jacob Atkins was eighteen years old when he lost his best friend, Mark. Since then, he's tried to move on with his life, building a career in the Hourglass Corps. Then an unexpected convergence of events threatens to expose the Hourglass, and destroy everything they have tried to accomplish. Martin Atkins thought he was perfectly happy as a relatively unremarkable Captain in the Confederation Marines, until a terse message landed in his inbox from a man he thought was the love of his life. Now, all the secrets his family has inherited are at risk, not only from humanity, but from an insidious threat that he has only glimpsed until now. Calvin Teague has been Michelle Atkins's obsession since the Janus Incident. But the fugitive traitor is much more than he appears, and at long last, all the misshapen puzzle pieces fall into place as the mystery of his role is finally unravelled, leaving her with no option but to wage a desperate war against the most implacable and terrifying enemy humanity has ever faced: Its children.
Ascension
Word Count:

73000
Summary: ::The Seignso have our own plans for the remains of Genghis Khan.:: Alien warmongers have cloned an ancient emperor to lead an unstoppable army. Gifted with superhuman powers and advanced technology, he sets his sights on his home planet, Earth, and then... the stars! However, countermeasures have already been set in place. A young Iowa farm boy, oblivious to his powers or destiny, is thrust into a battle that will decide the fate of humanity against the new and improved Genghis Khan! A thrilling, interstellar adventure from the author of The Weller and War of the Worlds: Goliath!
Birthright
Word Count:

120000
Summary: U.S. Marshal James Creed has known loss, starting from the untimely death of his wife and daughter in a sudden fire. His work, chasing down and arresting outlaws across the Wild West, is all he has left to live for. Then one day, in 1876, the infamous killer Corwin Blake catches Creed by surprise and guns him down. Creed awakes after a mysterious young woman resurrects him in a basement laboratory beneath a brothel. Half alive, Creed feels torn between his need for justice and his desire to fall back into the peace of death. Creed's instincts drive him to protect the city of Santa Cruz, California, from the outlaws it harbors while searching for Blake. He uncovers a secret criminal organization, likely protecting Blake, determined to use resurrection technology for its own ends. The former marshal, now faster, stronger, and a more deadly shot than ever before, must work with a brothel madam, a bounty hunter, and the remaining marshals to uncover the criminal syndicate before they can misuse the machines of rebirth and create more mindless zombies. Meanwhile, he must also stop Blake, before the outlaw kills the only people he cares about. His own death can wait.
Bodacious Creed
Word Count: Information not available
Summary: A lady of resources has the power to change the world—if she can stay alive long enough to do it. Lady Claire Trevelyan had been looking forward to glittering balls, congenial society, and relief from pursuit during her stay with Lord and Lady Dunsmuir in the Canadas. Though being pursued by a handsome airship captain is rather satisfying, especially when it appears Andrew Malvern is becoming distracted by a certain blond mechanic. But a shot fired in the night puts an end to such diversions, and instead plunges her and her orphaned band of children into a fight for their very survival. Between secret conversations at the highest levels of society and skullduggery in the diamond mines, Claire must discover who is behind the attempts on her friends' lives—before her mother is compelled to make funeral arrangements yet again.
Brilliant Devices
Word Count: Information not available
Summary: He needs a payday. He'll settle for payback. Betrayed and left to rot on the edges of the galaxy, Caspian Robeaux is deep in debt and stuck flying courier missions in an old rustbucket he can barely keep afloat. His only friends are an annoying robot named Box and a bottle of booze. It's a far cry from his once-promising military career, but Cas stopped caring a long time ago. Things start to look up, though, when a stranger arrives and offers a lucrative job that Cas can't refuse, with a payday big enough to change his fortunes permanently. His luck gets even better when Cas learns that the job might offer him the one thing he wants more than his next drink: A chance to clear his name. But nothing in his life is ever that simple, and for a man trying to buy his way out of debt, the price of redemption might be too steep. From bestselling author Eric Warren, Caspian's Fortune is the first book in the Infinity's End series. With a rich universe full of quirky characters and breathtaking adventure, it's perfect for fans of JN Chaney and Michael Anderle.
Caspian's Fortune
Word Count:

52,500
Summary: The cerebral interface has revolutionised society. Need a ride? With a thought, the cab is on its way. Want an adventure? Enter a VR 5 computer game nearly indistinguishable from reality. Amanda arranges for her Big Sisters Program little sister, Rachel, to spend a day gaming as a fourteenth birthday present. Amanda never suspects that her insane ex-boyfriend, Jim, will use a computer virus to trap her and her companions in the game. A pleasant diversion becomes a life and death struggle as her party seek a way to come back to the real world without triggering a program that will cause nanobots to rip their brains to shreds. To complicate matters, in the game scenario the adventurers have been transformed into cats. Will the party survive? Will Amanda admit that Rachel's older brother, Tyrell, might just be her future? Will the computer virus Jim used to trap them become a cyber plague that could kill thousands?
Cats
Word Count:

139,000
Summary: In a condemned hotel, an intelligence operation to retrieve a DNA-altering bioweapon goes horribly wrong, sparking a scandal that could bring down an agency ... and a city along with it. Adasha Denali resolves disputes for Naion—using words, not weapons. But with her agency under fire and her mentor fed to the wolves, she'll have to get her hands dirty. Racing to discover who's undermining Naion's security and why, Adasha runs headlong into corporate mercs, an engineered spy, and a man losing his mind to a new form of intelligence. Meanwhile, the once-great immersion hacker Neon Nik is on the ugly side of broke, struggling to pay off circling loan sharks. When he inherits a piece of advanced tech that throws him into Adasha's path, threats of dismemberment become the least of his problems. Now he's got a vortex of hired killers on his heels and a decision to make: sell out or suit up.
Centricity
Word Count:

12500
Summary: SEALS Winged Insertion Command (SWIC) has based Tiger Bailey's operational SWIC-3 out of Howland Island near the Equator in the central Pacific, just a few kilometers away from Baker Island, location for the socket where Amelia Earhart Skytower terminates. Tiger Bailey's squad is tasked to drop from Low Earth Orbit (LEO) to Mayotte Island, northwest of Madagascar in the Indian Ocean, to rescue a U.S. Senator and his family who were taken hostage by pirates.
DAEDALUS COMBAT—Combat drop from Low Earth Orbit
Word Count:

15600
Summary: Following his successful base jump from Fred Noonan Skyport, Tiger Bailey undertakes the next step in the development process of the Gryphon hardshell wingsuit, a drop from Low Earth Orbit. Using the Gryphon-10 with enhanced navigation and computer control, and with a greater wingspan, he uses the Slingshot Space Launch Loop to gain Low Earth Orbit (LEO), but experiences equipment problems that nearly destroy him and doom the project. Ultimately, Tiger perseveres and drops into the Earth's atmosphere. He skips out in in several times before eventually making a harrowing but safe landing.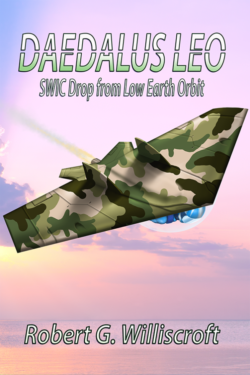 DAEDALUS LEO—SWIC drop from Low Earth Orbit
Word Count:

12300
Summary: After his successful proof-of-concept drop from Low Earth Orbit (LEO), Tiger Bailey's squad undertakes the next step in the development process of the Gryphon hardshell wingsuit, a coordinated drop from LEO by six team members. They tried to plan for every conceivable contingency, however, Mother Nature intervened with disastrous results.
DAEDALUS SQUAD—SWIC Squad drop from Low Earth Orbit
Word Count:

13500
Summary: Using a new Gryphon-7 hard-shell wingsuit, Tiger Baily, irreverent member of the Navy SEALS Winged Insertion Command, makes a harrowing first experimental base jump from the edge of Space, the Fred Noonan Skyport 80,000 meters above Jarvis Island in the Equatorial Pacific. Tiger's target, which he must reach to survive, is Kiritimati Island, a tiny isolated atoll 379 km northeast of Jarvis over ever-threatening and oh-so-deep ocean waters.
DAEDALUS: SWIC Basejump from Fred Noonan Skyport
Word Count: Information not available
Summary: He tried to bury it. But some things refuse to stay hidden. Having survived his encounter with the mysterious Sil race, Caspian and the crew of the USCS Tempest receive a new assignment: investigate the threat emerging far beyond the Coalition's borders. With its advanced engines, Tempest is the only ship fast enough to reach whatever is out there before they cross into Coalition territory. But just because Cas is part of the mission now doesn't mean the crew has to like it. Being back on board a starship hasn't been easy, and now that he's been tasked with keeping their new ally from killing the crew, it isn't getting any easier. It seems his only option is to bury what the Coalition did to him and return to the model officer he used to be. Tensions and tempers rise when the ship gets stuck at the edge of a seldom-traveled nebula, costing them precious time and energy. But is there something more to this dark edge of space? As the mystery unfolds, Caspian realizes not only is this unlike anything he's ever seen before, but he may not be able to bury his past as deep as he hoped. Brand new from bestselling author Eric Warren, DARKEST REACH is the third installment in the INFINITY'S END SAGA. Fans of Star Trek, Firefly and The Twilight Zone will enjoy this illuminating look into what really resides in the darkest corners of space and our minds.
Darkest Reach
Word Count:

50000
Summary: An act of desperation by young magician Brandon accidentally snatches Scott Hathaway from our world. Struggling to adapt to his new life, Scott becomes ensnared in dark local politics. He realizes he can use the knowledge he brought from his world to save his new friends, but at what cost? The first in a series. A story about an engineer who gets accidentally transported to a medieval type world where magic is real. But all is not as it seems!
Enimnori
SALE