Word Count: Information not available
Summary: Brute leads a lonely life in a world where magic is commonplace. He is seven and a half feet of ugly, and of disreputable descent. No one, including Brute, expects him to be more than a laborer. But heroes come in all shapes and sizes, and when he is maimed while rescuing a prince, Brute's life changes abruptly. He is summoned to serve at the palace in Tellomer as a guard for a single prisoner. It sounds easy but turns out to be the challenge of his life. Rumors say the prisoner, Gray Leynham, is a witch and a traitor. What is certain is that he has spent years in misery: blind, chained, and rendered nearly mute by an extreme stutter. And he dreams of people's deaths—dreams that come true. As Brute becomes accustomed to palace life and gets to know Gray, he discovers his own worth, first as a friend and a man and then as a lover. But Brute also learns heroes sometimes face difficult choices and that doing what is right can bring danger of its own.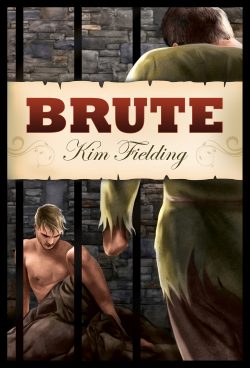 Brute
Word Count:

135408
Summary: Alexio Asmodai is the demon king of Eaglafonn, a small outpost kingdom in the Netherworld overruled by the Demon Lord Asmodeus. It is Alexio's responsibility to protect and police the frontier borders against any threats. He is an accomplished knight, so that part came easy. Eaglafonn is a cold and isolated kingdom. Alexio needed to stay and build his castle atop the hot springs to beat an addiction to seduction sickness. After over seven centuries, he thinks his loneliness has finally come to an end when he opens a crate to find a woman sent by Asmodeus for him to keep safe. He falls for her instantly. She is a human woman, fragile, timid, and irresistible. He must follow his liege's directive, convince her to become his queen, and see that she is cared for properly in a place that is inhospitable to her existence. This leads to a realization that his castle lacks a lot to be a first-class home for a lady. Can a tainted demon prince rise to the challenge to become a true king and win the woman who stole his heart? Dread Allies 7-14 The Shadow king of Eaglafonn has chosen his queen, but his castle lacks the feminine element. To make her more comfortable, he orders the demon princes to seek out and claim their own mates. That is easier said than done. Eaglafonn is a cold dark isolated kingdom in the Netherworld. It might be easier to claim mates from the Domhain, but not everyone could survive on the brutal dangerous frontier. The other options afforded from the Netherworld come with their own dangers. The magic is unbalanced and balancing comes with a price. Claiming their mates lead the demon princes on epic mini journeys and reveals the need for Eaglafonn to take a greater role in helping Luke aid the dream. Dread Allies is a miniseries set in the Netherworld in the dream. It is an ancillary group of stories to the Draoithe saga. While it is set in that world, it is not in the direct series lineup. The dream just got darker and colder. Welcome to Eaglafonn.
Dread Allies: Shadow King
Word Count: Information not available
Summary: Kal has always been considered too "fragile" to participate in the village activities. Her lithe stature links her to her father and distances her from everyone else. He left the village to fight in the Teristaque Wars and never returned. She meets Sarge, a strange star species of the human race who seems to know the secret of the patch from her father's uniform. Kal has always known she is different than her fellow villagers, and finally she may be closer to finding out why.
Kal's Fall
Word Count:

48821
Summary: More than fifty years before Leah Corbyn became a werewolf, Amélie Orne was cast out of werewolf society, manipulated into taking the blame for crimes she did not commit. After living for so long on the run as a Feral wolf, she found unexpected comfort and companionship from Leah and her lover Amy Oakley. As they grow closer, can she dare to hope for a real future together with them after a lifetime of betrayal and misery? Amélie has allies to stand with her now, but it will mean uncovering secrets long buried, and reopening dangerous old wounds...
Outcast's Song
Word Count:

13,800
Summary: Get ready to enter a world where the only way to escape from work is death! Richard is a man who would rather be in jail than have to get a job, but his attempts to get arrested keep failing. That is, until he's transported to an office planet where the cubicles are made of particle board, the spreadsheets are endless, and the boss is a whip-wielding maniac. With the help of a rebel coworker named Destiny and a newfound power, Richard must navigate the impossible maze of the office and take on the oppressive boss to save her people. Planet of the Wage Slaves is a hilarious, satirical take on the modern work environment that will have you laughing and cringing at the same time. It's the perfect read for anyone who has ever felt trapped in a soul-sucking job or who just wants a good dose of surreal sci-fi comedy. So put down that TPS report, grab a copy of Planet of the Wage Slaves, and join Richard on his absurd journey through the cubicle jungle!
Planet of the Wage Slaves
Word Count:

79000
Summary: The Angel's sinister plan for humanity nears completion! Concealed in its lair, aided by the self-absorbed corporate heiress Michaela Cross, the Angel readies for ultimate victory. But that victory is not yet assured. The mysterious Djinn and her far-flung network of agents prepare to make their final, desperate stand against the alien invader. Katia Miranova has returned to Vesta. Her world is under armed occupation, but she has unlikely new allies: a hacker sent by the Djinn who just might be able to override the Angel's mind-control; and the leader of the Earth forces who helped the alien conquer Vesta in the first place! Ex-reporter Francis Drake knows he's the key to the Djinn's plans. He just doesn't know how or why. Rocketing towards Earth and a final showdown, guarded over by the irascible android Summer, Drake struggles with his conscience and fear. Five years ago, he ran from this battle. Now, he must return to save the woman he once loved ... and Humanity itself!
The Angel and the Djinn
Word Count:

98000
Summary: The Big Cinch embeds readers in a magic-laced St. Louis, once known as Mound City, home of the indigenous Americans' Mississippian ancestors. Little evidence of their civilization survives in 1924, apart from the popular Piasa monster image, invoked to sell plows as well as ornament civic pageants. Sean Joye, a recent Irish immigrant, tried to avoid fae attention and ignore his magical abilities since childhood. A young veteran of 1922's Irish Civil War, he aims to atone for his assassin past and make a clean life in America.  Sean helps a wealthy, powerful, magic-dabbling family—founders of the most exclusive club in town, the Piasa Lodge--with a discreet inquiry or two. Sexually involved with a secretive, high-society flapper, he falls hard for her fiancé, a Great War flying ace with a few secrets of his own. But Sean asks the wrong questions about a kidnapped toddler and missing Native American artifacts and becomes a suspect in his lover's bludgeoning and a tycoon's murder. Can he master the paranormal abilities he's rejected for so long in time to protect the innocent and save his own skin?
The Big Cinch
Word Count:

100000
Summary: They say, "Never work with androids or children." Quirk had one job to do, deliver papers to a Milan mafia boss, before leaving Earth for his home in the asteroids. But that was before being tailed, poisoned—oh, yes—and hijacked into raising foulmouthed fourteen-year-old convent girl Angelika Moratti, aka Moth, who'd rather see him asphyxiate in space. Fleeing assassins, Quirk, Moth and her syRen® android S-0778 ride the space elevator to the Moon, where Quirk hires on to hunt an ex-terra-former who somehow used an android to murder his doctor. But which android of the two hundred under Lunaville's dome? The trail of bodies grows, time is running out; the only way they can save the dome and the two thousand souls beneath it is to solve The Mandroid Murders. Genres: Science Fiction / Thriller / Mystery / Adventure / LGBT and Non Binary Market: Adult
The Mandroid Murders
Word Count:

29000
Summary: Sofia Cancino is tired of her mundane life, her artificial environment and her large, boisterous family descending every holiday season. She's promised herself this year will be different and books a stay on the exclusive—and expensive--holiday-themed resort, Yule Planet. She looks forward to being pampered while reconnecting with Old Earth traditions steeped in the magic and mysticism of nature. Everything will be perfect and she'll leave as a more authentic human, better connected to her roots. Naturally, things go horribly wrong. Sofia's landing pod goes off course and instead of stepping out on the landing pad at the resort, she finds herself in the snow-swept perpetual winter of the planet's hinterlands. If that wasn't bad enough, she's "rescued" by a band of criminals on work release who run deliveries to the resort from far-flung shuttle delivery sites. They refuse to take her, a paying customer, to the resort and insist on dragging her along on their parcel run. Riding giant monsters. In frigid weather. Not to mention, Marta, who handles the monsters, obviously hates her. If Sofia survives her vacation, she's definitely yelling at someone's supervisor until she gets a refund.
Yule Planet