Word Count:

100300
Summary: Traveling has always frightened Marya, but when the Ktar chooses her to protect the heir on his confirmation journey, she fights panic. A prophecy concerning the heir's death, ominous dreams of a mysterious city, and news that one of the heir's companions will betray him all point to disaster. Unfortunately, the discovery of the assassin's identity is only the beginning. His menace pales in comparison to the ancient evil lurking in the mountains. When Marya is trapped and the men with her enslaved, she is faced with two choices: surrender to the alien being who offers her power, or ally with the handsome assassin she sought to thwart. One way she loses her soul, the other she may lose her heart.
Marya
Word Count:

4800
Summary: Tahl promised Enfys ice bears for Midwinter, but ey neglected to tell him that ey and eir kin were the ice bears. Written for the Rainbow Advent Calendar 2018
Midwinter Bears
Word Count:

132,220
Summary: Bobby Gene is a man who stands out even among his people. Guided by the knowledge of his heritage as a backwoods shaman and more perceptive than many, he's grown to be a valuable asset to those he knows. While he isn't surprised to be the first to know when the woods around him begin to show clues that something isn't right, he doesn't expect just how much these omens and signs will prove to foretell something far more sinister to come. Soon strange dreams and inexplicable encounters have him questioning everything he knows- and then the people who live in his woodland Appalachian community begin to disappear. It's his job to protect and guide the others, what will he do when he's the only thing between them and the end of life as they know it?
Night is Falling
Word Count:

92000
Summary: The year is 1876, Sheriff Ramon Morales of Socorro, New Mexico meets a beguiling woman named Fatemeh Karimi of Persia, escaping oppression in her homeland. When an ancient lifeform called Legion comes to Earth, they are pulled into a series of events that will change the history of the world as we know it. In their journeys, Ramon and Fatemeh encounter mad inventors, dangerous outlaws and pirates. Their resources are Ramon's fast draw and Fatemeh's uncanny ability to communicate with owls. The question is, will that be enough to save them when a fleet of dirigibles from Czarist Russia invades the United States?
Owl Dance
Word Count:

82000
Summary: When Fatemeh Karimi married Ramon Morales, she neglected to share one small detail. She was already betrothed to a merchant named Hamid Farzan. She had no interest in Hamid or an arranged marriage. She wanted to live life on her own terms. Eight years after marrying Ramon, she assumed Hamid had long forgotten about her, as she had him. Settled in New Orleans, Ramon works as an attorney, Fatemeh owns a pharmacy, and they're proud parents of a precocious daughter. Out west, Apaches armed with powerful battle wagons have captured Fort Bowie and threaten Tucson. Businessmen with an interest in a peaceful solution ask Ramon to come west and settle the conflict. Meanwhile Hamid arrives in New Orleans and he has not forgotten Fatemeh or her vows to him. Now, the famed Owl Riders must assemble once again to reunite Ramon and Fatemeh so they can tame the Wild West.
Owl Riders
Word Count:

61770
Summary: Morgorth is considered a villain by his own people and known as Dark Mage of the North. But now all he feels is light and love as he pursues a budding relationship with Aishe, a dialen of the Ravena tribe. Morgorth hardly believes his good fortune. He has allowed Aishe into his home, into his bed, into his heart. He laughs more, smiles more, and feels happier than he ever has before. He should have known such bliss never lasts. The Council of Mages, the ruling body over all mages on Karshian, knows he has Rambujek, a major stone of power—a stone won from an evil sorcerer. They also know his destiny—to become the Destroyer. Fearful, they send two emissaries to take the stone from Morgorth, using whatever means necessary. This includes tricks, threats to those under his protection, and the threat of war. A war Morgorth knows he would never survive. Conflict soon arises between him and Aishe. Their tenuous relationship is put into jeopardy, their very beliefs about themselves and their love is put into question. Morgorth doubts if he should keep Aishe in his life. He doesn't know if he can protect Aishe from his enemies. Or from the monster he might become.
Peridot: War and Peace
Word Count:

67,000
Summary: A blessing and a curse… Seven years ago, a single moment changed the course of Nicholaus Bock's life forever—the moment his preternatural Gift to heal awakened in him. A gift that made him an invaluable commodity to the known galaxy. Now his mentor's intriguing and secretive new student goes out of her way to challenge his loyalty to everything he values. A dark secret… After facing death and destruction during the Anferthian invasion, Sakura Yamata revels in her new-found Gift to heal. Helping Earth's survivors keeps her mind off the loss of her family, and the memory of the terrible choices she made. Nick could penetrate her defenses and discover what she's hiding. She must not let the handsome healer close enough for that to happen. A race facing annihilation… When a mysterious disease strikes the hidden sanctuary of the Anferthian dissenters, Nick and Sakura are called in to help. But someone is going to great lengths to ensure the dissenters don't survive. Nick and Sakura must set aside their differences and work together to save them before the fragile peace between three worlds is shattered.
Salvation
Word Count:

18619
Summary: Varon Cambeul has made it to the top: Royal Magician of the Kingdom of Lothia, at the right hand of the King, who is his lover. He has always kept the promise he made to his mother and his apprenticeship master: he has used his magic for good. This promise is tested when the King asks him to make a curse, a curse that will be cured by the King and so everyone will love him. Helping the King is using his magic for good, right? But, is Varon doing this because he has fallen in love with the King? What about those who will suffer from the curse and slowly transformed into ghosts, people like Theo and Russell in the town where the curse is released? Can Varon undo this great wrong? Can he save Theo and Russell and the others as they turn invisible? How can he love someone who is not doing good?
Susurrus
Word Count:

130000
Summary: A Journey to the Crossroads of Science and Myth The New Leprosy plague and a geomagnetic reversal threaten earth's precarious balance. An unlikely trio may hold the key to reset the compass of the world:
"Saint Ariadne" Demodakis—a Greek bioelectricity researcher who realizes she's curing plague victims by laying on hands.
Peter Mitchell—a jaded American veteran of the latest Gulf War, now a smuggler in the Mediterranean.
Leeza Conreid—a paparazza equipped with the latest neurally-connected media implants, who wants revenge and a big story.
Peter, blackmailed into bringing Leeza along, hires on with reclusive Ariadne to secretly  transport her to sacred sites in the Greek islands. She seeks to confirm a connection between the pandemic, geologic upheavals, and ancient lore that promises healing for humans and the planet. Peter doesn't realize they'll be pursued by violent Sons of the Prophet, mercenaries, and a cult of warrior women, out to claim Ariadne's rumored powers—or kill her. He will need all his wits and weapons to protect Ariadne as she labors to control her connection to the dangerous forces that may deliver a global cure. Or destroy them all.
The Ariadne Connection
Word Count:

84000
Summary: Pirate captain, inventor, and entrepreneur Onofre Cisneros sweeps his friends Fatemeh and Ramon Morales off to Hawaii for their honeymoon. Once there, a British agent makes Cisneros an offer he can't refuse and the captain must travel to Japan. Wanting to see more of the world, Ramon and Fatemeh ask to accompany the captain only to find themselves embroiled in a plot by samurai who steal a Russian airship, hoping to overthrow the Japanese emperor.
The Brazen Shark
Word Count: Information not available
Summary: As the son of a wealthy man, Enitan Javed has spent his life frivolously—drinking, fighting, and making love. But after his father dies, Enitan is unjustly accused of murdering him and is given the harshest sentence possible. Judged irredeemable, he is banished to the Downs. As even young children know, nothing lives in the Downs except demons who delight in torturing the condemned. Brutalized by the men who transport him to his fate, Enitan has nothing left but his thirst for vengeance. His plummet to the Downs nearly kills him, and Enitan finds himself battered and helpless in a frightening, mysterious land. But many surprises await him there, including a strange man named Rig. And the realization that the demons he must face aren't at all the ones he expected.
The Downs
Word Count: Information not available
Summary: "It is so packed with action that there was no place where I could say, 'Ok time for bed now. I'll finish it tomorrow.' A must read." ~Amazon Reviewer Fale doesn't know why she has visions of the queen's past life. All she knows is that her magic becomes dangerously faulty every time she sees into the past. Through the visions, the mystery of Effailya's banishment and life of slavery is solved; the reasons of her heated parting with Gryndoll are revealed, as well as who was the queen's secret lover. And how that could possibly relate the Source Wizard to the Queen of Mages, herself. The Source Wizard Gasten sends out his best efforts, but the new queen stays one step ahead of him. He may have found a way to send his spell to her. And if not, he's found the old wizard's journals, which are sure to give her weaknesses. The Final Rescue is a face-paced adventure as the wizards and mages race toward their mutual destruction. A strong female lead not only survives her dystopian society… she solves the mystery of a hidden war, only to cause a new one, then battles both sides to rule it herself. It's a conclusion for fans who fell in love with The Hunger Games, Divergent, and The Reader series. If you're hooked on genre-blending, suspenseful, fantasy romance novels, with adventure, you'll love The Final Rescue!
The Final Rescue
Word Count: Information not available
Summary: The race is on. Beware the henchmen. Fale and her friends are on an epic journey to find the magic machine that will open dimensions, allowing her to rescue the mage slaves—her people—from the hands of an evil Source Wizard. Still accepting her role as queen, she welcomes her new powers. But the group is not alone. Henchmen wait for them when they least expect it. Tensions are already high, but when Izzy—Alloy City's socialite—decides to wage war on Fale, the situation becomes toxic. Fale is devastated. She's lost her way of life, her identity, her guardian, and now her best friend. Worse, she pushed Keron—her hot boxer crush—away so he could focus on his job, but sharing a tent with him is excruciating when passions boil over. She'd give it all up if it weren't for her trusty sidekick, Lisle—the wizard—who loves her, but wants to see her succeed and to find his own purpose. They sail to an island in her visions that no one believes is there. Fale is relieved to be on her way, but fear of what awaits her, plus the constant state of tension in her group, immobilizes her. She's miserable, just trying to make every choice a good one. Things will never be the same as they were back home, she will never be the same. Fale doesn't know what they will find once they reach the island. She doesn't know why she's having memories of Queen Effailya's life, making her magic misfire at inopportune times. She has no clue how they'll manage to get a huge machine onto the boat and back to the mountain mages' estate. Impatient for answers, she seeks clues to the mystery. She may find everything she's looking for—she might not—but the price for winning will be higher than she ever imagined. ★If you like epic quests, sword and sorcery, mages, wizards, love triangles and plot twists, you'll love this complicated emotional must-read. You won't want to put it down. Fans of the first book, The Key of F, The Hunger Games, Eve, and The Rise of Isaac will enjoy this character-driven story.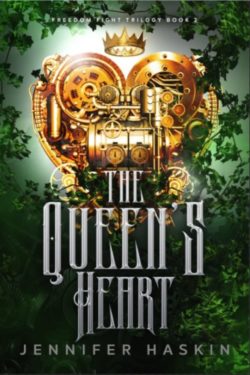 The Queen's Heart
Word Count:

76144
Summary: Fairy tales. Prince Charming fights evil, wins the princess, lives happily ever after. Three sons, three wishes, witches, dragons, a quest, and happily ever after. These stories are part of our cultural fabric. The stories change in retellings to reflect contemporary culture, such as Princess Charming, or heroes and heroines as people of color. In this collection, queer characters take center stage in stories that grew out of questions: What if the prince falls in love with Cinderella's gay stepbrother? What if Rumpelstiltskin doesn't really want the Queen's child but rather the King himself? What if Beauty and the Beast are two men? These stories explore metaphors of magic and the magical, this time, with a gay perspective. What price must be paid for happily ever after? Duty or love? Is love worth great sacrifice? Once upon a time ...
The Wicked Stepbrother and Other Stories
Word Count:

115,674
Summary: Oil reserves depleted. Society collapsed. A few places cling to modern technology. For everywhere else, there are the Tinkers. In southern Ontario, Novo Gaia uses sustainable energy to support its citizens in comfort. From there, Novo Gaia sends Doctors of Applied General Technology, tinkers, into the Dark Lands to install everything from solar stills to televisions—and make a profit. After twenty years as an E.R. nurse, Tabitha "Tabby" Drivensky's failing marriage sent her into the tinker program and the open waters of the Great Lakes. While fulfilling her Coast Guard service obligation, she rescues a boy named Andy Camble from a sinking ship. Andy turns out to have vital information on Packer, a pirate captain who has been plaguing the Great Lakes for generations in an ancient, nuclear-powered submarine. Using Andy's intelligence, Tabby sets out ostensibly to scout out a new aquatic tinker route along Lake Huron but secretly assigned by Novo Gaia to find and put an end to Packer once and for all.
Tinker's Sea
Word Count:

93765
Summary: Home, a place where we belong and are safe and loved. Home, the house in which we grew up, a neighborhood, a culture, even a country. Home is a state of mind, it is a place of the heart, and in the heart. Finding home, coming home, and bringing home the one we love is a journey, a journey that can be a dangerous adventure. For the lovers in these stories, adventures can include quests and fighting dragons and demons, past and present, physical as well as mental and emotional. Rocket launchers need to be dodged, the Wild Hunt needs to be outrun. For some of the lovers here, home has been lost, or they have been forced to leave, as is too common for LGBT+ youth. In this collection queer positive speculative fiction stories, explore the idea of what and where home is in the lives of these lovers. Will they survive their quests, defeat their monsters? Will they find a place to call home?  
To Bring Him Home and Other Tales
Word Count:

125,000
Summary: Bound by love, separated by a tragic mistake; can two Indigenous women realize their happy ending? Long ago, in an age of mysticism, Walks with Spirits, a two-spirit woman, perceives voices whispering on the wind and they empower her with the gift of calling animals. But who she truly wishes to call to her side is her childhood friend, Laughing Brook. Daughter of a shaman and an herbalist-midwife, Laughing Brook holds a prominent place in her society and bears the responsibilities it entails. She is training to be a healer like her mother, but her most compelling desire is to spend her life with Walks with Spirits. When a misunderstanding crushes their dreams of happiness, both women must learn to face the trials that await them in a land where danger lurks behind every tree and honor means more than life. Will the spirits intervene on their behalf, or are they fated never to manifest their visions of love? Walks with Spirits is a historical fantasy set in an ancient time. Packed with Native American themes, heart-touching imagery, and an epic love story, Walks with Spirits will immerse you in an inspiring view of life.
Walks with Spirits
Word Count:

113,100
Summary: Markus a wizard from a parallel Earth travels to our world in a bid to stop a blight that is destroying his own. Here he meets Alcina, a Wiccan Priestess, who is in a custody battle over her son, Tim, against Carl, the boy's sire, who abandoned her when she was pregnant eight years before. Carl has the backing of a dangerous religious cult in his bid to take Tim. Together Markus and Alcina face the forces of intolerance and hate to save a child and a world and thaw two warm harts too long trapped in the ice of betrayal. Meanwhile, Markus' best friend and his ex-fiancée, who is now a vampire, battle the authorities who are likely to hang Markus upon his return because he has done research into forbidden magics.
Worlds Apart