Word Count:

100000
Summary: Sassy and Owen Winslow were historical experts on the Revolutionary War and the Culpers, Washington's spy ring. After her husband dies unexpectedly, Sassy struggles to find new meaning in her life. When she goes exploring in the Cohutta Wilderness, she falls through a hole in time, and finds herself in the Indian Territory in 1778, falling in love with Big Sexy Will Selk. Will Selk, one of Washington's spies, falls in love with the spunky widow who came to live at McCarron's Corner after her husband's death. When he learns she came from Beyond, both Will and the Commander-in-Chief are eager to pick the historian's knowledge of the American Revolution – and in the process, Washington identifies the Culper Ring's Madame X, who turns the tide for the patriots to win the war when Sassy provides vital information.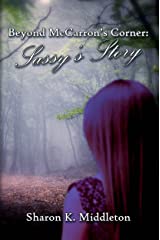 Beyond McCarron's Corner
Word Count:

84610
Summary:
Praise for Daughter of Maat:
"Sandy Esene has written a real page-turner. It's Dan Brown goes to Egypt with a delightful dash of Harry Potter thrown in. A wonderful read and she's got the Egyptology right!"—Bob Brier, Author of
The Murder of Tutankhamen
"If you like Egyptian Mythology and the excitement of Indiana Jones adventures, this book is for you!"— Pat Remler, Author of
Egyptian Mythology A to Z
Alex Philothea's quiet life as a research archeologist changes forever when she is tracked down by a secret society, the Keepers of the Holy and Noble Maat. Alex's father died years ago during an excavation in the remote Egyptian desert. The circumstances of his death have always been shrouded in mystery. Now the leader of this obscure organization promises to unlock the answers she has been searching for; the only thing she must do is save humankind.
Follow Alex into a world of myth and magic where the lines of reality blur at every turn.
Daughter of Maat
Word Count:

75000
Summary: Waking up undead is just the start of my bad night. This night is going from bad to worse. My roommate is dead. My sexy neighbor, who I've never worked up the guts to talk to before, is standing in my living room. I have a gold amulet I just stole from the museum hidden in my pocket. Oh, and I'm dead... or undead? All the myths about vampires, were-wolves, and the like? Turns out, all true. My sexy neighbor claims I'm a vampire now. I don't quite believe him, but then again, he turned into a coyote in front of me. Jackal, whatever. Plus, you know, my fangs. Oh, did I mention my sexy neighbor is an ex-cop? And his cop buddies just knocked down my door. I'm pretty sure this night can't get any worse…
Ritual of the Ancients
Word Count: Information not available
Summary: The shadows are talking and they won't take no for an answer. Victory has returned safely to present-day Limani, sure that nothing so strange as time travel can ever happen to her again. Until the shadows begin speaking to her. And it turns out she's not the only one. Along with her sire Asaron and daywalker Mikelos, Victory will travel to a realm outside anything she could ever imagine. A previously unknown, ancient enemy threatens to tear apart the fabric of the world, and everything Victory thought she knew about magic will be completely rewritten. In this unfamiliar world, accompanied by long-lost companions, Victory must find her way home once more. But if the shadows have manipulated her life all along, will she have a home to return to? Or will the darkness consume Limani as well?
Steel Shadows
Word Count: Information not available
Summary: You're never too young or too old to experience a paradigm shift. Toria Connor is 25 when tripping over an artifact in the ruins of Nacostina thrusts her a century into the past, before the city is destroyed during the Last War. Now, she finds herself alone. Adrift in a time where she must hide everything important to her, from her mercenary career to her true magical ability. Victory is over eight centuries old when she follows her adopted daughter. She has seen empires rise and fall, but never anything like this. She must survive alone in a city inhospitable to vampires, dodging friends and foes from her past alike. Both of them know the clock is ticking down to the moment when the city is wiped off the map. Now, they're in a race against time. To find each other. To escape the past. And to save the future.
Steel Time
Word Count:

60000
Summary: Jeff Harris goes back in time to prevent the explosion of the space shuttle Challenger, but gets pulled into November 1963, and has 23 years to plan his intervention with the Challenger. He discovers that his actions in the past may result in the Soviet Union continuing in the 21st century. He strives with Laura and Karina to prevent this, and also the murder of John Lennon and the September 11 attacks, but the resilience and interconnections of history make it unlikely that they'll be able to stop all of those calamities, and the personal survival of at least one of them may be incompatible with their goals. The Saga contains "Loose Ends" -- the novella nominated for Hugo, Nebula, and Sturgeon Awards -- and its sequels "Little Differences," "Late Lessons," and "Last Calls".
The Loose Ends Saga
Word Count:

41000
Summary: Welcome to the mercenary ship, The Blue Solace: Leti Ando needs off planet and fast. He has a best friend and a new half-sister to rescue, and he needs to be sneaky about it. Unfortunately sneaky isn't really his thing. With the help of a friend, Leti and his menagerie, along with his two companions, stow away aboard a mystery ship. Little does he know that The Blue Solace belongs to the infamous mercenary, Captain Will Hackett, a man he'll come to love with everything inside him. Will has been in a bitchy ass mood for the past six months. He's restless and grumpy, but doesn't know why. He knows he needs something and he can't find it, but his crew are out of patience and insist on some R &R back home at Charybdis Station. Then Hack finds a stow away angel and everything changes. Leti is his mate and he'll do anything to keep him safe and happy, even smile. The galaxy's not a safe place, though, and The Blue Solace has a job to do: pick up a renowned scientist and his mysterious artifact. Then get them safely back to Charybdis Station. Hack and Leti don't realize their romance story is about to get hijacked by Concord mercenaries. Their love is easy, it happens just like that. Staying alive and keeping the galaxy safe? That's a little harder. Author's Note: 41,801 words. (Previously published as "Happens Just Like That"). This is a m/m love story with no angst and no cheating, just a HEA. There is lots of action, sex, mpreg, and a few potty mouths involved in the story. 18+ readers only, please. It is also the first of two books about this specific couple.
The Mercenary's Mate
Word Count:

81,000
Summary: Explore the birth of a new world! Journey through time and space to the intricate biosphere of Juno, where three species have been birthed by the gods. First the Kuhifadi, inheritors of sun magic, able to do great deeds with magic stored in their bodies. Second the fearsome Uchafumlaji, technological savants who live in the depths of the ground. Third the weird Ngisikaa, a species uplifted from animals through communal memories. Small decisions and single individuals will affect the tide of history. Learn of the first Ngisikaa to meet death, whether a Kuhifadi will make the sacrifice to become a mage, and if an Uchafumlaji can build a bridge to the past. These stories and more will create The World of Juno! With content by: Nick Bright and Brent Lambert, C.J. Hosack, Nate Battalion, Daniel Eavenson, Malcolm F. Cross, Katie Cordy, William C. Tracy, N.L. Bates, Reese Hogan, Cedan Bourne, Robin C.M. Duncan, and X.M. Moon Genres: Science Fiction / Fantasy / Adventure / LGBT and Non Binary Market: Adult
The World of Juno
Word Count:

86000
Summary: No matter where the watch hands turn, she'd rather remain home. But with every time-traveling trekker's life at stake, can she stop a deadly clock? Wilda Firestone survives off black coffee and white-hot sarcasm. And despite the colorful slew of characters filing through her time tourism costume shop, the retired First Nations Temporal Agent would prefer a quiet, more linear existence. So she's less than impressed when a dying explorer crashes into her store, unleashing a plague that sends countless travelers to an early doom… Knowing her own lengthy history of chronological excursions grants her some immunity, Wilda vows to jump back in the saddle and seek out answers. But as she retraces the dead man's steps from 14th century Mali and into 12th century Scotland and beyond, she's dumbfounded by whatever force reduced an entire village to blood. Can Wilda stamp out the root of the sickness before she too succumbs? Time Tourist Outfitters, Ltd. is the intriguing first book in the Toronto Time Agents science fiction series. If you like feisty heroines, beautiful landscapes, and astounding adventures, then you'll love C. N. Jackson's explosive tale. Buy Time Tourist Outfitters, Ltd. to race against the bell today!
Time Tourist Outfitters, Ltd.