Word Count:

73,151
Summary: Time travel. For mages, it violates their number one rule: what the Mother has written, let no one unwrite. The Mother writes the destinies of the creatures on the world of Karishian. If her writings were undone, it is feared that Creation itself could be undone. The dark mage Morgorth takes this rule to heart, but there are others who do not. Morgorth is about to claim a stone of power when it is stolen from him by a female mage he hasn't seen in decades. As they struggle for the stone, she activates it, and Morgorth is unwillingly plunged into another time and another place. It isn't long before he realizes what time he's found himself in and there are a few familiar faces. Most notable is a much younger version of Aishe. His mate. Living with a tribe who will be massacred, caring for a young lad who will become his mate, and fighting a battle against a mage who can travel from past to future at a whim—Morgorth's life has never been easy but now he must contend with the will of the Mother. Unable to change the future and the tragedies of Aishe's life, he must decide what his role in his mate's past will be, and ask himself one vital question: how does one defeat time?
Agate: Then and Now
Word Count:

70,034
Summary: Every story has more than one point of view. As the mate to the dark mage Morgorth, Aishe has learned a lot about magick, love, and himself. He tries to find a home with Morgorth, to be accepted into his world; to survive in a world full of magick, treachery, and deception. But all the while he struggles to keep a secret about his past and their intertwined destinies. Despite all the obstacles thrown at both of them, Aishe is determined to stay by Morgorth's side, no matter what the future brings—even if that future turns dark with death should Morgorth embrace his grim destiny. But when Morgorth leaves with his mentor to collect another stone of power, Aishe is left behind. It is then a surprise attack comes and Aishe, determined to protect and defend his new home, decides to take the invaders on by himself. It might prove too much for him to handle...especially when he learns the one who leads the invaders is a mage. This book allows us a glimpse inside the mind of Lord Morgorth's better half, a dialen named Aishe: his motivations, his personal sorrows, and his struggle to find a place to call home.
Amethyst: Bow and Arrow
Word Count:

171995
Summary: There will be time to crown a king, but first a warlord must rise. Arthur's battle summer is upon him, and he must be victorious if he is to claim his throne and rid the land of Saxon invaders. The teenage king has pulled the sword from the stone, but still the petty kings will not accept his rule. The Saxons are invading, Lot and Uriens are united against him, and he still has to prove himself to the common folk of the land. Next stop: the mysterious standing stones of the Giants' Dance and the Beltane ritual. Warfare does not wait for Arthur to catch his breath. Battle follows battle. Love is lost and found. Allies fall, enemies rise, and betrayals come to the young High King. If he stays strong, he can lead his people through a bloody summer. If not, all of Britannia will fall. Arthur alone will be responsible for the glory or ruin to come. Merlin will help him to see it through. But what secrets is the druid keeping? Arthur Rex: Dux Bellorum is the third installment in an epic retelling of the King Arthur legend. You only think you know the story.
Arthur Rex: Dux Bellorum
Word Count:

82290
Summary: Merlin has devised a test. All of the petty kings have gathered in Londinium to see who will be the next High King. Arthur and his retinue travel to the city in secret, but they are not the only ones with an interest in the Sword in the Stone. Morgana, Arthur's half-sister and the renegade queen of Rheged, has journeyed there with her Saxon lover, and petty kings have come with no kind welcome for the young High King. Arthur pulls the sword, but the kings will not accept him. He is given the temporary title of Dux Bellorum, and with Merlin at his side, he sets out to unite the tribes of Britannia as the Saxon threat grows more menacing on their eastern shore. Some battles are easy. Others are carried out in secret. It is the secret battles that Arthur will need to fear. "Arthur Rex: Ex Lapis" is the second installment of an epic retelling of the Arthurian legend. You only think you know the story.
Arthur Rex: Ex Lapis
Word Count:

113000
Summary: A twist of fate changed both their destinies. The wyrbears, once a long-lived species, were being lost to the forest in their prime. A people borne of a curse, their abilities not a gift but something wrongly taken, they nonetheless live in harmony with their animal spirits. But over time the curse they lived under changed, mutated, and now what once was a refuge from the world when they became too weary is culling mathan in their prime. Ewen mhic Friscalach, the leader of his peoples, lost his father too early and is now a widower with four children. The vow he made as a youth to break the curse afflicting wyrbears has been buried by grief and responsibility. Roi mhic Alric, a priest of Cerridwen and seer, watched his fellow priests slaughtered and his temple desecrated. The only thing that kept him going the last three horror-filled years was the vision Cerridwen had granted him of his emancipation. If freedom came at the cost of his life, well, he was more than ready for the Otherworld. A fated meeting upon a bloody field of battle. A wrong done long ago. Their choices could save a people… or send them into extinction. Either way, their love will be legend.
Caledonia Destiny
Word Count:

73,667
Summary: Lord Morgorth is haunted by dreams of his father. Though Morgorth killed him, his father's presence and brutality won't completely die. But now he has more to worry about—in the form of the Council of Mages' inquiry into the duel between Morgorth and an elder of the council. Morgorth expects sabotage and prepares accordingly. He fears for Aishe's life, knowing that the best way to sabotage the inquiry is to eliminate the witnesses. He sets into motion a desperate plan that, though it will protect Aishe, could put a strain on their relationship not easily removed. Yet the true danger lurks unseen, and it will take all of Morgorth's skill, strength, and devotion to Aishe, to save his mate from the hold of a foe Morgorth has yet to tangle with: a dream demon. Now Morgorth must throw aside caution, restraint, and fear if he is to save the one most dear to him. He must call upon the power of the one thing he hates more than even his father: a stone of power. But even if he manages to save Aishe, his mate's experiences in Dreamworld—at the mercy of the dream demon—have changed him forever and could shatter their bond irrevocably.
Carnelian: Dreams and Visions
Word Count:

75000
Summary: Temp worker David Evans has been dreaming of Dr. Alun Kendrick ever since that one transcription job for him, because holy cats, that voice. Swoon. So when his agency offers him a position as Dr. Kendrick's temporary office manager, David neglects to mention that he's been permanently banished from offices. Because, forgiveness? Way easier than permission. Alun Kendrick, former Queen's Champion of Faerie's Seelie Court, takes his job as a psychologist for Portland's supernatural population extremely seriously. Secrecy is paramount: no non-supe can know of their existence. So when a gods-bedamned human shows up to replace his office manager, he intends to send the man packing. It shouldn't be difficult—in the two hundred years since he was cursed, no human has ever failed to run screaming from his hideous face. But cheeky David isn't intimidated, and despite himself, Alun is drawn to David in a way that can only spell disaster: when fae consort with humans, it never ends well. And if the human has secrets of his own? The disaster might be greater than either of them could ever imagine.
Cutie and the Beast
Word Count:

26900
Summary:
Lord Marcus is on a quest to slay the dragon, rescue the princess, and live happily ever after. Falling for the dragon was never part of the plan.
When Lord Marcus set out on his quest, it seemed a simple enough task to accomplish. Slay the dragon and rescue the princess, securing his father's approval and earning his happily ever after--only the princess is a witch and the dragon is nowhere to be seen. Instead he finds a young man who has a very big secret and is in far greater need of rescuing. Marcus's well planned quest might have taken an unexpected turn, but his happy ending could still be within his grasp, if he can earn the trust of a dragon who has been betrayed and hurt by everyone he has ever known.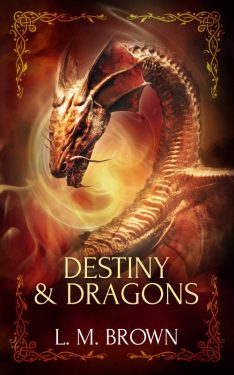 Destiny & Dragons
Word Count:

100,000
Summary: When Fancy sent Richard from Barbados, she did not tell him her plans. Richard arrives unexpectedly after she and Kirk go to Ireland. Richard discovers she has adopted Kirk's daughter, and he concludes she will never abandon Kirk. Brokenhearted, Richard returns to the future before Fancy can tell him her marriage to Kirk is void. Richard's departure allows Kirk to woo Fancy again in earnest and they remarry. The couple sail to Bermuda, where Kirk leaves Fancy and the children at Spring Haven to sail to Barbados. A hurricane destroys the Spring Haven house. Fancy takes the children to the mainland and on to the safety of McCarron's Corner. En route, she learns Kirk's ship was destroyed in the hurricane and Kirk is believed to be dead. At McCarron's Corner, Fancy manages to go forward in time, where Richard finds her. She gives Richard another chance. They fall in love again, marry, and she writes a best-selling memoir, which attracts unwanted attention. Will they survive when a stalker's dangerous obsession threatens to destroy their future?
Diary of the Reluctant Duchess
Word Count:

118937
Summary: Frank Grimes is a lowlife, no count, barely classifiable as a human, male who just happens to have enough sense to hire and retain qualified construction workers. He landed the contract to build most of Draoithe in January of 2016. He's not only worthless, but he's also criminal filth. He will do anything for an easy dollar. After the Draoithe housewarming party, his true colors shine through when he attempts to rape the architectural designer in her apartment after driving her home. Luke can't afford to let Jace kill him or allow Flame to turn him as dragonsworn, but there is no way that Frank can be allowed to just get away with what he's done. Even the Assassin King wants him dead, and he is the dragon called to serve one miscreant underking. Sentenced to house arrest and forced labor, Grimes seeks a way to fulfill the requirements Luke sets on him to gain enough respect that Javier will turn him into a canine shifter until he meets a blood demon who wants to help Luke out. Is it possible to totally rehabilitate the walking filth that is Frank Grimes into a real man in order to help him avoid certain death and turn him into a wolf? Or will the demon simply drink him dry and slowly end his miserable existence?
Draoithe: Filth and Death
Word Count:

135408
Summary: Alexio Asmodai is the demon king of Eaglafonn, a small outpost kingdom in the Netherworld overruled by the Demon Lord Asmodeus. It is Alexio's responsibility to protect and police the frontier borders against any threats. He is an accomplished knight, so that part came easy. Eaglafonn is a cold and isolated kingdom. Alexio needed to stay and build his castle atop the hot springs to beat an addiction to seduction sickness. After over seven centuries, he thinks his loneliness has finally come to an end when he opens a crate to find a woman sent by Asmodeus for him to keep safe. He falls for her instantly. She is a human woman, fragile, timid, and irresistible. He must follow his liege's directive, convince her to become his queen, and see that she is cared for properly in a place that is inhospitable to her existence. This leads to a realization that his castle lacks a lot to be a first-class home for a lady. Can a tainted demon prince rise to the challenge to become a true king and win the woman who stole his heart? Dread Allies 7-14 The Shadow king of Eaglafonn has chosen his queen, but his castle lacks the feminine element. To make her more comfortable, he orders the demon princes to seek out and claim their own mates. That is easier said than done. Eaglafonn is a cold dark isolated kingdom in the Netherworld. It might be easier to claim mates from the Domhain, but not everyone could survive on the brutal dangerous frontier. The other options afforded from the Netherworld come with their own dangers. The magic is unbalanced and balancing comes with a price. Claiming their mates lead the demon princes on epic mini journeys and reveals the need for Eaglafonn to take a greater role in helping Luke aid the dream. Dread Allies is a miniseries set in the Netherworld in the dream. It is an ancillary group of stories to the Draoithe saga. While it is set in that world, it is not in the direct series lineup. The dream just got darker and colder. Welcome to Eaglafonn.
Dread Allies: Shadow King
Word Count:

76,765
Summary: Home. Family. Those words often invoke a sense of love and comfort. But for the dark mage Morgorth, they mean hate and pain. As the seventh son of a seventh son, many believe Morgorth's destiny is to become the Destroyer. His father embraced such a future and trained Morgorth through torture and fear to become his weapon. Morgorth managed to escape his father's cruelty, but not the nightmares that still haunt him. For many years he's lived with the stain of his father's savagery, but now he must confront his nightmares head-on. His father has found a stone of power. Morgorth must return to his land of birth, to the memories he's tried his entire life to suppress. Aishe is determined to help Morgorth defeat his inner demons, but he knows he might not be enough to save Morgorth from embracing his darkness. They know it will be a fight to the death and that Morgorth won't be the same if he survives. With Aishe by his side, Morgorth hunts for his father, and finds answers to questions he never dared to ask—and must live with the truths they reveal.
Emerald: Good and Evil
Word Count:

65535
Summary: After the first war in Heaven, Lucifer's defeat and banishment was all but definitive. While peace reigned for a millennium, the Father of Lies dwelled in the void of the Pits of Hell. Fueled by vengeance and blinded by his destiny during his imprisonment, Lucifer plotted against those who would stand in his way. Upon his release, Lucifer sets off a series of events that draws the attention of a handful of angels as Heaven remains skeptical of any danger. In an unsanctioned mission to thwart Lucifer's plans, a small group of angels set off on their own. Do they have the fortitude to endure Hell's forces and convince Heaven or will Lucifer threaten all of creation?
Gates of Divinity: The First Light
Word Count:

84000
Summary: Cursed with immortality, Dermot MacKay craves death. To lift the faerie curse placed upon him and his men over 1,600 years ago, he must return the soul of his reincarnated wife to the exact place and time of her murder. But her soul is currently residing in the very modern Sidney St. George—and first he has to convince her to accompany him to Scotland. Sidney doesn't believe Dermot's wild claims of immortality and rebirth, yet she cannot deny that she is drawn to the sexy Scot. Nor can she explain the sense of déjà vu his touch elicits. Desperate for answers, she agrees to go with him—only to learn too late that to help the man she loves is to lose him forever… 84,000 words
Heart of the Druid Laird
Word Count:

80,350
Summary: The sun and moon have been devoured by the cosmic wolves Skoll and Hati. Fimbulwinter has enveloped the world in the cold and darkness. Men prey on each other in order to survive. Amid the chaos, in the struggle for the throne, comes a war between brothers. Hakon, the illegitimate heir to the throne of Norveig, has obtained a horn that can summon a terror from the depths of the ocean. This monstrosity has been sinking the vessels of his half-brother, Jarl Erik Bloodaxe. Erik sends a company of untried heroes to infiltrate Hakon's stronghold and steal the horn. As with all things political, there are other agendas. Fjorn, the leader of the team, is Erik's half-brother who could challenge Erik for the throne. Erik's wife Gunnhild is a powerful sorceress with her own ambitions- could her goals derail the heroes? In life, sometimes a Jarl wins, and other times a Jarl wins.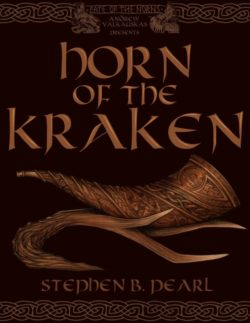 Horn of the Kraken
Word Count:

67000
Summary: Morgorth and Aishe must contend with a deadly threat that could spell disaster for their world. Payshthas were the first of the Mother's intelligent children. It is rare for true friendship to form between them and another species—which makes Morgorth's bond with Enfernlo unique. And it is due to their friendship that Morgorth doesn't hesitate to answer Enfernlo's plea for help. A thief has stolen something vital from Enfernlo's colony—a stone of power. Their hunt for the stone leads them to a war torn kingdom, and Aishe can hardly stomach what he sees. The devastation urges him to assist however he can, no matter the risk. Meanwhile, Morgorth is faced with reminders of the monster he used to be, and contemplates how far he's come, and yet how far he still has to go. And when his estranged mentor joins them on their search, Morgorth is forced to confront his resentment and sense of betrayal, and use Master Ulezander as a tool to save the payshthas. Forced into a deadly quest where trust is in short supply, and faced with challengers for the stone, Morgorth must put his faith in those he loves and in himself... and become a champion not just of the Mother but for Karishian itself.
Jade: First and Last
Word Count:

65,091
Summary: A bond they thought couldn't be broken... Lord Morgorth, Dark Mage of the North, has never felt so far away from his precious mate as he does now. Still reeling from the events of a month before, Aishe struggles to come to grips with what the dream demon did to him while pretending to be Morgorth. For his part, Morgorth is haunted by the chilling vision the Mother sent him while he traversed Dreamworld—a vision where he kills the one most precious to him. Due to that knowledge, he knows he must choose his magick or his mate. A choice with devastating consequences... When Morgorth goes missing, Aishe must search for him, frightened that he has lost his mage forever. In his heart he knows they were meant for each other and refuses to allow his own horrid memories to tear them apart. But when he finds Morgorth he is stunned to realize that Morgorth doesn't remember him. In fact, in Morgorth's mind, he is a young lad named Lazur. Sometimes the most well-known truth is the greatest lie... For his entire life, Morgorth always knew his destiny was to become the Destroyer of his home world. His birthright as the third seventh son of a seventh son guaranteed such an outcome. Everyone told him so—except his mentor, Master Ulezander. Morgorth will learn that his mentor has been keeping the greatest secret of all: his true destiny.
Lapis Lazuli: Forgotten and Remembered
Word Count:

165000
Summary: What does a former assassin do when he's not out there… well… assassinating? Saving his species from extinction, of course. At least, that's what Leopold wants to do with every molecule in his body. But the task won't be fast or easy, and he can't do it alone. Enter Mastrodai—a mrrog prince who has absolutely no desire to rule, much to his father's exasperation. He craves the ability to prove his worth as a mate and to somehow atone for his actions that led to Leopold's torture at the hands of an enemy. Making humans official would be a good start. But politics rule no matter what the species, and Mastrodai has to maneuver carefully and risk what he has built to give his mate what he deserves. And when he realizes both he and Leopold have deeper feelings for Alex, one of Mastrodai's human slave women, he knows his future is out among the stars with his humans, not planet-bound with his kin. Unfortunately, before they can set their plan into motion, Leopold receives a vision that sends him reeling and questioning everything he knows about himself. A vision he must investigate, back to where he began—Lex, the backwater planet where he spent his early years, and where he swore never to return. Trigger Warning: Includes violence throughout, PTSD, a scene of graphic torture, and the start of a consensual menage relationship.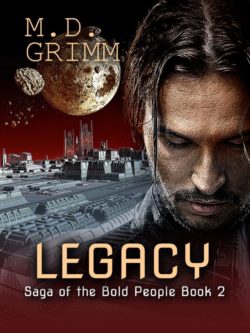 Legacy
Word Count:

170000
Summary: The enemy hunts him, but not for the reason he thinks. How does a human survive in an alien dominated InterGalactic Community? By becoming an assassin, of course. At least, that's what Leopold thought when he became an assassin for the elite. Pretending to be an alien known as Voidstriker, Leopold feeds his appetite for vengeance, killing aliens as well as taking their money. It's a win-win to his mind. That is, until a bounty is placed upon his head. With his true identity now revealed to the IG Community, Leopold knows it's only a matter of time before the powerful family members of his victims come for blood. Far worse is the fact that the one who put the bounty on his head, is the one he most fears. A routine job three cycles ago brought him face-to-face with Mastrodai, a prince of the powerful Mrrog Nation. Not only did Leopold—accidentally—destroy part of Mastrodai's moon, but one glimpse of the mighty alien had him feeling desire for the first time in his life. He ran, and like predator after prey, Mastrodai never stopped hunting him. Leopold is convinced that Mastrodai wants bloody revenge.  But when he finally confronts the mrrog, he is stunned to realize Mastrodai wants something very different. Something surprisingly intimate—the one thing that scares Leopold more than torture. Trigger Warning: Off page torture and abuse, and aftermath of rape. While the intimacy between Leopold and Mastrodai is always consensual, there are others who wish to break Leopold into as many pieces as possible.
Leopold
Word Count:

25000
Summary: Damon Snow thinks he has the world figured out. As an incubus and male prostitute, the world is a cruel, dark and lonely place where men only want one thing. When his long-time patron Byrne discovers he's dying, Byrne offers to leave his entire fortune to Damon. There's only one catch: Damon has to investigate and write about the reason another patron Price visits him. Easy — the same thing as all men. But what starts as an easy assignment turns into an impossible secret, the last thing Damon would ever suspect. If men only want the one thing, how can one possibly fall in love?
Nocturnal Lessons