Word Count:

139579
Summary: When things begin to go wrong, they have a habit of going spectacularly wrong, Lord Telluris Marat discovers. Robbed of his visions and his ability to prophesy, he still has his will to fight and his ability to command an army. But the enemy he faces now commands weapons that rival his worst nightmares. Emily struggles with her own visions, and finds herself caught between worlds. Jake Montagna, the president of the interplanetary mining company, has gone off the deep end and will stop at nothing to get what he wants. If only they were in broadcast range of the authorities, Emily could do something. But Arhanna is far out of normal shipping lanes. To stop Jake, she'll have to do it herself.
Shadow and Light
Word Count:

70,000
Summary: Do you know what your problem is? Sulphur knows hers. This 13th-century woman has trained as a fighter all her life in hopes of joining the army. Then, within days, both of her older sisters announce plans and suddenly Sulphur is expected to find a man to marry instead. Is it her good fortune her homeland is gripped by fear of a pending invasion and the army now goes door to door encouraging recruits? Sulphur thinks it is. But once she's forced to kill in a small skirmish, she's ready to rethink her career decision. Too bad it's too late. The invasion is coming, and Ilari needs every good soldier it has. Once Sulphur learns Ilari's army has made the strategic decision to not defend certain parts of the realm, including the one where her family lives, she has to re-evaluate her loyalty. Is it with the military she's always admired? Or is it with her sisters, who are hatching a plan to defend their homeland with magic? The problem with being a woman who fights for what's right is that now, she has to figure out what is.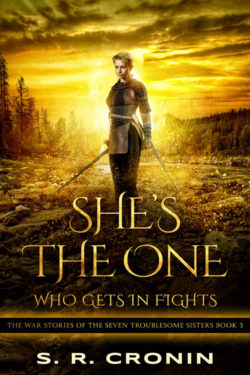 She's the One Who Gets in Fights
Word Count:

56000
Summary: Sergeant David Lucas was an elite US Army Ranger deployed in Afghanistan until werewolves took down his unit. Caught in the middle of a fight between light and dark, Lucas finds himself the guardian of the young djinn Vash. As forces he doesn't understand circle them, Lucas struggles to make sense of everything while keeping Vash safe. He wanted to be a soldier, that was all he ever wanted to be. Shooting things he understands, but how can he survive when he runs into things bullets can't stop? Even with new friends around, turning furry might be more than Lucas can deal with. Failure could mean the end of a world he no longer comprehends. And worse, what does a strong ex-ranger do when he's forced to deal with girl's fashions for the first time in his life? Magic from the Middle East and West collide with the fate of one little djinn girl hanging in the balance.
Spark
Word Count: Information not available
Summary: On a parallel Earth called Kale-Ra, humans born under "star signs" are blessed with magical powers. Two factions exist: the Star Guardians, and the Shadow Guardians. Clarabelle Stewart is your average teenage girl. She doesn't have any hobbies, and manages a C+ average in most of her classes. At least, she would be average, if not for her late father. He betrayed the government while attempting to steal a treasure for a Shadow Guardian terrorist organization, the Penumbra. Ever since his death, her family has been scorned and marginalized. But when the Starlite Academy--a prestigious military school for aspiring Star Guardians--grants Clarabelle a full-ride scholarship, she realizes that this is her opportunity to turn her life around. She eagerly sets off for school, and meets a wonderful group of friends. Yet, some things are still... off. Her teacher, Slade, and her roommate, Wulfgar, claim that they know her from their past, but she doesn't remember them. And Ursula, the bubbly senior student who welcomed her into their friend group, is hiding her own set of dark, tumultuous secrets. Unbeknownst to them all, weaving backwards through the years, a sinister plot has taken hold, setting the course for each of their lives. And suddenly, the world turned upside down. Nothing is what it seems.
Star Guardians: Legend of the White Nova Volume 1
Word Count:

99,800
Summary: The Storm has arrived. For Davra Andraste, redemption comes as she accompanies the resistance commander to confront the human warlord fighting against both sides. And the newest overlord on Amargosa. For an ambitious politician, control of human evolution is almost in his grasp. Only a very old foe threatens to undo his plans. For Laral Farad, it is his family's last hope to tame the "rogue colony" called Cyal, which humans call Amargosa. For JT Austin, it's a now or never moment to prove himself as he trains to liberate his adopted homeworld. For Amargosa, it's a chance to end a year-long nightmare. The Amargosa Trilogy comes to a thrilling conclusion!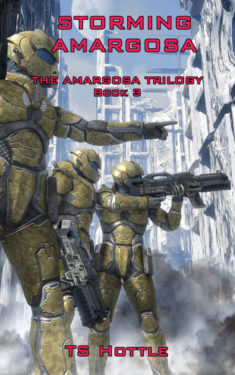 Storming Amargosa (The Amargosa Trilogy Book 3)
Word Count: Information not available
Summary:
Kyle Anderson grew up with the lie that he was one of the last humans born. Then Kyle's quiet, lonely life as a research assistant and student is shattered when he discovers the government has been lying to the world for more than twenty years. Now on the run from authorities who would kill for his silence, Kyle is taken in by Daniel Shanks, a member of a militia group dedicated to discovering the truth.
Daniel has seen death and violence in this new, radically changed society, and the closer he gets to Kyle, the harder his fears ride him. They will need to stop listening to the lies told by the government and start facing the lies they've been telling themselves, because the only place strays like them may be safe in this uncertain world is in each other's hearts.
Strays
Word Count:

45000
Summary: Returning to the frozen planet Aren died on was bound to have complications... Major Aren Dalsgaard's newest assignment is to investigate a series of murders on the frigid planet, Drass, where relations between the Treaty settlers and the indigenous inhabitants have taken a nasty turn. A linguist and trained xenologist, Major Dalsgaard should be the ideal Special Investigations Officer for this case, but Drass is where he died, over a hundred and twenty years ago. Sent by his family to the chigyel city, Nyachung finds himself confronted with a murder charge, racial prejudice, and a man who claims to be a hero from his grandmother's generation. The man could be crazy or he could be lying to manipulate Nyachung, but the sincerity in those spring-green eyes disturbs him more than anything else he's encountered in the foreigners' city. Evidence that makes no sense, mysterious boxes, and a suspicion that they can't trust anyone in the city drives the major and Nyachung together and out into the wilderness. No one's telling Major Dalsgaard everything, but every step leads him closer to a feeling of imminent catastrophe if he can't wrap this case up in time.
Sub Zero
Word Count:

489,500
Summary: In this Rainbow Award-winning space opera/military sci-fi series, Earth is a dead planet, dark for thousands of years; lost for so long no one even knows where the solar system is. Her last known colony, Albion, has grown to be regional galactic power in its own right. But its drive to expand and found colonies of its own has threatened an alien race, the Maess, against whom Albion is now fighting a last-ditch battle for survival in a war that's dragged on for generations. Taking Shield charts the missions and adventures of Shield Captain Bennet, scion of a prominent military family. Bennet, also an analyst with the Military Strategy Unit, uncovers crucial data about the Maess to help with the war effort. Against the demands of his family's 'triple goddess' of Duty, Honour and Service, is set Bennet's relationships with lovers and family—his difficult relationship with his long term partner, Joss;  his estrangement from his father, Caeden, the commander of Fleet's First Flotilla; and Fleet Lieutenant Flynn, who, over the course of the series, develops into Bennet's main love interest. Over the Taking Shield arc, Bennet will see the extremes to which humanity's enemies, and his own people, will go to win the war. Some days he isn't able to tell friend from foe. Some days he doubts everything, including himself, as he strives to ensure Albion's victory. And some days he isn't sure, any longer, what victory looks like.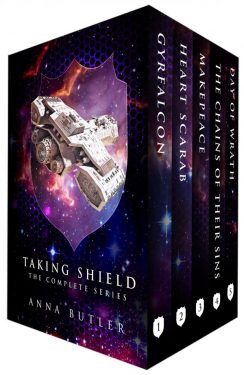 Taking Shield : The Complete Series
Word Count:

79000
Summary: The Angel's sinister plan for humanity nears completion! Concealed in its lair, aided by the self-absorbed corporate heiress Michaela Cross, the Angel readies for ultimate victory. But that victory is not yet assured. The mysterious Djinn and her far-flung network of agents prepare to make their final, desperate stand against the alien invader. Katia Miranova has returned to Vesta. Her world is under armed occupation, but she has unlikely new allies: a hacker sent by the Djinn who just might be able to override the Angel's mind-control; and the leader of the Earth forces who helped the alien conquer Vesta in the first place! Ex-reporter Francis Drake knows he's the key to the Djinn's plans. He just doesn't know how or why. Rocketing towards Earth and a final showdown, guarded over by the irascible android Summer, Drake struggles with his conscience and fear. Five years ago, he ran from this battle. Now, he must return to save the woman he once loved ... and Humanity itself!
The Angel and the Djinn
Word Count: Information not available
Summary: The embers of War still glow as memories of strange skies over an alien landscape, light-years from home, bring back the sensations of battle; a time when personal sacrifice meant the difference between salvation for all, or total destruction. Gathered here is a cross-section of stories from the first decade of the award-winning Defending The Future series. Written by the known and up-and-coming in the military science fiction genre, these stories represent the fan-requested highlights from the series.
The Best of Defending the Future
Word Count:

98000
Summary: The Big Cinch embeds readers in a magic-laced St. Louis, once known as Mound City, home of the indigenous Americans' Mississippian ancestors. Little evidence of their civilization survives in 1924, apart from the popular Piasa monster image, invoked to sell plows as well as ornament civic pageants. Sean Joye, a recent Irish immigrant, tried to avoid fae attention and ignore his magical abilities since childhood. A young veteran of 1922's Irish Civil War, he aims to atone for his assassin past and make a clean life in America.  Sean helps a wealthy, powerful, magic-dabbling family—founders of the most exclusive club in town, the Piasa Lodge--with a discreet inquiry or two. Sexually involved with a secretive, high-society flapper, he falls hard for her fiancé, a Great War flying ace with a few secrets of his own. But Sean asks the wrong questions about a kidnapped toddler and missing Native American artifacts and becomes a suspect in his lover's bludgeoning and a tycoon's murder. Can he master the paranormal abilities he's rejected for so long in time to protect the innocent and save his own skin?
The Big Cinch
Word Count:

97,600
Summary: **First Place Winner 2017 Rainbow Awards: Best Gay Sci-fi//Futuristic. ** **Third Place Winner 2017 Rainbow Awards: Best Gay Book.** Shield Captain Bennet arrives on the Gyrfalcon to take up his final year's posting before returning to the Shield Regiment after his rotation out. On Gyrfalcon he faces up to the fallout from Makepeace—ethical, political and above all, personal. Will he be able to accept necessity: that knowing what the Maess are up to outweighs the humanitarian issues surrounding the prisoners he rescued from Makepeace? Can he ride out the political furore that follows the loss of the dreadnought Caliban? How will he cope with an entire year of serving under his father, Caeden? And worst of all, how in the name of every god in the Pantheon can he stand to see Flynn every single day, with the Fraternisation Regs standing between them and keeping them apart? It will be an interesting year. Bennet can hardly wait for it to be over. Of course, things never really do go to plan…
The Chains of Their Sins
Word Count:

36590
Summary: Can you drop from Low Earth Orbit (LEO) with just a hardshell wingsuit? Navy SEAL Derek "Tiger" Baily and his SEALS Winged Insertion Command (SWIC) develop an experimental Gryphon hardshell wingsuit that can do just that. Eventually, when the presidential front-runner is seized by pirates for ransom, Baily's 6-man SWIC team must hurtle around the world, staging critical re-entry for a rescue, challenged to solve life-or-death problems with only seconds to spare. Can they survive? Will they effect the rescue? Join Tiger Baily through all four adventures in sci-fi master Robert G. Williscroft's Daedalus series, now collected for the first time as The Daedalus Files: SEALS Winged Insertion Command (SWIC).
The Daedalus Files: SEALS Winged Insertion Command (SWIC)
Word Count:

103900
Summary: Exiled and disinherited, Pelinas finds refuge with his father's enemies. But his mind holds dangerous secrets locked away, ones he fears he won't unravel before he does immeasurable harm. Starved and ill, Pelinas finds himself at the gates of Arhanna, the city of his father's enemies. He doesn't recall how he came there, though he remembers vividly his father disowning him. Luckily, the kind-hearted General Devar takes him in. Roya Intalva returns from the Academy up north to take her rightful place in the Ktar's forces only to find that her friend, Romenel, has taken on a new aide whom she does not trust and the troops are succumbing to a mysterious illness. Intrigue piles upon intrigue and when the walking dead kidnap Duke Semis, it falls to a group of green cadets, a prickly young Lieutenant and the haunted, guilt-ridden Pelinas to ride to the rescue.
The Enemy Within
Word Count:

73300
Summary: Hawker was a good soldier -- so good, in fact, that the Army asked him and his buddies to sign on for an extended hitch. What they couldn't know was that the extension would last forever. Century after century, war after war, Hawker and his comrades were re-animated over and over to fight on alien planets with ever more advanced weapons. The reasons for the wars were incomprehensible, but that didn't matter. All that counted was the fighting itself. From incarnation through incarnation, one goal remained in Hawker's mind. Somewhere, somehow, there had to be a way out of the loop. And he was determined to find it.
The Eternity Brigade
Word Count:

97,000
Summary: It's a war to take back Amargosa. A senior Compact official looks into the mysterious Juno and discovers a war for control of human evolution. A failed assassin must do penance by recruiting settlers for the woman he tried to kill. Two junior officers get a front row seat to the liberation, but their biggest fight is with each other. Those who have stolen Amargosa do not face an invasion.They face a gathering storm...
The Gathering Storm Omnibus
Word Count: Information not available
Summary: They think they're ready for this mission. They're wrong. The Terran Federation is finally at peace and ready to begin serious exploration. The TFS Pike is the newest ship in the Fleet, purpose-built for deep space missions. Four kilometers long, with a crew of four thousand, she's well-equipped for the years ahead. If only her crew was as prepared. Ensign Nicole Crozier, the former Premier of the Luna Free State, has left politics behind to pursue a career in the Fleet. But her stint as the Artemis Minister of War has landed her in Tactical instead of Science, her passion, and she's not happy about it. Still, she's been promised a chance to switch tracks, so for now she'll deal. Everything changes when Nicole discovers a rogue planet, and she's given command of the landing party. She's irritated her superior but that's the least of her problems when an ancient alien artifact emerges from the ice. As Nicole and her team explore the interior, the planet and her team vanish. The crew of the Pike must use all the tricks and tools available to get their missing people back. When they finally do, Nicole brings aboard a discovery which could change the course of history. Or end it. If you're a fan of Star Trek: Voyager, Battlestar Galactica 2003, Interstellar, or 2001: A Space Odyssey, then this is for you.
The Ghosts of Tantor
Word Count:

120000
Summary: Aidan Headly never wanted to be the man giving orders. That's fine with the Democratic State Force base he's been assigned to command: they don't like to take orders. Nicknamed the Wildcards, they used to be the most effective base against the seven Corporations owning the former United States in a war that has lasted over half a century. Now the Wildcards are known for creative insubordination, chaos, and commanders begging to be reassigned. Aidan is their last chance. If he can pull off his assignment as Commander and yank his ragtag crew of dreamers and fighters together, maybe they can get back to doing what they came to do: fighting for a country worth living in. Life's a bitch. She deals off the bottom of the deck. But you play the hands you're given.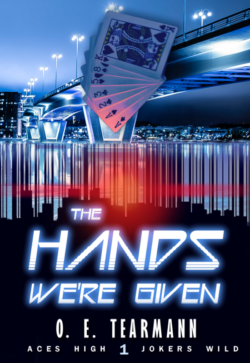 The Hands We're Given
Word Count:

16000
Summary: I, Lochan of the famed Féyes clan, know all about fighting. As a half-breed Elf, I have struggled against prejudice and feelings of inadequacy. A recluse by nature, I have battled my aversion to touch and interaction with others. To become an assassin of The Order, I have learnt to overcome the limitations of my mind and body. But denying the power Ervyn Morryés holds over me might be the one fight I lose. The truth is—damn it all—the relentless Highlander brings me to my knees. Note: This novelette is the second in the Order Series, and not a stand-alone installment. Reading THE MUTT is crucial for its full enjoyment.
The Highlander
Word Count:

97,000
Summary: Amargosa has fallen, but beyond it, humanity gears up to battle an unseen enemy. And finds an ally in an unexpected quarter. Here now are the three novellas comprising The Homefront Arc in one volume.
Broken Skies - The attempt to liberate Amargosa in the early days of the Gelt occupation fails. Force Admiral Quentin Austin finds himself in the political crosshairs for an operation that should never have taken place. While he awaits his fate, the Navy gives him an assignment: Find out the true nature of Juno, the shadowy company even its own parent corporation knows little about. Juno was present before the fall of every colony that has gone silent. And they're visiting another. Read an excerpt!
Warped - True FTL is here, powered by sarcasm. And a dwarf. Hideki Okada and Peter Lancaster have perfected warp drive after 400 years of wormhole travel. Now the Navy wants to mount their discovery on a warship. Only Okada and Lancaster have some reservations about how the Compact wants to retaliate against their new enemy, the Gelt. They are shadowed by the secretive Cybercommand but find allies in Admirals Burke and Austin. The question is whether they will need to commit treason to do the right thing. Read an excerpt!
Tishla - Only she can unite two warring species. If they don't kill her first. Lattus Tishla goes from indentured servant to Elevated noble woman to leader of the fractured world of Hanar, formerly Gilead. Burdened with guilt for the Gelt invasion that slaughtered thousands of humans and displaced the survivors, she offers them a choice: Rebuild with her, or accept her head on a platter. The humans accept her offer and start building. Except some don't like this new order. And they'll stop at nothing to restore Hanar to either Compact or Gelt rule. Even murder her unborn twins. Read an excerpt!
The Homefront Arc Omnibus