Word Count: Information not available
Summary: NOMINATED FOR BEST NOVELLA OR SHORT STORY IN THE 2020 PARANORMAL ROMANCE GUILD REVIEWER'S CHOICE AWARDS Taken from the arms of her mother, a girl is raised by a family so alien that she hardly knows how to describe them. They are incredibly feral. She is anything but. As life with them becomes more and more bizarre, she has no choice but to incur the wrath of the pack and plead for her release--risking her life to ask it. Much to her surprise, but even more to his, her chosen mate devises a plan to get her home. It involves considerable deception but if ultimately successful, makes it possible for her to return to the mother and the home she so desperately misses. The plan succeeds. It has, however, unintended consequences since his actions cause her to question his motives and what it is to be his mate. She leaves him, nevertheless, returning home with her faithful dog as her travelling companion. Once there, she has a chance encounter with someone--a man who has a surprising connection to her past. But their joyful and unexpected reunion is short-lived. And in the aftermath of the tragedy that occurs, they learn family is what you make it, the people who love you most are the ones who make the greatest sacrifices, and home is where you belong.
A Girl and Her Dog
August 30, 2018
Word Count:
119000
Summary: Most cops get to deal with living criminals, but Agent Kirsten Wren isn't most cops. A gifted psionic with a troubled past, she possesses a rare combination of abilities that makes her a powerful weapon against paranormal threats. Adrift in a society that fears people like her, she feels alone in a city of millions. In 2418, rampant violence and corporate warfare have left no shortage of angry wraiths. Most are little more than fleeting shadows or eerie whispers in the darkness, but every so often, one gathers enough strength to threaten the living. A series of attacks by androids known as dolls leave the normal police baffled. Unable to explain what made the machines malfunction, they punt the case to Division 0. Kirsten's investigation into who – or what – is behind the random murders soon makes her a target for corporate assassins. Despite her past, and the cynical city around her, she clings to the belief that no one is beyond redemption. Alas, the killer is desperate to claim as many innocent souls as possible, and one might just be hers.
Division Zero
July 11, 2018
Word Count:
135408
Summary: Alexio Asmodai is the demon king of Eaglafonn, a small outpost kingdom in the Netherworld overruled by the Demon Lord Asmodeus. It is Alexio's responsibility to protect and police the frontier borders against any threats. He is an accomplished knight, so that part came easy. Eaglafonn is a cold and isolated kingdom. Alexio needed to stay and build his castle atop the hot springs to beat an addiction to seduction sickness. After over seven centuries, he thinks his loneliness has finally come to an end when he opens a crate to find a woman sent by Asmodeus for him to keep safe. He falls for her instantly. She is a human woman, fragile, timid, and irresistible. He must follow his liege's directive, convince her to become his queen, and see that she is cared for properly in a place that is inhospitable to her existence. This leads to a realization that his castle lacks a lot to be a first-class home for a lady. Can a tainted demon prince rise to the challenge to become a true king and win the woman who stole his heart? Dread Allies 7-14 The Shadow king of Eaglafonn has chosen his queen, but his castle lacks the feminine element. To make her more comfortable, he orders the demon princes to seek out and claim their own mates. That is easier said than done. Eaglafonn is a cold dark isolated kingdom in the Netherworld. It might be easier to claim mates from the Domhain, but not everyone could survive on the brutal dangerous frontier. The other options afforded from the Netherworld come with their own dangers. The magic is unbalanced and balancing comes with a price. Claiming their mates lead the demon princes on epic mini journeys and reveals the need for Eaglafonn to take a greater role in helping Luke aid the dream. Dread Allies is a miniseries set in the Netherworld in the dream. It is an ancillary group of stories to the Draoithe saga. While it is set in that world, it is not in the direct series lineup. The dream just got darker and colder. Welcome to Eaglafonn.
Dread Allies: Shadow King
May 15, 2020
Word Count:
85000
Summary: ALSO AVAILABLE FROM INGRAM FOR BOOKSTORES We're a world beset by crises. Climate change, income inequality, racism, pandemics, an almost unmanageable tangle of issues. Sometimes it's hard to look ahead and see a hopeful future. We asked sci-fi writers to send us stories about ways to fix what's wrong with the world. From the sixty-five stories we received, we chose twelve most amazing (and hopefully prescient) tales. Dive in and find out how we might mitigate climate change, make war obsolete, switch to alternative forms of energy, and restructure the very foundations of our society, The future's not going to fix itself.
Fix the World Anthology
SALE
April 10, 2021
Word Count: Information not available
Summary: Genevieve doesn't know if her unhappiness and feelings of not fitting in are different from anyone else's on her college campus. Recovering from a break-up and struggling with depression, she takes comfort in her impulsive sketches of strange creatures to try to escape the dark cloud that looms over her. But the truth is her place in this world is a lot more complicated than she could ever imagine. With two strange men following her, vines that engulf her dorm overnight, and a cactus that overruns the campus library, she is forced to face the possibility that her origins are more mysterious than the fact that she was abandoned as a baby. Especially as a powerful urge takes hold of her to draw something new and frightening. Can it be that her reality is stranger than her imagination? The one thing she can't imagine is that her happiness and talents just might be the key to save or destroy an invisible world.
In The Drawing
August 8, 2019
Word Count: Information not available
Summary: Reva and Ansee face fresh threats as a new evil is imported into Tenyl and threatens the city with an undead plague. Constable Inspector Reva Lunaria's life is looking up. She's managed to put two groups of unruly adventurers in jail and she gets word that her boyfriend, Aavril, has just arrived in port. She is looking forward to a relaxing dinner, a present, and maybe some time getting reacquainted after Aavril's long absence. But Aavril's ship has delivered more than a cargo of spices and exotic merchandise and a new evil begins to take root within Tenyl. Reva's romantic evening is spoiled by news of a double murder. It should be a simple case, except that the victims have disappeared. Reva's investigation barely gets started before Lord Constable Inspector Betulla contrives a way to get Reva suspended. With Reva temporarily off the force, the murder investigation is given to Constable Inspector Pflamtael, who is looking to find the fastest resolution to the case. Meanwhile, Seeker Ansee Carya investigates what appears to be a simple missing person case, until he discovers that the missing people – including the two murder victims – have become zombies. Now, Reva, with the aid of a halpbloed cleric, must work from outside the constabulary to figure out who is creating the undead, and how to stop the creatures before all of Tenyl becomes infected.
Joy of the Widow's Tears
June 2, 2020
Word Count:
53000
Summary: Years ago, empath Elijah Long made a bad decision, and he is still paying for it. He's kept hidden from his abusive werewolf ex for years, but when he wakes in a dark room, cuffed to a wall, he knows he's out of luck. Elora, his psychic sister, will come for him, he just has to endure long enough to give her a chance to find him. Captain Kol Jaecar of Rockshade's Paranormal Investigations Department detests slow times at work, so when Elora wants time off to search for her brother, Kol treats it as if it's a real case and starts an investigation. What he assumed was a brother not picking up when his sister called turns out to be something else. Elijah experiences people's emotions so strongly, it prohibits him from living a normal life. Spending time in the city is out of the question, yet it's where Elora takes him once she finds him. Elijah does his best to keep his distance, especially from the growling man Elora brought to his rescue. Elijah will never make the mistake of getting close to a shifter again. The moment Kol smells Elijah, he knows he's his mate, but how to get close to someone who doesn't want to be near you? The man who abused Elijah is still on the loose, and Kol calls in the entire team to hunt him down. But how are they to keep Elijah safe when he can't be around people? And how will Kol stay sane if he can't touch his mate?
Mind Scrambler
SALE
January 30, 2021
Word Count:
48821
Summary: More than fifty years before Leah Corbyn became a werewolf, Amélie Orne was cast out of werewolf society, manipulated into taking the blame for crimes she did not commit. After living for so long on the run as a Feral wolf, she found unexpected comfort and companionship from Leah and her lover Amy Oakley. As they grow closer, can she dare to hope for a real future together with them after a lifetime of betrayal and misery? Amélie has allies to stand with her now, but it will mean uncovering secrets long buried, and reopening dangerous old wounds...
Outcast's Song
April 23, 2022
Word Count:
99837
Summary: Race, an ex-cop private eye in a world where most people are conditioned so that they cannot commit an act of violence, must release a savage artificial personality, Ralf, that was implanted in him when he did a deep-cover mission as a police officer, to rescue Astra, the woman he secretly loves, from the crime syndicates who have used a drug to turn her into a sex slave. Race succeeds at the cost of the crime syndicates discovering that Ralph is still alive. The syndicates want their assassin back and think nothing of toppling Race's sanity to achieve their ends. Can Race maintain control of his body? Freed of the drug's effect, will Astra return his affections? And what of Ralph, can a sociopath learn to love and what changes might that bring?
Slaves of Love
June 15, 2009
Word Count:
52000
Summary: Detective Thaddeus Ezax is in over his head. He's the only wizard in Rockshade's Paranormal Investigations Department, and it was his name that got him the job. The Ezaxs are known as some of the most powerful wizards in the world, but Thaddeus isn't your average Ezaxs. Is it any wonder his family shuns him? When a kidnapping case is dropped into his lap, Thaddeus must act fast. While most five-year-olds can cast a location spell, Thaddeus can't and is forced to get creative. When he finds himself in possession of a black market werewolf skull with a ghost trapped inside, accidentally releases the spirit, and somehow forms a connection with it, things get even crazier. Sandulf Hunter doesn't remember dying, but he remembers the last thing he saw before everything went black—a wizard. All wizards must die! The only problem is, the wizard standing next to him smells too damned good, so good Sandy thinks he might have to keep him. And since wherever Thaddeus goes, Sandulf finds himself yanked along, he might not have a choice in the matter anyway.
Soul Eater
SALE
October 31, 2020
Word Count:
40,400
Summary: Sequel to Lost in Time and Shadows on the Border Inadvertently tumbling through the border after Fenn and then thrown into the middle of the internecine political disputes of their people, Sergeant Will Grant of the Metropolitan Police has spent three months in prison in the Underhalls of the Frem. When Fenn comes to free him and return him home through the border, he has very little time to work out what's going on before the sudden appearance of Fenn's missing younger sibling, Keren, throws Fenn for a loop. Instead of returning them to London as planned, the trio step through the border to the Egyptian desert. Once they work out where they are, it's a two week trip back to England with the possibility of pursuit both onboard ship and when they reach home. Will the journey give Fenn and Will time to resolve the feelings they have been dancing around since the day they met? How will they keep Keren from recapture by the faction who tried to persuade Fenn they were dead? And has Will's friend Alec forgiven Fenn for lying about their motives when they first traveled to London four months ago? The Hunted and the Hind is the third and final book in the 1920s 'Lost in Time' trilogy. The books need to be read in order.
The Hunted and the Hind
December 30, 2020
Word Count:
70190
Summary: Tucker Ferguson thought his life was moving along in a predictable fashion—working as an athletic trainer by day, clubbing and partying at night. Then he receives a mysterious plea for help on his cell phone, and he soon finds himself trapped in an alternate dimension he can't escape. Other odd things are happening elswhere in Colville, New York, though. Wry, plain-spoken Police Officer Dean Williamson and his earnest, dedicated partner Khalil Mansour have been chasing a petty thief who has the ability to appear out of nowhere and disappear again at will. When they make the connection between Tucker's disappearance and the thief's antics, the situation takes a turn in a markedly sinister direction. The three men are drawn into the connections between our world and the Shambles—that mysterious, shadowy place where all the lost things go. Lost socks, lost car keys—and lost people. And when a young megalomaniac decides that she wants the Shambles to be her kingdom, regardless of whose life it costs, Tucker is jerked out of his complacency into a world where there are no rules—and Mansour and Williamson may be the only ones who can save his life.
The Shambles
July 1, 2019
Word Count:
70000
Summary: Jacqui faces her biggest mystery yet - and her greatest fear. A drive-by shooting leaves Jacqueline Spadros with little remaining support for the life she's built apart from her estranged husband Tony. As evidence grows that the Hart Family is behind the attacks, which up to now have been laid on the doorstep of the notorious Red Dog Gang, Tony brings formal charges against the Harts before the Commission. Jacqui wants to stop the Red Dog Gang and learn the truth about Charles Hart's obsession with her. But the truth is stranger than she ever imagined. And what she learns changes everything. This is chapter 7 of a 13-part future steampunk noir series. Please begin with The Jacq of Spades and read the books in order.
The Two of Hearts
June 1, 2021
Word Count: Information not available
Summary: Too much family drama at home. That's what Morgan Patterson was thinking when she left the States to finish her final year of college studying abroad in Northern Ireland. She quickly finds herself immersed in a hidden world of magic and danger with the man of her dreams at the center of it. Only he's not a man. Tiernan Doherty is an honest-to-goodness faerie lord with family drama of his own. There's a blood feud to be settled, not to mention a messy chain of duty that binds him to the queen of the dark fae, a woman he truly despises. None of that matters to Morgan, though. She realizes Tiernan's not just the man of her dreams, he's the man she's meant to protect. But what she does to protect him surprises everyone, threatening the longstanding peace between humans and faeries, and causing more than enough tears for them all. "These Are for Tears," is the third book in the Will-o'-the-Wisp Stories, a serialized, epic urban fantasy that proves nothing is what it seems, promises are meant to be kept and words are binding things.
These Are for Tears
October 29, 2020
Word Count: Information not available
Summary:
Withrow Surrett, the most sarcastic vampire for a country mile, makes an annual Appalachian pilgrimage to keep tabs on nocturnal colleagues and his last living friend from mortal days. What should be a quiet week among familiar faces quickly fills with undead rednecks, folk magic, murder, a rookie detective and Withrow's own psychotic cousin who insists on trying to help. Because even vampires have cousins, and Southern ones especially so.
As Withrow chases the phantoms of conspiracy and paranoia across moonlit forests, abandoned factories, shadowy back roads and seedy bars - all the quiet little places humans fear to tread - Withrow also struggles with who he wants to be. Can a monster find a place among family and friends?
Fans of The Black Knight Chronicles, The Tome of Bill, and Fred, the Vampire Accountant will love this series!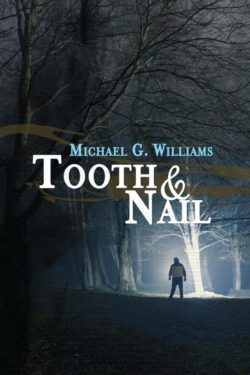 Tooth & Nail
August 21, 2017
Word Count: Information not available
Summary: The brutal murder of Lavalé fey Avecath, the King's First Magistrate and advisor, interrupts Constable Inspector Reva Lunaria's day off. The victim's status makes this a high-profile investigation, bringing with it unwanted attention from Senior Inquisitor Ailan Malvaceä of the Sucra, the King's secret police. The manner of the victim's death makes this case even more intriguing. A body cut perfectly in half - from top to bottom - is a rare occurrence, even in a city filled with all manner of magic weapons. All of this would be challenging enough, but Inspector Lunaria must also deal with a new partner, Seeker Ansee Carya, who is clearly not up to her standards. As Reva faces a growing body count, Senior Inquisitor Malvaceä undertakes his own mission to find the same killer, but with a very different agenda. Reva's investigation takes unexpected turns as wild conspiracies, hidden addictions, and Dark Elf soldiers all threaten to distract Reva from tracking down the killer. Reva's only hope of stopping the serial killer from cutting more prominent citizens of Tenyl in half is to figure out how to work with Seeker Carya and overcome her own weaknesses.
Wrath of the Fury Blade
April 10, 2018