Word Count:
108000
Summary: Now what? As Kendra recovers from her wounds, Artemis is planning their next strike. But so are others. Artemis has been too corrupt for too long; their own people are ready to take control. It's just going to take a little encouragement...
A Quiet Revolution
April 16, 2021
Word Count:
184000
Summary:
An unexpected romance. A space-heist gone wrong. A galactic catastrophe in the making.
At the furthest reaches of the known galaxy, cyber-thief Rowland Hale's biggest score turns into a fight for his life.  Beaten but not broken, ex-navy captain Toar Grithrawrscion can save that life, but only by risking his own. With a toothy foe hell-bent on domination, can these two unlikely heroes come together and not only save the galaxy, but each other? Their destiny is in their hands, but only if they keep their hands to themselves. A high-adventure space epic with a touch of charming romance,
Allure of Oartheca
tells the story of two men from different worlds who must face battles both from without and from deep within – an Allure that whispers promises of rapture and destruction, that dares not be risked, and cannot be refused. If our heroes give up, they fail.  If they give in, they fail too – and the fate of the universe rests in the balance.
Allure of Oartheca
May 30, 2021
Word Count: Information not available
Summary: Ardulum. The planet that vanishes. The planet that sleeps. Neek makes a living piloting the dilapidated tramp transport, Mercy's Pledge, and smuggling questionable goods across systems blessed with peace and prosperity. She gets by—but only just. In her dreams, she is still haunted by thoughts of Ardulum, the traveling planet that, long ago, visited her homeworld. The Ardulans brought with them agriculture, art, interstellar technology…and then disappeared without a trace, leaving Neek's people to worship them as gods. Neek does not believe—and has paid dearly for it with an exile from her home for her heretical views. Yet, when the crew stumbles into an armed confrontation between the sheriffs of the Charted Systems and an unknown species, fate deals Neek an unexpected hand in the form of a slave girl—a child whose ability to telepathically manipulate cellulose is reminiscent of that of an Ardulan god. Forced to reconcile her beliefs, Neek chooses to protect her, but is the child the key to her salvation, or will she lead them all to their deaths?
Ardulum. First Don.
February 27, 2017
Word Count:
92000
Summary:
The Charted Systems are in pieces. Mercy's Pledge is destroyed, and her captain dead. With no homes to return to, the remaining crew sets off on a journey to find the mythical planet of Ardulum—a planet where Emn might find her people and Neek the answers she's long sought. Finding the planet, however, brings a host of uncomfortable truths about Ardulum's vision for the galaxy and Neek's role in a religion that refuses to release her. Neek must balance her planet's past and the unchecked power of the Ardulans with a budding relationship and a surprising revelation about her own genealogy.
Ardulum: Second Don blends space opera elements and hard science into a story about two women persistently bound to their past and a sentient planet determined to shape their future.
Ardulum: Second Don
October 9, 2017
Word Count:
106,000
Summary: The planet wakes. Atalant is torn between two worlds. In uncharted space, head of a sentient planet, the new eld of Ardulum now leads the religion she once rejected. Emn is by her side, but the Mmnnuggl war brewing in the Charted Systems, threatening her homeworld of Neek, cannot be ignored. Atalant must return to the planet that exiled her in order to lead the resistance. She must return home a god, a hypocrite, a liar in gold robes, and decide whether to thrust her unwilling people into the truth of Ardulum, or play the role she has been handed and never see her family, or her world, again.
Ardulum: Third Don
June 4, 2018
Word Count:
60350
Summary: Starship captain Ardeva Korrell is used to fighting prejudice, both because she's a woman in what's normally a man's line of work and because she's from a world with a misunderstood religion. But now, on a trading mission to a backwater planet, she finds herself with another kind of fight on her hands; she and her small crew must battle an army of robots and defeat the tyrannical, god-like beings who have enslaved the native population. The task before them is straightforward: to storm the gates of Heaven itself!
Assault on the Gods
Word Count: Information not available
Summary: Jennifer Bronwen, deep-space freighter skipper, sometime smuggler, and occasional blaster-for-hire is flat broke and in desperate need of a job. With her bills mounting and her ship one unlucky micrometeorite collision away from the scrapheap, when she's offered a lucrative contract for a risky heist, well, it's an opportunity she can't afford to pass up. Keera Naraymis, a secret agent on deep-cover assignment in alien space, has just one more job to finish before her mission is complete. Getting it right means making the galaxy a safer place, and taking a trip to the Terran homeworld should be simple enough. But in the espionage game, your enemies are never quite who they appear. When their lives collide with catastrophic consequences, Jen and Keera form an unlikely alliance to find out why anyone would want to kill either one of them. What they discover runs far deeper than they could ever have anticipated, and throws them into a race against time to stop a conspiracy that threatens to unravel a thousand years of peace in the galaxy of the Burning Suns.
Burning Suns: Conflagration (Book One)
November 3, 2015
Word Count: Information not available
Summary: Thrown into an unwilling partnership by a heist gone bad and a botched assassination, mercenary captain Jennifer Bronwen and changeling intelligence agent Keera Naraymis are on the run from just about everybody. If they can learn to trust one another, maybe they can figure out exactly how their lives got turned upside down. But right now, mired as they are in a game of cat and mouse in the bowels of a criminal's lair, that seems like a big if. On the other side of the galaxy, Admiral Kiith Kohath has an even bigger problem—a corrupted cohort of cyborgs intent on pillaging the Assembly systems. Tracking the enemy to the sites of their atrocities, Kohath and his team must piece together the Reavers' plan and determine their next target, preferably before they have a chance to slaughter yet another defenceless colony. With alliances and agreements fraying at the seams, and new and old trusts being put to the test, the personal and political stakes rise ever higher as Jen, Keera, and Kohath struggle to prevent the galaxy from slipping into all-out war…
Burning Suns: Conflagration (Book Two)
August 9, 2016
Word Count:
16500
Summary: Spaceship Captain Luke Matthews has kept his sexuality a secret. What happens when the crew finds out? Is Lieutenant Kent as straight as he always believed? Will he hit him or kiss him, or both?
Dangerous Tension
May 28, 2013
Word Count: Information not available
Summary: He tried to bury it. But some things refuse to stay hidden. Having survived his encounter with the mysterious Sil race, Caspian and the crew of the USCS Tempest receive a new assignment: investigate the threat emerging far beyond the Coalition's borders. With its advanced engines, Tempest is the only ship fast enough to reach whatever is out there before they cross into Coalition territory. But just because Cas is part of the mission now doesn't mean the crew has to like it. Being back on board a starship hasn't been easy, and now that he's been tasked with keeping their new ally from killing the crew, it isn't getting any easier. It seems his only option is to bury what the Coalition did to him and return to the model officer he used to be. Tensions and tempers rise when the ship gets stuck at the edge of a seldom-traveled nebula, costing them precious time and energy. But is there something more to this dark edge of space? As the mystery unfolds, Caspian realizes not only is this unlike anything he's ever seen before, but he may not be able to bury his past as deep as he hoped. Brand new from bestselling author Eric Warren, DARKEST REACH is the third installment in the INFINITY'S END SAGA. Fans of Star Trek, Firefly and The Twilight Zone will enjoy this illuminating look into what really resides in the darkest corners of space and our minds.
Darkest Reach
June 10, 2019
Word Count:
70000
Summary: If you find alien technology … don't turn it on. Beyond the farthest reaches of explored space, survey ship Cerberus arrives at an unclaimed planet to find a deserted vessel already in orbit. When newly commissioned captain Janet Hollander leads a team to the derelict, they find an ancient alien artifact on board. As her own crew members begin to disappear, Hollander learns that neither the ghost ship nor the planet are as lifeless as they appear. She must survive long enough to find out what happened to the derelict—before she and her crew suffer the same fate.
Derelict
May 9, 2022
Word Count:
23000
Summary: Shax, the Demon Prince of Thieves, has reconciled himself to exile. He has a grand time careening around the galaxy as a high-end, intergalactic purloiner of pretties. Everything's going just fine, thank you very much. All right, fine, the anti-gravity cows are a bit problematic and some of his buyers are bad for his health, but he manages until he comes across an injured angel in a psychedelic alien jungle. He only rescues the wing boy for his golden feathers, but what Shax doesn't know about angels could fill an intergalactic encyclopedia. Ness, since his full, angelic name is too much to deal with, is shockingly naïve and seems convinced that Shax and Verin have brought him aboard to torture him or perhaps eat him. Little by little, Shax begins to earn his trust in the quest to wheedle a golden feather or two from him until to Shax's dismay, the yearning after pretties becomes a different sort of yearning entirely.
Hell For The Company: Brimstone 2
January 4, 2014
Word Count: Information not available
Summary: Kal has always been considered too "fragile" to participate in the village activities. Her lithe stature links her to her father and distances her from everyone else. He left the village to fight in the Teristaque Wars and never returned. She meets Sarge, a strange star species of the human race who seems to know the secret of the patch from her father's uniform. Kal has always known she is different than her fellow villagers, and finally she may be closer to finding out why.
Kal's Fall
December 6, 2014
Word Count: Information not available
Summary:
Beyond the Edge Things get Weird.
Having barely survived their encounter with the mysterious race known only as Andromeda, the crew of the
USCS Tempest
now must find a way to repair the ship if they ever want to get back to the Coalition to warn them of what's coming. Their comms are down, their engines are shot and unless the god Kor himself makes an appearance, they'll have to rely on local help if they want a way out of this mess. But finding friendly species in an uncharted region of space is easier said than done. They've already captured one pirate attempting to take advantage of their ship and have spent the last few weeks fending off even more. If this doesn't let up soon, there won't be anything left of the
Tempest
to save. However, their new prisoner offers a solution. He knows where to find exactly what they need, if they're willing to let him out. If that weren't enough, he knows where they can find out more about Andromeda before returning to the Coalition. The catch is they have to put their trust in a bunch of strangers they know nothing about.
If you love space adventure, robots, aliens and a bevy of characters with more mystery than Pandora, you'll love SECRETS PAST and the INFINITY'S END series!
Secrets Past
August 10, 2019
Word Count:
39865
Summary: The boys desperately need a vacation. With the not-quite-ill-gotten gains from the Frog incident, Shax takes the Brimstone's crew to the exclusive resort planet, Opal, for some much needed rest and relaxation. The resort has everything a demon prince and his crew could want, but an incident on the Trauma Ball court has Ness stalking off in anger and sends events swiftly spiraling out of control. ​Loving a demon isn't easy, as Ness has discovered, and harder still for a newly fallen who's still sorting out what that means. A new friend lending a sympathetic ear helps until Ness learns too late that friendship was the last thing on BJ's mind. Shax will need every bit of his cunning and his legendary luck to save his Ness as he's drawn into a web of criminal experiments and…pink hedgehogs?
Shax's War: Brimstone 4
May 31, 2014
Word Count:
99,800
Summary: The Storm has arrived. For Davra Andraste, redemption comes as she accompanies the resistance commander to confront the human warlord fighting against both sides. And the newest overlord on Amargosa. For an ambitious politician, control of human evolution is almost in his grasp. Only a very old foe threatens to undo his plans. For Laral Farad, it is his family's last hope to tame the "rogue colony" called Cyal, which humans call Amargosa. For JT Austin, it's a now or never moment to prove himself as he trains to liberate his adopted homeworld. For Amargosa, it's a chance to end a year-long nightmare. The Amargosa Trilogy comes to a thrilling conclusion!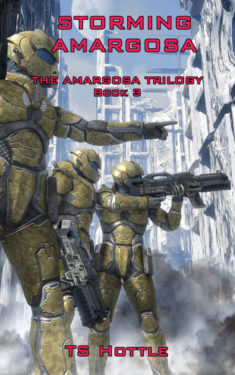 Storming Amargosa (The Amargosa Trilogy Book 3)
September 13, 2020
Word Count:
56000
Summary: Take one final ride with the crew of the Scarlet Lucidity. One year after saving the Neek homeworld and redefining the people's religion, the crew of the Scarlet Lucidity returns to the Charted Systems for a much-need break. For Nicholas and Yorden, the Systems will always be home, but for Emn and Atalant, too many memories compound with Emn's strange new illness to provide much relaxation. TALES FROM ARDULUM continues the journey of Atalant, Emn, Yorden, Nicholas, and Salice as they try to define their place in a galaxy that no longer needs them while battling the artifacts of Ardulan colonization. Other stories include Yorden's acquisition of the Mercy's Pledge (and his grudge against the galaxy), Atalant's exile from her homeworld, Ekimet and Savath's romance, and many others. TALES also has FOUR full page illustrations of the crew by Micah Epstein!
Tales From Ardulum
June 10, 2019
Word Count: Information not available
Summary:
It was just supposed to be one job. But once the Coalition has you, they never let go…
Caspian Robeaux thought his troubles were over when he disrupted the Coalition's plans and the person who had betrayed him found himself behind bars. But life is rarely so simple. Now the Coalition has a new mission for him, one that takes him right back into the heart of the enemy who helped cost him his freedom. The question is, can he step up to the challenge, or will his past continue to determine his future?
Immerse yourself in the world of the Sovereign Coalition with this second volume in the highly successful
INFINITY'S END
series from Bestselling Author Eric Warren.
Tempest Rising
May 27, 2019
Word Count:
44366
Summary: The Brimstone. Cargo ship, hive of thievery and profiteering. Captained by a demon prince and manned by a crew that puts any batch of misfits to shame. You've come along with a cargo of anti-gravity cows and one of jeweled-toned potatoes. You've shared the horrors of frogs and nightmares. Now share some, more or less, quieter moments with the Brimstone crew—small snippets plucked from various spots in each personal timeline, from Shax and Verin's childhood in Hell to after the events of Beside a Black Tarn. The Brimstone Journals, Collection One also includes an exclusive holiday short story, never published as part of the blog series. Shax would probably like to keep it that way, but too bad.
The Brimstone Journals: Collection One
December 24, 2016
Word Count:
97,000
Summary: It's a war to take back Amargosa. A senior Compact official looks into the mysterious Juno and discovers a war for control of human evolution. A failed assassin must do penance by recruiting settlers for the woman he tried to kill. Two junior officers get a front row seat to the liberation, but their biggest fight is with each other. Those who have stolen Amargosa do not face an invasion.They face a gathering storm...
The Gathering Storm Omnibus
August 1, 2020