Word Count: Information not available
Summary: Collection of twenty-two short fantasy and science fiction stories. A wizard seeking an apprentice won't take no for an answer, and a would-be apprentice attempts the impossible to find a mentor. A twin discovers her sister's new job is a lot different than she expects. And what's the deal with the cat whiskers?
Agents, Adepts & Apprentices
Word Count:

35656
Summary: When Shax stumbles across rumors of an experimental house that responds to the occupant's brain functions, creating scenarios to please and delight, naturally he wants to steal it. While stealing an entire house sounds impossible, the demon prince has a cunning plan. But a night at the ballet heralds the return of a troubled and hunted Julian Parallax. He brings ominous news to whisper in Shax's ear and forces Ness to battle a new emotion – raging jealousy. With nefarious plots in the background and an overabundance of Poe references, even Shax's scheming may not be enough to get the Brimstone crew out alive this time.
Beside A Black Tarn: Brimstone 5
Word Count:

100000
Summary: Sassy and Owen Winslow were historical experts on the Revolutionary War and the Culpers, Washington's spy ring. After her husband dies unexpectedly, Sassy struggles to find new meaning in her life. When she goes exploring in the Cohutta Wilderness, she falls through a hole in time, and finds herself in the Indian Territory in 1778, falling in love with Big Sexy Will Selk. Will Selk, one of Washington's spies, falls in love with the spunky widow who came to live at McCarron's Corner after her husband's death. When he learns she came from Beyond, both Will and the Commander-in-Chief are eager to pick the historian's knowledge of the American Revolution – and in the process, Washington identifies the Culper Ring's Madame X, who turns the tide for the patriots to win the war when Sassy provides vital information.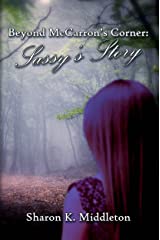 Beyond McCarron's Corner
Word Count: Information not available
Summary: Jennifer Bronwen, deep-space freighter skipper, sometime smuggler, and occasional blaster-for-hire is flat broke and in desperate need of a job. With her bills mounting and her ship one unlucky micrometeorite collision away from the scrapheap, when she's offered a lucrative contract for a risky heist, well, it's an opportunity she can't afford to pass up. Keera Naraymis, a secret agent on deep-cover assignment in alien space, has just one more job to finish before her mission is complete. Getting it right means making the galaxy a safer place, and taking a trip to the Terran homeworld should be simple enough. But in the espionage game, your enemies are never quite who they appear. When their lives collide with catastrophic consequences, Jen and Keera form an unlikely alliance to find out why anyone would want to kill either one of them. What they discover runs far deeper than they could ever have anticipated, and throws them into a race against time to stop a conspiracy that threatens to unravel a thousand years of peace in the galaxy of the Burning Suns.
Burning Suns: Conflagration (Book One)
Word Count: Information not available
Summary: Thrown into an unwilling partnership by a heist gone bad and a botched assassination, mercenary captain Jennifer Bronwen and changeling intelligence agent Keera Naraymis are on the run from just about everybody. If they can learn to trust one another, maybe they can figure out exactly how their lives got turned upside down. But right now, mired as they are in a game of cat and mouse in the bowels of a criminal's lair, that seems like a big if. On the other side of the galaxy, Admiral Kiith Kohath has an even bigger problem—a corrupted cohort of cyborgs intent on pillaging the Assembly systems. Tracking the enemy to the sites of their atrocities, Kohath and his team must piece together the Reavers' plan and determine their next target, preferably before they have a chance to slaughter yet another defenceless colony. With alliances and agreements fraying at the seams, and new and old trusts being put to the test, the personal and political stakes rise ever higher as Jen, Keera, and Kohath struggle to prevent the galaxy from slipping into all-out war…
Burning Suns: Conflagration (Book Two)
Word Count:

26000
Summary: Wilderness tour guide, Patrick Morgan, wakes to discover Harlan Quinn—the man he'd invited home for the night—has left, with no traces of his presence. Disconcerting as that might be, Patrick is shocked when the police turn up a week later, demanding to know Harlan's whereabouts. He's an ex-patrol officer, accused of manslaughter. Harlan Quinn is desperate. Not only has he been dismissed from the Space Patrol, on a charge he strongly denies, but now he is on the run.   He can't find a legitimate job. With no money and no prospects, what's left? When Patrick's tour group is caught up in a kidnapping plot, the last person he expects to run into is Harlan. With everything he knows, can Patrick dare to trust him?
Dangerous Love
Word Count:

97000
Summary: The seas spell freedom. Pirates and kraken, boats and submarines, deadly sirens, mermaids, and the women who face them all. These are our heroes. High seas adventure, fantasy, and magic weave together in this sapphic anthology focusing on the joy of the unbounded oceans. If you like diverse stories with lesbian and sapphic heroines exploring oceans, battling sea monsters, and seducing pirates, buy Farther Reefs today! With stories by: Sarah Day and Tim Pratt, Kim Pritekel, Kyoko M. Sara Codair, William C. Tracy, N.L. Bates, Robin C.M. Duncan, Vanessa Ricci-Thode, Margaret Adelle, and J.S. Fields Genres: Science Fiction / Fantasy / Adventure / Lesbian / LGBT and Non Binary Market: Adult
Farther Reefs
Word Count: Information not available
Summary: Nurse Stitch has her mouth sewn shut and her memory erased. John Doe has undergone 'nightmare surgery', his memory also erased, replaced by crippling trauma and delusions. Mahmoud Farouz is a captured insurgent from Iraq who is going to be used by a special Black Op organization to make America feel fear again. When these three prisoners of a secret underground torture facility band together to escape, they cannot realize that not only has their torture been orchestrated, but so too will be their path to freedom.
Fear
Word Count:

85000
Summary: ALSO AVAILABLE FROM INGRAM FOR BOOKSTORES We're a world beset by crises. Climate change, income inequality, racism, pandemics, an almost unmanageable tangle of issues. Sometimes it's hard to look ahead and see a hopeful future. We asked sci-fi writers to send us stories about ways to fix what's wrong with the world. From the sixty-five stories we received, we chose twelve most amazing (and hopefully prescient) tales. Dive in and find out how we might mitigate climate change, make war obsolete, switch to alternative forms of energy, and restructure the very foundations of our society, The future's not going to fix itself.
Fix the World Anthology
Word Count:

140000
Summary: "You probably shouldn't stop to talk to strange men, dragons or fairies…" Stewart Rygby and Michael Dougal are looking forward to a new chapter in a new lifetime together, but the waiting is driving them mad. It also doesn't help that Stewart's mother is prone to random outbursts of poetry punctuated by the pealing of bells in the local fairy village. Whilst visiting Michael in Scotland, Stewart also gets to meet his fiancé's cousin and the future mother of their children—Shannon Anderson. After getting dumped by her girlfriend of ten years by sticky note, she's sick of pretences and vows to live life differently and by her own rules. Meanwhile, back in Llwyncudd, there's a new vicar in town. Father Aron Lewis tries to look at retirement and the odd turn his life has taken as a positive—and one quite possibly fated by God. But God seems to have a twisted sense of humour. Join us for a puppy poppy tea party pealing parade in Green Hills and Fairy Bells—the prophetic third book in the Green Hills Series by Celyn Kendrick!
Green Hills and Fairy Bells
Word Count:

142000
Summary: "It was certainly hot and dry, but he hadn't expected Hell to be particularly sunny." Ben Davies is no stranger to the strange, but his life just got a whole lot weirder. He's always battled between doing the morally right, sensible thing and impulse—but this time, his good intentions have landed him in hot water. Trapped in the Land of Nod with Alex's Dreamtime alter-ego, Ben needs to find a way to get back to Wales—his Wales. With a psychotic psychopomp as their Virgil to guide them on an RV road trip through hell, Ben and Alex get to see America in all its star-spangled glory. It'll take a transatlantic transdimensional meeting in the middle for these two to keep calm and carry on in their pursuit of happiness. Back in the fairy village, tensions are running at an all-time high. Will y Pentreff Cudd start the new year in an all-out civil war? Or set aside their differences to find peace and goodwill? Join dragons, fairies and transdimensional puppies in Green Hills and Whippoorwills—the thought-provoking sixth book in the Green Hills Series by Celyn Kendrick!
Green Hills and Whippoorwills
Word Count:

40289
Summary: For many, the United States is a land of opportunity and new beginnings – unless you happen to be 'different' from everyone else.  Hadi Shahir is one of those people, different in more ways than one. Hadi can manipulate fire; he is 'Evolved'. All he wants is a new life and new adventures in this land of opportunity. His dreams become endless nightmares, however, that begin with an inexplicable hate crime that leaves the young man traumatized and untrusting of the world around him. A chance encounter with a pretty face cracks that shell, showing him that not everyone in Chicago is out to get him until a rash of violent, deadly fires breaks out around the city. Suddenly, all eyes focus on Hadi when too many coincidences bring his abilities to the forefront. In a matter of moments, Hadi jumps to the top of the AEC's most-wanted list. His quiet life as a bartender quickly turns into a tangled mess of chaos, lies, and murder that drag the entire city of Chicago down in flames with the remnants of Hadi's ruined life.
Hellfire
Word Count:

36600
Summary: Undercover agent Liam Connell stared at his captor.  He looked like a pirate from a holovid— black trousers, a white, puffy-sleeved shirt, and a purple sash wrapped jauntily around his waist. Wavy black hair fell to his shoulders and ... Connell couldn't believe it.  He actually had gold hoops hanging from his ears. The pirate ran his forefinger lightly down Connell's cheek and smiled. "Mmm! Mmmm! What do we have here?" Just what had Connell gotten himself into? (M/M Romantic Sci-Fi) Word Count 36,600
Pirate
Word Count:

54545
Summary: Poor Poison Patty, the super sensually bio-augmented assassin, is in a powerfully pernicious predicament. Perhaps you read about it in Poison Patty, her first tragic tale? Patty used to be a gloriously gracious good girl, but that was before an awful arrogant acrimonious amoral aberrant Arabian king kidnapped her. Now she's got a bite! Even so, Patty's predicament has gotten worse. Not only is she sought after by two terribly tenacious powers, she's under the thumb of a third. Patty's also struggling with an essential existential enigma. Is she a superhero or a monster? A victim or a villain? Take a raucous run right through this second installment of Poison Patty's troublous tale and decide for yourself.
Poison Patty's Predicament
Word Count:

25745
Summary: When a steel trap of celestial and infernal politics threatens to close around them, Shax and Verin flee Earth's system in a stolen ship, leaving everything behind. It's an elegantly simple plan, with a new ship and a new life as carefree brigands among the stars. But the ship seems to hate them, and in order to have any sort of life they need funds. A frightened man offering them a contract to deliver three mysterious crates comes just in time, and Shax is sure their troubles are over. Out of his environment and in over his head, Shax scrambles to understand the players and the consequences of his new life. With cargo that's not what it seems, shadowy motives around every turn, and a gorgeous rogue named Julian for a dash of added confusion, Shax's grand schemes of a new start may be his demise before he can even begin.
Potato Surprise: Brimstone 1
Word Count:

66000
Summary: Introducing a thrilling new space opera adventure! When a Martian politician is kidnapped en route to a summit of leaders from the Asteroid Belt, events are set in motion which will change the face of the Solar System... Katia Miranova believes in a free Belt. She's lived her entire life on Vesta, and she'll be damned if she lets a bunch of Earthers tell her how to run her station. But when Earth makes its move, Katia begins to suspect there's something more sinister at work behind the scenes... On the distant edge of the system, Francis Drake is a washed-up hack drowning in a bottle. He's seen the face of the enemy and he ran from it. But Drake is about to be dragged kicking and screaming back into the middle of a war for the very future of humankind!
Revolt on Vesta
Word Count:

15400
Summary: Space ship Lieutenant Matthew Ferris has desired Daniel Peters, his ship's newest recruit, from the moment he saw him. But Peters is a lowly private and as the senior officer, Ferris knows he must wait for a sign that his feelings are returned before making an approach. When Peters follows him into a two-man capsule after a mission, Ferris thinks all his dreams are about to come true. What he doesn't expect is to discover a scandal that could tear his ship apart. Some call it rough play, he calls it unacceptable. A novella in the Aurigan Space Series. Gay sci-fi romance.
Rough Play
Word Count:

56800
Summary: Three Novellas: Rough Play - Lieutenant Matthew Ferris stumbles on a scandal that could tear his spaceship Jerez apart. Some call it rough play, he calls it unacceptable. His Guilty Secret - Heir to a wealthy shipping family, Adam S Hayes has his life carefully mapped out. Career, marriage, family. After establishing himself successfully as Captain of the Patrol Ship Revel, it is time for the next step. Everything is going according to plan ... until he meets Danyel King. Troubled and confused, Hayes risks losing his chance for love as he finds himself torn between his heart and his head. Dangerous Tension - Spaceship Captain Matthews has kept his sexuality a secret. What happens when the crew finds out? is Lieutenant Kent as straight as he always believed? Will he hit him or kiss him, or both? Gay romantic Sci-fi
Rough Play and More
Word Count:

119500
Summary:  Slingshot is a love story—about a man, a woman, another man, another woman, some gender bending…and a machine, the largest ever built.      Slingshot is a mystery—about a missing aviatrix, a conspiracy, a true-believer. Slingshot is an adventure—about following a dream, the ocean-deep, outer space. Slingshot is about constructing the first space launch-loop stretching 2,600 km between Baker and Jarvis Islands in the Equatorial Pacific. It's about high finance, intrigue, unlimited ambition, heroism, fanaticism, betrayal…and about opening space to the common person. With a cast of 69, Slingshot takes you from Seattle's world financial district, to the ocean bottom at 5,000 meters off Baker Island, to the edge of space 80 km above. You play with dolphins and battle sharks. You fly and sail and dive, you work and play and love across the vast panorama of an Equatorial Pacific being put to leash to serve humanity's surge into outer space. While its accurate science and precise engineering will appeal to hard science-fiction buffs, Slingshot's major focus is the grand journey, the opening of outer space to the common person by men and women who loom larger than life as they work, play, and love.
Slingshot: Building the largest Machine in Human History
Word Count:

19017
Summary: Should he change the past for love? As an agent for the Tempus Institute, Jason Adams' task is to observe the past, not change it. But when he's sent to 21st-century Wellington, New Zealand, during the last week of aspiring songwriter Sean Henderson's life, Jason finds he can't just watch from a distance. He and Sean quickly become friends and then lovers, and when the song that's haunted Jason for years connects them in a way he never anticipated, he'll risk changing history for the chance of sharing a future with Sean. Author's note:  This story was originally published in 2012 by another publisher. This edition has some added content, and uses UK/NZ spelling to reflect its setting.
Slow Dreaming