Word Count:
56800
Summary: Three Novellas: Rough Play - Lieutenant Matthew Ferris stumbles on a scandal that could tear his spaceship Jerez apart. Some call it rough play, he calls it unacceptable. His Guilty Secret - Heir to a wealthy shipping family, Adam S Hayes has his life carefully mapped out. Career, marriage, family. After establishing himself successfully as Captain of the Patrol Ship Revel, it is time for the next step. Everything is going according to plan ... until he meets Danyel King. Troubled and confused, Hayes risks losing his chance for love as he finds himself torn between his heart and his head. Dangerous Tension - Spaceship Captain Matthews has kept his sexuality a secret. What happens when the crew finds out? is Lieutenant Kent as straight as he always believed? Will he hit him or kiss him, or both? Gay romantic Sci-fi
Rough Play and More
September 5, 2018
Word Count:
52800
Summary: The galaxy's top criminals have not only been getting away from police, they've disappeared from sight entirely. Suspecting something far more sinister than a mere crime wave, the top agents of the Imperial Special Investigation Service delve into the matter--only to discover this is the tip of a galaxy-spanning conspiracy that threatens to undermine the stability of the Empire itself.
Sanctuary Planet
Word Count:
19017
Summary: Should he change the past for love? As an agent for the Tempus Institute, Jason Adams' task is to observe the past, not change it. But when he's sent to 21st-century Wellington, New Zealand, during the last week of aspiring songwriter Sean Henderson's life, Jason finds he can't just watch from a distance. He and Sean quickly become friends and then lovers, and when the song that's haunted Jason for years connects them in a way he never anticipated, he'll risk changing history for the chance of sharing a future with Sean. Author's note:  This story was originally published in 2012 by another publisher. This edition has some added content, and uses UK/NZ spelling to reflect its setting.
Slow Dreaming
December 2, 2019
Word Count:
51700
Summary: A hidden conspiracy is plotting to use the tsaritsa's wedding as the occasion to overthrow the true ruler and start a bloody revolt to take over the throne for themselves. Meanwhile, in the depths of interstellar space, a flotilla of space pirates is gathering. Is it mere coincidence, or a coordinated attack to topple the Empire and seize control of all human-occupied space? The Imperial Special Investigation Service must unravel the plots and thwart these plans before it's too late.
Stellar Revolution
Word Count:
120000
Summary: A woman with the strength to rebel. A shapeshifter who wears the souls of the dead. Together, they face a lethal enemy. Em helped create it. Now she must craft its defeat. In a city owned by industrialists, Em sells her magic to make ends meet. The extraction procedure is brutal and potentially deadly. Desperate for change, she joins an underground resistance movement to weaponize her magic and stop the abuse of workers. Meanwhile, a mysterious voice wakes Ruk from a decades long slumber and compels him to become human. He wants to break free but is torn between his shapeshifter instincts and the needs of the soul that sustains him. On streets haunted by outcasts and predatory automatons, a new danger emerges – an ever-growing corruption of magic and science. Em and Ruk must put aside their differences and pursue it – each for their own reasons. What they discover will forever change their lives… Or end them. The Eternal Machine is set in a 19th Century alternative reality Australian city, where magic and science are equally valid disciplines.
The Eternal Machine
February 14, 2022
Word Count:
112000
Summary: The first battles against Artemis ended with both sides bloodied. Six months have passed, six months of meaningless negotiations but no hostilities. What is Artemis up to now? To a degree, it doesn't matter. Cass and Ken can't stop building, improving, tinkering:
A new, larger, more capable habitat, a true city in space.
An improved starship
A true space fighter, not just a shuttle with popguns
And they're expanding their reach onto Luna itself, trying to discover and disrupt from the inside. But a secret is about to emerge, a secret so dark and devastating even Kendra doesn't know she's been carrying it her entire life. One which could smash their plans without a shot being fired.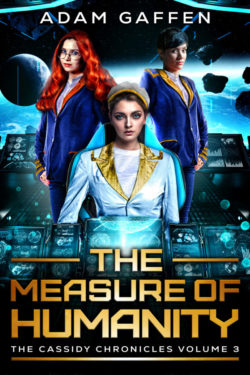 The Measure of Humanity
December 20, 2020
Word Count:
99,000
Summary: Oil reserves depleted. Society collapsed. A few places cling to modern technology. For everywhere else, there are the Tinkers. In southern Ontario, Novo Gaia uses sustainable energy to support its citizens in comfort. From there, Novo Gaia sends Doctors of Applied General Technology, tinkers, into the Dark Lands to install everything from solar stills to televisions—and make a profit. Brad Cooper is a tinker on his route in Guelph when he finds himself at the epicentre of a plague outbreak. Stranded without support in a tenuously-held quarantine zone, he must use his limited medical training in a desperate search for a treatment against an insidious relic from an age of excess. Meanwhile, fuelled by panic, other townspeople caught within the quarantine zone conspire to sabotage relief efforts. Distrusted by the people he's trying to help, hampered by political rivals, under-supplied, over-worked, and with his own risk of infection increasing, Brad seems to be fighting a losing battle as the casualties mount...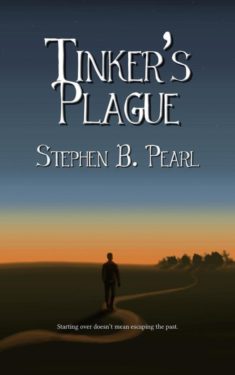 Tinker's Plague
April 29, 2016
Word Count:
71300
Summary: Space pirates harass interstellar shipping. On the frozen world of Gulag--where, for centuries, the Empire's worst traitors have been exiled--dangerous plots are hatching. Time is running out for agents of the Imperial Special Investigation Service to save the Empire from the most serious revolt in its centuries-long history.
Traitors' World
Word Count:
53400
Summary: Hundreds of thousands of people have visited the pleasure moon Vesa and simply vanished without a trace. Is this part of some vast galactic conspiracy? To find out, the Imperial Special Investigation Service dispatches its two best agents to look into the matter--and the shocking truth they reveal leads to a chain of discoveries that eventually threatens the stability of humanity's entire interstellar Empire.
Treacherous Moon
Word Count:
63000
Summary: With humanity scattered across the galaxy on hundreds of worlds, the Empire is the only force for order across the stars. Without it, interstellar conflicts would bring chaos and billions of deaths. But the tsar has been in a coma for five years now, and his grand-niece, the only apparent heir, is only 14 years old. In this hour of crisis, the task of preserving the Empire falls to two untrained--but far from unskilled--agents of the Imperial Special Investigation Service. Can they make a difference against the vast forces arrayed against them?
Tsar Wars
Word Count:
80000
Summary: KurtisP385XL47Ruth: Game Changer. Prodigal daughter. Spy. The Cyber entities control a peaceful but static galaxy–until they detect unsanctioned developments on the low-tech planet Poindros. They force rebellious Ruth Kurtis to leave the bright lights of Casino to return to her fundamentalist Poindran homeworld as their secret agent to investigate possible Changers. For reluctant Agent Kurtis, the Cybers' threat of the memory-erasing Steps of Healing would be less dangerous than facing the repression and simmering angers she escaped as a teenager. But Ruth won't run from this fight. The Cybers have calculated all the odds. Except they've just unleashed a wild card. "Stamey puts feeling into this tale of the Prodigal Daughter." (Publishers Weekly)
Wild Card Run
November 1, 2015
Word Count: Information not available
Summary: As one of Santa's Elite Fixers, Jing spends most of his time waterboarding greedy toy manufacturers or responding to terrorists holding Rudolph for ransom. While not on the job, he relaxes in the North Pole, a paradise where he can forget all the killing and bloodshed and curl up to some Christmas music and hot cocoa. Until a rogue group of elves betrays Santa and threatens what should have been a pleasant Christmas. Every time a bell rings, an elf gets his Glock.
Xmas Elf
November 23, 2018