Word Count:
80000
Summary: Celebrate those who light a candle in the darkness in this compelling and eye-opening tale. Teddie is into country music, her old pick-up truck and getting through high school with as little drama as possible. Yet somehow her best friend, Michelle, talks her into spending a semester in Darjeeling, India. The thrilling adventure turns treacherous when she uncovers a seedy underworld in which young women are bartered and sold—including her friends. As she fights to understand a depravity she never dreamed existed, a stranger makes her an unexpected offer. He will train her to find her missing friends, but she will need to have trust in abilities she barely believes exist and more courage than she ever thought she could summon. And there will be no going back. Given the choice between this and abandoning her friends to their horrifying fate, the decision is simple. She must rise to the challenge. But how can she be a superhero when she doesn't know what her power is? (Layers of Light is part a collection of interrelated stand-alone novels. It contains some non-graphic mature content and references to human trafficking and the sex trade.)
Layers of Light
January 29, 2014
Word Count:
170000
Summary: The enemy hunts him, but not for the reason he thinks. How does a human survive in an alien dominated InterGalactic Community? By becoming an assassin, of course. At least, that's what Leopold thought when he became an assassin for the elite. Pretending to be an alien known as Voidstriker, Leopold feeds his appetite for vengeance, killing aliens as well as taking their money. It's a win-win to his mind. That is, until a bounty is placed upon his head. With his true identity now revealed to the IG Community, Leopold knows it's only a matter of time before the powerful family members of his victims come for blood. Far worse is the fact that the one who put the bounty on his head, is the one he most fears. A routine job three cycles ago brought him face-to-face with Mastrodai, a prince of the powerful Mrrog Nation. Not only did Leopold—accidentally—destroy part of Mastrodai's moon, but one glimpse of the mighty alien had him feeling desire for the first time in his life. He ran, and like predator after prey, Mastrodai never stopped hunting him. Leopold is convinced that Mastrodai wants bloody revenge.  But when he finally confronts the mrrog, he is stunned to realize Mastrodai wants something very different. Something surprisingly intimate—the one thing that scares Leopold more than torture. Trigger Warning: Off page torture and abuse, and aftermath of rape. While the intimacy between Leopold and Mastrodai is always consensual, there are others who wish to break Leopold into as many pieces as possible.
Leopold
October 9, 2018
Word Count:
132,220
Summary: Bobby Gene is a man who stands out even among his people. Guided by the knowledge of his heritage as a backwoods shaman and more perceptive than many, he's grown to be a valuable asset to those he knows. While he isn't surprised to be the first to know when the woods around him begin to show clues that something isn't right, he doesn't expect just how much these omens and signs will prove to foretell something far more sinister to come. Soon strange dreams and inexplicable encounters have him questioning everything he knows- and then the people who live in his woodland Appalachian community begin to disappear. It's his job to protect and guide the others, what will he do when he's the only thing between them and the end of life as they know it?
Night is Falling
January 22, 2022
Word Count:
95,000
Summary: Ian Trahan is a science prodigy with a genius streak like no other. Growing up in New Orleans under the strict guidance of a Deacon with a dark side, it leaves no question as to why he chose the life of crime. His understanding and use of DNA, computer hacking and looking like the guy next door, compiles a terrifying character that you will never forget!  Magda Volkov, a native Russian, works for the BAU division of the FBI.  Her clairvoyant ability is something that her director has learned to trust and use to their advantage, especially with a seeming "Ghost Killer" at hand. The deeper she gets into his psyche, the more they are both surprised when their strange vivid dreams begin to intertwine. Childhood experiences shape both the killer and the FBI agent who urgently wants to stop the grisly murders. Delve into the surprise twists and turns of this page turning thrill ride. The occasional comedic relief provides you with a brief release of the terrorizing heart palpitations!  This series is not for the faint of heart. Personas is the first in a new thrilling psychological crime series to come. Log into www.lauralollie.com to subscribe for the updates on the releases of the books to follow.
Personas Series
June 6, 2020
Word Count:
80,000
Summary: Amargosa is under occupation. But a fallen starship may turn the tide for the resistance. JT Austin, Davra Andraste, and Eric Yuwono disobey orders to reach this ship. Along the way, they discover that not every enemy is Gelt, not every ally is human, and humans and Gelt are not the only intelligences on Amargosa.
Second Wave (The Amargosa Trilogy Book 2)
February 28, 2020
Word Count:
95000
Summary: When Orion joins an established coven of powerful mages he is unsure how he will fit into the group. The four elemental mages have had centuries to build both their powers and their relationships while Orion is little more than a stranger. As a light mage, Orion has the power to heal, but as he comes to know the other members of the coven, he learns that not all wounds are visible, and healing tortured souls and broken hearts isn't as easy as fixing broken bones. Orion must bring them all together before they tear themselves apart. Only when the coven is strong will they be able to welcome the dark mage who will complete the circle and give them the power to defeat a mage who has waited centuries to exact revenge on the former members of his coven. READER ADVISORY: This story is a ménage and more story with emphasis on the more.
Soul Magic
October 31, 2020
Word Count: Information not available
Summary: On a parallel Earth called Kale-Ra, humans born under "star signs" are blessed with magical powers. Two factions exist: the Star Guardians, and the Shadow Guardians. Clarabelle Stewart is your average teenage girl. She doesn't have any hobbies, and manages a C+ average in most of her classes. At least, she would be average, if not for her late father. He betrayed the government while attempting to steal a treasure for a Shadow Guardian terrorist organization, the Penumbra. Ever since his death, her family has been scorned and marginalized. But when the Starlite Academy--a prestigious military school for aspiring Star Guardians--grants Clarabelle a full-ride scholarship, she realizes that this is her opportunity to turn her life around. She eagerly sets off for school, and meets a wonderful group of friends. Yet, some things are still... off. Her teacher, Slade, and her roommate, Wulfgar, claim that they know her from their past, but she doesn't remember them. And Ursula, the bubbly senior student who welcomed her into their friend group, is hiding her own set of dark, tumultuous secrets. Unbeknownst to them all, weaving backwards through the years, a sinister plot has taken hold, setting the course for each of their lives. And suddenly, the world turned upside down. Nothing is what it seems.
Star Guardians: Legend of the White Nova Volume 1
April 22, 2018
Word Count: Information not available
Summary: She barely survived the last round. As the Red Dog Gang closes in on her Family, can she survive the next? After the devastating events of our last chapter, all private eye and mafia wife Jacqueline Spadros wants is to get her life back. Then a missing person she thought she'd never track down falls into her lap. Jacqui is thrown into a series of events which not only puts her and everyone around her into danger, but changes her life forever. Warning: on-screen murder, major consent issues, smoking, language, infidelity, betrayal, description of injury, gore, on-screen suicide, child injury This is chapter 9 of a 13-part serial novel. Please read these books in order: * The Jacq of Spades * The Queen of Diamonds * The Ace of Clubs * The King of Hearts * The Ten of Spades * The Five of Diamonds * The Two of Hearts * The Three of Spades * The Knave of Hearts <-- you are here Book 10 coming October 2023
The Knave of Hearts
October 1, 2022
Word Count:
80,000
Summary: "If it weren't for bad luck, she'd have no luck at all," lament the family of Fancy Selk, who has been the victim of horrific abuse. Fancy decides it is high time she learns to make lemonade from lemons instead of always making lemons from lemonade. As she learns to survive her past abuse, young Dr. Richard "Rick" Winslow manages to go back in time to find the beautiful young woman. Rick learns Fancy is married to another man. When her husband is killed at Yorktown, she finally admits her attraction for the handsome physician, as they fall in love, only to be ripped apart not once, but twice.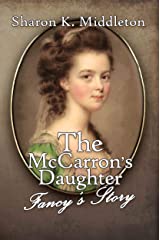 The McCarron's Daughter
March 6, 2019
Word Count:
76144
Summary: Fairy tales. Prince Charming fights evil, wins the princess, lives happily ever after. Three sons, three wishes, witches, dragons, a quest, and happily ever after. These stories are part of our cultural fabric. The stories change in retellings to reflect contemporary culture, such as Princess Charming, or heroes and heroines as people of color. In this collection, queer characters take center stage in stories that grew out of questions: What if the prince falls in love with Cinderella's gay stepbrother? What if Rumpelstiltskin doesn't really want the Queen's child but rather the King himself? What if Beauty and the Beast are two men? These stories explore metaphors of magic and the magical, this time, with a gay perspective. What price must be paid for happily ever after? Duty or love? Is love worth great sacrifice? Once upon a time ...
The Wicked Stepbrother and Other Stories
September 23, 2020
Word Count:
86000
Summary: One merman. Two lives. A love so powerful it tore apart a city and broke the heart of a god. Caspian, the Atlantean God of Justice, has devoted his eternal life to protecting the merfolk. He has no time for romance, not even when the merman he now watches over is his former lover reincarnated. Phoebus, a merman living in the sunken city of Atlantis before the Atlanteans were banished, never intended to fall for Caspian, the most promiscuous of all the gods. Yet, when Caspian offers him immortality, Phoebus doesn't know if he can pay the price, even if refusing means breaking the heart of a god. Back in the present, Marin remembers the love he once had for Caspian, but he's not the same merman now. Caspian might have loved him as Phoebus, but he knows the god cannot give him what he needs. Marin doesn't want Caspian's protection. He wants revenge, and he is prepared to make the ultimate sacrifice to get it, even if it means breaking Caspian's heart a second time
Treacherous Seas
June 11, 2019
Word Count:
50000
Summary: World Fantasy Award Finalist Winner of the 2nd Annual North Street Book Prize
Dwarves and golems, Fates and minotaurs, metamorphoses, murder, and Jean-Jacques Rousseau. L.S. Johnson delivers a provocative and original short story collection that ingeniously blends myth and nightmare. Whether it concerns an infertile witch constructing a golem-baby, a daughter struggling to understand her mother's supernatural infidelities, or a cafeteria worker forming an uneasy alliance with a group of possibly imaginary but nonetheless dangerous little men, each story in this remarkable collection demonstrates the limitless capacity of intelligent speculative fiction to enthrall, inspire, and amaze.
Vacui Magia: Stories
March 1, 2016
Word Count:
73000
Summary: "Your bullets can't kill me. I'm already dead. Inside and out." When his fiancée is brutally murdered on Valentine's Day, Ash Corvus is unwittingly plunged into the nightmarish world of the Arpadeem, or as the movies call them… Vampires. What begins as a personal quest for revenge becomes a struggle for the fate of the city itself as Ash's search takes him into Cedar Rapids' secret criminal underworld. Ash must cast off his humanity and become a monster himself if he hopes to bring vengeance upon the monster who murdered his love… the man with the scar. A dark, violent thriller from the author of The Weller and War of the Worlds: Goliath!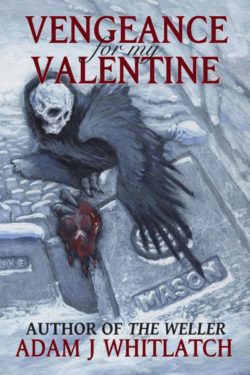 Vengeance for My Valentine
April 27, 2018
Word Count:
104000
Summary: Ghost, once known as the cub Luca, is finally home. Back among his kind and learning what it means to be both a man and a shaman, Ghost battles the expectations of his people, his family, and the pressures of a society that is both foreign and familiar. His power is greater than any seen before, dwarfing that of even the legendary Shaman Gray Shadow—and his union with Kane places him in the center of a controversy that rattles wolfkin society around the world. Kane, greater alpha and Heir to Black Pine Clan, has finally defeated the traitor and murderer that destroyed the heart of Black Pine years before. Freed at last from guilt and pain, Kane has a new enemy to face: his own people. Placed on trial for violation of Law and blasphemy, Kane will have to fight to the death to preserve his bond with Ghost and keep his mate and people safe. The soulbond between Ghost and Kane is forged by the creator and Goddess of the wolfkin. Usually, a sacred and treasured union that honors the pair and their clans, this soulbond is seen not as a gift, but a threat to eons of tradition and Clan Law. The union of a Shaman and Alpha is anathema—but how to reconcile that belief when it is the wolfkin Goddess who forged it? Can Ghost and Kane save themselves, preserve their bond, and find a new future when the laws of the ancient past threaten to tear them apart? **This book is part of a series and is not standalone. Prior books should be read to understand content. 104,000 words. Brief flashbacks of sexual assault and abuse. Mature content and violence.*** Gay Paranormal Shifter Romance
Wolf of the Northern Star
June 15, 2017
Word Count: Information not available
Summary: An ancient civilization long hidden from humanity is on the brink of chaos and war. Peaceful for thousands of years, the wolfkin clans are mysteriously losing packmates, kidnapped and killed by unknown foes. The nightmare begins with an ambush by humans at a gathering of their kind, and lives are lost. Among them is Luca, youngest grandson of the two most powerful wolves in the Northern Clans. Thought long dead and gone, he is forced into a half-life, hidden in the far northern wilds of Canada and cut off from his kind. Those who raised him have no idea the creature they harbor in their midst, and name him Ghost. He begins to lose himself over the long years, and though he barely recalls his true name, the one wolf he never forgets is Kane. Kane, Heir to the wolfkin clan Black Pine, is charged with hunting down the traitors who betrayed their kind to the humans. Years fly by, and more wolves are dying. He refuses to give up, and he vows to never again fail another of their kind, as he failed young Luca years before. His heart tells him Luca lives, but his mind tells him that it's foolish hope, his guilt eating him alive. Fate and magic change the course of their lives, and the two wolves long separated by the years find their paths intertwining. Though the gift of their reunion doesn't come without price. Faced by the consequences of their growing love, and the goddess-forged bond between them, Kane and Ghost are besieged on all sides. Enemies are coming for their blood, and without the steadfast loyalty and love of family and friends, they may not be safe from the very people they fight to protect.
Wolves of Black Pine
June 30, 2015