Word Count:
95,000
Summary: Ian Trahan is a science prodigy with a genius streak like no other. Growing up in New Orleans under the strict guidance of a Deacon with a dark side, it leaves no question as to why he chose the life of crime. His understanding and use of DNA, computer hacking and looking like the guy next door, compiles a terrifying character that you will never forget!  Magda Volkov, a native Russian, works for the BAU division of the FBI.  Her clairvoyant ability is something that her director has learned to trust and use to their advantage, especially with a seeming "Ghost Killer" at hand. The deeper she gets into his psyche, the more they are both surprised when their strange vivid dreams begin to intertwine. Childhood experiences shape both the killer and the FBI agent who urgently wants to stop the grisly murders. Delve into the surprise twists and turns of this page turning thrill ride. The occasional comedic relief provides you with a brief release of the terrorizing heart palpitations!  This series is not for the faint of heart. Personas is the first in a new thrilling psychological crime series to come. Log into www.lauralollie.com to subscribe for the updates on the releases of the books to follow.
Personas Series
June 6, 2020
Word Count:
138424
Summary: Emilia Drakon was once the youngest and kindest of the dragon sorcerers, but she's now the last of her kind. Betrayed and angry, she trades her meekness for a sword and embarks on a quest for vengeance that will lead her straight into the arms of the legendary Captain Maria Welles. Captain of the famed pirate ship, the Wicked Fate, Maria is every bit as treacherous and bloodthirsty as they say. She has her own vendetta and practically jumps at the chance to trick Emilia into joining her crew. But when their animosity toward each other blossoms into a passionate romance, the two women will have to decide what they want most. Vengeance? Or love? A sapphic fantasy adventure for people who love dangerous women, magical worlds, and lesbian pirates.
Pirates of Aletharia
December 24, 2021
Word Count: Information not available
Summary: 1899 years after the Catastrophe, Bridges is run by the Mob. As its steam-driven infrastructure fails, a new faction rises. Can she stop them? The Red Dog Conspiracy follows the story of 22-year-old small-time private eye Jacqueline Spadros beginning from her first major case: the missing little brother of her best friend, whose murder ten years before in front of her still haunts her nightmares. The only clue? A Red Dog stamp across the alley from where the boy was last seen. Dodging the man - seemingly mad - who has publicly threatened her life, placating her brutal, sadistic father-in-law, and dealing with her feelings about her ex-lover, while being married to one of the city's biggest drug lords: Jacqui is a busy woman. Her life is about to get much busier. From the very first page, Jacqui is dragged into a web of lies, secrets, and betrayals which both endangers her life and the lives of those she loves. Dark, gritty, violent steampunk crime fiction which keeps you guessing to the very end. If you like crime fiction, noir, Victorian/historical, gritty steampunk, psychological thrillers, hardboiled mystery, hard sf, dystopian, or mafia romance you will love this set. This digital box set comprises Act 1 of a 13 part serial novel. Included in this set: The Jacq of Spades: Part 1 of the Red Dog Conspiracy The Queen of Diamonds: Part 2 of the Red Dog Conspiracy The Ace of Clubs: Part 3 of the Red Dog Conspiracy If made into movies, this set would be rated R for bad language, graphic violence, smoking and alcohol use, child kidnapping, teenagers murdered (a serial killer is on the loose), and sexual content (Jacqui is married, after all). Welcome to the Family.
Red Dog Conspiracy Act 1
October 10, 2017
Word Count:
109000
Summary: It appears out of nowhere—one moment the sky is empty, the next, there's a rent in the fabric of space itself. And nothing in the system will ever be the same.  In the far reaches of the Rim Mountains, itinerant field-scientist Aran Romeu is searching desperately for the cure to an incurable disease—one that's slowly killing his best friend. He's sworn to do whatever it takes to find it. But when the portal opens, and something comes through, he realizes that 'whatever it takes' will involve travelling into the uncharted space beyond the portal. And he's not the only one after the cure, and willing to do whatever it takes to get to it first … In the weighty halls of government, Chief Justice Alba Espina is preparing a political gamble that could change the shape of the system itself. The appearance of the portal shatters her carefully-laid plans and hands her political rival a weapon he could use destroy her—unless she can delay him with the promise of a diplomatic mission through the portal. But the stakes of the mission are higher than just her personal ambition. If her diplomatic mission doesn't succeed, it might just spell the end of humanity itself. In a remote spaceport, Savina Moya, the system's most talented assassin-for-hire, is on the run again after her latest murder. But when a deadly government agent is sent after her, with instructions to bring her back dead or alive, the diplomatic mission heading into the portal may hold the key to Savina's survival—if she's brave enough, or desperate enough, to take it. No one knows what's beyond the portal. And as the three of them are drawn inexorably together in uncharted space, with no idea who is an ally and who is an enemy—it's an open question if any of them will live long enough to find out. 
Redshift
October 27, 2021
Word Count:
111,000
Summary:
New York: two years after the Third World War. Humanity is rebuilding its cities brick by brick; the damage done to the people, however, is a lot harder to repair.
Dan Hardacre is one of those people. An aspiring stage actor and experienced draft-dodger, Dan struggles to find his place within the Utopic rebuild of New York City. When he's not caught up with the duties of work, Dan lives a quiet life in mourning for his mother, Dyani, who went missing when he was a teenager.
One night, Dan experiences a vivid, terrifying nightmare that puts him right on the front lines of the war for which he dodged the draft; it ends with him facing Death itself in the form of a metallic, faceless humanoid creature that calls itself the Valkyrie. To investigate the reason behind his haunting experience, Dan seeks out a meeting with his estranged father, who reveals the startling truth about Dan's dream: it wasn't a dream.
With this newfound knowledge and the powers it brings, Dan makes it his mission to return to the scene of his nightmare. However, he soon comes to know that confronting the Valkyrie not only endangers him but the war-withstanding world he leaves behind.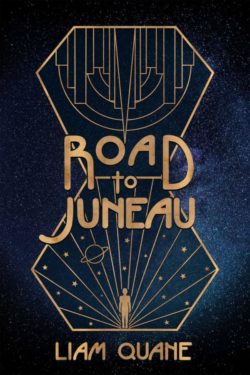 ROAD TO JUNEAU
May 18, 2021
Word Count:
72014
Summary: Lord Morgorth is a dark mage on the planet Karishian. He's considered a villain by his peers and relishes the title, having embraced the role early in his life. However, not all of his actions are necessarily villainous. Despite owning several of the Stones of Power—gemstones infused with powerful magick—he doesn't use them, preferring to keep them hidden away and out of destructive, power-hungry hands. He hates them more than anything. So when a sorcerer gets a hold of a major stone, Morgorth has no choice but to go after him. But, to his irritation, he is not alone. Aishe is a dialen whose tribe was massacred by the sorcerer, and is now on a mission of vengeance. The attraction is instant between them, but Morgorth keeps his distance. Because of a traumatic childhood and a deadly destiny, he has no desire for emotional complications. But Aishe's very presence challenges Morgorth's resolve. Not only does Morgorth admire Aishe's strength and intelligence, but he begins to see Aishe as a friend. As their hunt continues and their time together lengthens, their bond deepens, as does Morgorth's fear. If he becomes the monster that destiny claims he will be, will he hurt Aishe? Will he harm the one person who sees right through him? Who accepts him wholeheartedly? Determined to not let that happen, Morgorth keeps Aishe at a distance. But when Aishe is kidnapped by the sorcerer, what will Morgorth do to get him back?
Ruby: Lost and Found
February 7, 2017
Word Count:
47,845
Summary: In the dark heart of our imagination, and the haunted corners our past there are places we fear to tread. As much as we might try to outrun them, as much as we might try to deny their truths, we are owned by their shape, molded by their claws. The story of our being, they form a Sacrum Umbra, a sacred shadow of improbable origin- our own dark heart.
Sacrum Umbra
June 3, 2019
Word Count:
64,390
Summary: The time has come. The Dark Mage, Lord Morgorth, and Aishe of the Ravena Tribe, are to become bondmates. Morgorth is equal parts nervous and excited. He wants to unite with Aishe in the sacred dialen ceremony, to proclaim their devotion to the world, to show everyone that Aishe is his equal and deserving of respect. After all they've survived together, why shouldn't they make the cosmic promise before friends and family? But duty must often come before pleasure. When Morgorth's estranged mentor, Master Ulezander, comes to him with a time-sensitive mission involving a major stone of power, Morgorth has little choice but to acquiesce. Aishe knows his mate struggles with the revelation of his true destiny, after a lifetime of defining himself as the future Destroyer of Karishian. All he can do is reassure Morgorth that being the Savior is a far better fate for both of them. But as Morgorth and Aishe leap through worlds and dimensions in pursuit of a stone of power, more pieces to the puzzle of Morgorth's destiny are revealed. And they form an image of sacrifice and tragedy. The dark cloud of an ancient enemy looms ever closer, and the path to becoming the Savior might prove more monstrous than that of the Destroyer.
Sapphire: Home and Abroad
June 14, 2022
Word Count:
47,000
Summary: A collection of tales filled with monsters, be they human or beast, ranging in setting from dystopia to pitch black noir and even general silliness. From the ludicrous to the frighteningly plausible; from deep space to after the end of the world. There are clumsy werewolves and bloody revenge, monster sleep overs and a dieting fad sure to kill your appetite. Whether looking into the past or the future, you're sure to find that stuff gets really weird.
Shotgun Bastards and Other Stories
July 18, 2018
Word Count:
106,750
Summary: Caleb Davies and Agni Pradesh are worried about their teammate and lover, Temple Chevalier. Not only has he lost his long-time partner, Fu Li, but he nearly died fighting a demon himself. Also, Temple isn't sure he's ready for a new teammate after Li. Caleb and Agni are even more concerned that their three-way relationship with Temple exists less because he loves them and more because he's hiding from the pain of Li's loss. 1932 shapes up to be a terrible year for the Soldiers as they welcome the New Year fighting demons and then end up investigating a case that pairs them up with the Knights Templar. This would normally be a good thing, but it forces Temple to face his painful past. Worse yet, the case leads right to Astaroth, a Prince of Hell, who might prove to be an unbeatable foe.
Soldiers of the Sun
August 21, 2015
Word Count: Information not available
Summary: A short story collection of dark and ghoulish delight. Are you ready to ready Some Scary Stories? Take a ride in someone's head as they try to survive the rigors of a demonic exorcism. Step back in time as a young Puritan lad is tempted by the children of the forest. Find out what it's like to be haunted by a spirit that both loves, and loathes you. Go on an innocent date that ends up opening the gates of Hell, here on Earth. And More.  Dim the lights and settle in. It's time for Some Scary Stories.
Some Scary Stories
October 8, 2019
Word Count:
95000
Summary: When Orion joins an established coven of powerful mages he is unsure how he will fit into the group. The four elemental mages have had centuries to build both their powers and their relationships while Orion is little more than a stranger. As a light mage, Orion has the power to heal, but as he comes to know the other members of the coven, he learns that not all wounds are visible, and healing tortured souls and broken hearts isn't as easy as fixing broken bones. Orion must bring them all together before they tear themselves apart. Only when the coven is strong will they be able to welcome the dark mage who will complete the circle and give them the power to defeat a mage who has waited centuries to exact revenge on the former members of his coven. READER ADVISORY: This story is a ménage and more story with emphasis on the more.
Soul Magic
October 31, 2020
Word Count: Information not available
Summary: On a parallel Earth called Kale-Ra, humans born under "star signs" are blessed with magical powers. Two factions exist: the Star Guardians, and the Shadow Guardians. Clarabelle Stewart is your average teenage girl. She doesn't have any hobbies, and manages a C+ average in most of her classes. At least, she would be average, if not for her late father. He betrayed the government while attempting to steal a treasure for a Shadow Guardian terrorist organization, the Penumbra. Ever since his death, her family has been scorned and marginalized. But when the Starlite Academy--a prestigious military school for aspiring Star Guardians--grants Clarabelle a full-ride scholarship, she realizes that this is her opportunity to turn her life around. She eagerly sets off for school, and meets a wonderful group of friends. Yet, some things are still... off. Her teacher, Slade, and her roommate, Wulfgar, claim that they know her from their past, but she doesn't remember them. And Ursula, the bubbly senior student who welcomed her into their friend group, is hiding her own set of dark, tumultuous secrets. Unbeknownst to them all, weaving backwards through the years, a sinister plot has taken hold, setting the course for each of their lives. And suddenly, the world turned upside down. Nothing is what it seems.
Star Guardians: Legend of the White Nova Volume 1
April 22, 2018
Word Count: Information not available
Summary: The shadows are talking and they won't take no for an answer. Victory has returned safely to present-day Limani, sure that nothing so strange as time travel can ever happen to her again. Until the shadows begin speaking to her. And it turns out she's not the only one. Along with her sire Asaron and daywalker Mikelos, Victory will travel to a realm outside anything she could ever imagine. A previously unknown, ancient enemy threatens to tear apart the fabric of the world, and everything Victory thought she knew about magic will be completely rewritten. In this unfamiliar world, accompanied by long-lost companions, Victory must find her way home once more. But if the shadows have manipulated her life all along, will she have a home to return to? Or will the darkness consume Limani as well?
Steel Shadows
August 8, 2019
Word Count: Information not available
Summary: An unlikely savior emerges to prevent the advent of mass destruction and genocide descending on the world… By Day Los Angeles, 2040. When the terrorist known as Medusa threatens to kill millions with a stolen nuclear bomb, Nick Jameson makes a fateful decision. He reveals himself on global television as a Daywalker - a vampire with a soul. To save Los Angeles, Nick exposes not only his own gifts but three separate cultures based on millennia-old magic. By Night The three metahuman races exist in careful balance, working to maintain a fragile peace. Nick and his fellow Daywalkers successfully master their natural bloodlust. The Sentinels, armed with both magic and steel, repress their warlike instincts. And even some Nightwalkers, normally their natural enemies, have deserted the Court of Shadows to join the triple alliance. Nick Jameson is deeply involved with two such Nightwalkers - handsome Lorcan and powerful Rory. Both men love Nick. But neither can protect the new Ambassador to Humanity from the events he has set in motion. By the Sword Jeremy Harkness was lured into Medusa's service under false pretenses. A loner with no one and nothing to cling to, he was willing to die for his cause. But the night Medusa tried to obliterate Los Angeles, Jeremy met Nick Jameson, triggering the onset of his own psychic gifts. For Jeremy is the third race of metahuman, a Sentinel, born to kill the Nightwalkers with no quarter asked or offered. And neither Medusa nor the Court of Shadows will settle for peace when they can make war. Betrayal and treachery lurk around every corner on the road to coexistence, and at every turn, Nick must question who to trust among his metahuman allies, friends, and lovers—before their civilization is plunged into the depths of darkness and bloodshed. With millennia-old magic, emerging romance, and ever-shifting allegiances, this inventive series unveils a scintillating, homoerotic world of Nightwalkers, Daywalkers, Sentinels, and Humans, who battle for world dominance in the not-too-distant future.
Sunset
February 1, 2011
Word Count:
65000
Summary: Continue to hide or help save the very kin she's hidden from? Welcome to SYN Consulting, the top business strategy consulting firm in Europe, home to a motley crew whose leader has a life changing secret. CEO, Danica Lestrange, is the first female dragon born in the last 800 years. Hidden from the rest of her kin and raised in the human world, she built a life that she would defend until her death. A devious plan is unearthed while working on a new business deal that could plunge the dragons into another war with the humans. The humans may have forgotten the last dragon-human war, but the dragons have not. Will the war reveal this hidden world to the humans, or will the clans come together to defeat their enemies and maintain their anonymity? Danica must gather her allies and help the very dragons she's hidden from her whole life. She can only hope that she'll be strong enough to protect her chosen family. This is the first book in a new series about dragons who want nothing more than to live in peace, but refuse to be subjugated. In war there's also love, and love is blind. Love doesn't care about gender, race, species (in this case), or sexuality. Warning: This book contains explicit sexual content between consenting adults. The sexual scenes are MM, MF, and MMF. There are romantic relationships depicted that are MM. There is also a high level of explicit language, snark, kink, and possibly bad puns and fart jokes. This book does end in a cliffhanger. Dragon War Chronicles is a continuous series. It is best read in order. SYN Consulting Secrets Revealed First Strike Dragon's Hoard
SYN Consulting
August 17, 2018
Word Count:
75000
Summary: The one secret which could destroy everything ... After financial disaster and the zeppelin bombing, the city of Bridges is reeling. Three of the four Families are implicated, and an inquest is called to investigate. After her failure to prove Jack Diamond's guilt in David Bryce's kidnapping and the deaths of her friends, private eye and mobster's moll Jacqueline Spadros has had enough. While she and her former lover Joseph Kerr try to learn who killed their family friend, they also begin making plans to leave the city. But the secrets Jacqui has kept over the years are coming back to cause her serious trouble. Will she be able to escape Bridges? Or will she be forced to face the terrible consequences of her lies and trickery once and for all?
The Ace of Clubs: Part 3 of the Red Dog Conspiracy
October 1, 2017
Word Count:
210000
Summary:
Alana might be gone, but the world hasn't forgotten what she did. The damage is done, and the world is quickly spiraling toward a war that will threaten the survival of humans and vampires alike.
An anti-vampire organization, known as the Assassins of Light, has emerged again after centuries of lying in wait, and for reasons no one understands, Rose Foster is their new target. As Rose struggles with her growing feelings for the Viking warrior, Kara Unnarsdóttir, and her own inner turmoil, she must find a way to protect the people she loves from the Assassins of Light.
Kara Unnarsdóttir tries to protect Rose from afar by utilizing her impressive network of spies, but her investigations into the Assassins of Light lead her to the realization that the extremist organization is closer to Rose than she originally thought.
In this third installment of the Creatures of Darkness series, the world will find out what happens when tragedy meets the power of the Eklektos…
The Assassins of Light
March 13, 2018
Word Count:
47000
Summary:
In a world where all supernatural beings are either dominant or submissive, Shiro Amano doesn't have many choices. As a submissive, any dominant walking into his bakery can order him around. He hates it. All he wants is to live his life in peace and bake pastries he can spike with emotions far away from obnoxious alphas. 
Pitch Rhys wants a mate, but he won't settle for anything but a true mate. As a powerful wolf shifter, he has subs flocking around him, but his true mate is hiding in the kitchen of a bakery and refuses to see him. He can order him to, of course, but since he threatened Pitch with a knife when he allowed his power to leak, he doesn't think it's the way to go. Instead, he's settling to see how many pastries and cups of coffee he can consume in a day. 
Two years ago, Shiro escaped an abusive relationship, and he's not looking for a new one, but when word gets out Shiro is an unmated sub, dominants are invading the bakery. Pitch does his best to scare them off so he can woo Shiro at his own pace, but things escalate too fast. Will Pitch be able to get Shiro to trust him before it's too late? Can he convince him he wants nothing more than to make him happy and keep him safe? 
The Bear Claw
August 21, 2021
Word Count:
98000
Summary: The Big Cinch embeds readers in a magic-laced St. Louis, once known as Mound City, home of the indigenous Americans' Mississippian ancestors. Little evidence of their civilization survives in 1924, apart from the popular Piasa monster image, invoked to sell plows as well as ornament civic pageants. Sean Joye, a recent Irish immigrant, tried to avoid fae attention and ignore his magical abilities since childhood. A young veteran of 1922's Irish Civil War, he aims to atone for his assassin past and make a clean life in America.  Sean helps a wealthy, powerful, magic-dabbling family—founders of the most exclusive club in town, the Piasa Lodge--with a discreet inquiry or two. Sexually involved with a secretive, high-society flapper, he falls hard for her fiancé, a Great War flying ace with a few secrets of his own. But Sean asks the wrong questions about a kidnapped toddler and missing Native American artifacts and becomes a suspect in his lover's bludgeoning and a tycoon's murder. Can he master the paranormal abilities he's rejected for so long in time to protect the innocent and save his own skin?
The Big Cinch
December 31, 2021