Word Count:

86611
Summary: Prince Edmund of Thalassa and Prince Arden of Aither are eagerly anticipating their upcoming wedding, but the danger to their kingdom hasn't lessened. They have a plan, but they won't be able to carry it out alone: they need a strong wielder of each Element, whom they can trust implicitly, to carry out the magic. Rhys is a commoner and wielder of Earth magic. He and his sister have made a living from the use of their magic for years and have become highly respected in scholarly circles, though he prefers a more simple life with his plants. When a message from Prince Arden reaches them asking for their help, they don't hesitate. They stop only to request that Gaz, a strong Fire wielder and the man Rhys has long been enamored of, accompany them on the journey to Thalassa's royal palace. What no one knows is that Gaz was once known as Prince Gareth of Thalassa and is Edmund's younger brother, long believed dead. He fled his home after his Fire Affinity made itself known and put him in danger, and he had no intention of ever going back. But he can't keep himself from going to his brother's aid, despite the risk of discovery and of the weight of his secrets potentially crushing his fledgling relationship with Rhys. Working against time, they must find a way to come together in a magical working the likes of which none of them has ever imagined, or their homelands will surely burn.
A Harmony of Fire and Earth
Word Count:

24000
Summary: A HISTORY OF TROUBLE A Beacon Hill Sorcerer Collection A collection of brand-new short stories, featuring characters from The Beacon Hill Sorcerer Series by bestselling author SJ Himes. Red Wine and Blood The Blood Wars raged for centuries across Boston. Witness a brief glimpse into the brutal history of the Wars with Ignacio Salvatore and the vampire he loves, Ashwin Metcalfe, in 1897. A History of Trouble Angel was joking when he asked O'Malley if someone resurrected a mammoth. Little did he know that was exactly what someone did. Experience the untold story of what happened that unfortunate night at the Boston Public Museum. A Dragon in the City What happens when Eroch goes adventuring in Beacon Hill without Angel? Chaos, pure chaos. Fae's Gold Daniel is helping the newly-resurrected fae Ruairi Brennan become accustomed to modern-day living. A boring trip to the bank quickly escalates, and Daniel calls Angel for help. The day goes downhill from there but ends in a comfy meal in a pub for an ancient fae warrior and a necromancer's apprentice. This is an collection, featuring vignettes and short stories from the universe of The Beacon Hill Sorcerer series. For full enjoyment, the Beacon Hill Sorcerer Series Books 1 through 3 should be read before reading this collection.
A History of Trouble
Word Count:

34,300
Summary: It all started with a dare. The best thing Robyn Martin Donahue did was give her controlling ex the boot. It only took thirty-five years, but hey, she's finally living life on her own terms. Now her bestie wants her to believe the Silverstar Agency can hook her up with a guy who will love and respect her, and not try to rule her? As if. By law, a monarch cannot govern alone. Recently widowed, Kyzel Raptorclaw will honor his vow to remate for love. Although, things would be far less complicated if his potential match was not from another planet. Breaking with his peoples' ancient mating tradition is nothing compared to the personal sacrifice expected of her, if she is to stand at his side as his equal. What could go wrong? Can Kyzel convince Robyn they are better together, or will their happily ever after crash and burn before it has a chance to soar? Welcome to the Silverstar Agency, specializing in intergalactic love matches for those over fifty.
Above the Storm
Word Count:

73,151
Summary: Time travel. For mages, it violates their number one rule: what the Mother has written, let no one unwrite. The Mother writes the destinies of the creatures on the world of Karishian. If her writings were undone, it is feared that Creation itself could be undone. The dark mage Morgorth takes this rule to heart, but there are others who do not. Morgorth is about to claim a stone of power when it is stolen from him by a female mage he hasn't seen in decades. As they struggle for the stone, she activates it, and Morgorth is unwillingly plunged into another time and another place. It isn't long before he realizes what time he's found himself in and there are a few familiar faces. Most notable is a much younger version of Aishe. His mate. Living with a tribe who will be massacred, caring for a young lad who will become his mate, and fighting a battle against a mage who can travel from past to future at a whim—Morgorth's life has never been easy but now he must contend with the will of the Mother. Unable to change the future and the tragedies of Aishe's life, he must decide what his role in his mate's past will be, and ask himself one vital question: how does one defeat time?
Agate: Then and Now
Word Count:

70,034
Summary: Every story has more than one point of view. As the mate to the dark mage Morgorth, Aishe has learned a lot about magick, love, and himself. He tries to find a home with Morgorth, to be accepted into his world; to survive in a world full of magick, treachery, and deception. But all the while he struggles to keep a secret about his past and their intertwined destinies. Despite all the obstacles thrown at both of them, Aishe is determined to stay by Morgorth's side, no matter what the future brings—even if that future turns dark with death should Morgorth embrace his grim destiny. But when Morgorth leaves with his mentor to collect another stone of power, Aishe is left behind. It is then a surprise attack comes and Aishe, determined to protect and defend his new home, decides to take the invaders on by himself. It might prove too much for him to handle...especially when he learns the one who leads the invaders is a mage. This book allows us a glimpse inside the mind of Lord Morgorth's better half, a dialen named Aishe: his motivations, his personal sorrows, and his struggle to find a place to call home.
Amethyst: Bow and Arrow
Word Count:

121000
Summary: A child's memory. A journey's end. Lance doesn't remember the time before Ulfr found him. It's a dark pit in his mind that he avoids at all costs. And yet, despite his best efforts, pieces start to fall, and echoes from the past begin to ring. However, he has little time to comprehend their meaning, since the Captain of the Imperial Army herself has come to collect him and bring him to the capital city of the Nifdem Empire. Whisked away to the gilded streets and glittering court of the Hill of Tarran, and then to the snowy reaches of Swenen, Lance and Gust will learn the answers to questions they've had from the start. And be forced to acknowledge their roles in the survival of the empire and the ripple effects of their actions. But such knowledge can come at a steep price. As allies and enemies begin to step from the shadows, Lance will learn the truth of his past and the price of his redemption, and all the pain that comes with them. While Gust will have to decide what he's willing to sacrifice to safeguard the one he loves.
Avenging Lance
Word Count:

75000
Summary: Sleepwalking may be the death of me… again. I thought things would get better now that I no longer had assassins after my head. Although it's fun eating people who misgender me, I'm just so thirsty all the time. And until I improve, I'm barred from seeing Jack, my were-jackal boyfriend. My babysitter, I mean 'vampire mentor,' isn't much help either. As if things weren't bad enough, the amulet that started this mess is whispering to me. Calling me somewhere. I think it might be my mysterious maker. Judging by the trail of bodies they're leaving across the globe, I don't want to know what will happen if I can't keep resisting.
Bloodline of the Ancients
Word Count: Information not available
Summary: Thrown into an unwilling partnership by a heist gone bad and a botched assassination, mercenary captain Jennifer Bronwen and changeling intelligence agent Keera Naraymis are on the run from just about everybody. If they can learn to trust one another, maybe they can figure out exactly how their lives got turned upside down. But right now, mired as they are in a game of cat and mouse in the bowels of a criminal's lair, that seems like a big if. On the other side of the galaxy, Admiral Kiith Kohath has an even bigger problem—a corrupted cohort of cyborgs intent on pillaging the Assembly systems. Tracking the enemy to the sites of their atrocities, Kohath and his team must piece together the Reavers' plan and determine their next target, preferably before they have a chance to slaughter yet another defenceless colony. With alliances and agreements fraying at the seams, and new and old trusts being put to the test, the personal and political stakes rise ever higher as Jen, Keera, and Kohath struggle to prevent the galaxy from slipping into all-out war…
Burning Suns: Conflagration (Book Two)
Word Count:

73,667
Summary: Lord Morgorth is haunted by dreams of his father. Though Morgorth killed him, his father's presence and brutality won't completely die. But now he has more to worry about—in the form of the Council of Mages' inquiry into the duel between Morgorth and an elder of the council. Morgorth expects sabotage and prepares accordingly. He fears for Aishe's life, knowing that the best way to sabotage the inquiry is to eliminate the witnesses. He sets into motion a desperate plan that, though it will protect Aishe, could put a strain on their relationship not easily removed. Yet the true danger lurks unseen, and it will take all of Morgorth's skill, strength, and devotion to Aishe, to save his mate from the hold of a foe Morgorth has yet to tangle with: a dream demon. Now Morgorth must throw aside caution, restraint, and fear if he is to save the one most dear to him. He must call upon the power of the one thing he hates more than even his father: a stone of power. But even if he manages to save Aishe, his mate's experiences in Dreamworld—at the mercy of the dream demon—have changed him forever and could shatter their bond irrevocably.
Carnelian: Dreams and Visions
Word Count:

32026
Summary:
Once upon a time, two handsome young princes fell in love, faced down adversity, and lived happily-ever-after…until one romantic evening, they unwittingly ate a confection laced with a mind-wiping toxin.
Crown Prince Efren of Zioneven blindsided Prince Marcelo of Sheburat when he used The Contingency Plan embedded in a peace treaty to marry the naïve young prince. Now, Marcelo is shocked again when he awakens in an unfamiliar bed, in an unfamiliar land, in the arms of a stranger who's taking such liberties!
Will that ignominious new beginning to their relationship doom their chances at rekindling their love? Or will Efren's giddiness and the less formal surroundings of Zioneven propel them toward a more teasingly fun rapport?
Marcelo and Efren have forgotten more than their love. On their journey home to Zioneven, their Best-Laid Plans went awry when Marcelo was abducted. Now, neither remembers the unexpected strength of character and ingenuity Marcelo manifested to survive his harrowing ordeal, or Efren's frantic search for his new husband.
Were Marcelo and Efren specifically targeted for the Forget-Me-Not poisoning, or were they the victims of a random assault? Is this new attack related to Marcelo's abduction and his sister's death? Will Marcelo revert to his old mild-mannered, unassuming self, or will he step up to prove he's the same brave man his new family claims he is amid the fresh danger swirling around them?
Keywords: prince, royalty, fantasy, memory loss, amnesia, novella, ebook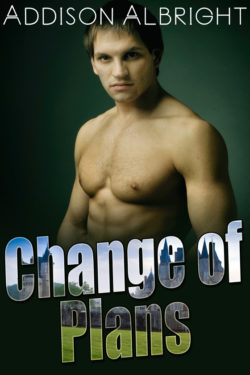 Change of Plans
Word Count:

76600
Summary: Werewolves are apex predators. So why does she feel like prey? Territory, honor, the trust of her peers - Jordan Abbey has earned none of these from the supernatural residents of Rancho Robles. The werewolves shun Jordan as a creature without honor for siding with the vampires. The vampires dismiss Jordan as an unruly pet who needs to be kept on a much shorter leash. Chased out of the wilderness and not allowed to shift within the city, she is without any place for her inner wolf to run free. Someone is killing the servants of vampires. Soon vampires themselves fall victim. Each attack is linked directly to Jordan, fueling rumors that she is working to undermine the vampires' grip on the city. The werewolves dog her steps, harassing her whenever and wherever they can. Then, in the heart of vampire territory, the corpse of a werewolf who bullied Jordan is discovered. The children of the Wolf and the Bat are ready to go to war, and Jordan is caught squarely in the crossfire. Can one woman prevent the annihilation of the only place she calls home?
Chaos Hunt
Word Count: Information not available
Summary: It's not easy being the child of legends When her brother goes missing, the first hint of a larger plot against her famous family, Beau must find her inner hero--if she & her friends can avoid getting killed first. CHASING SUNSET is a stand-alone sequel to the WOODSPELL SERIES and one of the TALES OF ARDONNA.
Chasing Sunset
Word Count:

100,000
Summary: When Fancy sent Richard from Barbados, she did not tell him her plans. Richard arrives unexpectedly after she and Kirk go to Ireland. Richard discovers she has adopted Kirk's daughter, and he concludes she will never abandon Kirk. Brokenhearted, Richard returns to the future before Fancy can tell him her marriage to Kirk is void. Richard's departure allows Kirk to woo Fancy again in earnest and they remarry. The couple sail to Bermuda, where Kirk leaves Fancy and the children at Spring Haven to sail to Barbados. A hurricane destroys the Spring Haven house. Fancy takes the children to the mainland and on to the safety of McCarron's Corner. En route, she learns Kirk's ship was destroyed in the hurricane and Kirk is believed to be dead. At McCarron's Corner, Fancy manages to go forward in time, where Richard finds her. She gives Richard another chance. They fall in love again, marry, and she writes a best-selling memoir, which attracts unwanted attention. Will they survive when a stalker's dangerous obsession threatens to destroy their future?
Diary of the Reluctant Duchess
Word Count:

118937
Summary: Frank Grimes is a lowlife, no count, barely classifiable as a human, male who just happens to have enough sense to hire and retain qualified construction workers. He landed the contract to build most of Draoithe in January of 2016. He's not only worthless, but he's also criminal filth. He will do anything for an easy dollar. After the Draoithe housewarming party, his true colors shine through when he attempts to rape the architectural designer in her apartment after driving her home. Luke can't afford to let Jace kill him or allow Flame to turn him as dragonsworn, but there is no way that Frank can be allowed to just get away with what he's done. Even the Assassin King wants him dead, and he is the dragon called to serve one miscreant underking. Sentenced to house arrest and forced labor, Grimes seeks a way to fulfill the requirements Luke sets on him to gain enough respect that Javier will turn him into a canine shifter until he meets a blood demon who wants to help Luke out. Is it possible to totally rehabilitate the walking filth that is Frank Grimes into a real man in order to help him avoid certain death and turn him into a wolf? Or will the demon simply drink him dry and slowly end his miserable existence?
Draoithe: Filth and Death
Word Count:

107884
Summary: Julian Gypsun used to be a young man on his way to becoming a contractor. Everything changed when he died and was resurrected as a wizard's familiar. He was immortal and far better off physically than he had been as a human. Still, he was trapped with his life chained to a giant of a wizard who had no problem abusing him in every way imaginable. Julian was powerless to stop it without ending his own existence. That is until he was yanked bodily through his own portal, transported to Draoithe, and assigned to babysit the visiting dignitary, Amazon Warrior Princess Zephyra, and try to convince her that her people should ally themselves with Luke and Draoithe. That sounded easy, but it wasn't. He liked her. He had no clue how to act on that. Best to avoid that altogether. Keeping her safe just might equal his death. (Please see her warrior princess title.) She was old and so far out of his league. Worse, she liked him and was determined to have him. He can't even consider that. She has no idea how broken he really is.
Draoithe: Midnight Magic
Word Count:

91154
Summary: Flame is scarred from a past filled with lies, deceptions, and heartbreak. He is not guilty of what his brothers believe, but Blaze is the only one who knows the truth. He was betrayed by the king he had served. The girls he gave the dark gift to had been innocent. When he finds his Valkyrie, beaten, raped, broken, and fading after having been forced to accept the dark gift without her consent, Flame vows that he will do anything to save her. The light seems gone from both her and the world she finds herself in. Little does Flame know that for her to have the light again, he will sacrifice his honor, his integrity, and his life after breaking every law he can manage to break and even demand absolution for crimes he never committed. Many men say they will die for the love of their life. Flame somehow needs to do it four damn times, find a way to fix not only her broken magic, but fix her broken spirit as well, and then figure out how to live for her! All men wish to love a vampire, but Flame burns in his soul for one who holds the fire and has been granted the dark gift of an immortal vampire princess.
Draoithe: The Dark Gift
Word Count:

54615
Summary: THE ONLY PERSON ON EARTH SHE TRUSTS... IS IN SPACE ​​Archaeologist Nel Bently left Chile in the wake of murder, vandalism and UFO sightings. She already dreads facing the fall semester without her best friend, but now cops are at her door. Accused of a murder she's not certain is her fault, Nel has no choice but to run. Following her gut and vague directions from her elusive alien-benefactor-turned-almost-girlfriend, Nel finds herself the target of a extraterrestrial man-hunt. Running from the law isn't easy with only her field pack and a handful of scorned exes to depend on. Between starvation, untraceable texts, and a harrowing journey through the wilderness, Nel is forced to question everything about the science she loves and the people she trusted.
Drifters
Word Count:

98400
Summary: Sarah Colby is a musician, teacher, lover, sister, and so much more. In the past year, she learned that sometimes life takes you places you never even knew existed. For Sarah and her sister Annie, they found out that not only were the monsters real but sometimes you loved them. Now the Colby sisters and their friends are being targeted by someone with a grudge. They must discover who is attacking the people of Columbus or risk losing all that they hold dear. Nobel Keller is with them every step of the way but will she bring salvation or merely the end of their lives in Columbus?
Embracing Forever
Word Count:

76,765
Summary: Home. Family. Those words often invoke a sense of love and comfort. But for the dark mage Morgorth, they mean hate and pain. As the seventh son of a seventh son, many believe Morgorth's destiny is to become the Destroyer. His father embraced such a future and trained Morgorth through torture and fear to become his weapon. Morgorth managed to escape his father's cruelty, but not the nightmares that still haunt him. For many years he's lived with the stain of his father's savagery, but now he must confront his nightmares head-on. His father has found a stone of power. Morgorth must return to his land of birth, to the memories he's tried his entire life to suppress. Aishe is determined to help Morgorth defeat his inner demons, but he knows he might not be enough to save Morgorth from embracing his darkness. They know it will be a fight to the death and that Morgorth won't be the same if he survives. With Aishe by his side, Morgorth hunts for his father, and finds answers to questions he never dared to ask—and must live with the truths they reveal.
Emerald: Good and Evil
Word Count:

50000
Summary: Can Scott and his new friends survive a trip to the "Dead Zone". Is it REALLY dead? if not who or WHAT lives there?
Enimnori Discovery
SALE