Word Count:

78000
Summary: In the final installment in the SoulShares series, author Rory Ni Coileain weaves together the myriad threads of this compelling paranormal romance in a climax that crosses time and space. Sometimes Fae love stories aren't what you expect. The Marfach—devourer of magick, long-imprisoned mortal enemy of the Fae race—is free of its Antarctic prison. The Demesne of Purgatory—Fae, humans, a Fade-hound puppy, a Gille Dubh, and a darag—is all that stands between the monster and the power it needs to destroy both the Fae Realm and the human world. The only clue they have as to how to kill the unkillable is a cryptic note from the Loremasters: "Osclór, Nartú; Tobar, Soladán; Nidantór, Breathea; Glanadorh, Coromór, Farthor; Scian-omprór, Nachangalte; Crangaol, Síofra; Gastiór, Laoc, Caomhnór; Fánadh, Ngarradh." Opener, Strength; Wellspring, Channel; Unmaker, Judge; Cleanser, Equalizer, Sentry; Blade-bearer, Unbound; Tree-kin, Changeling; Binder, Warrior, Guardian; Wanderer, Sundered. As they rebuild Purgatory from the rubble the Marfach left behind, they have to stand together, using everything they know—everything they are to their partners, lovers, husbands. Everything SoulSharing has made them. And not everyone who enters the final battle will leave it.
Back Door Into Purgatory
Word Count:

70000
Summary: As far as rock star Gareth Kendrick, the last true bard in Faerie, is concerned, the only good Unseelie is . . . well . . . there's no such thing. Two centuries ago, an Unseelie lord abducted Gareth's human lover, Niall, and Gareth has neither forgotten nor forgiven. Niall O'Tierney, half-human son of the Unseelie King, had never lost a wager until the day he swore to rid the Seelie court of its bard. That bet cost him everything: his freedom, his family—and his heart. When he's suddenly face-to-face with Gareth at the ceremony to join the Seelie and Unseelie realms, Niall does the only thing inhumanly possible: he fakes amnesia. Not his finest hour, perhaps, but he never revealed his Unseelie heritage, and to tell the truth now would be to risk Gareth's revulsion—far harder to bear than two hundred years of imprisonment. Then a new threat to Gareth's life arises, and he and Niall stage a mad escape into the Outer World, only to discover the fate of all fae resting on their shoulders. But before they can save the realm, they have to tackle something really tough: mending their own broken relationship.
Bad Boy's Bard
Word Count:

32026
Summary:
Once upon a time, two handsome young princes fell in love, faced down adversity, and lived happily-ever-after…until one romantic evening, they unwittingly ate a confection laced with a mind-wiping toxin.
Crown Prince Efren of Zioneven blindsided Prince Marcelo of Sheburat when he used The Contingency Plan embedded in a peace treaty to marry the naïve young prince. Now, Marcelo is shocked again when he awakens in an unfamiliar bed, in an unfamiliar land, in the arms of a stranger who's taking such liberties!
Will that ignominious new beginning to their relationship doom their chances at rekindling their love? Or will Efren's giddiness and the less formal surroundings of Zioneven propel them toward a more teasingly fun rapport?
Marcelo and Efren have forgotten more than their love. On their journey home to Zioneven, their Best-Laid Plans went awry when Marcelo was abducted. Now, neither remembers the unexpected strength of character and ingenuity Marcelo manifested to survive his harrowing ordeal, or Efren's frantic search for his new husband.
Were Marcelo and Efren specifically targeted for the Forget-Me-Not poisoning, or were they the victims of a random assault? Is this new attack related to Marcelo's abduction and his sister's death? Will Marcelo revert to his old mild-mannered, unassuming self, or will he step up to prove he's the same brave man his new family claims he is amid the fresh danger swirling around them?
Keywords: prince, royalty, fantasy, memory loss, amnesia, novella, ebook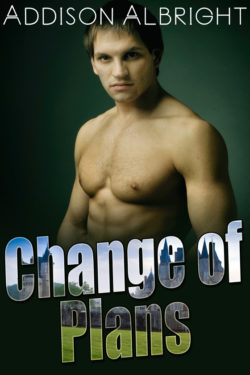 Change of Plans
Word Count:

51200
Summary: Sebastian is a cryptomorph, a lab-created creature blending the DNA of man and beast. He is not a man. He is an object. A pet. A product. This is the story he's been told, but his heart tells him it's a lie. The truth is out there somewhere, and if he can escape from the Countess and the Community that wants to breed more golden dragonels like him, he might be able to find it. Christopher is a veterinarian tasked with the care of the dragonel, and he's not supposed to see the man behind the dragon. Sebastian calls to a part of him that he thought was long dead, and he would do anything for him now. Anything but tell him the truth. "Dragonel" is a M/M dystopian science fantasy intended for mature audiences. Not suitable for anyone under 18 years old.
Dragonel
Word Count:

118937
Summary: Frank Grimes is a lowlife, no count, barely classifiable as a human, male who just happens to have enough sense to hire and retain qualified construction workers. He landed the contract to build most of Draoithe in January of 2016. He's not only worthless, but he's also criminal filth. He will do anything for an easy dollar. After the Draoithe housewarming party, his true colors shine through when he attempts to rape the architectural designer in her apartment after driving her home. Luke can't afford to let Jace kill him or allow Flame to turn him as dragonsworn, but there is no way that Frank can be allowed to just get away with what he's done. Even the Assassin King wants him dead, and he is the dragon called to serve one miscreant underking. Sentenced to house arrest and forced labor, Grimes seeks a way to fulfill the requirements Luke sets on him to gain enough respect that Javier will turn him into a canine shifter until he meets a blood demon who wants to help Luke out. Is it possible to totally rehabilitate the walking filth that is Frank Grimes into a real man in order to help him avoid certain death and turn him into a wolf? Or will the demon simply drink him dry and slowly end his miserable existence?
Draoithe: Filth and Death
Word Count: Information not available
Summary: Nurse Stitch has her mouth sewn shut and her memory erased. John Doe has undergone 'nightmare surgery', his memory also erased, replaced by crippling trauma and delusions. Mahmoud Farouz is a captured insurgent from Iraq who is going to be used by a special Black Op organization to make America feel fear again. When these three prisoners of a secret underground torture facility band together to escape, they cannot realize that not only has their torture been orchestrated, but so too will be their path to freedom.
Fear
Word Count:

21000
Summary: Aurora Rose slumbers in the city of Oldpass, a cursed kingdom once allied with Grimvein. The victim of a malicious spell, she is powerless to control her own fate. At least, that's how the story goes. Now, as Grimvein faces attack, Prince Amir has been tasked with the life-threatening rescue of Aurora, his parents hopeful he will marry the princess and secure safety for their kingdom. Talia, the strongest spell-caster in the known lands, protects and guides the prince in his quest to save a woman that threatens to change their lives forever. In finding Aurora, the pair will realise the truth about themselves and each other, coming to understand just what – and who – they really want in life.
Finding Aurora
Word Count:

41000
Summary: When a satanic wizard runs the insane asylum, nobody believes the inmates, even when they're sane. Jonah is entirely normal in every respect but one: whenever he's frightened he turns into his evil alter ego, Maldeus. When Jonah discovers Maldeus is working with the asylum doctor to sacrifice women on a giant pentagram, he's thrust into the middle of a diabolic plot involving occult magic, invisible people, and a perverted, sex-crazed blue demon! Will he keep his wits about him as he pretends to be Maldeus and stop the rise of Satan?
Five Maidens on the Pentagram
Word Count:

78600
Summary: What can you do when a computer virus starts infecting people? For years, a virus that targets cybernetics has plagued people with any sort of computerized implant in their bodies. It is untraceable, unpredictable, 100% fatal and infecting more people every day. Politics tore apart Project Requiem, a highly-funded military endeavor meant to create an antivirus to save humanity. A ragtag group of programmers and visionaries is trying to pick up where Requiem left off, but their resources are limited, they're hounded by the army and corporate mercenaries and a key engineer with the only remaining copy of the antivirus is missing. As the virus grows more powerful by the day, all they can do is hope that they can finish before it becomes powerful enough to attack the entire city at once.
Halcyon
Word Count:

79,000
Summary: Left for dead behind enemy lines, prince Dominel seeks refuge in an abandoned stronghold of the slaughtered wizards. There he is recruited and trained by undead mages in the once forbidden magics so that he can close the doors into the world of man and halt the advance of the horde of monsters known as the storm. Can the strength of a lone wizard stand against a god of evil bent on ruling all the worlds of monsters and men. Will other races stand as friends or foes in Dominel's quest? Can Dominel open himself to memories of his past lives without fracturing his sanity and becoming a worse threat than the monsters he seeks to halt? And what of the man who is prince, king and wizard? What space is left for him in a life of crushing duty and wondrous enchantment? For the answers read on
Havens in the Storm
Word Count: Information not available
Summary: Charlie Harrington not only sees the dead and speaks with them, he can make them real. Lucky for him, because the love of his life, Ethan, isn't among the living. While their relationship is unusual, things are good between them until Charlie is accused of murder and Detective Daniel Briggs walks into his life. Then, for the first time in years, Charlie is attracted to someone alive. Ethan knows he should step aside and let Charlie live his life, but he just can't give Charlie up--even if staying with Charlie may eventually kill him.
He Speaks Dead
Word Count:

65,091
Summary: A bond they thought couldn't be broken... Lord Morgorth, Dark Mage of the North, has never felt so far away from his precious mate as he does now. Still reeling from the events of a month before, Aishe struggles to come to grips with what the dream demon did to him while pretending to be Morgorth. For his part, Morgorth is haunted by the chilling vision the Mother sent him while he traversed Dreamworld—a vision where he kills the one most precious to him. Due to that knowledge, he knows he must choose his magick or his mate. A choice with devastating consequences... When Morgorth goes missing, Aishe must search for him, frightened that he has lost his mage forever. In his heart he knows they were meant for each other and refuses to allow his own horrid memories to tear them apart. But when he finds Morgorth he is stunned to realize that Morgorth doesn't remember him. In fact, in Morgorth's mind, he is a young lad named Lazur. Sometimes the most well-known truth is the greatest lie... For his entire life, Morgorth always knew his destiny was to become the Destroyer of his home world. His birthright as the third seventh son of a seventh son guaranteed such an outcome. Everyone told him so—except his mentor, Master Ulezander. Morgorth will learn that his mentor has been keeping the greatest secret of all: his true destiny.
Lapis Lazuli: Forgotten and Remembered
Word Count:

101000
Summary: What happens when a woman loses her memory but gains a conscience? Dr. Alexandra Turing is a roboticist whose intellect is unrivaled in the field of artificial intelligence. While science has always come easy, Alexandra struggles to understand emotional cues and responses. Driven by the legacy of her late great-uncle, she dedicates her life to the Synthetica project at her father's company, Organic Advancement Solutions (OAS).​ Her life is rebooted when she wakes from a coma, six months after being struck by a car. Traumatic brain injury altered Alex's senses, her memory, and her personality. Despite the changes, she feels reborn as she navigates her way back into her old life. Part of her new journey includes dating the alluring Doctor of Veterinary Medicine, Emily St. John. Emily is enamored with the hyper-intelligent scientist, but there are things about Alex and OAS that don't add up. With Emily's prompting, Alex undergoes testing that leaves her with more questions than answers. What she discovers changes more than her life, it will change the world around her.
Remember Me, Synthetica
Word Count: Information not available
Summary: On a parallel Earth called Kale-Ra, humans born under "star signs" are blessed with magical powers. Two factions exist: the Star Guardians, and the Shadow Guardians. Clarabelle Stewart is your average teenage girl. She doesn't have any hobbies, and manages a C+ average in most of her classes. At least, she would be average, if not for her late father. He betrayed the government while attempting to steal a treasure for a Shadow Guardian terrorist organization, the Penumbra. Ever since his death, her family has been scorned and marginalized. But when the Starlite Academy--a prestigious military school for aspiring Star Guardians--grants Clarabelle a full-ride scholarship, she realizes that this is her opportunity to turn her life around. She eagerly sets off for school, and meets a wonderful group of friends. Yet, some things are still... off. Her teacher, Slade, and her roommate, Wulfgar, claim that they know her from their past, but she doesn't remember them. And Ursula, the bubbly senior student who welcomed her into their friend group, is hiding her own set of dark, tumultuous secrets. Unbeknownst to them all, weaving backwards through the years, a sinister plot has taken hold, setting the course for each of their lives. And suddenly, the world turned upside down. Nothing is what it seems.
Star Guardians: Legend of the White Nova Volume 1
Word Count: Information not available
Summary: Life sucks and then you die. Sort of. Valentino Crispo loves Mom's Italian cooking, sun on the beach, and working for the Cranston Police Department. He loses it all after getting vamped. Now, he's the noobiest vampire in Providence. This collection includes the complete four-book Supernatural Vigilante Society at a great price! Be Counted When a hitwoman apparently shoots Valentino Crispo's dad and one of Cranston's Finest on the same night, Tino stops letting vampirism bite him. He'll mix supernatural and PD skills to solve the crime. But he hasn't got the hang of being a vampire yet. The mystery of whodunit and why is tied up with Tino's own turning. The Providence vampire elders hate nosy vamps almost as much as new ones. Will Valentino stand up and be counted or add to the body count? Body Count Valentino Crispo's just started sinking his fangs into unlife as a vampire. He's got a decent start in his new PI business, too. Cases walk through the door and he solves them with a little help from his paranormal pals and the vigilante hobby they've got on the side. Wash, rinse, repeat. But there's big trouble in the little Ocean State. Powerful nouns in the supernatural community are going missing. These people, places, and things threaten to leave a power vacuum in their absence. Tino and his gang don't like the crew likely to step in and fill it, either. It gets personal when an old enemy shows up, asking the Supernatural Vigilante Society to help hide a tween psychic who knows too much about what's fishy in Providence. Are Tino and his friends in too deep this time? Can they stop the body count from rising or will they go out with the tide? Counting Costs There's no fortune in favors owed. After saving a king but losing a kingdom, Tino's up to his fangs in debt. But he doesn't owe money. A vampire's word is his bond. When a rival, a witch, and a hunter all call in their markers at the same time, Tino's suddenly got a metric ton promises to keep. To keep his vows, Providence's newest vampire must find missing memories, adopt an orphan, and cure a comatose fiance. Sounds easy, right? Wrong. The Mafia's standing in his way at every turn. And the holes in his own recall are a total roadblock. Meeting obligations is impossible if they're forgotten. Can Tino pay his debts without cashing in his unlife? Counting Stars Undead stars still burn. Still adjusting to recent changes, Tino Crispo, vampire PI, saddles himself with a new case. An ailing friend charges him with investigating a series of mysterious assaults. Rhode Island's youngest vampire has to balance his work life and new domestic responsibilities. With his extended supernatural family counting on him, he'll need help. Which is in short supply. Tino's biggest advantage is his circle of friends. But the threads he follows in this case seem connected to some of his closest allies. Who can he trust?
Supernatural Vigilante
Word Count:

100000
Summary: Award-winning science fiction romance author Christie Meierz presents the newest of her bestselling Tales of Tolari Space. Laura Howard, Earth Fleet widow and exile from human space, found more than safety on Tolar: she captured the love of a Tolari ruler and became a powerful Tolari empath. But in the midst of ancient, bitter rivalries, a serious injury erases Laura's time in Parania--and, perhaps, loses her the love of her Paran, who yearns for the woman she once was. Armed only with the memories of her youth, and empathically bonded to a man she can no longer understand, she struggles to recover and find her place, and herself, before a hidden enemy forces the Paran to do what he had always considered unthinkable: risk his life, and with it Laura's, to fight for the leadership of the ruling caste. The Fall is the story of a world re-opened to the stars after millennia of isolation, and the hazards and opportunities that abound when one's feelings are known to everyone around you.
The Fall
Word Count:

75000
Summary: The once-beautiful domed neo-Victorian city of Bridges is split between four crime families in an uneasy cease-fire. Social disparity increasing and its steam-driven infrastructure failing, a new faction is on the rise: the Red Dogs. Jacqueline Spadros has a dream life: a wealthy husband, a powerful family. But her life is not what it seems. Kidnapped from her mother's brothel and forced to marry, the murder of her best friend Air ten years before haunts her nightmares. She finds moments of freedom in a small-time private eye business, which she hides in fear of her sadistic father-in-law. Air's little brother disappears off his back porch and the Red Dogs are framed for it. With the help of a mysterious gentleman investigator hired by the Red Dogs to learn the truth, Jacqui pushes her abilities to their limits in hope of rescuing the child before the kidnapper disposes of him.
The Jacq of Spades: Part 1 of the Red Dog Conspiracy
Word Count:

95000
Summary: The God of Time wants to destroy Eternity. A mysterious immortal seeks vengeance. And a reclusive deity does what no god should ever do: she answers a prayer. As punishment, she is stripped of her powers and trapped in a mortal's body. Now a Wyrd – a fated god – she is haunted by the memories and thoughts of her host and must hide her true identity in order to survive in Niflheim, the rival Norse Underworld. There she discovers the afterlife is not quite what it used to be. Niflheim's new ruler threatens the precarious balance of a world overrun with outcast deities and mortals alike. To save her own sanity and find her way back to the stars, she must help the other Wyrd overcome their grievances to defeat this enemy, but those who would be her allies appear to have motives as hidden as her fragmented consciousness. And yet it seems the greatest threat to her freedom comes from within, and the prize it seeks is her immortal soul...
Wyrd Gods