Word Count: Information not available
Summary: Ardulum. The planet that vanishes. The planet that sleeps. Neek makes a living piloting the dilapidated tramp transport, Mercy's Pledge, and smuggling questionable goods across systems blessed with peace and prosperity. She gets by—but only just. In her dreams, she is still haunted by thoughts of Ardulum, the traveling planet that, long ago, visited her homeworld. The Ardulans brought with them agriculture, art, interstellar technology…and then disappeared without a trace, leaving Neek's people to worship them as gods. Neek does not believe—and has paid dearly for it with an exile from her home for her heretical views. Yet, when the crew stumbles into an armed confrontation between the sheriffs of the Charted Systems and an unknown species, fate deals Neek an unexpected hand in the form of a slave girl—a child whose ability to telepathically manipulate cellulose is reminiscent of that of an Ardulan god. Forced to reconcile her beliefs, Neek chooses to protect her, but is the child the key to her salvation, or will she lead them all to their deaths?
Ardulum. First Don.
February 27, 2017
Word Count: Information not available
Summary: This book is concurrent with Sunset (Pact Arcanum: Book 1) in story continuity. Child of Twilight Venice, Italy, 2039. When Michael Danvers witnesses a vampire attack, his latent ability to shapeshift awakens. Revealed as a Sentinel, the natural enemy of Nightwalkers, 13-year-old Michael must turn his back on his family and his safe, predictable life. But a supernatural battlefield is no place for a child, not even a genius like Michael. Betrayed by his own kind, he leaves Earth behind, hoping to find a new path with the Spacer Guild – and the stars. Tempered by Moonlight Relocating to the Citadel, Michael quickly makes a name for himself at the Spacer Guild Academy. But each advancement means less to him than the friendships he acquires, of fellow cadets William and Ariel, even as Michael is promoted above them. Forged in Starlight Everyone had plans for Michael's future: his parents, the Sentinels, the Guild—even his best friend, Will. But Michael takes control of his destiny, and when called upon to make a fateful decision with countless lives hanging in the balance, the only sense of honor that matters is his own.
Cathedral of the Sky
September 2, 2012
Word Count: Information not available
Summary: One man will destroy the past to save the present. The price is too high. But it may already be too late to stop him. Life settles into a routine for the inhabitants of Chiron Colony, humanity's first interstellar settlement, after the threat of the time traveler Gifford has apparently been eliminated. But the Hourglass and its leader, Admiral O'Dare, are not content to rest on their laurels, convinced that time travel remains a palpable threat to human civilization. When Annette Sutton uncover a possible secret plot to eliminate the principal members of the Interscission Project decades in the past, when they had only just met, the colonists' idyllic peace is shattered. Can Martin and his people head off disaster as the Admiral moves to destroy the potential for time travel, once and for all? Or is there a deeper agenda in play? As loyalty and duty become pawns in the race to prevent the erasure of all that they have accomplished, Martin will have to decide once and for all how far he will go to save everything and everyone he loves.
Insurrection
July 30, 2016
Word Count:
69478
Summary: The staff at AURA has had a busy summer. Between chronic understaffing, dealing with warring goblin factions and an unusual number of hazardous Events, everyone is overworked. Sinistrus the incubus, newly hired as an AURA medic, actually enjoys his busy new life of responsible employee and faithful lover to his gorgeous police sergeant, Ness the centaur. Life would be perfect, except for a niggling suspicion about a colleague. Everyone else seems to disagree, but Sin's certain something's not right with that pixie. Kellen, a pixie crossover, loves his job working in AURA medical, even if he is something of an outsider. His job and the friends he manages to make are happy spots in an otherwise dark and secretive life. As the rest of AURA tries to discover the root of the inexplicable rise in violence and large-scale Events, Kellen fights to preserve his own life and what dignity he has left. These two unlikely heroes must put their differences aside and navigate tragedy and ever-escalating disaster together in order to stop the sinister forces that hold Kellen in thrall.
Kellen's Awakening
May 3, 2016
Word Count:
90700
Summary: Sometimes the world needs saving twice. Xander and Jameson thought they'd fulfilled their destiny when they brought the worlds of Oberon and Titania back together, but their short-lived moment of triumph is over. Reunification has thrown the world into chaos. A great storm ravaged Xander's kingdom of Gaelan, leaving the winged skythane people struggling to survive. Their old enemy, Obercorp, is biding its time, waiting to strike. And to the north, a dangerous new adversary gathers strength, while an unexpected ally awaits them. In the midst of it all, Xander's ex Alix returns, and Xander and Jameson discover that their love for each other may have been drug-induced. Are they truly destined for each other, or is what they feel artificial? And can they face an even greater challenge when their world needs them most?
Lander
November 10, 2020
Word Count:
53000
Summary:
***One angel to bind you, one angel to save you.***
Sky Heavensent, an angel of death, is charged with the collection of souls of the recently departed. Known to his peers and immediate supervisor, the archangel Gabriel, as the liability, Sky puts his heart and soul into everything he does. When he meets Caleb Pierce, Sky is immediately smitten. The problem is Caleb is the soul he came to earth to harvest, and saving him means breaking one of the most sacred angelic directives. Already in too deep, Sky pushes aside the consequences and follows his heart. Danger and mayhem follow, but he will do everything in his power to protect his lavender-eyed man.
Lavender Fields
July 15, 2017
Word Count:
36000
Summary: MI-GRA-TION (Noun) 1) Seasonal movement of animals from one region to another. 2) Movement of people to a new area or country in order to find work or better living conditions. 3) Movement from one part of something to another. Three definitions to inspire writers around the world and an unlimited number of possible stories to tell. Here are 120 of our favorites. Migration feaures 300-word speculative flash fiction stories from across the rainbow spectrum, from the minds of the writers of Queer Sci Fi.
Migration
July 24, 2019
Word Count:
48338
Summary: Every story has a beginning…. Dragons. Angels fear them and demons follow them. Formidable beasts of incredible power, they fight each other to the death for dominance. But dwindling dragon numbers cause alarm among the angelic ranks. Surely when the dragons have finished killing each other, the victors will search elsewhere for conquest… maybe even the Upper Realm. Roland, an angelic artist of significant talent, doesn't know what to believe. Part of him longs to see a dragon in person, and his peaceful life of contentment is wearing thin. He wants passion, desire, adventure, and love. He gets more than he bargained for when he and his sister are ambushed and captured by demons, and they bring him to a creature who surpasses Roland's wildest imaginings. But the mighty dragon Asagoroth is not all that he seems. Something sparks between him and Roland. Something neither anticipated. Something that will shake the cosmos to its core. Note to readers: this is the second edition, fully revised and updated.
On Wings of Passion
February 2, 2021
Word Count:
50963
Summary: Trystan is an unchosen angel—shunned by society, bullied, and without a future. In a hidden well, Trystan discovers a carving of a dragon, who were once the commanders of demons and now believed extinct. But Trystan learns the carving doesn't depict an ordinary dragon. Stories tell that millennia ago, the great dragon Asagoroth and his demon army nearly conquered the three realms but was killed by the five elders. The powerful angels combined their life forces to cast a spell, sacrificing their lives. But history is full of falsehoods. The five elders only managed to imprison the dragon, and Asagoroth had cast his own spell—one of releasement. It only needs the blood of a certain angel to liberate him from his cage…. Asagoroth, enemy of angels, conqueror of realms, is free. But even as the angels prepare for war, the great dragon surprises them with an ultimatum: hand over the angel who awakened him or face annihilation. Note to readers: this is the second edition, fully revised and updated. The current audiobook is based on the first edition.
On Wings of Thunder
January 5, 2021
Word Count:
111,000
Summary:
New York: two years after the Third World War. Humanity is rebuilding its cities brick by brick; the damage done to the people, however, is a lot harder to repair.
Dan Hardacre is one of those people. An aspiring stage actor and experienced draft-dodger, Dan struggles to find his place within the Utopic rebuild of New York City. When he's not caught up with the duties of work, Dan lives a quiet life in mourning for his mother, Dyani, who went missing when he was a teenager.
One night, Dan experiences a vivid, terrifying nightmare that puts him right on the front lines of the war for which he dodged the draft; it ends with him facing Death itself in the form of a metallic, faceless humanoid creature that calls itself the Valkyrie. To investigate the reason behind his haunting experience, Dan seeks out a meeting with his estranged father, who reveals the startling truth about Dan's dream: it wasn't a dream.
With this newfound knowledge and the powers it brings, Dan makes it his mission to return to the scene of his nightmare. However, he soon comes to know that confronting the Valkyrie not only endangers him but the war-withstanding world he leaves behind.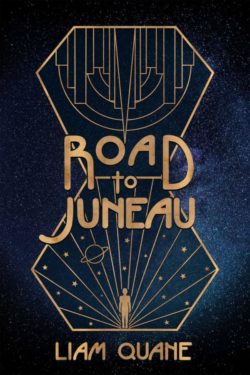 ROAD TO JUNEAU
May 18, 2021
Word Count:
85000
Summary: Jameson Havercamp, a psych from a conservative religious colony, has come to Oberon—unique among the Common Worlds—in search of a rare substance called pith. He's guided through the wilds on his quest by Xander Kinnison, a handsome, cocky wing man with a troubled past. Neither knows that Oberon is facing imminent destruction. Even as the world starts to fall apart around them, they have no idea what's coming—or the bond that will develop between them as they race to avert a cataclysm. Together, they will journey to uncover the secrets of this strange and singular world, even as it takes them beyond the bounds of reality itself to discover what truly  binds them together.
Skythane
October 10, 2020
Word Count:
56000
Summary: Take one final ride with the crew of the Scarlet Lucidity. One year after saving the Neek homeworld and redefining the people's religion, the crew of the Scarlet Lucidity returns to the Charted Systems for a much-need break. For Nicholas and Yorden, the Systems will always be home, but for Emn and Atalant, too many memories compound with Emn's strange new illness to provide much relaxation. TALES FROM ARDULUM continues the journey of Atalant, Emn, Yorden, Nicholas, and Salice as they try to define their place in a galaxy that no longer needs them while battling the artifacts of Ardulan colonization. Other stories include Yorden's acquisition of the Mercy's Pledge (and his grudge against the galaxy), Atalant's exile from her homeworld, Ekimet and Savath's romance, and many others. TALES also has FOUR full page illustrations of the crew by Micah Epstein!
Tales From Ardulum
June 10, 2019
Word Count:
24000
Summary: Every time something goes missing from the village, Sir Violet, the local knight, makes his way to the dragon's cave and negotiates the item's return. It's annoying, but at least the dragon is polite. But when the dragon hoards a person, that's a step too far. Sir Violet storms off to the mountainside to escort the baker home, only to find a more complex mystery—a quest that leads him far beyond the cave. Accompanied by the missing baker's wife and the dragon himself, the dutiful village knight embarks on his greatest adventure yet. The Dragon of Ynys is an inclusive fairy tale for all ages.
The Dragon of Ynys
September 15, 2020
Word Count:
65000
Summary: "Whenever someone asks me if I believe in heaven and hell, I tell them I don't know about heaven, but on hell... I'm an expert." On the eve of World War I, the Martians from the original H.G. Wells classic have returned to finish what they started, but this time humanity is ready. Armed with steam-powered battle machines created from reverse-engineered alien technology, the global defense force A.R.E.S. prepares for the coming conflict as tensions rise in Europe. Captain Eric Wells, an orphan of the first War of the Worlds, commands Earth's newest, most formidable weapon... the colossal battle tripod GOLIATH. Includes new and deleted scenes not included in the film. Based on the award-winning animated film from director Joe Pearson and Tripod Entertainment, starring Adrian Paul, Peter Wingfield, Elizabeth Gracen, Jim Byrnes, Beau Billingslea, Mark Sheppard, and Adam Baldwin. Adapted from the screenplay by David Abramowitz. 2015 Scribe Award Finalist (Best Adapted Novel Category)
War of the Worlds: Goliath
July 31, 2018
Word Count: Information not available
Summary: Grounded after a rescue attempt in Earth orbit goes bad, Commander Martin Atkins of the Confederation Navy is approached by the Interscission Project, a consortium of civilian corporations on the verge of perfecting the technology to travel to another star. Despite his misgivings, the chance to get back in the pilot's seat is too much to pass up, and he convinces his best friend and crewmate, Charles Davenport, to leave the military temporarily and join him as part of the crew of the Zenith, humanity's first starship. Edward Harlen is a brilliant young engineer, and a key player in the construction of the Zenith to take advantage of the untested technology of foldspace drive. But Edward has his own agenda in joining the project, and a bitterly personal score to settle with his boss, Trevor Sutton, a vendetta of which Trevor is entirely ignorant. But when Edward's sister Stella enters the picture and manages to secure a position on the project, all of Edward's careful plotting is upset, and she might spell the downfall not only of his plans for revenge, but of the entire Zenith mission. The spark of attraction between Edward and Martin is a complication that Edward can't afford, but of which he can't let go. For Edward knows the secret at the heart of the Interscission Project, the hidden potential of the technology that in the wrong hands could become the ultimate assassin's weapon: the ability to rewrite history, not just once, but many times. As an unseen enemy moves to destroy them, and the body count multiplies in their wake, Martin and Edward must choose whether they will allow the possibility of love to challenge their destinies, or will they instead take up arms in a war to control the most ancient and terrible power in the universe. Time, itself.
Zenith
March 10, 2014
Word Count:
78000
Summary: She's lost her ship, lost her job, lost her reputation, and is on the run from the law. Jez is a damn good pilot, and she's always worked alone. Until she got picked up for smuggling, that is. Now she's an ex-con and ex-employed, and there are plenty of people with old scores to settle. So when a mysterious stranger in a battered pilot's coat comes to her with an offer that sounds too good to be true, she reluctantly agrees to listen. All she has to do is fly one little job. Four ex-convicts. One charismatic mastermind. And the most dangerous heist the System has ever seen. Firefly meets Ocean's Eleven in R.M. Olson's fast-paced, kick-ass, wickedly fun space opera series, The Ungovernable. Grab a copy and join the crew.
Zero Day Threat
May 15, 2020