Word Count:

88700
Summary: Kat Wallace is on a mission. After escaping tortuous enslavement, she sets her sights on ending the human trafficking that has flourished in 24th century Earth. Adopted by the leader of the pirate nation of Bosch, Kat Wallace is determined to prove herself as a member of the Bosch Pirate Force and use her skills to avenge her enslavement and free other thralls. But unexpected love and a test of loyalty threaten to rob her of what she wants most: a home.
A Merry Life
Word Count:

12500
Summary: SEALS Winged Insertion Command (SWIC) has based Tiger Bailey's operational SWIC-3 out of Howland Island near the Equator in the central Pacific, just a few kilometers away from Baker Island, location for the socket where Amelia Earhart Skytower terminates. Tiger Bailey's squad is tasked to drop from Low Earth Orbit (LEO) to Mayotte Island, northwest of Madagascar in the Indian Ocean, to rescue a U.S. Senator and his family who were taken hostage by pirates.
DAEDALUS COMBAT—Combat drop from Low Earth Orbit
Word Count:

15600
Summary: Following his successful base jump from Fred Noonan Skyport, Tiger Bailey undertakes the next step in the development process of the Gryphon hardshell wingsuit, a drop from Low Earth Orbit. Using the Gryphon-10 with enhanced navigation and computer control, and with a greater wingspan, he uses the Slingshot Space Launch Loop to gain Low Earth Orbit (LEO), but experiences equipment problems that nearly destroy him and doom the project. Ultimately, Tiger perseveres and drops into the Earth's atmosphere. He skips out in in several times before eventually making a harrowing but safe landing.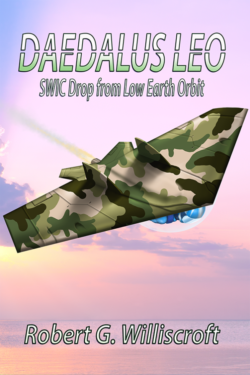 DAEDALUS LEO—SWIC drop from Low Earth Orbit
Word Count:

12300
Summary: After his successful proof-of-concept drop from Low Earth Orbit (LEO), Tiger Bailey's squad undertakes the next step in the development process of the Gryphon hardshell wingsuit, a coordinated drop from LEO by six team members. They tried to plan for every conceivable contingency, however, Mother Nature intervened with disastrous results.
DAEDALUS SQUAD—SWIC Squad drop from Low Earth Orbit
Word Count:

13500
Summary: Using a new Gryphon-7 hard-shell wingsuit, Tiger Baily, irreverent member of the Navy SEALS Winged Insertion Command, makes a harrowing first experimental base jump from the edge of Space, the Fred Noonan Skyport 80,000 meters above Jarvis Island in the Equatorial Pacific. Tiger's target, which he must reach to survive, is Kiritimati Island, a tiny isolated atoll 379 km northeast of Jarvis over ever-threatening and oh-so-deep ocean waters.
DAEDALUS: SWIC Basejump from Fred Noonan Skyport
Word Count: Information not available
Summary: They told him he was chosen, but everything they told him was a lie. Sookahr believes he's destined to change the world. With his rodent companion and a motley crew of fellow serpents, he journeys to the farthest outpost of Serpentia, determined to prove himself. The quest leads him to the very edge of the jungle, where Sookahr encounters, not only sabotage, but a dark secret that could shake the foundation of his civilization. Betrayed and abandoned, Sookarh must discover his own power, harness the magic inside his dreams, and decide who he really wants to be. Because if he can't rise to the challenge, expose his enemy, and uncover the truth, he won\'t just lose his way. He'll lose his friends, his place in society… and his life. In a world ruled by reptiles, one snake must fulfil his destiny to overthrow corruption, expose a dark secret, and save his people… from themselves. 2020 Leo Literary Award Winner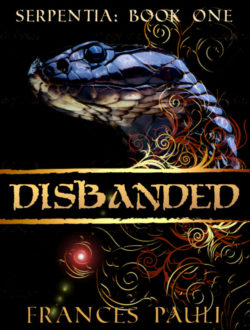 Disbanded
Word Count:

137000
Summary: "Ye never ken what beasties lurk in the water…" The white and red dragons have been spiritual soulmates for as long as anyone can remember. Finally, their human vessels Stewart and Michael are together once more—except one of them has a hard time remembering or believing that he's a dragon. As his mysterious family's past starts revealing itself, Stewart Rygby has been made aware of his responsibility to manage and protect vast estate holdings that are in his care—which includes the local fairy village. There is also the impending problem of a lake resort planned to be built dangerously close to the dragons' ancient lair. While Father Aron has the power to prevent this egregious trespass, it may take some angelic intervention to convince him to accept such a crusade on faith. Join us as our dragons come together for another lifetime in Green Hills and Dragon Tales—the momentous second book in the Green Hills Series by Celyn Kendrick!
Green Hills and Dragon Tales
Word Count:

67000
Summary: Morgorth and Aishe must contend with a deadly threat that could spell disaster for their world. Payshthas were the first of the Mother's intelligent children. It is rare for true friendship to form between them and another species—which makes Morgorth's bond with Enfernlo unique. And it is due to their friendship that Morgorth doesn't hesitate to answer Enfernlo's plea for help. A thief has stolen something vital from Enfernlo's colony—a stone of power. Their hunt for the stone leads them to a war torn kingdom, and Aishe can hardly stomach what he sees. The devastation urges him to assist however he can, no matter the risk. Meanwhile, Morgorth is faced with reminders of the monster he used to be, and contemplates how far he's come, and yet how far he still has to go. And when his estranged mentor joins them on their search, Morgorth is forced to confront his resentment and sense of betrayal, and use Master Ulezander as a tool to save the payshthas. Forced into a deadly quest where trust is in short supply, and faced with challengers for the stone, Morgorth must put his faith in those he loves and in himself... and become a champion not just of the Mother but for Karishian itself.
Jade: First and Last
Word Count:

69478
Summary: The staff at AURA has had a busy summer. Between chronic understaffing, dealing with warring goblin factions and an unusual number of hazardous Events, everyone is overworked. Sinistrus the incubus, newly hired as an AURA medic, actually enjoys his busy new life of responsible employee and faithful lover to his gorgeous police sergeant, Ness the centaur. Life would be perfect, except for a niggling suspicion about a colleague. Everyone else seems to disagree, but Sin's certain something's not right with that pixie. Kellen, a pixie crossover, loves his job working in AURA medical, even if he is something of an outsider. His job and the friends he manages to make are happy spots in an otherwise dark and secretive life. As the rest of AURA tries to discover the root of the inexplicable rise in violence and large-scale Events, Kellen fights to preserve his own life and what dignity he has left. These two unlikely heroes must put their differences aside and navigate tragedy and ever-escalating disaster together in order to stop the sinister forces that hold Kellen in thrall.
Kellen's Awakening
Word Count:

90700
Summary: Sometimes the world needs saving twice. Xander and Jameson thought they'd fulfilled their destiny when they brought the worlds of Oberon and Titania back together, but their short-lived moment of triumph is over. Reunification has thrown the world into chaos. A great storm ravaged Xander's kingdom of Gaelan, leaving the winged skythane people struggling to survive. Their old enemy, Obercorp, is biding its time, waiting to strike. And to the north, a dangerous new adversary gathers strength, while an unexpected ally awaits them. In the midst of it all, Xander's ex Alix returns, and Xander and Jameson discover that their love for each other may have been drug-induced. Are they truly destined for each other, or is what they feel artificial? And can they face an even greater challenge when their world needs them most?
Lander
Word Count:

53000
Summary:
***One angel to bind you, one angel to save you.***
Sky Heavensent, an angel of death, is charged with the collection of souls of the recently departed. Known to his peers and immediate supervisor, the archangel Gabriel, as the liability, Sky puts his heart and soul into everything he does. When he meets Caleb Pierce, Sky is immediately smitten. The problem is Caleb is the soul he came to earth to harvest, and saving him means breaking one of the most sacred angelic directives. Already in too deep, Sky pushes aside the consequences and follows his heart. Danger and mayhem follow, but he will do everything in his power to protect his lavender-eyed man.
Lavender Fields
Word Count:

99000
Summary: Look to the skies! Brave adventurers face new relationships and adversity in all sizes, from steampunk dirigibles to harpies, giant bees to garden gnomes, and winged dinosaurs to sky pirates. Isolated mountain peaks, clifftop cities, and battles in the sky abound in this sapphic anthology focused on overcoming challenges awaiting in the clouds. If you like diverse stories with lesbian and sapphic-centric heroines enjoying the thrill of adventure high in the air, buy Lofty Mountains today! With stories by: Seanan McGuire, Rosiee Thor, Rebecca Kim Wells, Maya Gittelman, Carmen Loup, Sara Codair, William C. Tracy, N.L. Bates, L.R. Gould, Robin C.M. Duncan, and J.S. Fields
Lofty Mountains
Word Count:

48338
Summary: Every story has a beginning…. Dragons. Angels fear them and demons follow them. Formidable beasts of incredible power, they fight each other to the death for dominance. But dwindling dragon numbers cause alarm among the angelic ranks. Surely when the dragons have finished killing each other, the victors will search elsewhere for conquest… maybe even the Upper Realm. Roland, an angelic artist of significant talent, doesn't know what to believe. Part of him longs to see a dragon in person, and his peaceful life of contentment is wearing thin. He wants passion, desire, adventure, and love. He gets more than he bargained for when he and his sister are ambushed and captured by demons, and they bring him to a creature who surpasses Roland's wildest imaginings. But the mighty dragon Asagoroth is not all that he seems. Something sparks between him and Roland. Something neither anticipated. Something that will shake the cosmos to its core. Note to readers: this is the second edition, fully revised and updated.
On Wings of Passion
Word Count:

50963
Summary: Trystan is an unchosen angel—shunned by society, bullied, and without a future. In a hidden well, Trystan discovers a carving of a dragon, who were once the commanders of demons and now believed extinct. But Trystan learns the carving doesn't depict an ordinary dragon. Stories tell that millennia ago, the great dragon Asagoroth and his demon army nearly conquered the three realms but was killed by the five elders. The powerful angels combined their life forces to cast a spell, sacrificing their lives. But history is full of falsehoods. The five elders only managed to imprison the dragon, and Asagoroth had cast his own spell—one of releasement. It only needs the blood of a certain angel to liberate him from his cage…. Asagoroth, enemy of angels, conqueror of realms, is free. But even as the angels prepare for war, the great dragon surprises them with an ultimatum: hand over the angel who awakened him or face annihilation. Note to readers: this is the second edition, fully revised and updated. The current audiobook is based on the first edition.
On Wings of Thunder
Word Count:

38000
Summary: RISE (noun / verb) Eight definitions to inspire writers around the world, and an unlimited number of possible stories to tell: 1) An upward slope or movement 2) A beginning or origin 3) An increase in amount or number 4) An angry reaction 5) To take up arms 6) To return from death 7) To become heartened or elated 8) To exert oneself to meet a challenge Rise features 300-word speculative flash fiction stories from across the rainbow spectrum, from the minds of the writers of Queer Sci Fi.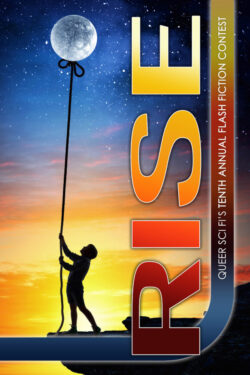 Rise
Word Count:

111,000
Summary:
New York: two years after the Third World War. Humanity is rebuilding its cities brick by brick; the damage done to the people, however, is a lot harder to repair.
Dan Hardacre is one of those people. An aspiring stage actor and experienced draft-dodger, Dan struggles to find his place within the Utopic rebuild of New York City. When he's not caught up with the duties of work, Dan lives a quiet life in mourning for his mother, Dyani, who went missing when he was a teenager.
One night, Dan experiences a vivid, terrifying nightmare that puts him right on the front lines of the war for which he dodged the draft; it ends with him facing Death itself in the form of a metallic, faceless humanoid creature that calls itself the Valkyrie. To investigate the reason behind his haunting experience, Dan seeks out a meeting with his estranged father, who reveals the startling truth about Dan's dream: it wasn't a dream.
With this newfound knowledge and the powers it brings, Dan makes it his mission to return to the scene of his nightmare. However, he soon comes to know that confronting the Valkyrie not only endangers him but the war-withstanding world he leaves behind.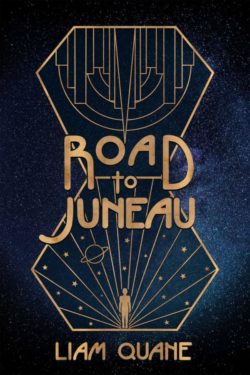 ROAD TO JUNEAU
Word Count:

72000
Summary: Go big or go home. For privateer Captain Magdalene Landon, it's all about going big. For Kay Ellis, it's about getting home. Together, they're about to architect the most daring heist in the galaxy. Kay knows too much. She knows it's a matter of time before a Conglomerate hitman finds her. She's desperate for safe passage back to Union space. Then Magdalene shows up, promising a way home in exchange for that information. It's a risky bet, but Kay is out of options. So she strikes a deal: the heist of the century for her freedom. Kay is playing a dangerous game, and she knows it. She's made herself Enemy Number One of the Conglomerate. She's relying on privateers for her safety. It's a fool's game. But the worst part is, her fool's heart is starting to warm to the enigmatic captain. And that's a risk for which she hadn't planned. (Cover by May Dawney Designs) 2019 Sci-Fi Lesfic Bard award winner
Safe Passage
Word Count:

138,300
Summary: Four silver foxes from Earth discover that true love and second chances are not just for the young. Fly with Me - Let the good times roll! That's Ava Martin's retirement plan at least, until gray aliens abduct her from the middle of the Nevada desert. In her hair rollers no less! Talk about a rude awakening for this UFO skeptic. Above the Storm - It all started with a dare. Robyn Martin Donahue's bestie says the Silverstar Agency can hook her up with an off worlder who will love and respect her, not try to rule her. As if. Wing and a Prayer - Happily ever after didn't work out. If Meryl Faulkner learned anything from her divorce, it's that she's not defined by any man. Especially not that annoying, self-serving…sexy winged alien who's divebombed into her orderly life. Trial by Fire - True love only happens once in a lifetime, right? Silverstar agent Nixy Vogel should be furious at the (smoking hot) alien trying to put the agency out of business. Instead, her shuttered heart burns for him. Welcome to the Silverstar Mates series, featuring intergalactic love matches for those over fifty.  Please note: This is a boxed set of books 1-4 of the Silverstar Mates series. Before you purchase this boxed set, please check your ereader to make sure you don't already own these titles individually.
Silverstar Mates Boxed Set
Word Count:

85000
Summary: Jameson Havercamp, a psych from a conservative religious colony, has come to Oberon—unique among the Common Worlds—in search of a rare substance called pith. He's guided through the wilds on his quest by Xander Kinnison, a handsome, cocky wing man with a troubled past. Neither knows that Oberon is facing imminent destruction. Even as the world starts to fall apart around them, they have no idea what's coming—or the bond that will develop between them as they race to avert a cataclysm. Together, they will journey to uncover the secrets of this strange and singular world, even as it takes them beyond the bounds of reality itself to discover what truly  binds them together.
Skythane
Word Count:

119500
Summary:  Slingshot is a love story—about a man, a woman, another man, another woman, some gender bending…and a machine, the largest ever built.      Slingshot is a mystery—about a missing aviatrix, a conspiracy, a true-believer. Slingshot is an adventure—about following a dream, the ocean-deep, outer space. Slingshot is about constructing the first space launch-loop stretching 2,600 km between Baker and Jarvis Islands in the Equatorial Pacific. It's about high finance, intrigue, unlimited ambition, heroism, fanaticism, betrayal…and about opening space to the common person. With a cast of 69, Slingshot takes you from Seattle's world financial district, to the ocean bottom at 5,000 meters off Baker Island, to the edge of space 80 km above. You play with dolphins and battle sharks. You fly and sail and dive, you work and play and love across the vast panorama of an Equatorial Pacific being put to leash to serve humanity's surge into outer space. While its accurate science and precise engineering will appeal to hard science-fiction buffs, Slingshot's major focus is the grand journey, the opening of outer space to the common person by men and women who loom larger than life as they work, play, and love.
Slingshot: Building the largest Machine in Human History