Word Count: Information not available
Summary: Tiernan Guaire was exiled from the Fae Realm a century and a half ago for his brother's murder. His soul torn in half, he lives by his vows - never to trust, never to love. And if he can only be whole by finding and loving the human with the other half of his soul? He's content to live broken and half-souled. Kevin Almstead's future, the career he's worked for as long as he can remember, has been taken away by a vote of the partners at his law firm. Chance brings him to Purgatory, the hottest all-male nightclub in Washington, D.C., to a meeting with a Fae, with long blond hair, ice-blue eyes, and a smile promising pleasures he's never dreamed of. But there's no such thing as chance. But Tiernan isn't the only one to find Kevin in Purgatory. The most ancient enemy of the Fae race sees in the handsome lawyer a way to destroy the world from which it, too, was exiled. And only the strength of a true SoulShare bond can keep it from what it seeks.
Hard as Stone
Word Count:

52900
Summary: Havesskadi has won the Rainbow Award for Best Asexual Debut Book (2018-2019), and second place in the Best Asexual Book (Asexual – Contemporary, Fantasy and Paranormal Romance & Romantic Comedy | 2018-2019) category. The red dragon is hunting her own. Up in the icy peaks of the northern mountains, Orsie Havesskadi spends his days hiding from her, but eventually he is found and his dragon magic stolen. Cursed to wander the lands as a mortal unless he recovers his magic before twenty-four rising crescents have passed, Orsie embarks on an arduous journey. Spurred by the whispers in his mind, his quest takes him to a castle hidden deep in a forest. Arkeva Flitz, a skilled garrison archer, discovers an abandoned castle in the woods. Trapped there, he spends his days with his two companions, one cruel, the other soothing. One day, a young man arrives at his gates, and soon they are confined by heavy snowfalls and in danger from what slumbers in the shadows of the castle.
Havesskadi
Word Count: Information not available
Summary: If ultimate power corrupts, how does one learn to be incorruptible? I'm Aliyah Morgenstern. All of my life, I grew up on tales of my great-grandfather's magic bringing light and healing to the world. Then, I bonded with my dragonet Ember on my sixteenth birthday, which means I'll be scary powerful someday. There's one problem. Mom's kept secrets that everyone at my new school seems to know. Turns out, I've got an infamously criminal uncle and now everyone's waiting for me to do something evil. After my first horrible day at school I'm convinced I'm going to do something evil. My biggest challenge this year isn't history, math, Gym, or even the dreaded Magiscience Lab. No, it's keeping a devastating secret from almost everyone, including my own family. I'm an extramagus. Is evil really my destiny, or can I fight it somehow?
Hawthorn Academy Year One
Word Count: Information not available
Summary: The system is broken and if I'm not careful, it'll break me too. While my peers get excited for college, I brace for disaster. I've learned at Hawthorn Academy that danger can happen to anyone. To the jock. To the class clown. To my brother. Now I'm in the line of fire. All known extramagi must have their abilities tested. The way they do it is a horrifying secret. After witnessing one last year, I made a plan to expose the ugly truth. But there's a mind magus on campus now, threatening me. And he's totally within his rights to do so. Mr. Fairbanks leads the Board of Trustees, which demoted the headmaster and expelled my brother. Last year's threat was only a symptom of bigger problems. Half the Trustees play quid pro quo while the rest flex their authority for personal vendettas. Mr. Fairbanks blames me for his daughter's troubles. Mrs. Onassis says I poisoned her son's mind. And Mr. Pierce thinks I'm taking advantage of his children. All because extramagi are supposedly evil. But now I suspect we're scapegoats the influential families pin blame on. They say you make your own future. But can I survive the present first?
Hawthorn Academy Year Three
Word Count: Information not available
Summary: The only way to stop a threat is to eclipse it. And last year, we discovered an enormous one. Temperance Fairbanks: the most powerful and sadistic water magus ever to set foot on campus. Hawthorn Academy will host a series of extramural challenges. That means we're hosting shifters, changelings, psychics, and even a vampire. Temperance vowed to hurt them any way she can, and she's already got help. My roommate Grace has a plan. Social warfare, breaking reputations and hearts, including her own. And she wants me to be her muscle. Last year I almost burned the school down. But this time, I might just be sitting on a powder keg.
Hawthorn Academy Year Two
Word Count:

81000
Summary: A baby's laughter. A mind uncaged. Lance is known as Scourge, the warrior in the black armor, the dog of the warlord Ulfr Blackwolf. He was just a boy when Ulfr found him and molded him into the perfect weapon. He slaughters and pillages on command, merciless and numb, devoid of emotions. Then a baby girl laughs at him during a raid. And everything changes. When Gust, a talented healer, is out deer hunting and stumbles across a magnificent horse bearing a mortally wounded rider, he has no idea that his life is about to change forever. Gust applies all his skills to his patient, determined to save the rider's life, and is rewarded when the man opens his eyes. As friendship, and more, bloom between warrior and healer, so does the danger over the horizon. Ulfr has not forgotten, and Lance must take his first steps on the long road to redemption.
Healing Lance
Word Count:

79500
Summary: Lost beneath the ocean, Atlantis has become a myth. When it rises from the deep everything will change for Kyle, Finn and the merpeople. Jake Seabrook, a human descendant of Medina, the Atlantean Goddess of Love, never asked for magical powers. Unfortunately, not only does he have them, but they are also growing stronger as more of the Atlantean gods wake from their long slumber. When Jake develops the power to hear the thoughts of anyone thinking about love, lust or sex, it is strange and embarrassing, but also reveals cracks in his relationship with his mermen lovers, Kyle and Finn. If they are going to continue to live as a ménage, they will have to learn to be honest with each other. With Jake's powers out of control and their relationship on shaky ground, the last thing any of them need is a crisis in the sunken city. The Atlantean gods want to regain the powers they lost when the Atlantean people were banished from the city, but the solution will leave the mer who live in the city no choice but to evacuate and search for a new home or risk exposing the existence of the mer to the whole world. Kyle and Finn return to Atlantis to help with the evacuation and insure the safety of their families, but time is not on their side. When Atlantis rises, the consequences could tear apart their ménage forever.
Hidden Depths
Word Count:

80,350
Summary: The sun and moon have been devoured by the cosmic wolves Skoll and Hati. Fimbulwinter has enveloped the world in the cold and darkness. Men prey on each other in order to survive. Amid the chaos, in the struggle for the throne, comes a war between brothers. Hakon, the illegitimate heir to the throne of Norveig, has obtained a horn that can summon a terror from the depths of the ocean. This monstrosity has been sinking the vessels of his half-brother, Jarl Erik Bloodaxe. Erik sends a company of untried heroes to infiltrate Hakon's stronghold and steal the horn. As with all things political, there are other agendas. Fjorn, the leader of the team, is Erik's half-brother who could challenge Erik for the throne. Erik's wife Gunnhild is a powerful sorceress with her own ambitions- could her goals derail the heroes? In life, sometimes a Jarl wins, and other times a Jarl wins.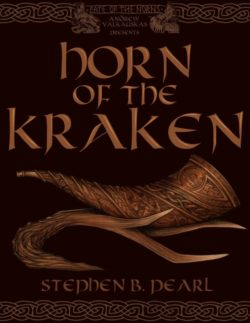 Horn of the Kraken
Word Count:

50800
Summary: Dr. Grady Hunter has a vampire infestation on his hands in the town of Shady Pines but he's been deserted by those best suited to help. After enlisting Chris Reed, a techno-mage, they find the vampires might only be the tip of a deadly iceburg. Returning home from his dream travels, Ethan Roam is eager to experiment with his newly discovered powers. But Ethan isn't the only familiar arrival in Grady's life. As more reminders of his dark past crop up daily, Grady and Ethan are swept up in a mystery of cosmic proportions. Grady must fight to keep an ever-evolving Ethan on his side while being challenged by the ghosts of his past.
HUNTER
Word Count:

140,000
Summary: Despite their disparate natures, Yarrow, Duncan, and Sasha united against overwhelming odds to save Prince Garith's life. Now Garith is king and the three friends may be facing their undoing. Distraught over Yarrow's departure to find the cure to his magical affliction, Duncan struggles with his new role as Bairn of Windwake, a realm left bankrupt and in turmoil by his predecessor. Many of Duncan's vassals conspire against him, and Sasha's unorthodox solutions to Duncan's problem have earned them the contempt of Garith's nobles. When word reaches Duncan and Sasha that Yarrow is in danger, they want nothing more than to rush to his aid. But Duncan's absence could tip Windwake into the hands of his enemies. In addition, a near-mythic order of assassins wants Sasha dead. Without Yarrow, Duncan and Sasha can't take the fight to the assassins. They are stuck, entangled in a political world they don't understand. But finding Yarrow may cause more problems, and with his court divided, King Garith must strike a balance between supporting his friends and assuaging the nobles who want Duncan punished—and Sasha executed.
Ice and Embers
Word Count: Information not available
Summary: Genevieve doesn't know if her unhappiness and feelings of not fitting in are different from anyone else's on her college campus. Recovering from a break-up and struggling with depression, she takes comfort in her impulsive sketches of strange creatures to try to escape the dark cloud that looms over her. But the truth is her place in this world is a lot more complicated than she could ever imagine. With two strange men following her, vines that engulf her dorm overnight, and a cactus that overruns the campus library, she is forced to face the possibility that her origins are more mysterious than the fact that she was abandoned as a baby. Especially as a powerful urge takes hold of her to draw something new and frightening. Can it be that her reality is stranger than her imagination? The one thing she can't imagine is that her happiness and talents just might be the key to save or destroy an invisible world.
In The Drawing
Word Count:

100000
Summary: Born in the northern wastes of Kaleva in the middle of a devastating war between light and darkness, Rikko' has found his way south to the warm shores of the Circled Sea, the first elver to ever turn pirate. Forbidden by the rules of the Andalouan court to pursue such an ungentlemanly career, Gael can only dream of ever becoming a doctor, and his medical studies remain unfinished until his aunt the Queen sends him on a covert mission to the pirate city of Beyas'kahl. And here, after one night with Rikko', all his loyalties are put to the test. Queen Amata has reigned for three decades, and she always used her men cunningly. But even the best player can miscalculate, and her blunder places Gael first in slavery, then in a naval battle, and finally, worst of all, face to face with Rikko's darkest and deadliest side. From such darkness, is there any coming back? Is there any hope of love for Gael, or redemption for Rikko'?
In the Eye of the Wind
Word Count:

69861
Summary: A loving boyfriend, generous friendships, and a thriving business—Arnold Kreed should be ecstatic. So why does he feel like he's standing on the edge of an abyss? When Kreed took a chance on a thief—letting Lucky into his world, his life, his heart—he hardly imagined he would find the love and acceptance he didn't dare dream of. Lucky draws people to him, and his extended found family embraces Kreed. Now in an established relationship, despite Kreed's ex causing trouble again, Lucky and Kreed are working toward making a life together. But Kreed is unsettled, unable to find his bliss. He is getting grumpier, and he can feel his people, including his beloved self-aware house, Mildred, pulling away… How can Kreed get back to the joy he so recently found if he has no idea what's wrong?
Innkeeper's Blues
Word Count:

67000
Summary: Morgorth and Aishe must contend with a deadly threat that could spell disaster for their world. Payshthas were the first of the Mother's intelligent children. It is rare for true friendship to form between them and another species—which makes Morgorth's bond with Enfernlo unique. And it is due to their friendship that Morgorth doesn't hesitate to answer Enfernlo's plea for help. A thief has stolen something vital from Enfernlo's colony—a stone of power. Their hunt for the stone leads them to a war torn kingdom, and Aishe can hardly stomach what he sees. The devastation urges him to assist however he can, no matter the risk. Meanwhile, Morgorth is faced with reminders of the monster he used to be, and contemplates how far he's come, and yet how far he still has to go. And when his estranged mentor joins them on their search, Morgorth is forced to confront his resentment and sense of betrayal, and use Master Ulezander as a tool to save the payshthas. Forced into a deadly quest where trust is in short supply, and faced with challengers for the stone, Morgorth must put his faith in those he loves and in himself... and become a champion not just of the Mother but for Karishian itself.
Jade: First and Last
Word Count: Information not available
Summary: Reva and Ansee face fresh threats as a new evil is imported into Tenyl and threatens the city with an undead plague. Constable Inspector Reva Lunaria's life is looking up. She's managed to put two groups of unruly adventurers in jail and she gets word that her boyfriend, Aavril, has just arrived in port. She is looking forward to a relaxing dinner, a present, and maybe some time getting reacquainted after Aavril's long absence. But Aavril's ship has delivered more than a cargo of spices and exotic merchandise and a new evil begins to take root within Tenyl. Reva's romantic evening is spoiled by news of a double murder. It should be a simple case, except that the victims have disappeared. Reva's investigation barely gets started before Lord Constable Inspector Betulla contrives a way to get Reva suspended. With Reva temporarily off the force, the murder investigation is given to Constable Inspector Pflamtael, who is looking to find the fastest resolution to the case. Meanwhile, Seeker Ansee Carya investigates what appears to be a simple missing person case, until he discovers that the missing people – including the two murder victims – have become zombies. Now, Reva, with the aid of a halpbloed cleric, must work from outside the constabulary to figure out who is creating the undead, and how to stop the creatures before all of Tenyl becomes infected.
Joy of the Widow's Tears
Word Count:

115000
Summary: Battles and adventure crisscross the Viking Age! From monumental sea clashes to beleaguered mountain strongholds to war with the tribes of Eire, circumstance drives the scattered Agneson clan across the known world. And beyond the lands of Midgard, mythic hidden folk challenge our forerunner hero. The award-winning Forerunner Series epic continues…. Fleeing an arranged marriage, Kara escapes across the narrow sea to follow her warrior dreams. Escaping slavery, Cub joins Rollo's horde in Britany, while his outlawed brother Sorven fights for survival in the Welsh mountains. Uncle Karl and his warriors rally to Harald Tanglehair in his ambition to unify the wild kingdoms of the North Way, and young Thorfinn is left behind, safe and secure in a tiny fishing village... or is he? Kara gains her place in king of Dublinn's ranks to prove her mettle, but being a warrior is not what she expected, and what of these new feelings she finds for her closest companion? Will Karl and his crew perish in the great battle of Hafrsfjord? And how will an unprepared Thorfinn survive kidnapping by an 8-armed giant, leaving behind worried friends and a very angry dragon? Don't miss this 5-star epic fantasy critics are calling "whimsical and gritty," with "fabulous, engaging characters." If you enjoy the history of The Last Kingdom and Nordic myths and legends, the Forerunner Series is a grand tale not to be missed!
Kara Shieldmaiden of Eire
Word Count:

69478
Summary: The staff at AURA has had a busy summer. Between chronic understaffing, dealing with warring goblin factions and an unusual number of hazardous Events, everyone is overworked. Sinistrus the incubus, newly hired as an AURA medic, actually enjoys his busy new life of responsible employee and faithful lover to his gorgeous police sergeant, Ness the centaur. Life would be perfect, except for a niggling suspicion about a colleague. Everyone else seems to disagree, but Sin's certain something's not right with that pixie. Kellen, a pixie crossover, loves his job working in AURA medical, even if he is something of an outsider. His job and the friends he manages to make are happy spots in an otherwise dark and secretive life. As the rest of AURA tries to discover the root of the inexplicable rise in violence and large-scale Events, Kellen fights to preserve his own life and what dignity he has left. These two unlikely heroes must put their differences aside and navigate tragedy and ever-escalating disaster together in order to stop the sinister forces that hold Kellen in thrall.
Kellen's Awakening
Word Count: Information not available
Summary: Kestrel, the King's Privateer, is preparing to wait out the annual storm season when she receives an unexpected royal order to capture and deliver a rare creature for the king's menagerie. Before she can weigh anchor, news reaches Kestrel of a long-ago friend in desperate need of help—in the opposite direction of her assigned voyage. In addition, her ship may be haunted by something big, loud, and terrifying. Before Kestrel can plot a course, she crosses paths with an enigmatic dancer who offers an enticing bargain: sail her home to the Continent, an ocean away, and she'll reveal the mysteries of magic Kestrel has longed all her life to know. The temptation of answers endangers her crew and might ruin her privateer status. Worse, taking on this passenger could thrust her into the clutches of the ever-watchful Danisoban mages who lie in wait for her to make the perfect mistake. Every decision is fraught with danger. Each wrong turn may mean her death or the death of her crew. And Captain Kestrel can walk away from none of them.
Kestrel's Dance
Word Count:

38000
Summary: Stories tell of great fire-breathing beasts large as castles, fierce and deadly, capable of magicks that no human can match. The Kingdom of Kentaine once allied itself with the dragons of old, but eventually, the dragons were lost to time and fell into legend. Sir Gawain, First Knight of the Realm, is tasked by his older sister the Queen to travel to the edges of their kingdom, where a beast is flaming villagers and has the locals ready to form a mob and hunt it down themselves. His mission is to find the dragon, stop the violence, and do what he needs to maintain the peace. His journey puts him in the heart of a confrontation with the dragon, but instead of saving the villagers, it is the dragon that needs rescuing. Zephyr, a fire dragon and an escaped slave, needs protection, time to heal, and a chance at a life full of hope. Gawain can do no less than offer his sword, his shield, and his heart. Evil is hunting Zephyr, and it will not stop until it has reclaimed its prize. Beyond the legends lies the truth, and love, like fire, consumes everything it touches.
Knight's Fire
Word Count:

65,091
Summary: A bond they thought couldn't be broken... Lord Morgorth, Dark Mage of the North, has never felt so far away from his precious mate as he does now. Still reeling from the events of a month before, Aishe struggles to come to grips with what the dream demon did to him while pretending to be Morgorth. For his part, Morgorth is haunted by the chilling vision the Mother sent him while he traversed Dreamworld—a vision where he kills the one most precious to him. Due to that knowledge, he knows he must choose his magick or his mate. A choice with devastating consequences... When Morgorth goes missing, Aishe must search for him, frightened that he has lost his mage forever. In his heart he knows they were meant for each other and refuses to allow his own horrid memories to tear them apart. But when he finds Morgorth he is stunned to realize that Morgorth doesn't remember him. In fact, in Morgorth's mind, he is a young lad named Lazur. Sometimes the most well-known truth is the greatest lie... For his entire life, Morgorth always knew his destiny was to become the Destroyer of his home world. His birthright as the third seventh son of a seventh son guaranteed such an outcome. Everyone told him so—except his mentor, Master Ulezander. Morgorth will learn that his mentor has been keeping the greatest secret of all: his true destiny.
Lapis Lazuli: Forgotten and Remembered