Word Count: Information not available
Summary: Welcome to the last of the great flying Cities! It's 9172, YE (Year of the Empire), and the future has forgotten its past. Soaring miles over the Earth, Autumn, the sole surviving flying city, is filled to the brim with the manifold forms of humankind: from Human Plus "floor models" to the oppressed and disfranchised underclasses doing their dirty work and every imaginable variation between. Valerius Bakhoum is a washed-up private eye and street hustler scraping by in Autumn. Late on his rent, fetishized and reviled for his imperfect genetics, stuck in the quicksand of his own heritage, Valerius is trying desperately to wrap up his too-short life when a mythical relic of humanity's fog-shrouded past walks in and hires him to do one last job. What starts out as Valerius just taking a stranger's money quickly turns into the biggest and most dangerous mystery he's ever tried to crack – and Valerius is running out of time to solve it. Now Autumn's abandoned history – and the monsters and heroes that adorn it – are emerging from the shadows to threaten the few remaining things Valerius holds dear. Can the burned-out detective navigate the labyrinth of lies and maze of blind faith around him to save the City of Autumn from its greatest myth and deadliest threat as he navigates his feelings for his newest client, the handsome golem Alejandro?
A Fall in Autumn
Word Count:

22700
Summary: When yet another wave of colonizing Felters arrives to strengthen their fortress on the forest's edge, Velu, an indigenous hunter, knows they bring only pain and death. But with them arrives an intriguing older woman who hunts legends. When Velu learns the woman, Lady Greyback, shares his terrifying visions of the ancient scorpion god, Ajakava, she invites him to research what they mean. But the Felters grow hostile, blaming Velu and the other hunters for deaths in a doomed expedition through the forest. Meanwhile, the visions become ever more persistent, hinting the god is awakening. When a second Felter expedition seeks to extend their reach to the capital beyond the forest, only Velu and Lady Greyback know they will walk straight into Ajakava's clutches. While the lady sees new destruction, Velu sees memories of a long-forgotten massacre. What vengeance does the old god have in store, and for whom? Find out what happens in Ajakava by Chaitanya Murali
Ajakava
Word Count: Information not available
Summary: Morgan Patterson came to Northern Ireland for her senior college year abroad to focus on her studies far away from family drama. But she's quickly distracted by a police sergeant named Tiernan Doherty. Though he's old enough to be her da, as her new friends are quick to point out, she fancies him. And he certainly seems to be obsessed with her. Eagerly going against all good advice, Morgan becomes more and more bound to Tiernan—by ties of lust and love and protection, and maybe even duty. But there is more to their attraction than Morgan can explain with her science textbooks, and more is going on in the sleepy village where they live than she could ever have imagined. She was once so sure that fairytales were fiction. But there's no denying the strange visions and dreams she's been experiencing since coming to this place. So many of the people she's met—both those looking out for her welfare and those seeking to destroy her—seem to feel she is a special one, with powers that are only now coming fully into her possession. Will she finally begin to understand that herself before it's too late?
At the End of the Rainbow
Word Count:

121000
Summary: A child's memory. A journey's end. Lance doesn't remember the time before Ulfr found him. It's a dark pit in his mind that he avoids at all costs. And yet, despite his best efforts, pieces start to fall, and echoes from the past begin to ring. However, he has little time to comprehend their meaning, since the Captain of the Imperial Army herself has come to collect him and bring him to the capital city of the Nifdem Empire. Whisked away to the gilded streets and glittering court of the Hill of Tarran, and then to the snowy reaches of Swenen, Lance and Gust will learn the answers to questions they've had from the start. And be forced to acknowledge their roles in the survival of the empire and the ripple effects of their actions. But such knowledge can come at a steep price. As allies and enemies begin to step from the shadows, Lance will learn the truth of his past and the price of his redemption, and all the pain that comes with them. While Gust will have to decide what he's willing to sacrifice to safeguard the one he loves.
Avenging Lance
Word Count:

11500
Summary: A dark fairy tale in a modern Greek setting. Hiding in the mountains, a harpy and her adopted daughter struggle to survive. Iphis has always known that survival comes hand in hand with loneliness, but when she catches feelings for a girl in the nearby town, her heart yearns for a different kind of future. When she's suddenly attacked by a group of enraged harpies, things only become more complicated... and dangerous.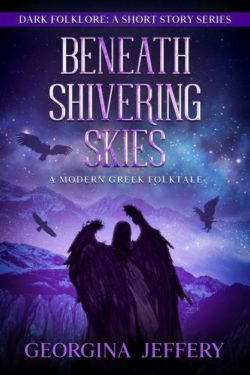 Beneath Shivering Skies
Word Count:

120000
Summary: U.S. Marshal James Creed has known loss, starting from the untimely death of his wife and daughter in a sudden fire. His work, chasing down and arresting outlaws across the Wild West, is all he has left to live for. Then one day, in 1876, the infamous killer Corwin Blake catches Creed by surprise and guns him down. Creed awakes after a mysterious young woman resurrects him in a basement laboratory beneath a brothel. Half alive, Creed feels torn between his need for justice and his desire to fall back into the peace of death. Creed's instincts drive him to protect the city of Santa Cruz, California, from the outlaws it harbors while searching for Blake. He uncovers a secret criminal organization, likely protecting Blake, determined to use resurrection technology for its own ends. The former marshal, now faster, stronger, and a more deadly shot than ever before, must work with a brothel madam, a bounty hunter, and the remaining marshals to uncover the criminal syndicate before they can misuse the machines of rebirth and create more mindless zombies. Meanwhile, he must also stop Blake, before the outlaw kills the only people he cares about. His own death can wait.
Bodacious Creed
Word Count:

113000
Summary: A twist of fate changed both their destinies. The wyrbears, once a long-lived species, were being lost to the forest in their prime. A people borne of a curse, their abilities not a gift but something wrongly taken, they nonetheless live in harmony with their animal spirits. But over time the curse they lived under changed, mutated, and now what once was a refuge from the world when they became too weary is culling mathan in their prime. Ewen mhic Friscalach, the leader of his peoples, lost his father too early and is now a widower with four children. The vow he made as a youth to break the curse afflicting wyrbears has been buried by grief and responsibility. Roi mhic Alric, a priest of Cerridwen and seer, watched his fellow priests slaughtered and his temple desecrated. The only thing that kept him going the last three horror-filled years was the vision Cerridwen had granted him of his emancipation. If freedom came at the cost of his life, well, he was more than ready for the Otherworld. A fated meeting upon a bloody field of battle. A wrong done long ago. Their choices could save a people… or send them into extinction. Either way, their love will be legend.
Caledonia Destiny
Word Count:

93000
Summary: Three vampires. Three lives. Three stories intertwined. Bearing the guilt of destroying the holiest of books after becoming a vampire, the Dragon, Lord Desmond searches the world for lost knowledge, but instead, discovers truth in love. Born a slave in Ancient Greece, Alexandra craves freedom above all else, until a vampire sets her free, and then, she must pay the highest price of all … her human soul. An assassin who lives in the shadows, Roquelaure is cloaked even from himself, until he discovers the power of friendship and loyalty. Three vampires, traveling the world by moonlight—one woman and two men who forge a bond made in love and blood. Together they form a band of mercenaries called the Scarlet Order, and recruit others who are like them. Their mission is to protect kings and emperors against marauders, invaders, and rogue vampires as the world descends into the chaos of the Dark Ages.
Dragon's Fall
Word Count:

80435
Summary: A modern-day knight in shining armor is a man with a secret. He's an immortal direwolf shifter. A man who can trace at will into a lethally dangerous canine who holds the ability to step into the stillness and achieve any goal. When he finds himself without a career after retiring disabled from his last mission in the military, he has to rethink the direction of his life. He needs to reinvent himself before anyone realizes that he stopped aging at the age of thirty-five. He's learned just enough to make his existence a bit dangerous. The sexy high school teacher neighbor he's been near stalking has her own secret. She feels like everything and claiming her is all he can focus on. He's determined to win her as his own until a shadowy evil attacks her and reveals a situation that forces him to be the man of action that he's always been. To keep the woman he loves safe, he'll become the alpha pack leader he was born to be. A Pack Forms is the first volume in the steamy paranormal romance saga of Draoithe.
Draoithe: A Pack Forms
Word Count:

118937
Summary: Frank Grimes is a lowlife, no count, barely classifiable as a human, male who just happens to have enough sense to hire and retain qualified construction workers. He landed the contract to build most of Draoithe in January of 2016. He's not only worthless, but he's also criminal filth. He will do anything for an easy dollar. After the Draoithe housewarming party, his true colors shine through when he attempts to rape the architectural designer in her apartment after driving her home. Luke can't afford to let Jace kill him or allow Flame to turn him as dragonsworn, but there is no way that Frank can be allowed to just get away with what he's done. Even the Assassin King wants him dead, and he is the dragon called to serve one miscreant underking. Sentenced to house arrest and forced labor, Grimes seeks a way to fulfill the requirements Luke sets on him to gain enough respect that Javier will turn him into a canine shifter until he meets a blood demon who wants to help Luke out. Is it possible to totally rehabilitate the walking filth that is Frank Grimes into a real man in order to help him avoid certain death and turn him into a wolf? Or will the demon simply drink him dry and slowly end his miserable existence?
Draoithe: Filth and Death
Word Count:

107884
Summary: Julian Gypsun used to be a young man on his way to becoming a contractor. Everything changed when he died and was resurrected as a wizard's familiar. He was immortal and far better off physically than he had been as a human. Still, he was trapped with his life chained to a giant of a wizard who had no problem abusing him in every way imaginable. Julian was powerless to stop it without ending his own existence. That is until he was yanked bodily through his own portal, transported to Draoithe, and assigned to babysit the visiting dignitary, Amazon Warrior Princess Zephyra, and try to convince her that her people should ally themselves with Luke and Draoithe. That sounded easy, but it wasn't. He liked her. He had no clue how to act on that. Best to avoid that altogether. Keeping her safe just might equal his death. (Please see her warrior princess title.) She was old and so far out of his league. Worse, she liked him and was determined to have him. He can't even consider that. She has no idea how broken he really is.
Draoithe: Midnight Magic
Word Count:

91154
Summary: Flame is scarred from a past filled with lies, deceptions, and heartbreak. He is not guilty of what his brothers believe, but Blaze is the only one who knows the truth. He was betrayed by the king he had served. The girls he gave the dark gift to had been innocent. When he finds his Valkyrie, beaten, raped, broken, and fading after having been forced to accept the dark gift without her consent, Flame vows that he will do anything to save her. The light seems gone from both her and the world she finds herself in. Little does Flame know that for her to have the light again, he will sacrifice his honor, his integrity, and his life after breaking every law he can manage to break and even demand absolution for crimes he never committed. Many men say they will die for the love of their life. Flame somehow needs to do it four damn times, find a way to fix not only her broken magic, but fix her broken spirit as well, and then figure out how to live for her! All men wish to love a vampire, but Flame burns in his soul for one who holds the fire and has been granted the dark gift of an immortal vampire princess.
Draoithe: The Dark Gift
Word Count:

135408
Summary: Alexio Asmodai is the demon king of Eaglafonn, a small outpost kingdom in the Netherworld overruled by the Demon Lord Asmodeus. It is Alexio's responsibility to protect and police the frontier borders against any threats. He is an accomplished knight, so that part came easy. Eaglafonn is a cold and isolated kingdom. Alexio needed to stay and build his castle atop the hot springs to beat an addiction to seduction sickness. After over seven centuries, he thinks his loneliness has finally come to an end when he opens a crate to find a woman sent by Asmodeus for him to keep safe. He falls for her instantly. She is a human woman, fragile, timid, and irresistible. He must follow his liege's directive, convince her to become his queen, and see that she is cared for properly in a place that is inhospitable to her existence. This leads to a realization that his castle lacks a lot to be a first-class home for a lady. Can a tainted demon prince rise to the challenge to become a true king and win the woman who stole his heart? Dread Allies 7-14 The Shadow king of Eaglafonn has chosen his queen, but his castle lacks the feminine element. To make her more comfortable, he orders the demon princes to seek out and claim their own mates. That is easier said than done. Eaglafonn is a cold dark isolated kingdom in the Netherworld. It might be easier to claim mates from the Domhain, but not everyone could survive on the brutal dangerous frontier. The other options afforded from the Netherworld come with their own dangers. The magic is unbalanced and balancing comes with a price. Claiming their mates lead the demon princes on epic mini journeys and reveals the need for Eaglafonn to take a greater role in helping Luke aid the dream. Dread Allies is a miniseries set in the Netherworld in the dream. It is an ancillary group of stories to the Draoithe saga. While it is set in that world, it is not in the direct series lineup. The dream just got darker and colder. Welcome to Eaglafonn.
Dread Allies: Shadow King
Word Count:

130600
Summary: Cursed with fearsome eyes and a dangerous gift, any chance of Damian Sires having an ordinary life was dashed the moment she was born. All her life, she has hidden her abnormalities and fought for acceptance behind the shadow of a veil and her respected merchant father. When Damian's power spirals out of control and casts her out alone into the world, she finds herself caught up in plots as old as the gods themselves. Bitter exiles, deposed nobility, clandestine knights, and a divine being with an ancient grudge all close in on the unstable power radiating from Damian. Desperate to keep that power contained, she sets out with mysterious allies in an attempt to find someone who can help her in a world that fears magic. Yet the source of Damian's ability is far more deadly than she imagined.
Enduring Chaos
Word Count: Information not available
Summary: What happens when a Highland witch falls for the Loch Ness Monster? When Cam Walker, the last remaining Witch of the Highlands, heads to Loch Ness to investigate a potentially dangerous monster, the last thing he expects is to wind up working with that monster… let alone be attracted to him. But the friendly, cheerful Lachlan is hard to resist, and turns out to be a powerful ally in the hunt for the real monster behind the killings around Loch Ness… M/M paranormal romance with a sweet relationship and medium spice. This novella is the first in a trilogy following the same characters: it has a HFN conclusion and NO cliff-hanger!
Finding Nessie
Word Count:

92000
Summary: A tragic secret. A trial of pain. Gust holds a secret close to his heart, and it festers like an infected wound. While part of him wants to tell Lance so they can deal with it together, he fears what it will do to his friend. The last thing he wants to do is hurt the man he is falling in love with. And it never seems the right time as they pursue Ulfr's warriors and elude hunting parties of royal soldiers. Lance wants nothing more than to confess his love and undying loyalty to Gust. But he fears rejection. He has Gust's friendship and dares not ask for more. He's not yet a man worthy to ask for more. And as he continues on his self-imposed mission to cut down Ulfr's warriors, he begins to wonder if he will ever find the redemption he so fiercely seeks. When word of a new Scourge reaches them, their journey brings them to the war-ravaged kingdom of Grekenus. It is there that Lance is forced to face the actions of his past, and once again his life hangs in the balance. Now it is only Gust who can defend him against those thirsty for blood… and to Lance himself.
Forgiving Lance
Word Count: Information not available
Summary: Coasters, carousels, an old cemetery, and a sprawling hotel on a stormy lakeside. Visit this haunted tour of scrapbook memories where legendary summers intersect with history and rumor. Told in vignettes that weave stories, newspaper clippings, postcards, and images, Ghastly Tales follows four families through the decades at a lakeside resort and amusement park where everyone eventually returns.
Ghastly Tales of Gaiety and Greed
Word Count:

147000
Summary: "Will I always be so alone, living as a dragon among the sheep?" Jane Dawson is an American on a journey of midlife makeover. Abandoning a tech career in Boston, she and her sheepdog, Moss, move to Wales in search of a simpler life, connection and community without the filter of the Internet. But who knew she would stumble over the red Welsh dragon, y Ddraig Goch? Actually, she stumbles over her own suitcase and falls on her face in the middle of Main Street. But her plea for help (or maybe it was just swearing) is answered by the shy local dragon who doesn't know he's a dragon—Stewart Rygby. But what rational, sane person believes in dragons and fairies? Why have such myths and legends persisted in the misty green hills of Wales over the aeons? And why does Moss need to mark everything in sight—including her new landlord? Join us as our dragons awaken from their slumber in Green Hills and Daffodils—the exciting first book in the Green Hills Series by Celyn Kendrick!
Green Hills and Daffodils
Word Count: Information not available
Summary: Daring the old gods. Defying the new. The making of a legend—and a truly innovative re-imagining of Robin Hood. --- Rob of Loxley and his older sister Marion have been groomed from birth to take their parents' places within the Old Religion. Despite this, when Rob finds an injured nobleman's son in the forest, neither he nor Marion understand what befriending young Gamelyn could mean for the future of their beliefs. Already the ancient spirits are fading beneath the iron of nobleman's politics and the stones of Church subjugation. More, the druid elders warn that Rob and Gamelyn are cast as sworn adversaries, locked in timeless and symbolic struggle for the greenwood's Maiden. Instead, in a theological twist only a stroppy dissident could envision, Rob swears he'll defend the sacred woodland of the Horned God and Lady Huntress to his last breath—if his god will let him be lover, not rival, to the one fated as his enemy. But in the eyes of Gamelyn's Church, sodomy is unthinkable... and the old pagan magics are an evil that must be vanquished.
Greenwode
Word Count:

81000
Summary: A baby's laughter. A mind uncaged. Lance is known as Scourge, the warrior in the black armor, the dog of the warlord Ulfr Blackwolf. He was just a boy when Ulfr found him and molded him into the perfect weapon. He slaughters and pillages on command, merciless and numb, devoid of emotions. Then a baby girl laughs at him during a raid. And everything changes. When Gust, a talented healer, is out deer hunting and stumbles across a magnificent horse bearing a mortally wounded rider, he has no idea that his life is about to change forever. Gust applies all his skills to his patient, determined to save the rider's life, and is rewarded when the man opens his eyes. As friendship, and more, bloom between warrior and healer, so does the danger over the horizon. Ulfr has not forgotten, and Lance must take his first steps on the long road to redemption.
Healing Lance