Word Count: Information not available
Summary: NOMINATED FOR BEST NOVELLA OR SHORT STORY IN THE 2020 PARANORMAL ROMANCE GUILD REVIEWER'S CHOICE AWARDS Taken from the arms of her mother, a girl is raised by a family so alien that she hardly knows how to describe them. They are incredibly feral. She is anything but. As life with them becomes more and more bizarre, she has no choice but to incur the wrath of the pack and plead for her release--risking her life to ask it. Much to her surprise, but even more to his, her chosen mate devises a plan to get her home. It involves considerable deception but if ultimately successful, makes it possible for her to return to the mother and the home she so desperately misses. The plan succeeds. It has, however, unintended consequences since his actions cause her to question his motives and what it is to be his mate. She leaves him, nevertheless, returning home with her faithful dog as her travelling companion. Once there, she has a chance encounter with someone--a man who has a surprising connection to her past. But their joyful and unexpected reunion is short-lived. And in the aftermath of the tragedy that occurs, they learn family is what you make it, the people who love you most are the ones who make the greatest sacrifices, and home is where you belong.
A Girl and Her Dog
Word Count:

108000
Summary: Now what? As Kendra recovers from her wounds, Artemis is planning their next strike. But so are others. Artemis has been too corrupt for too long; their own people are ready to take control. It's just going to take a little encouragement...
A Quiet Revolution
Word Count:

34,300
Summary: It all started with a dare. The best thing Robyn Martin Donahue did was give her controlling ex the boot. It only took thirty-five years, but hey, she's finally living life on her own terms. Now her bestie wants her to believe the Silverstar Agency can hook her up with a guy who will love and respect her, and not try to rule her? As if. By law, a monarch cannot govern alone. Recently widowed, Kyzel Raptorclaw will honor his vow to remate for love. Although, things would be far less complicated if his potential match was not from another planet. Breaking with his peoples' ancient mating tradition is nothing compared to the personal sacrifice expected of her, if she is to stand at his side as his equal. What could go wrong? Can Kyzel convince Robyn they are better together, or will their happily ever after crash and burn before it has a chance to soar? Welcome to the Silverstar Agency, specializing in intergalactic love matches for those over fifty.
Above the Storm
Word Count: Information not available
Summary: The year: 2157 The mission: change everything The Unit: Democratic State Force Base 1407 Call handle: The Wildcards Seven Corporations control what was the United States of America. The food supply and its production is controlled by American AgCo. All agricultural seeds in the United States have been genetically designed to fail outside Corporate control. At least, that's what the Corporations say. There's a rumor that a seed bank has survived the destabilization that brought down old America, and the seventy-five years of Corporate ownership that followed. If it still exists, it would provide free, accessible food for the Democratic State Force and everyone in their care. It's a risky hunt for a treasure that may or may not exist. Something to put the most resourceful team in the Force to work on. The Wildcards just got the call. A hunt for hidden treasure. Free food. What could go wrong? Never ask that question. Life's a bitch. She'll answer.
Aces and Eights
Word Count:

161705
Summary: An underground city, built centuries ago to ride out the devastating heat. A society under attack. And a young solar engineer whose skills may be the key to saving her city…if she doesn't get herself killed first. When Jossey was ten, the creatures of the aboveground took her brother and left her for dead, with horrible scars. Now, years later, she's a successful solar engineer, working to keep her underground city's power running, but she's never really recovered. After she saves dozens of people during a second attack, she is offered a top-secret assignment as a field Engineer with Patrol, but fear prevents her from taking it…until Patrol finds bones near where her brother disappeared. She signs on and finds herself catapulted into a world that is far more dangerous, and requires far more of her, than she ever imagined. The creatures and the burning heat aboveground are not the only threats facing the City, and what she learns during her assignment could cost her her life: one of the greatest threats to the City may in fact lie within. With thousands of lives at stake, can she act in time? Aestus is an adult dystopian science-fiction series set centuries after climate change has ravaged much of Earth. An epic story of vengeance, power, shifting loyalties, and survival that looks at just how far people will go to protect what they love, brought to you by science writer S.Z. Attwell, Aestus paints a picture of a world in which far too little has changed. 
Aestus, Book 1: The City
Word Count: Information not available
Summary: Memories of another life and lover guide her, but are they even hers? She is a Bearer—keeper of past lifetimes and gifted with strange talents. Ember must find her answers away from safe Longquan Village, snared instead in the sensuality and dangers of The City. Hidden among spider farmers and slaves, prostitutes and weavers, a nest of people like her are waiting. A powerful man outside The City raises his forces, determined to hunt down the 'demons' who could taint his followers. Threatened from without and within, can the Bearers even trust each other? Powers will rise and alliances will be forged in a dark new world. The Memory Bearers are coming. This book includes violent and mature content. Reader discretion is advised.
After the Garden
Word Count:

73900
Summary: "It's not all about serving coffee and typing reports." Working for a secret organisation specialising in alien cover-ups, Connor Smith is no stranger to the abnormal or dangerous. His love life on the other hand… not so exciting. Until he reluctantly agrees to a blind date and meets the perfect bloke, Jason. Things are finally falling into place for Connor, so of course that's when he attracts an alien stalker. Noah Jones, ex-alien, has been stranded on Earth and forced to live as a human since 1648. Alone and detached from the world around him, Noah has spent centuries observing and recording humankind. In all that time, he's only experienced a connection with a human once… until he finds Connor. Even knowing Connor is in a relationship, Noah can't ignore their potential bond, or stay away. While dealing with missing alien artefacts, a dangerous and shadowy group of collectors, and the ever-present Noah, Connor finds his orderly life crumbling around him. At least he still has the perfect boyfriend… When Noah goes missing, Connor is forced to face the feelings growing between them and the mounting evidence that Jason isn't who he says he is…
Aliens, Smith and Jones
Word Count:

71370
Summary: Dream broadcasting is the latest entertainment medium. Wayne Corrigan and his colleagues at Dramatic Dreams can broadcast dreams directly into your mind as you sleep for the ultimate in personal adventure. But when a mysterious malfunction occurs, Wayne is called on to enter a Dream started by another Dreamer. Once inside, he finds a situation run wild and people enslaved by the original Dreamer--a genius bent on self-destruction. Now, tens of thousands of people--including the woman Wayne loves--are in danger of dying or going insane unless he can find some way to wrest control of the Dream away from a madman.
And Not Make Dreams Your Master
Word Count: Information not available
Summary: Ardulum. The planet that vanishes. The planet that sleeps. Neek makes a living piloting the dilapidated tramp transport, Mercy's Pledge, and smuggling questionable goods across systems blessed with peace and prosperity. She gets by—but only just. In her dreams, she is still haunted by thoughts of Ardulum, the traveling planet that, long ago, visited her homeworld. The Ardulans brought with them agriculture, art, interstellar technology…and then disappeared without a trace, leaving Neek's people to worship them as gods. Neek does not believe—and has paid dearly for it with an exile from her home for her heretical views. Yet, when the crew stumbles into an armed confrontation between the sheriffs of the Charted Systems and an unknown species, fate deals Neek an unexpected hand in the form of a slave girl—a child whose ability to telepathically manipulate cellulose is reminiscent of that of an Ardulan god. Forced to reconcile her beliefs, Neek chooses to protect her, but is the child the key to her salvation, or will she lead them all to their deaths?
Ardulum. First Don.
Word Count:

92000
Summary:
The Charted Systems are in pieces. Mercy's Pledge is destroyed, and her captain dead. With no homes to return to, the remaining crew sets off on a journey to find the mythical planet of Ardulum—a planet where Emn might find her people and Neek the answers she's long sought. Finding the planet, however, brings a host of uncomfortable truths about Ardulum's vision for the galaxy and Neek's role in a religion that refuses to release her. Neek must balance her planet's past and the unchecked power of the Ardulans with a budding relationship and a surprising revelation about her own genealogy.
Ardulum: Second Don blends space opera elements and hard science into a story about two women persistently bound to their past and a sentient planet determined to shape their future.
Ardulum: Second Don
Word Count:

106,000
Summary: The planet wakes. Atalant is torn between two worlds. In uncharted space, head of a sentient planet, the new eld of Ardulum now leads the religion she once rejected. Emn is by her side, but the Mmnnuggl war brewing in the Charted Systems, threatening her homeworld of Neek, cannot be ignored. Atalant must return to the planet that exiled her in order to lead the resistance. She must return home a god, a hypocrite, a liar in gold robes, and decide whether to thrust her unwilling people into the truth of Ardulum, or play the role she has been handed and never see her family, or her world, again.
Ardulum: Third Don
Word Count: Information not available
Summary: Olson lives in a city that has been sealed from the outside world. He's an Eleven Year and close to citizenship. His life is upended when one of the few adults who cares about him commits suicide - or so it appears at first. While investigating, Olson meets a girl named Natalie snooping around his school. He soon learns that one of her friends died under similarly mysterious circumstances. Together, they start looking for answers, and end up discovering the city's darkest secrets.
Atmospheric Pressure
Word Count:

127000
Summary: For fans of Blade Runner, Ghost in the Shell and Altered Carbon! Welcome to the year 2095. Killer cyborgs hunt down anyone who disagrees with the perfection that is society. Nephilim is the best operator in these elite death squads. Genetically and cybernetically enhanced, she and her team strike terror wherever they go. Knowing nothing besides this lifestyle, Nephilim believes that she's part of a righteous cause. Then a system glitch changes everything. Separated from the grid, for the first time, Nephilim begins doubting the world she lives in. Things get even more complicated when she meets Jake, a 100% bio-human, who opens her neon-blue eyes to the lies she had been exposed to all her life. Nephilim decides to take a stand against her creators. But in this brave new world, can one person beat an all-powerful system of oppression? Soon, Nephilim finds herself hunted by her own people... Corporate megacities, dystopian themes, cyborg assassins, badass heroines, charismatic villains - an adrenaline ride that never stops. If you love action-driven cyberpunk full of unexpected plot-twists, you don't want to miss this! "Sexy, violent and absolutely intriguing!" -Review
Behind Blue Eyes
Word Count:

55300
Summary: Luxor City, a once lawless metropolis on the brink of civil war, is now at peace, but even in lighter times there are always shadows. In the technicolor streets of the Southern Empire, Junsu Sun, the Alpha heir to one of Luxor City's great crime families, busies himself by dealing with a blacklisted group known as the Underground. After taking down one of the Underground's notorious leaders, Junsu assumes he'll be given time to rest and recuperate, but his mother, Alpha Xijuan Sun, has a new mission for him, involving a luxury cruise and a new mate, Omega Kaito Yamaguchi, of the powerful Yamaguchi family. Ever the dutiful son, Junsu obeys his orders as if it were any other mission, but this sort of engagement isn't exactly the type of thing he's used to and Kaito Yamaguchi certainly isn't the sort of Omega he's used to either. Kaito is impatient, impassable, and impossible. He's a spoiled Omega who is pissed off that his family have reorganized his life and thrust him into this arranged mating with some Luxor City Alpha he's never met before. Kaito hasn't even seen a picture of Junsu Sun, a fact that Junsu uses to his advantage. Faced with a week spent trapped on a luxury cruise with a rude, bratty Omega who doesn't even know who he is, Junsu decides to play a little trick on his future mate. But just how far will he let things go and where is the line between a little trick and a painful deception? Meanwhile, other secrets floating between empires and continents are about to spill out onto the deck.
Between Empires and Continents
Word Count:

81000
Summary: Alessia is an Outsider—a member of the not-quite-human community that has recently been released from their underground prison. Shortly after their liberation, Alessia is given an ultimatum: obey all the United Earth Alliance's demands, or her mother will forever remain a hostage—a mother she'd believed dead for fifteen years. Reluctantly, she agrees, though she has no idea what those demands may be or how she will balance her obligations to the UEA with her responsibilities to her people and her family. As the UEA tightens its grip on humans and Outsiders alike, it becomes clear that meaningful social change will not be possible without a revolution. Alessia and her peers embark on a mission to discover just how far the government is willing to go to maintain their monopoly on power. What Alessia and her comrades discover, however, goes much deeper than they'd ever anticipated. Who are the Outsiders, really? What secrets of their destiny lay hidden within a top-secret space station? And why are the Outsiders linked to an emerging disease the UEA seems desperate to keep secret?  As they delve deeper, it isn't only Alessia's identity that will be called into question, but the fate of the entire planet.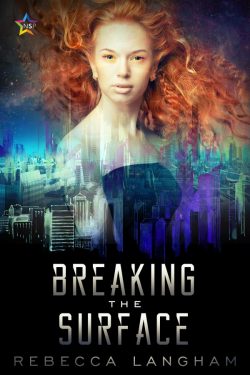 Breaking the Surface
Word Count:

55000
Summary: In a world where humans are genetically designed, altered and sold for pleasure and breeding, a young prince of the powerful Cassian Dynasty decides to take a mate and sire heirs. Not wishing to saddle himself with royal and meddlesome in-laws, and a wife he would have no desire to bed, Prince Edward goes to Heritage Breeders, and finds far more than just a warm body to carry on his lineage. Percy is the result of a master DNA architect designing himself his own personal slave and breeder. Yet when his creator and Master dies, leaving Percy alone at the mercy of the callous stable masters and the new owner of Heritage, he fears his future. Afraid he'll be bought by a wretched old man or a deviant monster, Percy is terrified when he is dragged from his cell and presented to the most prestigious client Heritage has ever welcomed...a Cassian Royal. Prince Edward is immediately infatuated with the shy, nervous and enchantingly beautiful Percy, and claims him for his own. Yet not everyone is pleased by a royal purchasing a breeder, especially one like Percy, and tensions rise both in Heritage and in the palace. Torn between need, duty, a king's command and the innermost desires of their hearts, Edward and Percy are set on path that is anything but easy. Can Percy trust Edward with his heart as he does his body? Can Edward keep an angry king and unseen enemies away from the young slave who is steadily stealing his heart? And what happens when Nature takes its course, and Percy's true purpose is fulfilled?
Bred For Love
Word Count:

60,000
Summary: Queer Handmaid's Tale meets hyper-capitalist dystopia. Nonbinary, queer main character BREEDER is set in a distant but bleakly familiar future, where each person exists to repay Units to the violent Corporation. But girls and women can only be Breeders in this world, and can only repay the Corporation through reproduction. Is the price of survival worth the cost of submission? Will Meadows is a seemingly average fifteen-year-old Westie, who lives and works in Zone F, the run-down outermost ring of the Corporation. In the future state of the Corp, a person's value comes down to productivity: the right actions win units, the wrong ones lose them. If Will is unlucky and goes into unit debt, there's only one place to go: the Rator. But for Zone F Breeders, things are much worse—they're born into debt and can only accrue units through reproduction. Every day in Zone F is a struggle, especially for Will who is fighting against time for access to an illegal medical drug, Crystal 8. Under the cover of night, Will travels to the Gray Zone, where life is less regulated and drugs—and people—are exchanged for gold. There, Will meets Rob, a corrupt member of the Corporation running a Breeder smuggling operation. Will also meets Alex, another teen whom he quickly recognizes as a Breeder in disguise. Suddenly, Will has an illicit job and money, access to Crystal, and a real friend. As the pair grows closer, Alex shares her secret: she is part of the Response, an uprising to overthrow the Corporation. Caught up in the new friendship, Will and Alex become careless as the two covertly travel into Zone B for a day of adventure. Nothing goes as planned and Will's greatest fear is realized. Will his true identity be revealed?
BREEDER
Word Count:

22000
Summary: RELEASING IN AUDIOBOOK FORMAT APRIL 26TH, 2021 Colton is a trans man living in a climate-changed world. He plies the canals that used to be city streets, earning a living taking tourists on illicit journeys through San Francisco's flooded edges beneath the imposing bulk of the Wall. Tris is an elf who comes through the veil to the City by the Bay - the Caille - on a coming of age pilgrimage called the Cailleadhama. He is searching for his brother Laris, who went missing after crossing through the Caille years before. The two men find they have common cause, and together they set off to find Laris in a world transformed by the twin forces of greed and climate change. And in the end, they find out more than they ever expected, both about the warming world and their own selves. Note: This story was originally published in the "Myths Untold: Faery" anthology from Wilde City Press. It is presented here in its original form.
Cailleadhama: Through the Veil
Word Count:

80000
Summary: It costs a lot to win. And even more to lose. Seven Corporations rule the former United States with seven codes of conduct based on their ideas of morality. Comply with the code of the Corporation that holds your Citizen Contract, or suffer the economic consequences. Or fight back. For sixty years the Democratic State Force has been fighting to return representative democracy to the country. Living in the no man's lands between cities and hanging on by their fingernails, the thinly spread guerrilla force hasn't gotten far. But they have a secret weapon: their finest unit, Base 1407. Handle: The Wildcards. Pulled together after disaster by Commander Aidan Headly, the Wildcards are on top of their game again. They'd better be. They've just been called to act as backup in a mission bigger than anything the Force has attempted before. The team that went in first is probably dead.If they pull their mission off, everything will change.If they don't, they'll be lucky to survive the year. Life's a bitch. She's got the game rigged. Keep the cards close to your chest.
Call the Bluff
Word Count:

88400
Summary: On planet Earth, it's aliens against humans and humans are losing the battle. While a few brave humans are ready to fight to regain their freedom from their alien conquerors, the future of the human race falls on Khara, a woman whose sole focus is her personal fight for survival. As the human population dwindles toward extinction, will the strange and reluctant friendship that develops between Khara and an alien show them all a new way - coexistence? Or will the human race finally be eliminated once and for all? This gritty alien invasion story is told from both human and alien points of view, a la C.J. Cherryh, and puts a new twist on the idea of "first contact."
Carapace