Word Count: Information not available
Summary: Come, Best Beloved, and sit you by my feet. I shall tell you a tale such as sister Scheherazade could have scarce imagined... In the Nejd there is nothing at all...except secrets. A band of thieves wishes such secrets to remain hidden. In England, far from his desert home, Ali bin-Massoud serves as apprentice to the famed Charles Babbage. One night a mysterious box is delivered by a clockwork falcon and Ali's world is never the same again. Heartache, danger, and thieves mark his journey as Ali is summoned home at the death of his father. It will take faith, knowledge, and yes, love to realize his destiny, and more than a little skill with steam-driven technology. Can he unravel the mystery of the puzzle box and the clockwork djinn before it is too late? An ancient legacy and Ali's very life depend on his success. Hear you the tale of Baba Ali and the Clockwork Djinn.
Baba Ali and the Clockwork Djinn
Word Count:

4576
Summary: Sometimes, we get second chances -- at love, to make things right, to say good-bye the way it should have been said. Darian promised his dying husband Randy he would go through with the plan to teach summer school in Bath, England. Randy insisted; it was always Darian's dream to live in England, go, do it. But once there, in Tintagel, on a street in Coverack, a small Cornish seaside village, Darian sees Randy. Grief can make us see things, right? So Darian tells himself, until the man whom he buried, whose ashes he carried with him to England, sits down beside him on a bench in front of Bath Abbey, with screaming seagulls nearby. It seems the dead can come back. But why and how? Has Randy come to take Darian with him? Or is something else going?
Seagulls
Word Count: Information not available
Summary: The world is wide and full of wonders Fleeing her country in order to save it, Princess Jade of Sharren discovers a greater threat. SONG OF JADE: RED WOLF is a standalone DRAGON AGE prequel to the WOODSPELL SERIES and one of the TALES OF ARDONNA. Content Advisory: Contains adult themes and situations and spoilers for River's Roar
Song of Jade: Red Wolf
Word Count: Information not available
Summary: "It is so packed with action that there was no place where I could say, 'Ok time for bed now. I'll finish it tomorrow.' A must read." ~Amazon Reviewer Fale doesn't know why she has visions of the queen's past life. All she knows is that her magic becomes dangerously faulty every time she sees into the past. Through the visions, the mystery of Effailya's banishment and life of slavery is solved; the reasons of her heated parting with Gryndoll are revealed, as well as who was the queen's secret lover. And how that could possibly relate the Source Wizard to the Queen of Mages, herself. The Source Wizard Gasten sends out his best efforts, but the new queen stays one step ahead of him. He may have found a way to send his spell to her. And if not, he's found the old wizard's journals, which are sure to give her weaknesses. The Final Rescue is a face-paced adventure as the wizards and mages race toward their mutual destruction. A strong female lead not only survives her dystopian society… she solves the mystery of a hidden war, only to cause a new one, then battles both sides to rule it herself. It's a conclusion for fans who fell in love with The Hunger Games, Divergent, and The Reader series. If you're hooked on genre-blending, suspenseful, fantasy romance novels, with adventure, you'll love The Final Rescue!
The Final Rescue
Word Count: Information not available
Summary: The race is on. Beware the henchmen. Fale and her friends are on an epic journey to find the magic machine that will open dimensions, allowing her to rescue the mage slaves—her people—from the hands of an evil Source Wizard. Still accepting her role as queen, she welcomes her new powers. But the group is not alone. Henchmen wait for them when they least expect it. Tensions are already high, but when Izzy—Alloy City's socialite—decides to wage war on Fale, the situation becomes toxic. Fale is devastated. She's lost her way of life, her identity, her guardian, and now her best friend. Worse, she pushed Keron—her hot boxer crush—away so he could focus on his job, but sharing a tent with him is excruciating when passions boil over. She'd give it all up if it weren't for her trusty sidekick, Lisle—the wizard—who loves her, but wants to see her succeed and to find his own purpose. They sail to an island in her visions that no one believes is there. Fale is relieved to be on her way, but fear of what awaits her, plus the constant state of tension in her group, immobilizes her. She's miserable, just trying to make every choice a good one. Things will never be the same as they were back home, she will never be the same. Fale doesn't know what they will find once they reach the island. She doesn't know why she's having memories of Queen Effailya's life, making her magic misfire at inopportune times. She has no clue how they'll manage to get a huge machine onto the boat and back to the mountain mages' estate. Impatient for answers, she seeks clues to the mystery. She may find everything she's looking for—she might not—but the price for winning will be higher than she ever imagined. ★If you like epic quests, sword and sorcery, mages, wizards, love triangles and plot twists, you'll love this complicated emotional must-read. You won't want to put it down. Fans of the first book, The Key of F, The Hunger Games, Eve, and The Rise of Isaac will enjoy this character-driven story.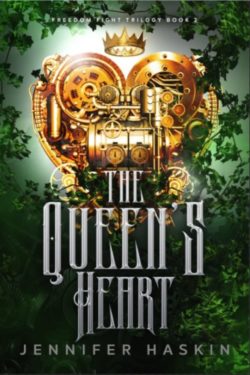 The Queen's Heart
Word Count:

130,000
Summary: Under the dirty streets of Ismae's greatest port city, an old nightmare waits for Sylandair and Aliara, one that is stealing Dockhaven's children, one only they can end. When the pair escaped their owner and abuser years ago, they left him behind in a ball of blue flame, but as more children disappear near the city's desalinization plant, their suspicions turn to the predator they believed dead. Accompanied by their less-than-reliable puka scout Schmalch, they delve into the forgotten depths of the patchwork city. Their search will lead to a twisting world of corruption and experimentation, uncover horrors greater than any they imagined, and summon memories they never wanted to exhume. A dark science fantasy action-adventure horror, Things They Buried is the first full-length novel of Ismae, a world where science sometimes appears as magic and history as myth, where monsters make themselves and heroes are wholly unintentional. This novel contains adult themes and violence.
Named to Kirkus Reviews' Best Books of 2019
Imadjinn Awards Best Fantasy Novel, Imaginarium Con 2020
Independent Book Publishers Awards (IPPY) Gold Medalist (Fantasy)
Things They Buried
Word Count:

55000
Summary: With great burrito comes great responsibility. Pete's food truck at the University of New Mexico isn't going well. Seniors dare freshman to eat his burritos. Frats use them for pledges and pranks. Rumors fly around campus that they are chupacabra ground up with rat. Pete needs a change, and it comes in the form of a physics experiment gone awry. After being sucked into the past, he stumbles across an ingredient that goes great in one of his creations. First, there was Marty McFly. Then there was Bill and Ted. And now Pete--
Time Burrito
Word Count:

93765
Summary: Home, a place where we belong and are safe and loved. Home, the house in which we grew up, a neighborhood, a culture, even a country. Home is a state of mind, it is a place of the heart, and in the heart. Finding home, coming home, and bringing home the one we love is a journey, a journey that can be a dangerous adventure. For the lovers in these stories, adventures can include quests and fighting dragons and demons, past and present, physical as well as mental and emotional. Rocket launchers need to be dodged, the Wild Hunt needs to be outrun. For some of the lovers here, home has been lost, or they have been forced to leave, as is too common for LGBT+ youth. In this collection queer positive speculative fiction stories, explore the idea of what and where home is in the lives of these lovers. Will they survive their quests, defeat their monsters? Will they find a place to call home?  
To Bring Him Home and Other Tales
Word Count:

90000
Summary: A new generation of vampires embarks on a quest to save humanity. Opening a forgotten crypt during a military exercise, Dr. Jane Heckman is made a vampire and begins a journey to unlock the secret origins of her new kindred. Elsewhere, solitary vampire Marcella DuBois emerges from the shadows and uncovers a government plot to create vampire-like super soldiers. Daniel McKee, a vampire working as an astronomer, moves to a new town where he's adopted by a family, only to have government agents strip those he loves away from him. All three vampires discover the government is dabbling in technologies so advanced they'll tap into realms and dimensions they don't understand. To save humans and vampires alike, Jane, Marcella, and Daniel must seek out the legendary master vampire Desmond, Lord Draco and encourage him to resurrect his band of mercenaries, the Scarlet Order.
Vampires of the Scarlet Order