Word Count:

95900
Summary: "There is always a way." Kelnaht, Taruif, and Ianys are meant to be together, but old promises and the decree of the elders prevent them from claiming each other openly at Solstice. Kelnaht can investigate murder and foul play, but he can't see how he can keep both his lovers without breaking the rules. But if he believes in the guide's words and trusts his faith in Ma'terra, they will find a way to clear the fog and puddles from their paths. The Forester Kelnaht, a cloud elf, is a truth seeker caught between love and faith, when a murder reveals an illicit affair between two tree elves he desires more than he can admit. Kelnaht's former lover Ianys once betrayed him, and the shunned forester Taruif is not allowed to talk to anyone but the guide, their spiritual pathfinder. Lost and Found A stripling goes missing from the tribe, and heavy rainfall hides all traces of his whereabouts. With days creeping by without a lead, it's hard to keep the tribe's spirits up, more so when Kelnaht's own future depends on the elders. Taruif has been shunned for almost twenty turns, but now that a possible forester's apprentice is coming of age, the elders consider reducing his sentence. Taruif could be set free. Full Circle When several children fall ill with more than a summer bug, truth seeker Kelnaht is assigned to investigate. What he finds is deadly and threatens the life of every underage child in the tribe, including Ianys' daughter Atèn. Then a wounded traveller is found in the forest, left to die after a vicious attack.
A Triad in Three Acts
Word Count:

70,034
Summary: Every story has more than one point of view. As the mate to the dark mage Morgorth, Aishe has learned a lot about magick, love, and himself. He tries to find a home with Morgorth, to be accepted into his world; to survive in a world full of magick, treachery, and deception. But all the while he struggles to keep a secret about his past and their intertwined destinies. Despite all the obstacles thrown at both of them, Aishe is determined to stay by Morgorth's side, no matter what the future brings—even if that future turns dark with death should Morgorth embrace his grim destiny. But when Morgorth leaves with his mentor to collect another stone of power, Aishe is left behind. It is then a surprise attack comes and Aishe, determined to protect and defend his new home, decides to take the invaders on by himself. It might prove too much for him to handle...especially when he learns the one who leads the invaders is a mage. This book allows us a glimpse inside the mind of Lord Morgorth's better half, a dialen named Aishe: his motivations, his personal sorrows, and his struggle to find a place to call home.
Amethyst: Bow and Arrow
Word Count:

22000
Summary: RELEASING IN AUDIOBOOK FORMAT APRIL 26TH, 2021 Colton is a trans man living in a climate-changed world. He plies the canals that used to be city streets, earning a living taking tourists on illicit journeys through San Francisco's flooded edges beneath the imposing bulk of the Wall. Tris is an elf who comes through the veil to the City by the Bay - the Caille - on a coming of age pilgrimage called the Cailleadhama. He is searching for his brother Laris, who went missing after crossing through the Caille years before. The two men find they have common cause, and together they set off to find Laris in a world transformed by the twin forces of greed and climate change. And in the end, they find out more than they ever expected, both about the warming world and their own selves. Note: This story was originally published in the "Myths Untold: Faery" anthology from Wilde City Press. It is presented here in its original form.
Cailleadhama: Through the Veil
Word Count: Information not available
Summary: The world of Avern has moved on. It has been almost a thousand years since the day the entire pantheon disappeared. Since the Abandonment, the mortals have learned to live without gods and goddesses. The world became mundane with little magic, and even less hope. Tyrants have risen, and those able to wield what is left of magic are powerful. Forces surge in the darkness that threaten to topple the already fragile world. The plight of the world of Avern is not unknown, however, and those that watch from a distance have decided to intervene. The mortals are sleeping, however, unknowing that two great powers will soon by vying for control.Then something happens that changes things. A young princess makes a bid for power by murdering her father. She then attempts to murder her sister, the crown princess of Lineria, Keiara. Despite a true strike, aided by dark powers, Keiara doesn't die. Instead, the strike pierces the barrier between her human soul and the soul sleeping within her, the soul of the Dark Phoenix. More than a goddess, the Dark Phoenix is the legendary mother of the gods. She is a part of the Eternal Phoenix that brought life to their world eons ago, one of the primal forces of the cosmos.
Dark and the Sword
Word Count:

107884
Summary: Julian Gypsun used to be a young man on his way to becoming a contractor. Everything changed when he died and was resurrected as a wizard's familiar. He was immortal and far better off physically than he had been as a human. Still, he was trapped with his life chained to a giant of a wizard who had no problem abusing him in every way imaginable. Julian was powerless to stop it without ending his own existence. That is until he was yanked bodily through his own portal, transported to Draoithe, and assigned to babysit the visiting dignitary, Amazon Warrior Princess Zephyra, and try to convince her that her people should ally themselves with Luke and Draoithe. That sounded easy, but it wasn't. He liked her. He had no clue how to act on that. Best to avoid that altogether. Keeping her safe just might equal his death. (Please see her warrior princess title.) She was old and so far out of his league. Worse, she liked him and was determined to have him. He can't even consider that. She has no idea how broken he really is.
Draoithe: Midnight Magic
Word Count:

222000
Summary: Two people find themselves in a quandary: Aderri, a powerful dragon shifter with some light defensive magic, and Ellys, a half-elven swordswoman for hire, one of the best across the six nations. When Aderri gets news that she must come home for the naming ceremony of a new hatchling, she's forced to hire Ellys and her telepathic steed, Roccotári, to see her safely there. Of course, things are never as simple as they seem. Not only do they have to traverse the land between two kingdoms on the brink of war, but Aderri's Clan expects her to return with a romantic interest. So, for the added promise of triple Ellys's normal fee, the half-elf agrees to pretend to be Aderri's suitor. Ellys and Aderri have to convince a Clan full of magical mixed-shifters for a week that creatures of differing elements can burn with the flames of love, without actually lying. A situation made even more difficult by a matchmaking mare, steamy baths, and an innkeeper with mischief on the mind. Caught between the weight of the past and expectations of the future, they must find their true destiny within the heat of fire.
Elemental Attraction
Word Count:

61000
Summary: Hunter. Half-werewolf. One hell of a baker. Need someone, or something, hunted down? Akira Murakami is your man! No target is too small for him to get his energy-sucking blades swinging, and all jobs are welcome at the right price. The bills have to be paid after all. Living in a world where the apocalypse almost happened can be complicated, as is being the hybrid son of the High Werewolf of, well, everything. But Akira likes to live a relatively simpler life than dear old papa would like, shunning all the political crap, living by the sword and perfecting that recipe for dark chocolate and raspberry brownies. Killing is easy. Brownies are easy. Too easy. To hell with the simple life! There's a werewolf killer stalking the city, and Akira is about to be caught in the middle of everything. Step into an alternative London where the London Underground is above your head, Hyde Park a prison for some creepy shadow creatures, and plenty of baking goes down in a tiny flat on Grays Inn Road. A kick-ass Urban Fantasy adventure with a slow-burn MM Romance.
First Moon
Word Count:

98263
Summary: Quinn and Valerian have come through the trials of facing an undead lich queen and the perils of falling in love. Now they work to restore AURA to its previous strength and efficiency while navigating their new life with each other. Fortunately, they're not in this alone. Kai Hiltas has taken over as the head of the research department at AURA and has become everyone's favourite workaholic, everyone except his lover Tenzin, who has had enough of his late nights and broken promises. As Kai tries to salvage his relationship, he finds a teacher for Quinn, who also happens to be one of Valerian's new officers, Flax Wolfheart, a sexy elf with trouble written all over him. Flax has motives beyond simply teaching Quinn to control his magic. He's trying to recover from his own losses and failures, but he has a plan. The two newest elvish crossovers, Ash and Sage, are sizzling hot and might even like him. With them as backup as he tracks a deadly stone mage and figures out how to teach Quinn, Flax sees his chance to impress Val and snag a place by his captain's side. On the hunt for both danger and redemption, Flax's pursuit leads him ultimately down trails he never expected.
Flax's Pursuit
Word Count: Information not available
Summary: "I have great responsibilities, but my path ahead is as foggy and blurred as the path behind me." With forester Taruif freed, Kelnaht has claimed him openly at Solstice before tribe and Ma'terra as his partner, but with their third, Ianys, bound by an old promise, their triad is still incomplete. Sneaking around puts the most strain on Ianys. He and Kelnaht must keep their relationship a secret or he will lose his daughter, Atèn. When several children fall ill with more than a summer bug, truth seeker Kelnaht is assigned once more to investigate. What he finds is deadly and threatens the life of every underage child in the tribe, including Atèn. Then a wounded traveller is found in the forest, left to die after a vicious attack. With Taruif and his apprentice on the hunt for a cure, Kelnaht focusses on the attacks, but the clues are few and more children are infected. Nothing seems to connect until both the traveller and Atèn dream of the same grey-haired elf. Driven by fear for his daughter, Ianys pulls away from his lovers. Kelnaht can only pray Ma'terra will guide him to a solution that brings them all together and keeps Atèn safe from harm.
Full Circle
Word Count:

79,000
Summary: Left for dead behind enemy lines, prince Dominel seeks refuge in an abandoned stronghold of the slaughtered wizards. There he is recruited and trained by undead mages in the once forbidden magics so that he can close the doors into the world of man and halt the advance of the horde of monsters known as the storm. Can the strength of a lone wizard stand against a god of evil bent on ruling all the worlds of monsters and men. Will other races stand as friends or foes in Dominel's quest? Can Dominel open himself to memories of his past lives without fracturing his sanity and becoming a worse threat than the monsters he seeks to halt? And what of the man who is prince, king and wizard? What space is left for him in a life of crushing duty and wondrous enchantment? For the answers read on
Havens in the Storm
Word Count:

100000
Summary: Born in the northern wastes of Kaleva in the middle of a devastating war between light and darkness, Rikko' has found his way south to the warm shores of the Circled Sea, the first elver to ever turn pirate. Forbidden by the rules of the Andalouan court to pursue such an ungentlemanly career, Gael can only dream of ever becoming a doctor, and his medical studies remain unfinished until his aunt the Queen sends him on a covert mission to the pirate city of Beyas'kahl. And here, after one night with Rikko', all his loyalties are put to the test. Queen Amata has reigned for three decades, and she always used her men cunningly. But even the best player can miscalculate, and her blunder places Gael first in slavery, then in a naval battle, and finally, worst of all, face to face with Rikko's darkest and deadliest side. From such darkness, is there any coming back? Is there any hope of love for Gael, or redemption for Rikko'?
In the Eye of the Wind
Word Count: Information not available
Summary: Reva and Ansee face fresh threats as a new evil is imported into Tenyl and threatens the city with an undead plague. Constable Inspector Reva Lunaria's life is looking up. She's managed to put two groups of unruly adventurers in jail and she gets word that her boyfriend, Aavril, has just arrived in port. She is looking forward to a relaxing dinner, a present, and maybe some time getting reacquainted after Aavril's long absence. But Aavril's ship has delivered more than a cargo of spices and exotic merchandise and a new evil begins to take root within Tenyl. Reva's romantic evening is spoiled by news of a double murder. It should be a simple case, except that the victims have disappeared. Reva's investigation barely gets started before Lord Constable Inspector Betulla contrives a way to get Reva suspended. With Reva temporarily off the force, the murder investigation is given to Constable Inspector Pflamtael, who is looking to find the fastest resolution to the case. Meanwhile, Seeker Ansee Carya investigates what appears to be a simple missing person case, until he discovers that the missing people – including the two murder victims – have become zombies. Now, Reva, with the aid of a halpbloed cleric, must work from outside the constabulary to figure out who is creating the undead, and how to stop the creatures before all of Tenyl becomes infected.
Joy of the Widow's Tears
Word Count:

115000
Summary: Battles and adventure crisscross the Viking Age! From monumental sea clashes to beleaguered mountain strongholds to war with the tribes of Eire, circumstance drives the scattered Agneson clan across the known world. And beyond the lands of Midgard, mythic hidden folk challenge our forerunner hero. The award-winning Forerunner Series epic continues…. Fleeing an arranged marriage, Kara escapes across the narrow sea to follow her warrior dreams. Escaping slavery, Cub joins Rollo's horde in Britany, while his outlawed brother Sorven fights for survival in the Welsh mountains. Uncle Karl and his warriors rally to Harald Tanglehair in his ambition to unify the wild kingdoms of the North Way, and young Thorfinn is left behind, safe and secure in a tiny fishing village... or is he? Kara gains her place in king of Dublinn's ranks to prove her mettle, but being a warrior is not what she expected, and what of these new feelings she finds for her closest companion? Will Karl and his crew perish in the great battle of Hafrsfjord? And how will an unprepared Thorfinn survive kidnapping by an 8-armed giant, leaving behind worried friends and a very angry dragon? Don't miss this 5-star epic fantasy critics are calling "whimsical and gritty," with "fabulous, engaging characters." If you enjoy the history of The Last Kingdom and Nordic myths and legends, the Forerunner Series is a grand tale not to be missed!
Kara Shieldmaiden of Eire
Word Count:

69478
Summary: The staff at AURA has had a busy summer. Between chronic understaffing, dealing with warring goblin factions and an unusual number of hazardous Events, everyone is overworked. Sinistrus the incubus, newly hired as an AURA medic, actually enjoys his busy new life of responsible employee and faithful lover to his gorgeous police sergeant, Ness the centaur. Life would be perfect, except for a niggling suspicion about a colleague. Everyone else seems to disagree, but Sin's certain something's not right with that pixie. Kellen, a pixie crossover, loves his job working in AURA medical, even if he is something of an outsider. His job and the friends he manages to make are happy spots in an otherwise dark and secretive life. As the rest of AURA tries to discover the root of the inexplicable rise in violence and large-scale Events, Kellen fights to preserve his own life and what dignity he has left. These two unlikely heroes must put their differences aside and navigate tragedy and ever-escalating disaster together in order to stop the sinister forces that hold Kellen in thrall.
Kellen's Awakening
Word Count:

35000
Summary: The guide mentioned puddles, but I envisioned lakes, deep treacherous lakes, and I was drowning. One turn has passed, another Solstice is just around the corner, and having an illicit affair with not one but two lovers—smith Ianys and shunned forester Taruif—is taking its toll on truth seeker Kelnaht. A stripling has gone missing from the tribe, and heavy rainfall hides all traces of his whereabouts. With days creeping by without a lead, it's hard to keep the tribe's spirits up, more so when Kelnaht's own future depends on the elders. Taruif has been shunned for almost twenty turns, but now that a possible forester's apprentice is coming of age, the elders consider reducing his sentence. Taruif could be set free. In gaining one lover, Kelnaht may lose another. Ianys seems to be pulling away from them both. He doesn't want to hinder Taruif's happiness while an old promise keeps Ianys from loving Kelnaht openly. But Taruif needs Kelnaht and Ianys' support more than ever. If they lose faith in each other, the puddles in their paths will swallow them all.
Lost and Found
Word Count: Information not available
Summary: Michael likes to pretend. When he rescues a tiny elf in his parents' garden, however, a witch threatens to stop Michael from pretending. Can he believe in himself?
Michael And the Elf
Word Count:

16000
Summary: Recently orphaned and alone, the winged elf Alec wants nothing more than to return to his childhood home one final time and succumb to his nostalgia and grief. But his quest home leads him straight into the arms of a dove-winged, wounded angel...with human captors in hot pursuit. After one magical night together, the two soulmates are united in love. Alec's angel becomes a cupid, transforming his grief into affection and love. But Alec has a secret that keeps him from telling his soulmate how he feels, and he lets his angel slip through his fingers. As his family grows around him, Alec's nest remains empty and cold. Without his soulmate, Alec nears his end. Can he find his angel before it's too late, or will heaven be forever out of his reach?
Not an Angel, But a Cupid
Word Count:

411000
Summary: Aegaan is a vast and righteous kingdom, yet darkness gathers in the distant corners of the realm. Elven raids on small towns have inflamed racial tensions with humans, pushing distrust to hatred and the brink of war. Anrael wanders the woods alone until a chance meeting tempts him to set aside his contempt for those who scorn his half-elven blood. When Kylie, a naive elf terrified of humans, is thrust among them against her will, she begins to question her mother's tales of dread. Having lost everything dear to him, the bandit king Jhelan lives only to seek challenge in battle… until he finds himself willing to die protecting that which he hates the most. The diabolical mystique of the dark elves cloaks L'an Thal'Sara in protection, but the cruelest lie she tells is to herself. Thaelwyn, a virtuous knight, sets out to discover the source of the Elves' aggression, but faces a much greater test within his mind. Beneath the chaos, minions of the Destroyer search for their promised leader, a child possessing power beyond their years. If the innocent falls to darkness, a kingdom rife with hatred will surely crumble.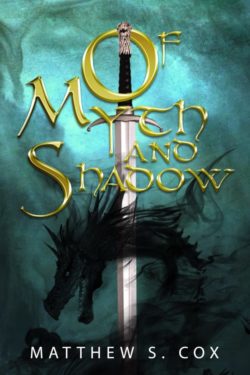 Of Myth and Shadow
Word Count:

115000
Summary: From Cornish pit mines to Jorvik back alleys, from the Mercian Court to beyond the North Sea, the Agneson clan continues their adventures across Midgard and the 9 realms: Scheming aldermen, duplicitous monks, slave drivers, dark elves, trolls, ghosts, shapeshifting witches, the legendary Norse Wild Hunt, and… a dragon! With the fall of the Danish army at the battle of Ethandun, historical events scatter the Agneson family: Cub is enslaved in the Devonshire tin mines while Sorven stalks retribution in Jorvik; Kara is unwillingly propelled toward a convenient Saxon marriage while Karl and his crew are castaway on a mythic floating island. Separated and marooned, each is forced to tackle their challenges alone while the forerunner Thorfinn faces supernatural revenge, a battle to lift a Jarl's curse and the release of his Jotunhiem wyrm in Midgard! Can Cub escape his overseers in the tin pits of Devon? Can Kara evade her Saxon uncle's plans for her marriage? Will Sorven succeed in his bloody revenge? Can Finn save a Jarl's daughter and break a mysterious curse? Can the forerunner find and help his scattered family overcome their trials? And what can Finn do with… a pet dragon?!? Based on actual historical events and authentic legends, this epic fantasy follows the paths of the sons and daughters of Agne, Son of Ironfist in the Viking Era circa the year 880. Don't miss this grand panoramic tale!
On Viking Seas
Word Count:

17700
Summary: Following his principles will break two hearts. Forester Veld loses a piece of himself to mute baker Oren when they first meet, but Oren is vowed to Haram. When Haram is killed, Veld denies his heart to respect the mourning period. It's the right thing to do. During Haram's funeral, Oren proudly bares the brands that show the nature of their love; Haram owned him, heart and body. The elves pity Oren and think he's broken. Veld has no intention of dishonouring Haram's memory, but his death may not have been an accident. Only a forester can learn what the trees have seen. However, Oren's independence is threatened, and if Veld does not offer what Oren needs, Oren may never be his to claim.
Oren's Right