Word Count: Information not available
Summary: Ardulum. The planet that vanishes. The planet that sleeps. Neek makes a living piloting the dilapidated tramp transport, Mercy's Pledge, and smuggling questionable goods across systems blessed with peace and prosperity. She gets by—but only just. In her dreams, she is still haunted by thoughts of Ardulum, the traveling planet that, long ago, visited her homeworld. The Ardulans brought with them agriculture, art, interstellar technology…and then disappeared without a trace, leaving Neek's people to worship them as gods. Neek does not believe—and has paid dearly for it with an exile from her home for her heretical views. Yet, when the crew stumbles into an armed confrontation between the sheriffs of the Charted Systems and an unknown species, fate deals Neek an unexpected hand in the form of a slave girl—a child whose ability to telepathically manipulate cellulose is reminiscent of that of an Ardulan god. Forced to reconcile her beliefs, Neek chooses to protect her, but is the child the key to her salvation, or will she lead them all to their deaths?
Ardulum. First Don.
February 27, 2017
Word Count:
92000
Summary:
The Charted Systems are in pieces. Mercy's Pledge is destroyed, and her captain dead. With no homes to return to, the remaining crew sets off on a journey to find the mythical planet of Ardulum—a planet where Emn might find her people and Neek the answers she's long sought. Finding the planet, however, brings a host of uncomfortable truths about Ardulum's vision for the galaxy and Neek's role in a religion that refuses to release her. Neek must balance her planet's past and the unchecked power of the Ardulans with a budding relationship and a surprising revelation about her own genealogy.
Ardulum: Second Don blends space opera elements and hard science into a story about two women persistently bound to their past and a sentient planet determined to shape their future.
Ardulum: Second Don
October 9, 2017
Word Count:
106,000
Summary: The planet wakes. Atalant is torn between two worlds. In uncharted space, head of a sentient planet, the new eld of Ardulum now leads the religion she once rejected. Emn is by her side, but the Mmnnuggl war brewing in the Charted Systems, threatening her homeworld of Neek, cannot be ignored. Atalant must return to the planet that exiled her in order to lead the resistance. She must return home a god, a hypocrite, a liar in gold robes, and decide whether to thrust her unwilling people into the truth of Ardulum, or play the role she has been handed and never see her family, or her world, again.
Ardulum: Third Don
June 4, 2018
Word Count:
136000
Summary: With his career firmly established and his reputation as a successful PI growing, Hades should have the perfect life with his human lover, his faithful ferryman, his dogs and the parts of his family still speaking to him. But murder and chaos are never far away for death lords as his nephew Dionysus and his oldest friend Charon are drawn into the maelstrom. Includes: Books, Bulls & Bacchanals: Brandywine Investigations #4 Midwinter Dancing: Brandywine Investigations #4.5 Pack Up The Moon: Brandywine Investigations #5 Please note: Books, Bulls & Bacchanals has been re-edited for this edition.
Brandywine Investigations: Family Matters
February 28, 2018
Word Count:
125662
Summary: When humans forsake the temples, the gods need to find other employment. Hades opens Brandywine Investigations after his divorce and his subsequent move to the modern world. If he was hoping for boring infidelity cases and lost dogs, he's sorely mistaken as murder and mayhem find his agency and his extended family at an astonishing rate. Includes: Canines, Crosshairs & Corpses: Brandywine Investigations #1 No Enemy But Time: Brandywine Investigations #2 Dragons, Diamonds & Discord: Brandywine Investigations #3
Brandywine Investigations: Open For Business (BI 1-3)
April 27, 2016
Word Count:
52000
Summary: Rakurai hunts demons. He doesn't consort with gods. Until he meets Tenzen. Tenzen cares for souls. He despises the callous, self-absorbed Yuvine. Until he meets Rakurai. A rescue and a sacrifice make a death god and a hunter fall in love, but a life of bliss is a long way off. Someone is disturbing the balance of magic and threatening two worlds. And while desire draws Rakurai and Tenzen together, duty, assassins, and clan politics keep them apart. Who will Tenzen and Rakurai save in the end? Two worlds or each other? *** Caught starts a new mm paranormal romance series, A Balance of Magic, featuring mortals and immortals from both sides of the veil, old promises, new revelations, and a bloody fight between love and duty. It is the first book of a trilogy and ends with a HFN. The characters will get their HEA in the final book. *** Tags: Tenzen doesn't look where he's going, how do you rescue a death god, Rakurai is honourable and Tenzen has no social skills, spending all your life alone does that to a god, yes - sharing a hot tub is a great idea; who is so stupid to send human assassins after a Yuvine hunter, Tenzen loses the plot - and his immortality, Rakurai is a mother hen, especially when Tenzen looks like that, this library is out of this world, Tenzen refuses to fall off the bridge, Rakurai can't decide which world he'd rather live in, that's what having a son does to you, a cinnamon roll death god in a rage, that happy ending is a long time coming.
Caught
September 24, 2021
Word Count: Information not available
Summary: The world of Avern has moved on. It has been almost a thousand years since the day the entire pantheon disappeared. Since the Abandonment, the mortals have learned to live without gods and goddesses. The world became mundane with little magic, and even less hope. Tyrants have risen, and those able to wield what is left of magic are powerful. Forces surge in the darkness that threaten to topple the already fragile world. The plight of the world of Avern is not unknown, however, and those that watch from a distance have decided to intervene. The mortals are sleeping, however, unknowing that two great powers will soon by vying for control.Then something happens that changes things. A young princess makes a bid for power by murdering her father. She then attempts to murder her sister, the crown princess of Lineria, Keiara. Despite a true strike, aided by dark powers, Keiara doesn't die. Instead, the strike pierces the barrier between her human soul and the soul sleeping within her, the soul of the Dark Phoenix. More than a goddess, the Dark Phoenix is the legendary mother of the gods. She is a part of the Eternal Phoenix that brought life to their world eons ago, one of the primal forces of the cosmos.
Dark and the Sword
Word Count:
84610
Summary:
Praise for Daughter of Maat:
"Sandy Esene has written a real page-turner. It's Dan Brown goes to Egypt with a delightful dash of Harry Potter thrown in. A wonderful read and she's got the Egyptology right!"—Bob Brier, Author of
The Murder of Tutankhamen
"If you like Egyptian Mythology and the excitement of Indiana Jones adventures, this book is for you!"— Pat Remler, Author of
Egyptian Mythology A to Z
Alex Philothea's quiet life as a research archeologist changes forever when she is tracked down by a secret society, the Keepers of the Holy and Noble Maat. Alex's father died years ago during an excavation in the remote Egyptian desert. The circumstances of his death have always been shrouded in mystery. Now the leader of this obscure organization promises to unlock the answers she has been searching for; the only thing she must do is save humankind.
Follow Alex into a world of myth and magic where the lines of reality blur at every turn.
Daughter of Maat
November 18, 2018
Word Count: Information not available
Summary: My kid, Romy, says I'm old and she's worried about me. What's to worry about... aside from Jordan, my ex? Really, she didn't have to come all the way home to check on me. It's all good—especially Nova, the girl at the drive-up coffee shop. I keep to my work and surfing the local breaks to keep her out of my head... But it doesn't work. Her perfect skin and brilliant hair crash through my mind and draw me to her—like a super-moon tide. There's something about her... Bodie Catalan knows second chances don't just happen after a hard life, wracked by mistakes. Every now and again, however, the universe throws down a wildcard. Drive-Up is a fabulist, sentimental, 21st century tale. It rides the beach breaks along the shores of several genres and connects the wildcard thrown to entangled, beach-bound lives and the inexorable tidal change that moves all that cross it. Dive into this tale and see what's been served at the Drive-Up.
Drive-Up
October 23, 2014
Word Count:
130600
Summary: Cursed with fearsome eyes and a dangerous gift, any chance of Damian Sires having an ordinary life was dashed the moment she was born. All her life, she has hidden her abnormalities and fought for acceptance behind the shadow of a veil and her respected merchant father. When Damian's power spirals out of control and casts her out alone into the world, she finds herself caught up in plots as old as the gods themselves. Bitter exiles, deposed nobility, clandestine knights, and a divine being with an ancient grudge all close in on the unstable power radiating from Damian. Desperate to keep that power contained, she sets out with mysterious allies in an attempt to find someone who can help her in a world that fears magic. Yet the source of Damian's ability is far more deadly than she imagined.
Enduring Chaos
November 18, 2013
Word Count:
120600
Summary: Captain Talis just wants to keep her airship crew from starving, and maybe scrape up enough cash for some badly needed repairs. When an anonymous client offers a small fortune to root through a pile of atmospheric wreckage, it seems like an easy payday. The job yields an ancient ring, a forbidden secret, and a host of deadly enemies. Now on the run from cultists with powerful allies, Talis needs to unload the ring as quickly as possible. Her desperate search for a buyer and the fallout from her discovery leads to a planetary battle between a secret society, alien forces, and even the gods themselves. Talis and her crew have just one desperate chance to make things right before their potential big score destroys them all.
Flotsam
February 1, 2022
Word Count:
65535
Summary: After the first war in Heaven, Lucifer's defeat and banishment was all but definitive. While peace reigned for a millennium, the Father of Lies dwelled in the void of the Pits of Hell. Fueled by vengeance and blinded by his destiny during his imprisonment, Lucifer plotted against those who would stand in his way. Upon his release, Lucifer sets off a series of events that draws the attention of a handful of angels as Heaven remains skeptical of any danger. In an unsanctioned mission to thwart Lucifer's plans, a small group of angels set off on their own. Do they have the fortitude to endure Hell's forces and convince Heaven or will Lucifer threaten all of creation?
Gates of Divinity: The First Light
January 11, 2021
Word Count:
82000
Summary: The fourth book of Ira Nayman's increasingly improperly named Transdimensional Authority series (really, would it have killed him to plan the series more in advance? George R. R. Martin planned the first 137 books in his series – it will take more generations in his family to write than the books themselves actually chronicle – before he wrote a single word, and everybody knows where they stand with him), features Time Agency agent Radames Trafshanian. When she's not trying to impress her good friend in the Transdimensional Authority, her very special friend, if you know what we mean (and, if you do, could you please tell us, because we're not entirely certain…), Radames is busy trying to solve crimes against time (that is, crimes that are themselves against time, not trying to solve them against time – she's not on the clock… well, she sort of is, but you know what we mean don't you. You don't? Well then, you'll have to read It's Just the Chronosphere Unfolding as it Should to find out). In this novel, which is not nearly as parenthetical as the previous sentence may have led you to believe, we accompany Radames on her latest case, followed by her previous case (time travel's like that) and on the way we find out much more about the origin of the Time Agency itself and why it's organised like a Library, which is very timely (see what we did there?). Featuring guest appearances by Noomi Rapier, Elvis Presley and Margaret Atwo–.
It's Just the Chronosphere Unfolding as it Should
July 8, 2016
Word Count:
44000
Summary: Gu Non couldn't stop thinking about the magic. They'd lied to her about it. They'd lied to everyone. No one lied to Gu Non. Lord's Dome is a slipstream fantasy about a girl who refuses to believe that the fate of her family is to suffer, the mining elder who must suddenly decide whether to trust this lone girl, and their search for the truth of an enigmatic god while the unyielding everstorm rages overhead.
Lord's Dome
August 11, 2020
Word Count:
52200
Summary: Staging a musical in Purgatory can be absolute hell. Lonnie Coleridge last saw the sun in 1968. Since then, he's been consigned to Limbo, still wearing the same tie-dyed T-shirt and bell-bottomed jeans he had on when he left his life behind. He and others like him have one chance each year at redemption: produce a show for the Greek pantheon. Whoever pleases this very specific—and temperamental—fan group could earn the right to move on. But after a literal act of god (*cough* Hermes *cough*) destroys their sets, lights, and costumes, the company needs emergency help to rebuild. Without it, all of them could poof out of existence forever. Out-of-work theater technician TD Baylor has precisely three things on his cosmic wish list: a job, a place to stay, and a boyfriend who isn't a total tool. He thinks he's got the first two nailed when he gets a line on a two-week gig that includes room and board. So what if the job tip came from a guy who was leaning way too hard into the LOTR cosplay at a sketchy Halloween pop-up? At this point, TD doesn't have anything more to lose, so he figures…what the hell. He didn't realize hell was the operative word. When Lonnie greets him at the theater door, though...whoa. TD fantasizes that item number three could be within his reach. But then Lonnie gives him the bad news: This is Purgatory Playhouse, aka Theater of the Darned. In two weeks—if they're lucky and can successfully mount a musical version of A Midsummer Night's Dream—the company will return to Limbo after the curtain falls. If they're not lucky? Remember that part about hell? Purgatory Playhouse is part of the multi-author Magic Emporium Series. Each book stands alone, but each one features an appearance by Marden's Magic Emporium, a shop that can appear anywhere, but only once and only when someone's in dire need. This book contains a theater techie who's one couch surf away from homeless, a production assistant who's sort of, um, not alive, Greek gods behaving very badly indeed, and a guaranteed HEA.
Purgatory Playhouse
March 25, 2021
Word Count:
111,000
Summary:
New York: two years after the Third World War. Humanity is rebuilding its cities brick by brick; the damage done to the people, however, is a lot harder to repair.
Dan Hardacre is one of those people. An aspiring stage actor and experienced draft-dodger, Dan struggles to find his place within the Utopic rebuild of New York City. When he's not caught up with the duties of work, Dan lives a quiet life in mourning for his mother, Dyani, who went missing when he was a teenager.
One night, Dan experiences a vivid, terrifying nightmare that puts him right on the front lines of the war for which he dodged the draft; it ends with him facing Death itself in the form of a metallic, faceless humanoid creature that calls itself the Valkyrie. To investigate the reason behind his haunting experience, Dan seeks out a meeting with his estranged father, who reveals the startling truth about Dan's dream: it wasn't a dream.
With this newfound knowledge and the powers it brings, Dan makes it his mission to return to the scene of his nightmare. However, he soon comes to know that confronting the Valkyrie not only endangers him but the war-withstanding world he leaves behind.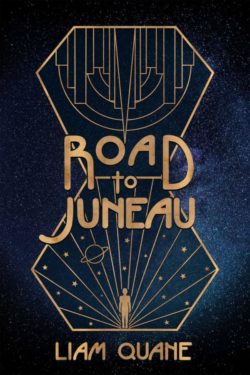 ROAD TO JUNEAU
May 18, 2021
Word Count:
60000
Summary:
Bonded soul mates. Shocking secrets. Protecting the one he loves could destroy everything…
Ilyas defeated the Dark God and won the spoils of a lifetime: a new kingdom, a new soulmate, and a chance at revenge. Just when he has the chance to humiliate the brother who sold him out, Ilyas learns a closely-guarded secret. He has a son, and now he'll do everything he can to protect him. Jem's life was pure loneliness before he met Ilyas. But with the Dark God thwarted, Jem is completely powerless. When Ilyas begins to devote his full attention to the baby, Jem becomes determined to win his soulmate back. After allying with a powerful secret society, Jem conspires to deliver an uninhabited world where Ilyas' young son can truly be safe. But Jem didn't realize that his new alliance comes at a high price, one that may cost him the love of Ilyas forever.
Sandmancer
is a spellbinding LGBT dark fantasy novel. If you like rich world-building, captivating storytelling, and edge-of-your-seat action, then you'll love this story of love and horror from Olivia Helling.
Buy Sandmancer to test the bonds of love today!
Sandmancer
September 18, 2016
Word Count:
400000
Summary:
A future king. A slave's last hope. Can a sacrifice become something more?
Ilyas wants someone he can trust. As the heir to a great kingdom, all he can count on is the treachery of his younger brothers as he protects his future throne. When he receives his latest spoils of war, he meets a slave who's different. A slave with a hidden agenda… Jem is the last chance for his people. Shunned by his brethren, he yearns to save them with an impossible task: kidnap Prince Ilyas and sacrifice him to Jem's Dark God. Against all odds, he captures the prince and carts him across the frozen wasteland. Now Jem must keep Ilyas safe for the sacrifice and push down his urges to do more than protect the heir to the throne. Ilyas knows he can't trust the slave, but he feels like he's finally found a man he can love. As their attraction builds, they grow closer to a god that could destroy them both.
Snowmancer
is an LGBT dark fantasy novella set in a far-off kingdom. If you like unpredictable plot twists, rich descriptions, and tantalizing chemistry, then you'll love Olivia Helling's incredible tale of adventure, sacrifice, and love.
Buy Snowmancer to warm up to a forbidden love story today!
Snowmancer
June 23, 2015
Word Count:
58841
Summary: "In range alone, Richard Thomas is boundless. He is Lovecraft. He is Bradbury. He is Gaiman." —Chuck Palahniuk With a Foreword by Brian Evenson In this new collection, Richard Thomas has crafted fourteen stories that push the boundaries of dark fiction in an intoxicating, piercing blend of fantasy, science fiction, and horror. Equally provocative and profound, each story is masterfully woven with transgressive themes that burrow beneath the skin.
A poker game yields a strange prize that haunts one man, his game of chance now turned into a life-or-death coin flip.
A set of twins find they have mysterious new powers when an asteroid crashes in a field near their house, and the decisions they make create an uneasy balance.
A fantasy world is filled with one man's desire to feel whole again, finally finding love, only to have the shocking truth of his life exposed in an appalling twist.
A father and son work slave labor in a brave new world run by aliens and mount a rebellion that may end up freeing them all.
A clown takes off his make-up in a gloomy basement to reveal something more horrifying under the white, tacky skin.
Powerful and haunting, Thomas' transportive collection dares you to examine what lies in the darkest, most twisted corners of human existence and not be transformed by what you find.
Spontaneous Human Combustion
February 22, 2022
Word Count:
106000
Summary: Baker. Wizard. God of Space and Time. Cupcake enthusiast. How long will it take to fan the flames and enrage this gentle phoenix? Start counting. What\'s a wounded and lonely little cinnamon roll to do? Stripped of his psychic powers, Calico Winghorse flees to 19th century earth via his inter-dimensional portal. As a mixed-blood phoenix trapped in human form, he opens a bakery in the San Francisco Bay Area and quietly nurses his wounds. But the unique method of his arrival has drawn the unwanted attention of Infinity Corporation. Representing this angelic-run company is Agustin Chavez de la Cruz, the Demon Lord of California. Even though Agustin is IC\'s heir, he finds himself demoted from his duties to concentrate on his new assignment: take absolute control of the portal. But Calico refuses to sell for any price. Before Agustin can formulate a more gracious avenue of acquiring Calico\'s gateway, the demanding head of IC interferes, further complicating matters. So as negotiations stumble along, Calico and Agustin realize they both wish to establish more than a mere business arrangement. In the mean time, Calico ensures that the good people of the city are getting their fill of baked goods. However, due to Calico's injuries, the portal remains vulnerable to the darker forces that want it at any cost. Agustin will have to push both his angelic heritage, as well as his own psychic power to the very limits to mend someone who not only bears celestial blood, but who is also the God of Space and Time. The Demon Lord of California book 1 is a queer slooow burn meet-cute. A queer / mm paranormal fantasy series with romantic elements. Featuring phoenix shifters, hidden world, first love, found family, hurt/comfort, and a sugar daddy grasping at his second chance.
The Demon Lord of California
January 30, 2023