Word Count:

73027
Summary: If blood really is thicker than water, are the ties that bind a found family stronger than the ties of blood? After a decade of homelessness and living off his own wits, Tris has lost all faith in the kindness of strangers. And after years of letting his friends down time after time, Ozzy knows he's the last person anyone should count on. When Tris's search for his lost younger brother lands him in a small town at an overly-friendly Bed and Breakfast, everyone, including the B and B herself, seem to be pushing Tris and Ozzy together. Tris learned a long time ago, under the fists of his manipulative step-father, that family can't be trusted, and love means nothing. Torn between the desire to see Tris thrive in his new home, and the need to protect the very younger brother Tris came looking for, Ozzy has some hard choices ahead. Welcome back to Griffon's Elbow and The Oaks B&B, aka Mildred. She's not the only sentient house in town.
Brother's Keeper
Word Count:

69861
Summary: A loving boyfriend, generous friendships, and a thriving business—Arnold Kreed should be ecstatic. So why does he feel like he's standing on the edge of an abyss? When Kreed took a chance on a thief—letting Lucky into his world, his life, his heart—he hardly imagined he would find the love and acceptance he didn't dare dream of. Lucky draws people to him, and his extended found family embraces Kreed. Now in an established relationship, despite Kreed's ex causing trouble again, Lucky and Kreed are working toward making a life together. But Kreed is unsettled, unable to find his bliss. He is getting grumpier, and he can feel his people, including his beloved self-aware house, Mildred, pulling away… How can Kreed get back to the joy he so recently found if he has no idea what's wrong?
Innkeeper's Blues
Word Count:

99000
Summary: Look to the skies! Brave adventurers face new relationships and adversity in all sizes, from steampunk dirigibles to harpies, giant bees to garden gnomes, and winged dinosaurs to sky pirates. Isolated mountain peaks, clifftop cities, and battles in the sky abound in this sapphic anthology focused on overcoming challenges awaiting in the clouds. If you like diverse stories with lesbian and sapphic-centric heroines enjoying the thrill of adventure high in the air, buy Lofty Mountains today! With stories by: Seanan McGuire, Rosiee Thor, Rebecca Kim Wells, Maya Gittelman, Carmen Loup, Sara Codair, William C. Tracy, N.L. Bates, L.R. Gould, Robin C.M. Duncan, and J.S. Fields
Lofty Mountains
Word Count:

50000
Summary: A magical bookshop holds the keys. When Mason Chynoweth inherits an old house in small-town New Zealand, he hopes to discover what happened to his great-great uncle Lewis after he returned from the war in 1945. Mason's first encounter with the property is thankfully reassuring—his sensitive psychic powers aren't triggered and he has a calm sense of coming home. Elijah Whitaker arrives in Kedgetown for an extended visit with his aunts. He's quickly drawn to Mason and offers to help him try to find some answers in the dusty old house. It soon becomes clear that Mason is keeping secrets, but Elijah has a few secrets of his own. Like his closely guarded knowledge of the hidden supernatural world, and the fact that many of the townspeople are psi and supernaturals. What is the connection between the house and Postscript, the town's enigmatic bookshop? Mason's glimpses of the past give some clues, but not enough to make sense of the puzzle. When a hidden journal comes to light, the true story of Lewis's journey is revealed, and his path and Mason and Elijah's begin to intertwine.
Postscript
Word Count:

38000
Summary: RISE (noun / verb) Eight definitions to inspire writers around the world, and an unlimited number of possible stories to tell: 1) An upward slope or movement 2) A beginning or origin 3) An increase in amount or number 4) An angry reaction 5) To take up arms 6) To return from death 7) To become heartened or elated 8) To exert oneself to meet a challenge Rise features 300-word speculative flash fiction stories from across the rainbow spectrum, from the minds of the writers of Queer Sci Fi.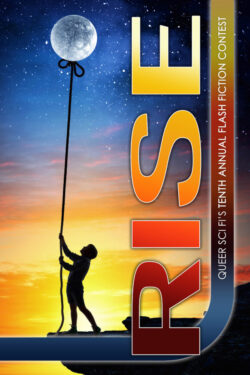 Rise
Word Count:

24000
Summary: Every time something goes missing from the village, Sir Violet, the local knight, makes his way to the dragon's cave and negotiates the item's return. It's annoying, but at least the dragon is polite. But when the dragon hoards a person, that's a step too far. Sir Violet storms off to the mountainside to escort the baker home, only to find a more complex mystery—a quest that leads him far beyond the cave. Accompanied by the missing baker's wife and the dragon himself, the dutiful village knight embarks on his greatest adventure yet. The Dragon of Ynys is an inclusive fairy tale for all ages.
The Dragon of Ynys