Word Count: Information not available
Summary: Welcome to the last of the great flying Cities! It's 9172, YE (Year of the Empire), and the future has forgotten its past. Soaring miles over the Earth, Autumn, the sole surviving flying city, is filled to the brim with the manifold forms of humankind: from Human Plus "floor models" to the oppressed and disfranchised underclasses doing their dirty work and every imaginable variation between. Valerius Bakhoum is a washed-up private eye and street hustler scraping by in Autumn. Late on his rent, fetishized and reviled for his imperfect genetics, stuck in the quicksand of his own heritage, Valerius is trying desperately to wrap up his too-short life when a mythical relic of humanity's fog-shrouded past walks in and hires him to do one last job. What starts out as Valerius just taking a stranger's money quickly turns into the biggest and most dangerous mystery he's ever tried to crack – and Valerius is running out of time to solve it. Now Autumn's abandoned history – and the monsters and heroes that adorn it – are emerging from the shadows to threaten the few remaining things Valerius holds dear. Can the burned-out detective navigate the labyrinth of lies and maze of blind faith around him to save the City of Autumn from its greatest myth and deadliest threat as he navigates his feelings for his newest client, the handsome golem Alejandro?
A Fall in Autumn
January 1, 2019
Word Count:
90000
Summary: Charlie's life force is fading. His only hope is an aged martial arts master in the remote reaches of China who, as far as Cappa can tell, doesn't like him very much.
While Charlie and Cappa are away from Z-Tech, William has been raising an empire of his own — one determined to crush any who interfere with his plans for world domination. Worse, he's sided with the only other organization who had almost succeeded in erasing Z-Tech from the global market, pitting Anne and her friends in a desperate struggle for survival. The enemy has the advantage of numbers, but Z-Tech has Zima — a one-person army in her own right. Only time will tell if she's enough to offset the overwhelming forces set against Z-Tech, and if San Francisco will survive their battle.
Angels Fall
October 19, 2021
Word Count:
107000
Summary: An ancient evil in Anne's head aims to ruin her tranquil life and end humanity. It must be Tuesday. A house of her own with a white picket fence, complete with a loving partner, Anne Perrin finally has the life of her dreams — including the job she always wanted and a caring family to share it all with. But every Eden has its Pandora's Box. Anne's personal heaven is marred by a malevolent presence in her head who, if given a choice, would use her to usher in a dark age, ending humanity as she knows it. The only thing holding it at bay is an unpredictable computer implant in her chest that seems to have its own agenda. Two unexpected visitors turn Anne's delicate world upside down in completely different ways — one better than she could have ever hoped, one catastrophically terrible — pitting Anne in a nightmare battle against the very people she holds dearest: her family.
Angels Found
April 19, 2022
Word Count:
144000
Summary: Ancient evil meets modern-day waitress — and a mysterious organization known as Z-Tech. Anne Perrin is resigned to a life driven by an adolescent trauma — a strict routine, no socializing (outside of the safety of her waitressing job), and no romantic relationships. Determined to change her life before it's too late, Anne's first date in a decade turns into a struggle of life-and-death, plunging her into a world she didn't know existed, where super-science may be humanity's only hope against an ancient threat.
Angels in the Mist
June 16, 2020
Word Count:
101000
Summary: A vampire hunter has his sights on Anne Perrin, threatening to unleash the very evil she and her friends are fighting to contain. Robbing Anne of her pulse hasn't stopped her from living un-life to its fullest: she's balancing two relationships, has returned to her waitress job, and is trying her best to not eat her customers. But Calum sees through her disguise, and no amount of charm can dissuade him from eradicating Anne and everyone like her from the face of the Earth. While Charlie is out of the country seeking help from the one person who might be able to save his life, Anne is abducted, leaving the rest of the Z-Tech crew with the desperate task of finding her before the vampire hunters finish her off — or a grief-stricken Zima destroys the city looking for her lost love. But Anne's abduction could be just the first part of a larger, darker plan that may unwittingly unleash the very plague Calum seeks to prevent.
Angels Lost
April 6, 2021
Word Count:
127000
Summary: For fans of Blade Runner, Ghost in the Shell and Altered Carbon! Welcome to the year 2095. Killer cyborgs hunt down anyone who disagrees with the perfection that is society. Nephilim is the best operator in these elite death squads. Genetically and cybernetically enhanced, she and her team strike terror wherever they go. Knowing nothing besides this lifestyle, Nephilim believes that she's part of a righteous cause. Then a system glitch changes everything. Separated from the grid, for the first time, Nephilim begins doubting the world she lives in. Things get even more complicated when she meets Jake, a 100% bio-human, who opens her neon-blue eyes to the lies she had been exposed to all her life. Nephilim decides to take a stand against her creators. But in this brave new world, can one person beat an all-powerful system of oppression? Soon, Nephilim finds herself hunted by her own people... Corporate megacities, dystopian themes, cyborg assassins, badass heroines, charismatic villains - an adrenaline ride that never stops. If you love action-driven cyberpunk full of unexpected plot-twists, you don't want to miss this! "Sexy, violent and absolutely intriguing!" -Review
Behind Blue Eyes
May 20, 2020
Word Count:
120000
Summary: U.S. Marshal James Creed has known loss, starting from the untimely death of his wife and daughter in a sudden fire. His work, chasing down and arresting outlaws across the Wild West, is all he has left to live for. Then one day, in 1876, the infamous killer Corwin Blake catches Creed by surprise and guns him down. Creed awakes after a mysterious young woman resurrects him in a basement laboratory beneath a brothel. Half alive, Creed feels torn between his need for justice and his desire to fall back into the peace of death. Creed's instincts drive him to protect the city of Santa Cruz, California, from the outlaws it harbors while searching for Blake. He uncovers a secret criminal organization, likely protecting Blake, determined to use resurrection technology for its own ends. The former marshal, now faster, stronger, and a more deadly shot than ever before, must work with a brothel madam, a bounty hunter, and the remaining marshals to uncover the criminal syndicate before they can misuse the machines of rebirth and create more mindless zombies. Meanwhile, he must also stop Blake, before the outlaw kills the only people he cares about. His own death can wait.
Bodacious Creed
August 17, 2017
Word Count:
139,000
Summary: In a condemned hotel, an intelligence operation to retrieve a DNA-altering bioweapon goes horribly wrong, sparking a scandal that could bring down an agency ... and a city along with it. Adasha Denali resolves disputes for Naion—using words, not weapons. But with her agency under fire and her mentor fed to the wolves, she'll have to get her hands dirty. Racing to discover who's undermining Naion's security and why, Adasha runs headlong into corporate mercs, an engineered spy, and a man losing his mind to a new form of intelligence. Meanwhile, the once-great immersion hacker Neon Nik is on the ugly side of broke, struggling to pay off circling loan sharks. When he inherits a piece of advanced tech that throws him into Adasha's path, threats of dismemberment become the least of his problems. Now he's got a vortex of hired killers on his heels and a decision to make: sell out or suit up.
Centricity
October 20, 2020
Word Count: Information not available
Summary: Eclectic, imaginative, and unexpected, Community of Magic Pens features forty genre-spanning flash and short stories--including fantasy, humor, science fiction, romance, historical fiction, satire, and mystery--bringing together a rich group of diverse voices from a wide range of backgrounds and intersections. Fountain pens, markers and ink, charcoals, spy pens, a braille writer, a printing press, virtual reality, and a supernatural pizza: whether revealing unspoken truths, fighting injustice, or finding friendship and love, our pens have power. Join us as a recent graduate of superhero school struggles to understand her gift, a disabled android interviews for a job, a queen's conscripted artist must pull reality from illustrations on parchment, and a grandmother's secret room is…better kept a secret. Tales of struggle and triumph, compassion and hope: Community of Magic Pens is a celebration of our shared story.
Community of Magic Pens
Word Count:
85000
Summary: ALSO AVAILABLE FROM INGRAM FOR BOOKSTORES We're a world beset by crises. Climate change, income inequality, racism, pandemics, an almost unmanageable tangle of issues. Sometimes it's hard to look ahead and see a hopeful future. We asked sci-fi writers to send us stories about ways to fix what's wrong with the world. From the sixty-five stories we received, we chose twelve most amazing (and hopefully prescient) tales. Dive in and find out how we might mitigate climate change, make war obsolete, switch to alternative forms of energy, and restructure the very foundations of our society, The future's not going to fix itself.
Fix the World Anthology
SALE
April 10, 2021
Word Count: Information not available
Summary: Bart is just a simple folk trying to get by. With a posse comprisin' of a sparkle-loving horse, an unsettled ghost, and a magic old whiskey bottle, they wander from town to town in search of some needed coin, and maybe a brighter day.
Just Bart
April 4, 2021
Word Count:
105000
Summary: RETURN TO THE MEAN STREETS OF AUTUMN Valerius Bakhoum is dead and buried. Too bad he's still flat broke and behind on the rent. Unsure what to do with himself—and of who he is—Valerius resumes his career as a detective by taking up the oldest case in his files: where do the children go? Throughout his own youth on the streets of Autumn, last of the Great Flying Cities, Valerius knew his fellow runaways disappeared from back alleys and other hiding places more than anyone realized. Street kids even had a myth to explain it: the Gotchas, who steal urchins away in the night. With nothing but time on his hands, Valerius dives in head-first to settle the question once and for all and runs smack into a more pressing mystery: who killed one of Valerius' former lovers? And do they know Valerius is still alive? Stalk the shadows of Autumn's hidden places by Valerius Bakhoum's side as he shines a light on secrets both sacred and profane, ones with shockingly personal connections to who he was—and who he might become. New Life in Autumn is the sequel to the Manly Wade Wellman Award-winning A Fall in Autumn.
New Life in Autumn
June 9, 2022
Word Count: Information not available
Summary:
The action-packed conclusion to the award-winning series!
Withrow, Roderick, the Technopagans, the Book People, and all the rest of Withrow's friends, allies, and accomplices are back again to bring the fight to their enemies – and to finish it once and for all!
The elder vampires have issued their challenge and Withrow has taken them up on it. Now he and the rest of the gang have teamed up to go to where they've always known they shouldn't trespass: the stronghold of the elders, a gated community on the outskirts of Charlotte, North Carolina. Tucked away behind the high walls of their unholy fortress, the elders are ready to spring their villainy on the unsuspecting modern age and only Withrow stands in their way.
Withrow, Roderick, Jennifer, and their friends know they have only one chance to stop these ancient evils from roaring back out of the past – and it will take risking everything and everyone they hold dear if they're to succeed. Join the fight alongside these unlikely heroes as they risk life, limb, souls, and sanity itself in a no-holds-barred free-for-all against the monsters who stand ready to re-enslave the world!
Nobody Gets Out Alive
May 16, 2019
Word Count:
82000
Summary: Think back to a time in your life that you made a decision that you now regret. Oh, don't be so coy – everybody has one. Okay, maybe not Mother Teresa. Or, Bruce Springsteen. But, unless you're Mother Teresa or Bruce Springsteen – and we're pretty sure you're not – you have been in that position. What if you could go back in time and change that decision? What if you could make the other choice? Or, even better, choose a third option that you didn't even see at the time? Wouldn't you like to know how things would have turned out if only you had done something different at that critical juncture in your life? DON'T BOTHER. Have you never read any science fiction time travel stories? Don't you know that they always end with either dinosaurs becoming the dominant species on the planet or your grandfather killing Hitler, causing you to be born with a speech impediment and an irrational fear of listening to Born in the USA? Time branches are not something you can borrow books from – they are paths to realities that you couldn't anticipate and don't want to live in, and just try to get a decent corned beef on rye in any of them! In Random Dingoes, the third Transdimensional Authority novel by Ira Nayman, investigators Noomi Rapier and Crash Chumley look into reports of a drug that allows people to travel between universes without technological assistance. They methodically work their way up the drug ring's chain of command and are just about to arrest its leader when – time travel happens. With the assistance of Time Agency agent Radames Trafshanian, Noomi and Crash must navigate realities they hadn't anticipated and which they wouldn't want to live in. But, can they find a decent corned beef on rye? You'll have to read Random Dingoes to find out!
Random Dingoes
April 3, 2015
Word Count:
97000
Summary: Los Angeles is an apocalyptic wasteland. Without orientation, Colton stumbles through the vast, deserted city. He doesn't remember who he is and where he came from. Scavengers save his life from mutants and bring him to the only remaining inhabited area and safe Zone in former Hollywood. There he learns that after a devastating catastrophe called The Glitch, reality shifted, allowing nightmarish creatures from another dimension to enter our world. These co-called Dark Ones feed on suffering and violence, wanting nothing less than the complete annihilation of humanity. Colton discovers that he has extraordinary abilities and joins a league of unusual defenders: ex-cop Eric, female cyborg Bombshell and Vincent, a mighty entity from another world, disguised as a human soldier. But the Dark Ones are evil beyond imagination and with their ice-cold enforcer, the traitor Eurydice, they are a threat nearly impossible to overcome. Cunning and ruthless, Eurydice sets a ploy in action, which leads to the destruction of the Zone's defenses weakening the tiny community from within. It's up to Colton and his friends to take a desperate stand against the superior enemy and save what is left of humanity from extinction. Fast-paced, action-driven, and cinematic – an eternal fight of good vs. evil told in a way as never before.
Shadow City
November 7, 2019
Word Count:
47,000
Summary: A collection of tales filled with monsters, be they human or beast, ranging in setting from dystopia to pitch black noir and even general silliness. From the ludicrous to the frighteningly plausible; from deep space to after the end of the world. There are clumsy werewolves and bloody revenge, monster sleep overs and a dieting fad sure to kill your appetite. Whether looking into the past or the future, you're sure to find that stuff gets really weird.
Shotgun Bastards and Other Stories
July 18, 2018
Word Count:
27900
Summary: A mind-blowing collection of short fiction. This anthology of Davyne DeSye's short stories includes twelve speculative fiction stories, ranging from science fiction to fantasy, and from humorous to horrific. This collection – which includes one new tale published here for the first time – contains: -A Ray Bradbury-esque story about a boy whose wishes come true; -A dark testimony of alien invasion and the redemptive power of a single selfless act; -The true story of Little Red Riding Hood; -An inside look into robot-assisted psychotherapy of a killer; and -A guided tour of a shop for recycled dreams. These twisted tales and others may be discovered in this anthology, which includes: "The Slide," "Moron," "There I Was…," "Death, By Any Other Name," "Mine Eyes," "Mirror, Mirror," "Carapace," "…I Win," "It's Not What You Think," "Shattered," "The Cloak," and "The Thief Speaks."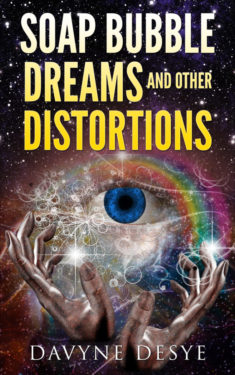 Soap Bubble Dreams and Other Distortions
June 25, 2016
Word Count: Information not available
Summary: How can something so cuddly and adorable be so destructive? The teddy bear robot decimating his lab is only the first disaster of the day for roboticist Forbes Pohle. If he can figure out how to end its rampage, he still has to interview applicants for the position of research assistant and convince the time traveler on his doorstop that they should be making their future right now. Oliver Lennox didn't travel back in time to have a quickie in the blast chamber—but it certainly is fun. This younger Forbes is a sweeter, more innocent version of his lover. And it will be hard to leave him behind in the past. If you like sexy nerds, humor, plenty of action, and a love story not even time can disrupt, this romantic adventure has the perfect credentials for the job.
The Applicant
January 11, 2017
Word Count: Information not available
Summary:
Ten years ago, roboticist Forbes Pohle received a visit from time-traveler Oliver Lennox. "Wait for me," Oliver said. Now a decade has come and gone, and Oliver has returned. However, Forbes never dreamed Oliver would reappear as the point man for a gang of technology thieves breaking into his lab. He finds the younger Oliver just as sexy and even more annoying; still, he must convince him their happily-ever-after is meant to be—but he only has the time it takes his robotic cat Jeepers to thwart the thieves to do it. After waiting so long, he could lose everything in the span of seconds.
The Break-In
June 18, 2014
Word Count:
13000
Summary: Poems written by Cyborgs in the future, melding sci-fi and poetry, human and machine. The Cyborg Anthology takes place in a future where there was a thriving world of Robots and Cyborgs living peacefully beside Humans, but a disaster destroyed all Robot and most Cyborg life. The book is organized like a typical anthology of literature, split into sections that include a biography of each poet and a sample of their poetry. It covers early Cyborg poetry, political, celebrity, and pop culture poets, and ends with the next generation of Cyborg poets. The narrative takes place in the time after a cataclysmic event, and the collection wrestles with this loss. Through the lives of the poets, the book chronicles the history of personhood for technological beings, their struggle for liberation, and demonstrates different ways a person can be Cyborg. The poems and biographies together tell the story of a complex and enthralling world-to-come, exploring topics that are important in the future, and also urgent right now. "With mordant wit and a playful satiric touch, these Cyborg poems showcase a dazzling range of poetic forms and ideas: imaginative and charmingly subversive. Move over Norton Anthology of Poetry, there's a new force in town, and they are a delight." —Renée Sarojini Saklikar, author of Listening to the Bees and Children of Air India "The premise of this collection alone is fabulous. The poems are potent and powerful. With echoes of Le Guin, Brunner and Monáe, Lindsay B-e's debut is layered and smart, provocative, and deeply satisfying. I was moved and fascinated. Speculative poetry at its best." —Hiromi Goto, author of Chorus of Mushrooms and Darkest Light
The Cyborg Anthology
October 1, 2020