Word Count:
25000
Summary: Exiled to Earth for perhaps the worst failure in Irasolan history, General Teer must assimilate or die. Earth is too warm, too wet, too foreign, but he does the best he can even though human males are loud, childish louts whom he can't imitate successfully. When a grieving seaplane pilot strikes up a strange and uneasy friendship with him, he finds he may have been too quick to judge human males. They are strange to look at, but perhaps not as unbearable as he thought.
A Christmas Cactus for the General
December 23, 2014
Word Count: Information not available
Summary: NOMINATED FOR BEST NOVELLA OR SHORT STORY IN THE 2020 PARANORMAL ROMANCE GUILD REVIEWER'S CHOICE AWARDS Taken from the arms of her mother, a girl is raised by a family so alien that she hardly knows how to describe them. They are incredibly feral. She is anything but. As life with them becomes more and more bizarre, she has no choice but to incur the wrath of the pack and plead for her release--risking her life to ask it. Much to her surprise, but even more to his, her chosen mate devises a plan to get her home. It involves considerable deception but if ultimately successful, makes it possible for her to return to the mother and the home she so desperately misses. The plan succeeds. It has, however, unintended consequences since his actions cause her to question his motives and what it is to be his mate. She leaves him, nevertheless, returning home with her faithful dog as her travelling companion. Once there, she has a chance encounter with someone--a man who has a surprising connection to her past. But their joyful and unexpected reunion is short-lived. And in the aftermath of the tragedy that occurs, they learn family is what you make it, the people who love you most are the ones who make the greatest sacrifices, and home is where you belong.
A Girl and Her Dog
August 30, 2018
Word Count:
26000
Summary: Being an OIL (Onsite Inter-species Liaison) for the Interplanetary Multispecies Pact has never been an easy job. In fact it's a crap job when stuck on a backwater nowhere planet like Earth. But cobra Yervath Sissal Naganos manages. The demotion was swift and heavy-handed, but he'll climb back out of this hell eventually. Humans don't meet his social needs, so, yes, it's been lonely and he tells himself he likes the solitude. That is, until IMP sends him an irritating  new assistant he never asked for. Now his peace is well and truly disturbed and his paranoid diplomatic reflexes have reawakened. The worst part is the kid didn't have to be so cute.
A Message From The Home Office
August 25, 2020
Word Count:
60,000
Summary: What happens when you die, but the universe isn't done with you? You might end up as the pet of a giant worm-a-pede alien and…if you survive your evolved descendants and rogue aliens of 1 million A.D…discover you have more in common with intelligent worms than you ever thought possible. Yes, all this might happen if you are Albert Rudyard Goldstein—the discoverer of the Biomic Network Algorithm—who thought his time had come. He had done his part to make the world a better place. Now he deserved—even looked forward to—a peaceful and mercifully succinct death. But the universe had other plans...
A Once-Dead Genius in the Kennel of Master Morticue Ambergrand
May 31, 2018
Word Count: Information not available
Summary: When young paleontologist, Ryan Thompson, finds a new species of mosasaur in Cretaceous seaway sediments, he is thrilled. The discovery should jumpstart his career. Joy quickly turns to fear when he touches an artifact buried among the sea reptile's ribs. Suddenly, he must fight a mental takeover by an alien intelligence committed to transforming the Earth into a refuge for her own race. As Ryan and his girlfriend, Skeets, attempt to thwart alien plans to colonize Earth begun in the deep past, even this crisis becomes trivial. The uneasy symbiosis of Ryan and the alien, Siu, generates a new entity with the power to transform the entire universe.
A Singular Prophecy
October 30, 2011
Word Count:
4500
Summary: In love, time is relative, until they run out… Regulations limit time digger Ish and time cop Kabal, born years and worlds apart, to two dates a year, making every date precious. But when Kabal announces his retirement at their tenth anniversary, what should have been a happy occasion might be their last night together. Previously appeared in Storm Moon Press' Sweethearts & Seduction anthology
A Time Traveler's Valentine
February 14, 2017
Word Count:
73900
Summary: "It's not all about serving coffee and typing reports." Working for a secret organisation specialising in alien cover-ups, Connor Smith is no stranger to the abnormal or dangerous. His love life on the other hand… not so exciting. Until he reluctantly agrees to a blind date and meets the perfect bloke, Jason. Things are finally falling into place for Connor, so of course that's when he attracts an alien stalker. Noah Jones, ex-alien, has been stranded on Earth and forced to live as a human since 1648. Alone and detached from the world around him, Noah has spent centuries observing and recording humankind. In all that time, he's only experienced a connection with a human once… until he finds Connor. Even knowing Connor is in a relationship, Noah can't ignore their potential bond, or stay away. While dealing with missing alien artefacts, a dangerous and shadowy group of collectors, and the ever-present Noah, Connor finds his orderly life crumbling around him. At least he still has the perfect boyfriend… When Noah goes missing, Connor is forced to face the feelings growing between them and the mounting evidence that Jason isn't who he says he is…
Aliens, Smith and Jones
October 1, 2018
Word Count:
184000
Summary:
An unexpected romance. A space-heist gone wrong. A galactic catastrophe in the making.
At the furthest reaches of the known galaxy, cyber-thief Rowland Hale's biggest score turns into a fight for his life.  Beaten but not broken, ex-navy captain Toar Grithrawrscion can save that life, but only by risking his own. With a toothy foe hell-bent on domination, can these two unlikely heroes come together and not only save the galaxy, but each other? Their destiny is in their hands, but only if they keep their hands to themselves. A high-adventure space epic with a touch of charming romance,
Allure of Oartheca
tells the story of two men from different worlds who must face battles both from without and from deep within – an Allure that whispers promises of rapture and destruction, that dares not be risked, and cannot be refused. If our heroes give up, they fail.  If they give in, they fail too – and the fate of the universe rests in the balance.
Allure of Oartheca
May 30, 2021
Word Count:
52000
Summary: Has kidnapping Zeus ruined Dargon and Alpha's chance at love? The sole survivor on a science vessel adrift in deep space, Zeus was adopted by the Emperor and Empress of the Mar'Sani, though he is both human and blind, and seen by many as unfit to join the royal family. Though they were able to repair his vision, Zeus does not trust his eyes, and the nobles of his parents' court refuse to ever trust a frail and treacherous human. Dargon Kal-Turak, along with his symbiote and lover, Alpha, command one of the most dangerous ships in the stars. After narrowly escaping a trap, they dock in a space port to make repairs but find that the Psionics hunting them are closing in fast. In desperation they kidnap the port's master mechanic, unaware that the man they've brought on board is more than he seems and will bring far more upheaval to their ship, their lives, and the stars than any of them could have imagined. **Alpha Trine is a 52k sci-fi romance. It was re-edited July 2018 and some concepts were expanded upon. Neither the plot nor characters were changed.
Alpha Trine
August 9, 2019
Word Count: Information not available
Summary: Ardulum. The planet that vanishes. The planet that sleeps. Neek makes a living piloting the dilapidated tramp transport, Mercy's Pledge, and smuggling questionable goods across systems blessed with peace and prosperity. She gets by—but only just. In her dreams, she is still haunted by thoughts of Ardulum, the traveling planet that, long ago, visited her homeworld. The Ardulans brought with them agriculture, art, interstellar technology…and then disappeared without a trace, leaving Neek's people to worship them as gods. Neek does not believe—and has paid dearly for it with an exile from her home for her heretical views. Yet, when the crew stumbles into an armed confrontation between the sheriffs of the Charted Systems and an unknown species, fate deals Neek an unexpected hand in the form of a slave girl—a child whose ability to telepathically manipulate cellulose is reminiscent of that of an Ardulan god. Forced to reconcile her beliefs, Neek chooses to protect her, but is the child the key to her salvation, or will she lead them all to their deaths?
Ardulum. First Don.
February 27, 2017
Word Count:
92000
Summary:
The Charted Systems are in pieces. Mercy's Pledge is destroyed, and her captain dead. With no homes to return to, the remaining crew sets off on a journey to find the mythical planet of Ardulum—a planet where Emn might find her people and Neek the answers she's long sought. Finding the planet, however, brings a host of uncomfortable truths about Ardulum's vision for the galaxy and Neek's role in a religion that refuses to release her. Neek must balance her planet's past and the unchecked power of the Ardulans with a budding relationship and a surprising revelation about her own genealogy.
Ardulum: Second Don blends space opera elements and hard science into a story about two women persistently bound to their past and a sentient planet determined to shape their future.
Ardulum: Second Don
October 9, 2017
Word Count:
106,000
Summary: The planet wakes. Atalant is torn between two worlds. In uncharted space, head of a sentient planet, the new eld of Ardulum now leads the religion she once rejected. Emn is by her side, but the Mmnnuggl war brewing in the Charted Systems, threatening her homeworld of Neek, cannot be ignored. Atalant must return to the planet that exiled her in order to lead the resistance. She must return home a god, a hypocrite, a liar in gold robes, and decide whether to thrust her unwilling people into the truth of Ardulum, or play the role she has been handed and never see her family, or her world, again.
Ardulum: Third Don
June 4, 2018
Word Count: Information not available
Summary: Un appel de détresse mystérieux amène l'équipage de l'Hermès jusqu'à un vaisseau militaire en perdition… et désert. À l'intérieur, du sang et des viscères jonchent les couloirs, et un seul survivant, prisonnier d'une cellule de détention. Attiré par le bel homme traumatisé, l'agent de com' de l'équipage, Isaac Ozawa, prend Turk sous sa responsabilité, lui offrant la gentillesse et la chaleur dont il a besoin après les horreurs qu'il a vécues. Isaac sait d'expérience ce que c'est qu'être différent, d'être un paria, et cela renforce leur lien. Jadis pilote prometteur, il a vu son cerveau être endommagé lorsque l'implant devant servir à piloter les puissants chasseurs de la flotte n'a pas fusionné correctement. Le cerveau de Turk n'en mène pas plus large. Le résultat d'une expérience militaire ratée, ses compétences naturelles ont été augmentées à un niveau dangereux. Lorsqu'un amiral sans morale et avide de puissance kidnappe Isaac et se sert de lui pour convaincre Turk de devenir l'arme cataclysmique dont il rêve par-dessus tout, les deux hommes et leurs compagnons se lancent dans une bataille éperdue pour leur liberté…
Attraction gravitationelle
April 25, 2016
Word Count:
93000
Summary: When a change in collective conscious sends the Outsiders, a group of aliens, to the shadows below the city, humans reason that the demonization of their peers is simply more "humane." There's no question, nor doubt. Just acceptance. Lydia had embraced that sense of "truth" for as long as she can remember. The daughter of a powerful governor, she has been able to live her life with more comforts than most. Comforts can be suffocating, though, and when the opportunity to teach Outsider children in their private, "humane" community becomes available, she takes it. What she finds beneath the city is far from the truth she had grown to know. There she meets Alessia, an Outsider with the knowledge and will to shake the foundation of all those who walk above ground. The two find a new and unexpected connection despite a complete disconnect from the technological world. Or perhaps in spite of it. Still, it takes a lot more than an immutable connection to change the world. Lydia, Alessia, and a small group of Outsiders must navigate a system of corruption, falsehoods, and twists none of them ever saw coming, all while holding on to the hope to come out alive in the end. But it's a risk worth taking, and a future worth fighting for.
Beneath the Surface
January 19, 2018
Word Count:
73000
Summary: ::The Seignso have our own plans for the remains of Genghis Khan.:: Alien warmongers have cloned an ancient emperor to lead an unstoppable army. Gifted with superhuman powers and advanced technology, he sets his sights on his home planet, Earth, and then... the stars! However, countermeasures have already been set in place. A young Iowa farm boy, oblivious to his powers or destiny, is thrust into a battle that will decide the fate of humanity against the new and improved Genghis Khan! A thrilling, interstellar adventure from the author of The Weller and War of the Worlds: Goliath!
Birthright
March 17, 2015
Word Count:
19852
Summary: No government lasts forever, and the Third Confederation is no exception. With its collapse, the starship Midnight Ride has no choice but to run—from rebels, pirates, and warlords, with a cargo bay of political refugees who've been cryogenically frozen. Now, after centuries of drifting through space, trying to get home, the starship's systems are failing, and her occupants don't have much time left. Fortunately, they've wandered into a solar system containing a G-type star, and it's left to Chief Scout Hart and his scout pod Sarah to explore the sole planet that seems as if it might be hospitable. However, others call the blue and green planet home, and Hart must determine if they're a threat. Will what Hart finds on the planet be enough to ensure the survival of the Midnight Ride's passengers and crew, or will the desire for power overtake the refugees and lead to disaster?
Blue and Green Persuasion
May 25, 2019
Word Count:
81000
Summary: Alessia is an Outsider—a member of the not-quite-human community that has recently been released from their underground prison. Shortly after their liberation, Alessia is given an ultimatum: obey all the United Earth Alliance's demands, or her mother will forever remain a hostage—a mother she'd believed dead for fifteen years. Reluctantly, she agrees, though she has no idea what those demands may be or how she will balance her obligations to the UEA with her responsibilities to her people and her family. As the UEA tightens its grip on humans and Outsiders alike, it becomes clear that meaningful social change will not be possible without a revolution. Alessia and her peers embark on a mission to discover just how far the government is willing to go to maintain their monopoly on power. What Alessia and her comrades discover, however, goes much deeper than they'd ever anticipated. Who are the Outsiders, really? What secrets of their destiny lay hidden within a top-secret space station? And why are the Outsiders linked to an emerging disease the UEA seems desperate to keep secret?  As they delve deeper, it isn't only Alessia's identity that will be called into question, but the fate of the entire planet.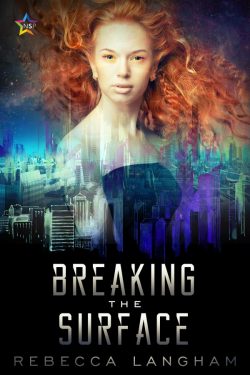 Breaking the Surface
January 13, 2020
Word Count: Information not available
Summary: Jennifer Bronwen, deep-space freighter skipper, sometime smuggler, and occasional blaster-for-hire is flat broke and in desperate need of a job. With her bills mounting and her ship one unlucky micrometeorite collision away from the scrapheap, when she's offered a lucrative contract for a risky heist, well, it's an opportunity she can't afford to pass up. Keera Naraymis, a secret agent on deep-cover assignment in alien space, has just one more job to finish before her mission is complete. Getting it right means making the galaxy a safer place, and taking a trip to the Terran homeworld should be simple enough. But in the espionage game, your enemies are never quite who they appear. When their lives collide with catastrophic consequences, Jen and Keera form an unlikely alliance to find out why anyone would want to kill either one of them. What they discover runs far deeper than they could ever have anticipated, and throws them into a race against time to stop a conspiracy that threatens to unravel a thousand years of peace in the galaxy of the Burning Suns.
Burning Suns: Conflagration (Book One)
November 3, 2015
Word Count: Information not available
Summary: Thrown into an unwilling partnership by a heist gone bad and a botched assassination, mercenary captain Jennifer Bronwen and changeling intelligence agent Keera Naraymis are on the run from just about everybody. If they can learn to trust one another, maybe they can figure out exactly how their lives got turned upside down. But right now, mired as they are in a game of cat and mouse in the bowels of a criminal's lair, that seems like a big if. On the other side of the galaxy, Admiral Kiith Kohath has an even bigger problem—a corrupted cohort of cyborgs intent on pillaging the Assembly systems. Tracking the enemy to the sites of their atrocities, Kohath and his team must piece together the Reavers' plan and determine their next target, preferably before they have a chance to slaughter yet another defenceless colony. With alliances and agreements fraying at the seams, and new and old trusts being put to the test, the personal and political stakes rise ever higher as Jen, Keera, and Kohath struggle to prevent the galaxy from slipping into all-out war…
Burning Suns: Conflagration (Book Two)
August 9, 2016
Word Count:
88400
Summary: On planet Earth, it's aliens against humans and humans are losing the battle. While a few brave humans are ready to fight to regain their freedom from their alien conquerors, the future of the human race falls on Khara, a woman whose sole focus is her personal fight for survival. As the human population dwindles toward extinction, will the strange and reluctant friendship that develops between Khara and an alien show them all a new way - coexistence? Or will the human race finally be eliminated once and for all? This gritty alien invasion story is told from both human and alien points of view, a la C.J. Cherryh, and puts a new twist on the idea of "first contact."
Carapace
June 30, 2017