Word Count:
61000
Summary: Hunter. Half-werewolf. One hell of a baker. Need someone, or something, hunted down? Akira Murakami is your man! No target is too small for him to get his energy-sucking blades swinging, and all jobs are welcome at the right price. The bills have to be paid after all. Living in a world where the apocalypse almost happened can be complicated, as is being the hybrid son of the High Werewolf of, well, everything. But Akira likes to live a relatively simpler life than dear old papa would like, shunning all the political crap, living by the sword and perfecting that recipe for dark chocolate and raspberry brownies. Killing is easy. Brownies are easy. Too easy. To hell with the simple life! There's a werewolf killer stalking the city, and Akira is about to be caught in the middle of everything. Step into an alternative London where the London Underground is above your head, Hyde Park a prison for some creepy shadow creatures, and plenty of baking goes down in a tiny flat on Grays Inn Road. A kick-ass Urban Fantasy adventure with a slow-burn MM Romance.
First Moon
February 28, 2020
Word Count:
75000
Summary: The neon lights of Las Vegas mask the horrors hiding in the shadows. Horrors like my ancient vampiric maker, the Goddess Tawaret. Tawaret promises me power in exchange for helping her. She wants to be worshiped again, and has me gathering vampire followers. My boyfriend, Jack, tries to warn me about her, but I don't listen. Too late, I realize my mistake in accepting. Now there is no escape. After the slaughter she left behind in Portland, no one wants to risk her wrath. With Jack suddenly abandoning me, no one will come to my rescue. I'd rather die than be bound to her for eternity. It just might come to that.
Goddess of the Ancients
August 16, 2022
Word Count:
22000
Summary: Spaceman meets wolfman. When his own world is destroyed, Aldiss and his crew barely manage to escape, leaving friends and lovers behind. What was meant to be an exploratory trip back to the home world becomes a mad dash for survival. When they awaken from deep sleep on Earth, abandoned by humanity five centuries before, they must quickly learn about their new home. While exploring the region around the ship, Aldiss meets Hari, a human-wolf hybrid, whose people harbor secrets which just might cost the crew their lives. Will Hari and Aldiss uncover the secrets of the past and find common ground? Or are Aldiss and his team doomed to failure?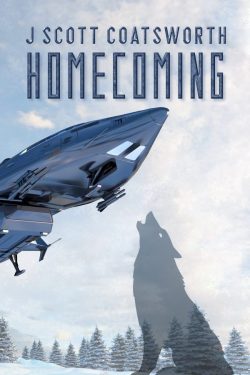 Homecoming
June 26, 2019
Word Count:
80,350
Summary: The sun and moon have been devoured by the cosmic wolves Skoll and Hati. Fimbulwinter has enveloped the world in the cold and darkness. Men prey on each other in order to survive. Amid the chaos, in the struggle for the throne, comes a war between brothers. Hakon, the illegitimate heir to the throne of Norveig, has obtained a horn that can summon a terror from the depths of the ocean. This monstrosity has been sinking the vessels of his half-brother, Jarl Erik Bloodaxe. Erik sends a company of untried heroes to infiltrate Hakon's stronghold and steal the horn. As with all things political, there are other agendas. Fjorn, the leader of the team, is Erik's half-brother who could challenge Erik for the throne. Erik's wife Gunnhild is a powerful sorceress with her own ambitions- could her goals derail the heroes? In life, sometimes a Jarl wins, and other times a Jarl wins.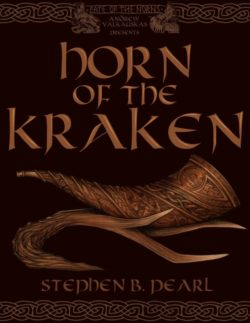 Horn of the Kraken
July 17, 2015
Word Count:
76000
Summary: Sometimes it's harder to teach a young dog new tricks. That's why werewolves embark on a Howling: a three-year rite of passage in which they're sent to a group residence to wrestle with their wolfy instincts and assimilate into the Wider World. But Tanner Araya's Howling is almost over, and he could be called back to his remote pack at any moment. His twenty-first birthday might be his last chance to act on his strongest instinct and finally kiss Chase Denney. Chase is RA at the Howling residence affectionately dubbed "the Doghouse," and he takes his job seriously. So seriously that when he realized he was developing feelings for a resident, he forced himself to keep Tanner at a distance. But now that Tanner's twenty-one, he's not Chase's charge any longer. They could be friends or—if Chase is lucky—something more. At least until they both return to their home packs for good, as tradition demands. It would take a miracle for them to get together—especially when the other Doghouse werewolves insist on "helping." Warning: Many Frisbees are harmed in this story, forgiveness is not always easier than permission, and the five-second rule does not apply.
Howling on Hold
January 13, 2020
Word Count:
119,0000
Summary: Ben is a recovering vampire determined to pick up the pieces of the life that came to a halt when he was murdered over a year ago—even if that means distancing himself from his few remaining friends. Nate, struggling to navigate his new identity as a Class 3 Unknown paranormal, knows it will take more than mastery of his affinity with plants to convince Ben they belong together. When Ben's application for human status is denied, he must fight to leave the paranormal world behind him while Nate's generous impulses drag him into conflict with a werewolf pack with designs on ruling New Camden. As Ben's vampire family draws closer to finding him, his vampire instinct awakens—throwing his continued existence into jeopardy. The hunt for the missing werewolf continues, and Nate and Ben become pawns in Councilor Wisner's plans to take control of the city. Their only hope is each other—if they can see that before all is lost.
Life After Humanity
January 15, 2018
Word Count: Information not available
Summary:
The action-packed conclusion to the award-winning series!
Withrow, Roderick, the Technopagans, the Book People, and all the rest of Withrow's friends, allies, and accomplices are back again to bring the fight to their enemies – and to finish it once and for all!
The elder vampires have issued their challenge and Withrow has taken them up on it. Now he and the rest of the gang have teamed up to go to where they've always known they shouldn't trespass: the stronghold of the elders, a gated community on the outskirts of Charlotte, North Carolina. Tucked away behind the high walls of their unholy fortress, the elders are ready to spring their villainy on the unsuspecting modern age and only Withrow stands in their way.
Withrow, Roderick, Jennifer, and their friends know they have only one chance to stop these ancient evils from roaring back out of the past – and it will take risking everything and everyone they hold dear if they're to succeed. Join the fight alongside these unlikely heroes as they risk life, limb, souls, and sanity itself in a no-holds-barred free-for-all against the monsters who stand ready to re-enslave the world!
Nobody Gets Out Alive
May 16, 2019
Word Count:
94560
Summary: Leah Corybn was a regular mail carrier who thought she had been bitten by a dog, until the next full moon revealed that she had become a werewolf. After months of hiding her secret in the city of London, she is about to learn she is not alone. As she attempts to navigate a world she never knew existed, can she find her place among the wolves of Londinium, or will she fail to prove herself in time?
Orphan's Cry
February 26, 2022
Word Count:
48821
Summary: More than fifty years before Leah Corbyn became a werewolf, Amélie Orne was cast out of werewolf society, manipulated into taking the blame for crimes she did not commit. After living for so long on the run as a Feral wolf, she found unexpected comfort and companionship from Leah and her lover Amy Oakley. As they grow closer, can she dare to hope for a real future together with them after a lifetime of betrayal and misery? Amélie has allies to stand with her now, but it will mean uncovering secrets long buried, and reopening dangerous old wounds...
Outcast's Song
April 23, 2022
Word Count: Information not available
Summary: The nightmares tormented me for years… …and shortly after my thirty-third birthday, I learned why. My name is Dante Coranguis, and I have a great life, a solid job, amazing friends, and most importantly, lots of crazy sex. But on the night I met the vampires, everything changed, including my nightmare. My life's ambitions and dreams were snatched out of my hands because I was destined to become The One, the Herald of Satan, the Antichrist, the most feared man throughout the ages. And here I thought that was just a crazy horror movie about a poor kid named Damien Thorne. Prophecy Rising is the first book of The Snakeheart Series (Season 1), a supernatural novella series about Dante Coranguis and the ancient prophecy of the End Times.
Prophecy Rising
April 30, 2020
Word Count: Information not available
Summary: At Providence Paranormal College, class is about to start. Who's enrolled? Students who are a bit different: vampires, werewolves, changelings, shifters, psychics, and magi. For one-hundred years, the college has taught and trained only psychics or magi, and for the first time, it's opening the doors to those not different: regular humans. At this Ivy-League school, the students are expected to learn their powers and keep high grades. Unfortunately, grades are slipping, but that's what happens when a mysterious villain is hunting you down… Because someone is angry about this new admissions policy and they'll kill to stop integration. To defeat this rising evil, the students must band together and master their strange powers – because if they don't.. Well, it's pretty hard to graduate when you're dead.
Providence Paranormal College
Word Count: Information not available
Summary: Four members of The Vampire Guard—Forge, Blair, Declan, and Lucas—face a dangerous and elusive enemy. And this time, it's personal. When massive tech outages impact everything from Wi-Fi to traffic control, Blair, Forge, Declan, and Lucas think it's a simple matter of catching troublesome hackers. But they quickly realize far more is at stake. Millions of dollars in art are the target of a thief who's not afraid to kill---and he's no stranger. Not only has he escaped capture, twice, a decade ago, but he's had a hand in life-altering tragedies throughout their lifetimes. Once it becomes clear that art theft is just a fraction of his plan for mass destruction, they realize time is running out. The clock's ticking. Catastrophe is imminent. Can they find and disarm all the bombs in time or will countless lives be lost?
Quarry
May 18, 2021
Word Count:
70000
Summary: When you have chaos magic, the only thing you can do is expect the unexpected. Zombies. Shoestorms. Illicit unicorn rides. A talking red panda. Before today Max never believed in magic, despite bad luck so terrible he used to jokingly call it a curse. Now he's a reluctant believer. His first day as a mage he draws the attention of the magic police, not to mention the mysterious hooded figures chasing him all over downtown Portland trying to kill him with magic. With the help of his new speed-demon red panda familiar, his fortune-telling neighbor, a gadget-obsessed witch, a grumpy vampire, and his maybe-brother, Max needs to learn to use his chaos magic, and quickly, or his 'curse' is going to be the end of him and the people he loves.
Red Pandamonium
June 13, 2022
Word Count:
141270
Summary: Everything Tristan, Ushna, and Brian have fought for comes down to the moment they face Inanna and Marduk. Before then, Ushna must embrace his destiny and be transformed by Tiamat. But he returns with a fractured mind and will need the help of the new firebird or he'll be lost to the insanity of a primordial God. If he's lost, so is the balance Brian and Tristan sorely need. Tristan has vowed to care for his ex-Flame, Theo Sullivan, who is doomed to forget more and more with each use of his new ability. When not dealing with his stubborn ex, Tristan must free the warriors stolen by the government and devise a trap for Inanna. And that's only the start of the challenges, and everything that can still go wrong. Note: Releasing Chaos is the final book in the Sumeria's Sons series and features a poly (M/M/M) relationship. This book was previously released by another publisher and has been re-edited.
Releasing Chaos
December 9, 2019
Word Count:
75000
Summary: Waking up undead is just the start of my bad night. This night is going from bad to worse. My roommate is dead. My sexy neighbor, who I've never worked up the guts to talk to before, is standing in my living room. I have a gold amulet I just stole from the museum hidden in my pocket. Oh, and I'm dead... or undead? All the myths about vampires, were-wolves, and the like? Turns out, all true. My sexy neighbor claims I'm a vampire now. I don't quite believe him, but then again, he turned into a coyote in front of me. Jackal, whatever. Plus, you know, my fangs. Oh, did I mention my sexy neighbor is an ex-cop? And his cop buddies just knocked down my door. I'm pretty sure this night can't get any worse…
Ritual of the Ancients
May 13, 2022
Word Count:
57800
Summary: Ethan Roam suffers from night terrors and vivid daydreams, which lead him to the doorstep of the eccentric Dr. Grady Hunter, who thrusts him into a world of supernatural misfits. Ethan quickly learns that there's more reality to his dreams than he suspected. As Ethan unravels the truth behind his nightmares and falls into his first experience with love, he also finds himself the target of a sinister plan. Ethan's trust in his new companions will be tested and he'll have to decide who he can rely on and who he must defy in order to survive a fatal Halloween night.
ROAM
October 1, 2018
Word Count:
74000
Summary: Sarah Colby has always run from commitment. But after more than a year on the road following her musical dreams, even she yearns for a little stability. Her sister Annie is only too happy to welcome her back home. When she meets Annie's boss, Nobel Keller, she's immediately drawn to the woman's youthful good looks and dangerous charisma. The first night together leaves Sarah aching for more, but the second shows her the true price of passion.
Welcome to Columbus, where the only thing hotter than the music scene is what happens after the last note is played.
Running From Forever
February 1, 2019
Word Count:
73900
Summary: How far is too far to go to save someone you love? Brandon Lynch is magical. He's a scintilla, wielder of electricity and is in love with a werewolf—or maybe he'd just in love with the idea of loving a werewolf? Raul Fierro is a bounty hunter and a werewolf. He knows he loves Brandon. He's made a promise to always protect Brandon and will carry out that promise at all costs. When Brandon and Raul go head to head with human traffickers, Brandon's morals are stretched to their limits. Will Raul keeping his promise tear them apart?
Scintilla
March 10, 2020
Word Count:
98000
Summary: Zack thought he had a strange job before---Marine medic in a secret government base was odd, but personal assistant to a sidhe prince is downright bizarre and damn dangerous. Zack thought he had a strange job before. Working as a Marine medic in a secret government installation was odd, but working as a human liaison to the /fae/ and as the personal assistant to a sidhe prince is downright bizarre. Throw in the fact that he's pretty damn sure he's fallen in love with his boss, and things are close to unmanageable. Of course, around the fae, one never says 'things can't possibly get any worse.' Unexplained events plague the human world. Strange sightings, spontaneous magical explosions, and odd bends in reality crop up. When Finn falls ill and a monstrous creature attacks Zack, things quickly slide into disaster. Lycanthropy, loose-cannon mages, and Lugh conspire to make a hellish mess of things---but the real peril begins when Diego loses an important piece of his mind.
Semper Fae
October 23, 2018
Word Count:
71513
Summary: To be soulmates they first have to survive. A serial killer stalks the streets of Boggslake, Ohio. The victims are always found in pairs, one human and one vampire. Simon Hawthorne has been a vampire for nearly a hundred years, and he has never seen anything like it. Neither have the other supernaturals he works with to keep the streets safe for both their kind and the humans. One meeting with Simon finds Ben Leyton falling for a man he knows is keeping secrets, but he can't ignore the growing attraction between them. A recent arrival in Boggslake, Ben finds it very different from his native New Zealand, but something about Simon makes Ben feel as though he's found a new home. After a close friend falls victim to the killer, Simon is torn between revealing his true nature to Ben, and walking away to avoid the reaction he fears. But with the body count rising and the murders becoming more frequent, either, or both of them, could be the killer's next target.
Shades of Sepia
July 11, 2020