Word Count:

115000
Summary: Aaron Okonkwo, a Nigerian scientist, travels with a crew in the 24th century to evaluate Viridis, which proves to be a beautiful and fabulous world. There, Aaron discovers a strange, alien species and amazing machines and technology left in a vast underground complex by a mysterious race called the Creators. Aaron soon falls under the irresistible, seductive spell of Nightsong, a green alien female with ominous and bewitching powers. However, an even greater danger rises. He will be forced to fight for the planet's survival against a ruthless invasion of many ships to conquer and enslave the planet – just as Africa itself was once enslaved. Aaron knows it's A Senseless Act of Beauty to try to reclaim his ancient warrior heritage and fight back against such overwhelming odds, but he knows he must try.
A Senseless Act of Beauty - John B. Rosenman
Word Count: Information not available
Summary: Collection of twenty-two short fantasy and science fiction stories. A wizard seeking an apprentice won't take no for an answer, and a would-be apprentice attempts the impossible to find a mentor. A twin discovers her sister's new job is a lot different than she expects. And what's the deal with the cat whiskers?
Agents, Adepts & Apprentices
Word Count:

90000
Summary: Charlie's life force is fading. His only hope is an aged martial arts master in the remote reaches of China who, as far as Cappa can tell, doesn't like him very much. While Charlie and Cappa are away from Z-Tech, William has been raising an empire of his own — one determined to crush any who interfere with his plans for world domination. Worse, he's sided with the only other organization who had almost succeeded in erasing Z-Tech from the global market, pitting Anne and her friends in a desperate struggle for survival. The enemy has the advantage of numbers, but Z-Tech has Zima — a one-person army in her own right. Only time will tell if she's enough to offset the overwhelming forces set against Z-Tech, and if San Francisco will survive their battle.
Angels Fall
Word Count:

101000
Summary: A vampire hunter has his sights on Anne Perrin, threatening to unleash the very evil she and her friends are fighting to contain. Robbing Anne of her pulse hasn't stopped her from living un-life to its fullest: she's balancing two relationships, has returned to her waitress job, and is trying her best to not eat her customers. But Calum sees through her disguise, and no amount of charm can dissuade him from eradicating Anne and everyone like her from the face of the Earth. While Charlie is out of the country seeking help from the one person who might be able to save his life, Anne is abducted, leaving the rest of the Z-Tech crew with the desperate task of finding her before the vampire hunters finish her off — or a grief-stricken Zima destroys the city looking for her lost love. But Anne's abduction could be just the first part of a larger, darker plan that may unwittingly unleash the very plague Calum seeks to prevent.
Angels Lost
Word Count: Information not available
Summary: The world of Avern has moved on. It has been almost a thousand years since the day the entire pantheon disappeared. Since the Abandonment, the mortals have learned to live without gods and goddesses. The world became mundane with little magic, and even less hope. Tyrants have risen, and those able to wield what is left of magic are powerful. Forces surge in the darkness that threaten to topple the already fragile world. The plight of the world of Avern is not unknown, however, and those that watch from a distance have decided to intervene. The mortals are sleeping, however, unknowing that two great powers will soon by vying for control.Then something happens that changes things. A young princess makes a bid for power by murdering her father. She then attempts to murder her sister, the crown princess of Lineria, Keiara. Despite a true strike, aided by dark powers, Keiara doesn't die. Instead, the strike pierces the barrier between her human soul and the soul sleeping within her, the soul of the Dark Phoenix. More than a goddess, the Dark Phoenix is the legendary mother of the gods. She is a part of the Eternal Phoenix that brought life to their world eons ago, one of the primal forces of the cosmos.
Dark and the Sword
Word Count:

84610
Summary:
Praise for Daughter of Maat:
"Sandy Esene has written a real page-turner. It's Dan Brown goes to Egypt with a delightful dash of Harry Potter thrown in. A wonderful read and she's got the Egyptology right!"—Bob Brier, Author of
The Murder of Tutankhamen
"If you like Egyptian Mythology and the excitement of Indiana Jones adventures, this book is for you!"— Pat Remler, Author of
Egyptian Mythology A to Z
Alex Philothea's quiet life as a research archeologist changes forever when she is tracked down by a secret society, the Keepers of the Holy and Noble Maat. Alex's father died years ago during an excavation in the remote Egyptian desert. The circumstances of his death have always been shrouded in mystery. Now the leader of this obscure organization promises to unlock the answers she has been searching for; the only thing she must do is save humankind.
Follow Alex into a world of myth and magic where the lines of reality blur at every turn.
Daughter of Maat
Word Count: Information not available
Summary: They told him he was chosen, but everything they told him was a lie. Sookahr believes he's destined to change the world. With his rodent companion and a motley crew of fellow serpents, he journeys to the farthest outpost of Serpentia, determined to prove himself. The quest leads him to the very edge of the jungle, where Sookahr encounters, not only sabotage, but a dark secret that could shake the foundation of his civilization. Betrayed and abandoned, Sookarh must discover his own power, harness the magic inside his dreams, and decide who he really wants to be. Because if he can't rise to the challenge, expose his enemy, and uncover the truth, he won\'t just lose his way. He'll lose his friends, his place in society… and his life. In a world ruled by reptiles, one snake must fulfil his destiny to overthrow corruption, expose a dark secret, and save his people… from themselves. 2020 Leo Literary Award Winner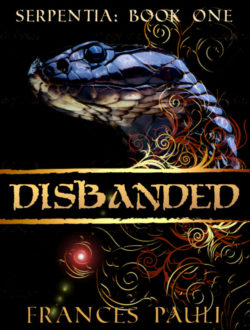 Disbanded
Word Count:

62,900
Summary: A werewolf and seven vampires are all that stand between the world and complete annihilation. When Kai Richter and Ori Bier met, sparks flew. Then a train blew up. Tracking an organism deadly to not only humans, but vampires and werewolves alike, brings Kai and Ori into the Vampire Guard. Decades later, they, along with Operative Team Jack Rabbit, come face to face with the horrors that same virus produces. Dead bodies are coming back to life, and rational people are becoming violent and brutal killers. A massacre is taking place nearly a mile under the Atlantic Ocean. Two teams of The Vampire Guard are in the thick of it, fighting to survive.
Endosymbiont
Word Count: Information not available
Summary: Mortal. Immortal. Musician. Mage. On a journey from the boroughs of New York to the heart of Tir na nÓg, from innocence to the deepest darkest crevices of her soul, Kara O'Keefe found power and strength in the discovery of self. But with that peace came a hard truth. As a bridge connecting many worlds, none of them held a place for her. She must find her own way, forge her own path. To honor a vow to Granddame Rose, a matriarch of the Kalderaš Clan, Kara joins the Romani caravan, only to find herself even more of an outsider than before. While she strives for acceptance, and to honor her vow, little does she know she has once more become a lure to an ancient and deadly enemy, drawing danger into the midst of her unsuspecting hosts. Once savior of the world, Kara must now save herself and the innocents around her. She has come into her legacy, but where will destiny take her? **** Based on the Eternal Cycle Series of Novels: Yesterday's Dreams Tomorrow's Memories Today's Promise **** Includes six bonus short stories.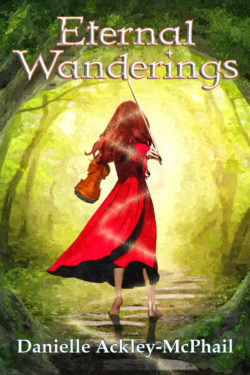 Eternal Wanderings
Word Count:

80000
Summary: Cling to the edge of your seat in this high-finance, high-stakes adventure. What do we do with knowledge of the future? Clairvoyant Ariel has been doing her best to ignore it, finding the whole thing a nuisance. But when she comes across people using similar abilities to get extremely rich, her interest is piqued. Then she discovers a second collection of gifted people. Their cause is less about money and more about ensuring the survival of the human race. That doesn't stop them from being as dangerous and crazy as the first group, however. Soon Ariel finds herself the object in a game of tug of war as each faction fights to have her--and her particular talents--on their side. She can't possibly help both groups. Aligning with either could be a terrible idea. But how can she stay out of it when so much is at stake?
Flickers of Fortune
Word Count:

40289
Summary: For many, the United States is a land of opportunity and new beginnings – unless you happen to be 'different' from everyone else.  Hadi Shahir is one of those people, different in more ways than one. Hadi can manipulate fire; he is 'Evolved'. All he wants is a new life and new adventures in this land of opportunity. His dreams become endless nightmares, however, that begin with an inexplicable hate crime that leaves the young man traumatized and untrusting of the world around him. A chance encounter with a pretty face cracks that shell, showing him that not everyone in Chicago is out to get him until a rash of violent, deadly fires breaks out around the city. Suddenly, all eyes focus on Hadi when too many coincidences bring his abilities to the forefront. In a matter of moments, Hadi jumps to the top of the AEC's most-wanted list. His quiet life as a bartender quickly turns into a tangled mess of chaos, lies, and murder that drag the entire city of Chicago down in flames with the remnants of Hadi's ruined life.
Hellfire
Word Count:

86000
Summary: The year is 1877. Russians have invaded the Pacific Northwest and are advancing into California. New weapons have proven ineffective or dangerously unstable and the one man who can help has disappeared into Apache Country, hunting ghosts. A healer and a former sheriff lead a band into the heart of the invasion to determine what makes the Russian forces so unstoppable while a young inventor attempts to unleash the power of the lightning wolves.
Lightning Wolves
Word Count:

90000
Summary: Join an extraordinary family on a heart-pounding adventure as they face mortal danger. Telepathy creates as many problems as it solves, as everyone in the secret organization x0 would admit. Those problems become much worse when budding psychic Lola discovers another group of telepaths associated with a powerful media empire. This group is willing to destroy anyone capable of challenging them. Soon, Lola's family and friends are in danger. Fortunately, they are gifted with astonishing abilities of their own. Yet, none of them know how to fight. It will take every power they possess, and the allegiance of a helpful warrior, to bring down the arrogant adepts who do the bidding of a man hell-bent on promoting destruction. Can the talented people Lola cares about learn to trust each other and work together in order to save the world?
One of Two
Word Count:

105000
Summary: A girl detective. A boy genius. A warrior princess. A young magician. Four young people with extraordinary gifts. For years, they solved mysteries, caught crooks, and slayed monsters. They were secret heroes, keeping an idyllic small town in the middle of America safe from the things that lurked in the dark. Then, the year of their high school graduation, the darkness came for them. During what the media called "New Year's Evil," a demonic force rose to turn their hometown into a literal Hell on Earth. They gathered to stop it. They fought. And they won. The rest of the world never discovered the truth behind the disaster. For 20 years, the four tried living like normal people. Now their past is coming back to haunt them. The darkness is gathering once more. They're summoned back to their hometown to face it, along with everything else they left behind. Last time, they saved the world. This time, they'll have to do something much harder. They'll have to save each other. For fans of Stephen King, Neil Gaiman, and Victoria Schwab, REUNION is the story of what happens when the good guys grow up.
Reunion
Word Count:

97000
Summary: Los Angeles is an apocalyptic wasteland. Without orientation, Colton stumbles through the vast, deserted city. He doesn't remember who he is and where he came from. Scavengers save his life from mutants and bring him to the only remaining inhabited area and safe Zone in former Hollywood. There he learns that after a devastating catastrophe called The Glitch, reality shifted, allowing nightmarish creatures from another dimension to enter our world. These co-called Dark Ones feed on suffering and violence, wanting nothing less than the complete annihilation of humanity. Colton discovers that he has extraordinary abilities and joins a league of unusual defenders: ex-cop Eric, female cyborg Bombshell and Vincent, a mighty entity from another world, disguised as a human soldier. But the Dark Ones are evil beyond imagination and with their ice-cold enforcer, the traitor Eurydice, they are a threat nearly impossible to overcome. Cunning and ruthless, Eurydice sets a ploy in action, which leads to the destruction of the Zone's defenses weakening the tiny community from within. It's up to Colton and his friends to take a desperate stand against the superior enemy and save what is left of humanity from extinction. Fast-paced, action-driven, and cinematic – an eternal fight of good vs. evil told in a way as never before.
Shadow City
Word Count: Information not available
Summary: On a parallel Earth called Kale-Ra, humans born under "star signs" are blessed with magical powers. Two factions exist: the Star Guardians, and the Shadow Guardians. Clarabelle Stewart is your average teenage girl. She doesn't have any hobbies, and manages a C+ average in most of her classes. At least, she would be average, if not for her late father. He betrayed the government while attempting to steal a treasure for a Shadow Guardian terrorist organization, the Penumbra. Ever since his death, her family has been scorned and marginalized. But when the Starlite Academy--a prestigious military school for aspiring Star Guardians--grants Clarabelle a full-ride scholarship, she realizes that this is her opportunity to turn her life around. She eagerly sets off for school, and meets a wonderful group of friends. Yet, some things are still... off. Her teacher, Slade, and her roommate, Wulfgar, claim that they know her from their past, but she doesn't remember them. And Ursula, the bubbly senior student who welcomed her into their friend group, is hiding her own set of dark, tumultuous secrets. Unbeknownst to them all, weaving backwards through the years, a sinister plot has taken hold, setting the course for each of their lives. And suddenly, the world turned upside down. Nothing is what it seems.
Star Guardians: Legend of the White Nova Volume 1
Word Count: Information not available
Summary: High schooler Crispin Haugen already has so many identities to sort through—Asian, Scandinavian, not to mention gay. Then a messenger from another world arrives to tell him he also carries the blood of dragonsin his veins. Transported to the Realm of Fire, where dragons and humans live in harmony, Crispin falls for Davix, a brooding, nerdy scholar. But dark mysteries threaten the peace of Crispin's new world. Without warning, dragons from the Realm of Air unleash a bloody war. With everything he cares about on the line, Crispin must find the courage to fight...for justice and for love. The writing of this book was supported by the Toronto Arts Council with funding from the City of Toronto.
The Dubious Gift of Dragon Blood
Word Count: Information not available
Summary: "It is so packed with action that there was no place where I could say, 'Ok time for bed now. I'll finish it tomorrow.' A must read." ~Amazon Reviewer Fale doesn't know why she has visions of the queen's past life. All she knows is that her magic becomes dangerously faulty every time she sees into the past. Through the visions, the mystery of Effailya's banishment and life of slavery is solved; the reasons of her heated parting with Gryndoll are revealed, as well as who was the queen's secret lover. And how that could possibly relate the Source Wizard to the Queen of Mages, herself. The Source Wizard Gasten sends out his best efforts, but the new queen stays one step ahead of him. He may have found a way to send his spell to her. And if not, he's found the old wizard's journals, which are sure to give her weaknesses. The Final Rescue is a face-paced adventure as the wizards and mages race toward their mutual destruction. A strong female lead not only survives her dystopian society… she solves the mystery of a hidden war, only to cause a new one, then battles both sides to rule it herself. It's a conclusion for fans who fell in love with The Hunger Games, Divergent, and The Reader series. If you're hooked on genre-blending, suspenseful, fantasy romance novels, with adventure, you'll love The Final Rescue!
The Final Rescue
Word Count:

103061
Summary: SISTER. ASSASSIN. VESSEL. Echo Rodrigal isn't just a survivor; she's a success. But in a land where the law is there are no laws, the terms of success rest on a knife's edge, and Echo's luck is about to change. The Vindicata are one of the top vengeance crews in the Ten Realms of Interra. Their oaths to only commit crimes of justice have earned them the respect of their peers. But the Vindicata are more than a crew, they're a family. And ever since they adopted Echo, she's cared about one thing: making her family proud. For years, that's meant becoming the continent's most feared assassin. But each kill wreaks havoc on her soul, no matter how justified. Echo's unraveling fast, complicated by the mysterious rift growing between her and her beloved sister. Miyala's keeping dangerous secrets, and Echo cannot find the key to unlock her sister's trust. When the Warlord orders the Vindicata to transport foreign dissidents to a new prison, they must put their personal issues aside to face an impossible choice: die for defying orders, or die for breaking their oaths to uphold justice. Between meddling gods returning to the continent, mercenaries around every corner, and an ancient prophecy that foretells the end of all worlds, the pressure on Echo is mounting fast. Can she make enough right moves to save her family? The fate of many worlds rests in Echo's next choice.
Vessel of Starfire