Word Count:
30020
Summary: Willem's father never approved of his artistic talents, his choices in life, or the fact that he's gay. When the only thing Horst leaves to Willem is the family cat, he thinks it's his father's last insult from the grave. That is, until the cat starts talking to him. Though Willem's lost his boyfriend, his home, and his job, Kasha, who claims to be a magic cat, reassures him that all will be well. All he needs is Willem's trust and a good pair of boots. But giving boots to a talking cat has unexpected consequences when odd events ambush Willem at every turn, such as the appearance of a handsome stranger in his arms at night. While he begins to suspect Kasha's plans might be dangerous for all involved, how can he distrust such a charming kitty in cowboy boots?
Boots
December 6, 2016
Word Count:
120,000
Summary: Tokyo high school student Tsukino Ayumu never wanted to stand out. He's always been content to run at the middle of the pack and go unnoticed, and he doesn't expect much to change when he moves to the small fishing village of Yuuyake to live with his grandfather. In Yuuyake, Ayumu makes his first real friend in Ikehara Haruki and forges close ties with two girls, Shizuka and Chou. Together, the four friends muddle through the messy world of dating and relationships while trying to succeed in school and prepare for the world they'll enter when it ends. Fate has other plans for them, though, and Ayumu in particular, as an invisible threat targets the village's young people. After being plagued by disturbing, violent dreams, Ayumu learns what the spirit world expects of him. He must learn to fight and to lead—but he's only ever been ordinary. With the support of friends he would die to protect, Ayumu faces a destiny only he can fulfill. But others have taken an interest in Ayumu. The mysterious Fox-Hat and Neko know more about Ayumu than he knows about himself, and they lead him onto a path that might end in the destruction of them all.
Fox-Hat and Neko
July 16, 2015
Word Count:
254
Summary: Nukekubi are a form of Japanese goblin that during the day look like ordinary folk. At night they separate their head from their body and fly around scaring people to death to feed on the energies released. Ray McAndrues, a Pagan wizard/priest, encounters a Nukekubi that is feasting on the people of Toronto and decides that he has got to put a stop to it. Ray gains allies in his quest in the form of two Japanese martial artists who have made hunting Nukekubi their life's work and his on-again, off-again girlfriend Cathy, who is also a mystic. Problems arise when east and west do not communicate wall and Cathy is his on-again, off-again girlfriend. Also, what is the centuries-spanning tie that binds Ray to the Nukekubi and will it help or hinder the quest?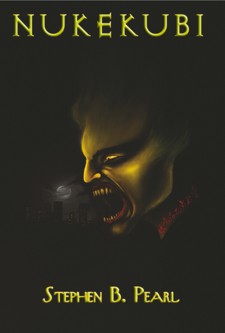 Nukekubi
January 8, 2012
Word Count:
104000
Summary:
Kuro's true form makes him an outcast — and a deadly weapon.
Left for dead by his own mother, Kuro survived and grew up only by hiding the color of his fur. Society has been trained to fear — and kill on sight — foxes like him. When Ren stumbles into him trying to destroy the demons plaguing his kingdom, Kuro fears the end. Instead, the human boy proves himself a loyal friend. But when Kuro's secret slips out, the Shogun sees only the weapon he needs to vanquish his enemies, including Ren. Now Kuro's chance at survival comes at the price of his only friend's life.
The Sun Prince
January 1, 2020
Word Count:
18000
Summary: "Welcome, Mr Reese and Mr Connor... I trust your special day was all that it was cracked up to be? And what better way to compliment your union than with a honeymoon across time, eh? We here at TimeLabs are the premier time travel company and our guides are highly trained. Anything you want, anywhere you want to go... The possibilities are very nearly endless..." Sam and Zak take a Time Tour for their honeymoon, visiting some of the events through time which have captured their interest, including the very first Olympics. A five-star time machine for transport, luxury meals, fine wines—what could be more perfect? TimeLabs Inc. Tom loved his master, his job and the wonderful society he lived in—until one day, somebody hacked his tattoo and his world changed forever. Tattoo Kel meets his first alien and falls in love with her. Except... Alien Love Story Evan and Joey step through a door and find themselves in a whole new world where mythical creatures are as real as they are. Love Spider General Parker Rodriguez didn't believe for one second in the existence of flying saucers with little green men conducting random probes, but he still knew that Aliens were out there. And when they came, he would be ready. E-Contact And a dystopian short, My Day At The Beach TimeLabs Inc is a collection of six science fiction short stories, all with a romantic theme.  Not explicit. Suitable for both teens and adults.
TimeLabs Inc
March 15, 2017