Word Count:

80000
Summary: Beware the demon prince who's sick and tired of running. Federico Duomo is dead, to begin with. But this is only the first bit of Shax's problems resolved. Powerful crime lords and an obscenely wealthy oligarch are still determined to destroy him and his crew, and Fluffy's original owner may be coming after the Brimstone now, too. It would be splendid to be able to take on one thing at a time. Adding to the external conflicts, life on board the Brimstone has only grown increasingly stranger. Shax has no idea what to do with the seven partly human children that Heckle rescued from slavers. Heckle himself has grown short-tempered, even with Mac. Someone from Julian's past catches up to them on Barbary. It's enough to put a demon off his cinnamon buns. Shax isn't panicking, though. In fact he's had it up to his handsome royal nose with the people he loves having to live in constant fear. The fox has turned at bay and the Brimstone's enemies are in for a shock. The demon prince of thieves is coming for them.
A Fine Mess: Brimstone 7
Word Count:

11000
Summary: Any landing you can crawl away from is a good one. A data privateer crash-lands on a barely habitable moon where he's rescued by a research scientist who refuses to show his face. Though suspicious and paranoid by necessity, Rhodi finds himself drawn to the soft-spoken man behind the mask. Professor Covington prefers being isolated with his research. He has good reason to limit human contact, but he can't abandon anyone to the ravages of a fickle and dangerous environment. He knows Rhodi's hiding things. It's none of his business and his mysterious guest will leave once a nasty native virus has run its course. Strange how the thought makes him less happy by the hour.
A Matter Of Faces
Word Count:

26000
Summary: Being an OIL (Onsite Inter-species Liaison) for the Interplanetary Multispecies Pact has never been an easy job. In fact it's a crap job when stuck on a backwater nowhere planet like Earth. But cobra Yervath Sissal Naganos manages. The demotion was swift and heavy-handed, but he'll climb back out of this hell eventually. Humans don't meet his social needs, so, yes, it's been lonely and he tells himself he likes the solitude. That is, until IMP sends him an irritating  new assistant he never asked for. Now his peace is well and truly disturbed and his paranoid diplomatic reflexes have reawakened. The worst part is the kid didn't have to be so cute.
A Message From The Home Office
Word Count:

7200
Summary: Part of the "A Holiday to Remember 2017 Series" On the colony planet Vega III, everyone knows Beck—outgoing, fabulous, and genderqueer—and nobody notices Anil, the quiet plant biologist. But when Anil finds Beck hiding in his greenhouse, lonely and missing Earth, it's Anil who is able to comfort Beck by letting them talk about what they miss most—the feeling that comes with celebrating the holidays with loved ones, especially New Year's Eve. ​The two of them are drawn to one another, but both of them are hiding secrets about their sexuality. With trust between them already on shaky ground, Anil's elaborate plans to cheer Beck may well backfire. A Holiday to Remember Freddy MacKay - Watermelon Kisses Foster Bridget Cassidy - But to Love More Toni Griffin - Corey's Christmas Bundle Angel Martinez - Safety Protocols for Human Holidays Nicole Dennis - Secrets & Silk Kassandra Lea - Winter Home Jill Wexler - The Christmas Eve Craigslist Killer Jayne Lockwood - New Beginnings Tray Ellis - A Piece of Ourselves J. Scott Coatsworth - I Only Want to Be With You Siri Paulson - A New Year on Vega III
A New Year on Vega III
Word Count:

35656
Summary: When Shax stumbles across rumors of an experimental house that responds to the occupant's brain functions, creating scenarios to please and delight, naturally he wants to steal it. While stealing an entire house sounds impossible, the demon prince has a cunning plan. But a night at the ballet heralds the return of a troubled and hunted Julian Parallax. He brings ominous news to whisper in Shax's ear and forces Ness to battle a new emotion – raging jealousy. With nefarious plots in the background and an overabundance of Poe references, even Shax's scheming may not be enough to get the Brimstone crew out alive this time.
Beside A Black Tarn: Brimstone 5
Word Count:

38000
Summary: An Imperial prince can only hide for so long—but his solution of a hastily invented engagement could backfire spectacularly. Marsh Kensinger's work as the utility mechanic for Bremen Station keeps his life interesting - but never quite as interesting as finding a pilot still hidden inside a hibernation drawer in what should have been a salvage craft. He knows he shouldn't get involved, but the Altairian Imperial crest on the private craft and the semi-conscious pilot's odd questions pique his always-whirling curiosity. Still unattached at a concerning age for an imperial son, Prince Shiro Shinohara hadn't been running from the endless, mind-numbing rounds of omiai his mother, the Empress, had mandated. Not exactly. He'd just wanted a break from persistent suitors at the family retreat on Ceti Tau. The short respite becomes a panicked flight for his life when one of the suitors stalking him attacks the family compound. Worried for the soldiers he was forced to leave behind, afraid there's a conspiracy to kidnap him, Shiro confides in the handsome mechanic who found him and in a moment of panic, concocts the fiction of a serious relationship with Marsh. It's only until Shiro's people can reach him and he can press charges back home. Marsh is willing to play along and Shiro's just going to have to keep himself together and not, under any circumstances, fall for the wonderful, generous man who refuses to stop helping him.
By Imperial Decree
Word Count:

30000
Summary: Flee. Scatter. Take your mates and your offspring and run. The escape pods fall to Earth one by one over the course of weeks, a mysterious and diverse alien diaspora, each pod containing a different alien race and leaving the world's governments scrambling to deal with this unexpected immigration. Serge Kosygin, still grieving and isolated after his husband's death, watches events with gray disinterest until one day he witnesses a pod crash for himself while driving home. Two of the alien visitors have died, but one survives, badly injured, and Serge is determined that if this alien is also going to die, it won't be under the harsh lights of a government facility. Devastated by the loss of his life mates in their desperate effort to reach safety, the knowledge that Een is the last Aalana in this sector of the galaxy only compounds his sorrow. He wakes in an alien dwelling under the care of one of the native dominant builder species, a being who appears to share nothing with Een besides a bipedal structure. Slowly, with the help of his patient and kind host, he discovers they are more similar than he imagined as they share harmonies and his host assists him with language acquisition. Their tentative first contact soon evolves into a deepening friendship, a balm for two grief-weary souls. They'll need each other and their growing bond for the troubles lurking just ahead. Publisher's Note: Eating Stars was previously published as part of Meteor Strike: Serge & Een as a novelette. It has undergone extensive rewrites and edits with over 10,000 words of new content added.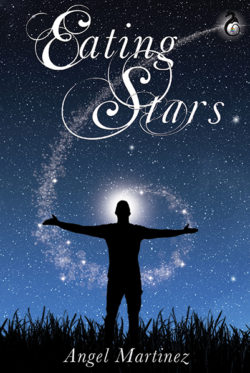 Eating Stars
Word Count:

31368
Summary:
While Shax recovers from a near fatality, his shipmates have been busy. He's rather proud of them for taking the initiative and finding them a lucrative cargo run. His pride turns to outright horror, though, when he finds out what sort of cargo. Frogs. The one thing in the universe that incites mindless panic in Shax. Unfortunately, he also soon discovers that a healthy fear of frogs doesn't prevent frog-driven disasters.
An unlikely series of overlapping mishaps hurls the Brimstone back to an even more unlikely point in history for a couple of demons and a fallen angel in a spaceship. Somehow they need to repair and refuel, and puzzle out how to get home. Time travel has never been so messy.
Fear Of Frogs: Brimstone 3
Word Count:

82500
Summary: A mysterious distress call draws the crew of courier ship Hermes to what appears to be an empty, drifting troop vessel--empty except for the blood and gore spattered corridors and a lone survivor locked in a holding cell. Drawn to the handsome, traumatized man, the crew's comm officer, Isaac Ozawa, makes Turk his personal responsibility, offering him the kindness and warmth he needs after the horror he experienced. Isaac knows firsthand what it's like to be different and an outcast, and this cements their bond. Once a promising pilot, Isaac was left with a damaged body when his brain didn't meld with the high-tech implant needed to fly fighter ships. Turk's brain is no better. The result of a military experiment gone wrong, his natural abilities have been augmented to a dangerous degree. When an amoral, power-hungry admiral kidnaps Isaac and uses him to convince Turk to become the cataclysmic weapon he's hungered for, it will take Turk's strength, the ingenuity of the Hermes crew, the help of the enigmatic Drak'tar, and Isaac's own stubborn will to save them.
Gravitational Attraction
Word Count:

23000
Summary: Shax, the Demon Prince of Thieves, has reconciled himself to exile. He has a grand time careening around the galaxy as a high-end, intergalactic purloiner of pretties. Everything's going just fine, thank you very much. All right, fine, the anti-gravity cows are a bit problematic and some of his buyers are bad for his health, but he manages until he comes across an injured angel in a psychedelic alien jungle. He only rescues the wing boy for his golden feathers, but what Shax doesn't know about angels could fill an intergalactic encyclopedia. Ness, since his full, angelic name is too much to deal with, is shockingly naïve and seems convinced that Shax and Verin have brought him aboard to torture him or perhaps eat him. Little by little, Shax begins to earn his trust in the quest to wheedle a golden feather or two from him until to Shax's dismay, the yearning after pretties becomes a different sort of yearning entirely.
Hell For The Company: Brimstone 2
Word Count:

25745
Summary: When a steel trap of celestial and infernal politics threatens to close around them, Shax and Verin flee Earth's system in a stolen ship, leaving everything behind. It's an elegantly simple plan, with a new ship and a new life as carefree brigands among the stars. But the ship seems to hate them, and in order to have any sort of life they need funds. A frightened man offering them a contract to deliver three mysterious crates comes just in time, and Shax is sure their troubles are over. Out of his environment and in over his head, Shax scrambles to understand the players and the consequences of his new life. With cargo that's not what it seems, shadowy motives around every turn, and a gorgeous rogue named Julian for a dash of added confusion, Shax's grand schemes of a new start may be his demise before he can even begin.
Potato Surprise: Brimstone 1
Word Count:

10360
Summary: While the cell is sparse and cold, at least this one has a bed. The figure resting there is too thin; too still, the prominent bones the result of long starvation, the stillness the product of too much anguish and abuse. He watches, though. An anxious, intelligent mind still occupies this frail and failing body, one that watches and wonders about the new guard occupying his cell each night.
Prisoner 374215
Word Count:

14000
Summary: As a security officer on an interspecies ship, Growlan Raskli's experienced in heading off species-specific aberrant behaviors in order to keep the peace. But when her captain asks her to find out what's bothering their sole human crew member, Raskli's out of her depths. She hardly knows anything about humans and she's not a psych doctor. Something's definitely upset Human Jen, something to do with human holidays. The more time Raskli spends studying humans and interacting with the intriguing Human Jen, the more personal the assignment becomes. Determined to lift the dark cloud from Human Jen, Raskli will do whatever it takes—within safe parameters, of course.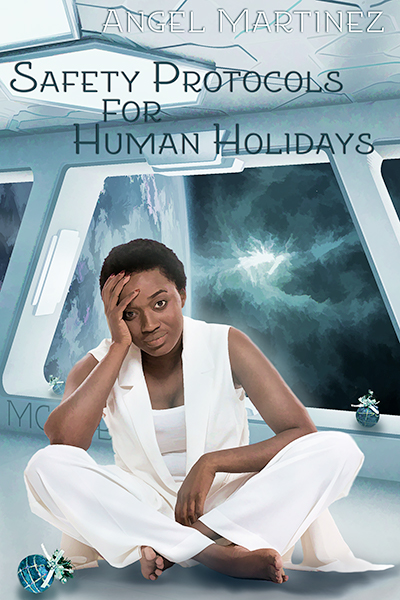 Safety Protocols For Human Holidays
Word Count:

39865
Summary: The boys desperately need a vacation. With the not-quite-ill-gotten gains from the Frog incident, Shax takes the Brimstone's crew to the exclusive resort planet, Opal, for some much needed rest and relaxation. The resort has everything a demon prince and his crew could want, but an incident on the Trauma Ball court has Ness stalking off in anger and sends events swiftly spiraling out of control. ​Loving a demon isn't easy, as Ness has discovered, and harder still for a newly fallen who's still sorting out what that means. A new friend lending a sympathetic ear helps until Ness learns too late that friendship was the last thing on BJ's mind. Shax will need every bit of his cunning and his legendary luck to save his Ness as he's drawn into a web of criminal experiments and…pink hedgehogs?
Shax's War: Brimstone 4
Word Count:

45000
Summary: Returning to the frozen planet Aren died on was bound to have complications... Major Aren Dalsgaard's newest assignment is to investigate a series of murders on the frigid planet, Drass, where relations between the Treaty settlers and the indigenous inhabitants have taken a nasty turn. A linguist and trained xenologist, Major Dalsgaard should be the ideal Special Investigations Officer for this case, but Drass is where he died, over a hundred and twenty years ago. Sent by his family to the chigyel city, Nyachung finds himself confronted with a murder charge, racial prejudice, and a man who claims to be a hero from his grandmother's generation. The man could be crazy or he could be lying to manipulate Nyachung, but the sincerity in those spring-green eyes disturbs him more than anything else he's encountered in the foreigners' city. Evidence that makes no sense, mysterious boxes, and a suspicion that they can't trust anyone in the city drives the major and Nyachung together and out into the wilderness. No one's telling Major Dalsgaard everything, but every step leads him closer to a feeling of imminent catastrophe if he can't wrap this case up in time.
Sub Zero
Word Count:

45500
Summary: Brave paladin. Royal princess. Fierce dragon. Simple. Being all three at once? Way too complicated. Paladin Snillek's mother was human and ruled a planet. That's about the extent of her knowledge since they didn't see each other much. When her mom dies in a freak accident, her father tells Snillek she's inherited the title, and she has to learn how to pass as the mostly human Princess Siel for a planet she never thought about much. The dresses alone are horrifying and the courtiers aggravating. ​ In a moment of frustrated rage, Snillek's princess persona slips and frightened palace staff misinterpret what they see. Now Paladin Snillek has been called upon to rescue Princess Siel…from herself. Gruyere wants desperately to journey into the wilds of Tarribotia, but it's too dangerous to go alone and so far, everyone's laughed at her for suggesting it. When she spots a Dzedek paladin sulking in a tavern, she offers her services, hoping to pass herself off as a rogue guide. Two women with secrets and possibly opposing goals head out into the hinterlands of a planet neither one of them knows well. They might both make it back by Winterfest if nothing eats them first. This book contains one out-of-her-element paladin, the perils of academia, deadly cake, and unconventional dragons.
The Anti-Quest
Word Count:

44366
Summary: The Brimstone. Cargo ship, hive of thievery and profiteering. Captained by a demon prince and manned by a crew that puts any batch of misfits to shame. You've come along with a cargo of anti-gravity cows and one of jeweled-toned potatoes. You've shared the horrors of frogs and nightmares. Now share some, more or less, quieter moments with the Brimstone crew—small snippets plucked from various spots in each personal timeline, from Shax and Verin's childhood in Hell to after the events of Beside a Black Tarn. The Brimstone Journals, Collection One also includes an exclusive holiday short story, never published as part of the blog series. Shax would probably like to keep it that way, but too bad.
The Brimstone Journals: Collection One
Word Count:

59337
Summary: The Brimstone. Demon owned and—mostly—demon operated. Shax, an exiled prince of Hell, has gathered only the best misfits for his motley crew. You've been with us from the rescue of a runaway angel in a psychedelic nightmare jungle to the house that Poe built. Now share some in-between moments with the Brimstone crew – flash fiction snippets plucked from various spots in each personal timeline, from Shax and Verin's youth in Hell to after the events of Beside a Black Tarn. The Brimstone Journals, Collection Two also includes an exclusive short story, never published as part of the blog series. Leopold meets his formidable grandmama, much to his father's dismay.
The Brimstone Journals: Collection Two
Word Count:

43000
Summary: Shax can't walk away from an abandoned, hungry kitty. The fact that she can eat him in three bites is irrelevant. Someone abandons a pedigree hellcat right where Shax can conveniently claim her and sets off a cataclysmic domino line of events. It's time for the other shoe to drop since the Brimstone has a shadow cabal after them—partly due to Shax's own, er, interesting decisions and partly due to the presence of Agent Julian Parallax onboard. As ship security officer, Ness has a lot on his mind—a dangerous new pet, even more dangerous criminals tracking the Brimstone, and yet another unexpected rescued guest. The last thing he needs is a distraction and Julian, who confuses and confounds him more every moment, is exactly the distraction he doesn't need. Between Shax's reckless gambits and Julian's disregard for his own safety, how is Ness supposed to keep anyone safe? The Brimstone and her intrepid crew do all they can to stay one step ahead, but this time the hunters are closing in.
The Hunt for Red Fluffy: Brimstone 6