Word Count: Information not available
Summary: When the shares Nicolas's family rely on become worthless, he seeks help from their estranged Uncle Secundus Broadberry—a selfish man with no familial loyalty. Forced to live in a veritable hovel, Nicolas and his sister must find work to support themselves and their mother. Through his uncle, Nicolas meets Rufus Melbeck and accepts a post aboard his spaceship Strawberry Fields. Although the ship gives Nicolas a bad feeling, he quickly makes friends with Nathan Smith, a gentle, young man who seems very much out of place. Nothing and no one aboard the vessel are what they seem. Nicolas soon finds himself plunged into a dangerous adventure the likes of which he could never have imagined. Can Nicolas and Nathan survive the dangers of Strawberry Fields and solve the mystery that surrounds Nathan, or will Nathan's past reach out to destroy them both?
Strawberry Fields
Word Count:

67000
Summary: Pinkerton man Bram McCabe likes to work alone. But when a madman titling himself the Avian Emperor threatens the world's skies, he's forced to work with an English team already on the case. Things go from bad to worse for Bram when he takes more than a professional interest in Vyvian—a man with a secretive past. Each man dances around the other, hiding their true feelings, knowing they live in very different worlds. The Avian Emperor is as cunning and lethal as he is intelligent and when he kidnaps Vyvian, Bram holds the key to finding him. Bram will do anything it takes to rescue Vyvian. But is he willing to unlock his own inner secrets?
The Avian Emperor
Word Count:

100000
Summary: He'd rather fight enemy wolves and rogue humans than face his own heart. When Aaron took down a violent, power-crazed wolf and inherited half a pack, he knew being Alpha wasn't going to be easy. A week later, he's finding out what an understatement that was. Other werewolves are calling for the extermination of his pack's gay wolf, or for Aaron's own death, and the risk of exposure to humans is growing. Aaron can't afford to let his long-suppressed sexuality escape his rigid control. When one of his younger wolves is in trouble, it's simply Aaron's job as Alpha to help and protect him. But keeping a cool distance from a young man who appeals to all his senses could be Aaron's toughest challenge. (This is a rerelease of the 2012 original with light editing. Content warning for substance abuse, some violence.)
Unexpected Demands
Word Count:

135000
Summary: His pack would've killed him for his kinks and desires, but his human lover might destroy his wolf. Brandt Davis loved being part of his Michigan werewolf pack, until they found his stash of gay porn. He escaped their anger, running in wolf-form into the wilderness, but he can't live that way forever. And he can't hide in fur like a coward when an injured man needs his help. Ethan Sjulstad knows life is making him crazy when a solo hike into the Minnesota Boundary Waters seems reasonable. Then a bad fall leaves him seriously hurt and facing death. Delirious, he hallucinates being rescued by a big gray wolf and a naked woodland godling. For a man who has always loved fantasy, it's worth surviving just to find out what the hell is going on. (This is a lightly edited rerelease of the 2014 original.)
Unjustified Claims
Word Count:

37000
Summary: He'll get by with a little help from his mate. When Paul's long-buried past reaches out for him, having Simon at his back should make all the difference. The shy, studious teen who ditched his hometown is now a grown man with a good life, an honorable profession, and a werewolf boyfriend. So why is still so hard to go home? A new 37,000 word novella in the same time frame as book 6 in the Hidden Wolves series brings challenges, pain, love, and their HEA for our favorite guys. Content warning for assisted suicide.
Unplanned Coda
Word Count:

120000
Summary: Nothing wrecks a guy's day like finding out he's a werewolf. From the moment artist Dylan Shore arrives in Chicago, his life gets twisted like a kaleidoscope. Why does a street gang he's never met before want him dead? Why is a hot but odd mathematician stalking him? And how can half the things Alex Corwin says possibly be true, no matter how honest he seems? Alex has a frightening dilemma. Dylan is attractive, appealing, out and proud. He's also completely unaware that he's a werewolf. It shouldn't be Alex's job to tell him, and warn him that gay wolves usually end up dead. But someone has to, before he finds out in blood and violence. Chicago's not Alex's hometown, but somehow he needs to protect Dylan from the local packs, protect the wolves from being outed by Dylan, and keep his cool around the first man to touch his own deeply-closeted heart. (This is a lightly edited rerelease of the 2016 original.)
Unsafe Exposure
Word Count:

72000
Summary: Twenty years before Simon found Paul, a decade before Aaron joined the Minneapolis West pack, there were other gay wolves living hidden lives. Sawyer Holt thought he was dead at the age of sixteen when his brother Leon caught him kissing a human man. Dragged up in front of his Alpha, he could only hope for a painless end, especially when Rick Brown stared at him with an icy gaze and said to Leon, "I'll take care of it." Except what Rick gave Sawyer wasn't death, but a new concealed life. In Minot, North Dakota, Sawyer has spent fourteen years isolated among humans, carving out a future for himself. Until a messenger arrives from Rick, saying that Leon has discovered the ruse, and it's time to run again. Sawyer's furious about losing his hard-won life, but intrigued by the young man carrying the message. James Ferguson doesn't appreciate being sent from his home and pack in Virginia to run errands for the Chicago Alpha, but as Twelfth out of twelve adult wolves, he's in no position to complain. He figures he'll deliver the message and package, and hurry home for Thanksgiving. But a snowstorm, and the huge, muscular, confusing werewolf who rescues him, upend his plans. Soon, James's whole world changes, and the only future he may have depends on whether he and Sawyer can survive being hunted, together. Unseen Past is a prequel novel set in the world of the Hidden Wolves, twenty years before Book 1.
Unseen Past
Word Count:

34000
Summary: Do strangers want to join Aaron's pack, or wipe it from the face of the earth? Aaron, Alpha of Minneapolis West, is tired of other werewolves threatening his pack for harboring a gay wolf and his mate. Werewolves have more important things to worry about, with humans closing in on discovering them. But the arrival of two strange wolves on his doorstep, asking for sanctuary, pits compassion against safety. Can he let these two in and still keep his pack and his mate Zach safe? Or is that a risk he can't afford to take? (34,000 words; This is a lightly edited re-release of the 2013 novella 2.5, renumbered to 3)
Unwanted Appeal
Word Count:

48000
Summary: Bound by a dark act of hate and despair, high school freshmen, Andrew and Kiernan, learn that their untimely deaths did not bring an end to their pain, but only began the suffering of those left behind. While his lost memories return, Andrew must master seemingly impossible feats, both spiritual and physical. As a dark spirit stalks Kiernan through the borderlands of life and death, he must also face the pain his actions have caused his loved ones. To save both their souls, Andrew must convince Kiernan to return to life and open his eyes to the love and beauty which had always been there.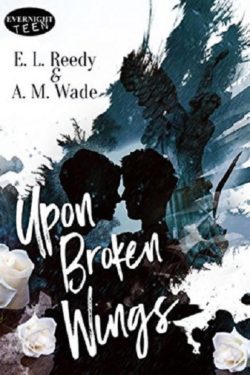 Upon Broken Wings