Word Count: Information not available
Summary: No (battle) plan survives contact with the enemy. Winning a war has never been just a cold collection of numbers on a tally sheet. The Faiths always play their part in fifteen stories exploring when things go wrong. With stories by James Chambers, Nancy Jane Moore, Maria V. Snyder, Jack Campbell (John G. Hemry), Bud Sparhawk, Peter Prellwitz, John L. French, Jeff Young, Keith R.A. DeCandido, David Sherman, Jeffrey Lyman, Judi Fleming, Danielle Ackley-McPhail, Eric V. Hardenbrook, and CJ Henderson.
Best Laid Plans
Word Count: Information not available
Summary: Give the Enemy Hell! At the ass-end of the galaxy, Allied Forces-including the 142nd Mobile Special Ops Team, better known as Daire's Devils-stand ready to defend the contested colony planet Demeter from military invasion and corporate exploitation. But when the Allied Forces are infiltrated by those determined to secure the top-secret designs of AeroCom's new prototype flagship, the Cromwell, the newest member of the Devils, Corporal Katrion Alexander, finds herself facing off against an unexpected menace, synthetic operatives indistinguishable from living beings. She and the Devils must neutralize this new threat, but how when the enemy wears a trusted face?
Daire's Devils
Word Count: Information not available
Summary: Animals have fought for us for centuries, not because of the ideals of service to King and Country, but out of unwavering loyalty and devotion to their human Masters. The future, it would seem, is no better than the past, as some animals become expendable weapons or augmented semi-machines, while others receive the honor and dignity of being treated as fellow soldiers. In tribute, we bring you seventeen stories of our animal comrades-in-arms.
Dogs of War
Word Count:

70000
Summary: What secrets lie beneath the streets of Paris? When a malfunctioning automaton runs full force into their locomotive on the new Paris-Orléans railway, Jacqueline Duval and her bohemian twin sister Angélique Laforge become embroiled in a mystery deeply rooted in their tragic past. A polytech and famed engineering prodigy, Jacqueline is fascinated by the metal man, even more so when she discovers that it is powered not by steam, but by the supernatural. Her investigation puts the sisters on a path both dangerous and mysterious as they must foil a plot to employ the dead to power a mechanical army aimed at international conquest. Aid comes from unexpected sources as the twins rush to avert this engineered war, but will they be in time?
Esprit de Corpse
Word Count: Information not available
Summary: Mortal. Immortal. Musician. Mage. On a journey from the boroughs of New York to the heart of Tir na nÓg, from innocence to the deepest darkest crevices of her soul, Kara O'Keefe found power and strength in the discovery of self. But with that peace came a hard truth. As a bridge connecting many worlds, none of them held a place for her. She must find her own way, forge her own path. To honor a vow to Granddame Rose, a matriarch of the Kalderaš Clan, Kara joins the Romani caravan, only to find herself even more of an outsider than before. While she strives for acceptance, and to honor her vow, little does she know she has once more become a lure to an ancient and deadly enemy, drawing danger into the midst of her unsuspecting hosts. Once savior of the world, Kara must now save herself and the innocents around her. She has come into her legacy, but where will destiny take her? **** Based on the Eternal Cycle Series of Novels: Yesterday's Dreams Tomorrow's Memories Today's Promise **** Includes six bonus short stories.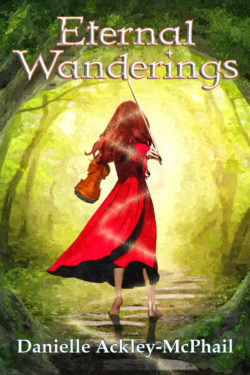 Eternal Wanderings
Word Count: Information not available
Summary: Twenty stories of fantasy, science fiction, pirates, horror, spies, and kindergarten noir. From the space-based lothario to the diminutive thief each looking for their next score, and from the jilted romantic traveling through time to the kingdom refugee whose day never ends, there's something for everyone In A Flash!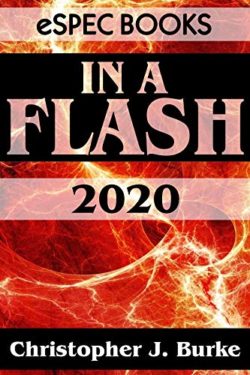 In A Flash 2020
Word Count: Information not available
Summary: When fire and steel meet flesh and bone, a soldier learns a hard truth: you're not fighting for Glory and Honor, but for survival, for you and your comrades, and you will be damned if you're going to leave any of them behind. Join us for twelve tales of military heroism and courage in the face of a hostile enemy. With stories by Brenda Cooper, Bud Sparhawk, David Sherman, Robert E. Waters, Jeff Young, James Chambers, Lisanne Norman, Robert Greenberger, Aaron Rosenberg, Christopher M. Hiles, Eric V. Hardenbrook, and Danielle Ackley-McPhail
In Harm's Way
Word Count: Information not available
Summary: The plan had been to un-man the battlespace, replacing flesh and blood with steel and carbon fiber. Machines, both remote-controlled and autonomous A.I.s, would fight and be destroyed in the name of freedom; sparing the troops at the cost of the nation's treasure. However, as with any arms race, the opposing side's technology eventually catches ups to yours, resulting in the need to put lives back in harm's way on the frontline; to deal with, and adapt to the unknown, as only humans can. With stories by Brenda Cooper, Bud Sparhawk, Jennifer Brozek, Ronald T. Garner, Aaron Rosenberg, James Chambers, Nancy Jane Moore, Patrick Thomas, Jeff Young, Eric V. Hardenbrook, Robert E. Waters, Anton Kukal, and Danielle Ackley-McPhail, and an afterword by the late CJ Henderson.
Man and Machine
Word Count: Information not available
Summary: The embers of War still glow as memories of strange skies over an alien landscape, light-years from home, bring back the sensations of battle; a time when personal sacrifice meant the difference between salvation for all, or total destruction. Gathered here is a cross-section of stories from the first decade of the award-winning Defending The Future series. Written by the known and up-and-coming in the military science fiction genre, these stories represent the fan-requested highlights from the series.
The Best of Defending the Future
Word Count: Information not available
Summary: ---From the Archives--- Stories by Mike McPhail and Danielle Ackley-McPhail based on the 1986-96 military science fiction role-playing game The Alliance Archives. By the late 21st century, humanity has final reached for the stars and established an off-world colony in the system of Tau Ceti, only to discover that man's greatest enemy is still man. On the colony world of Demeter, ADF power-armored troopers and their Parr scouts fight a desperate, covert war against invading corporate mercenaries. Even in the vastness of space, there is no room for lasting peace.
The Die Is Cast
Word Count: Information not available
Summary: Eighteen stories that span from the near future to the far, from next door to the deeps of space. Meet aliens who struggle to determine if we are a threat or equals. Discover what really makes us happy. Join the war effort to free the outer planets. Find out how far a man is willing to change to gain a true talent. Uncover the gift and the danger of memories. Includes the Writer's of the Future award-winning story "Written in Light."
Written in Light and Other Futuristic Tales