Word Count:

84000
Summary: Edmund is heir to the throne of Thalassa and a wielder of Water magic. Devoted to his kingdom and his duty to it, Edmund can do nothing but acquiesce to an arranged marriage with the queen of a neighboring kingdom. The marriage and the child it is required to produce will seal an alliance between Thalassa and Aither that is vital to Thalassa's safety, and far more important than Edmund's personal misgivings. Arden is the younger brother of Aither's queen and a wielder of Air magic. Raised in the politics of the court to support his sister's rule, he understands the alliance is important to Aither, even as he worries about his sister marrying someone she's never met. When Edmund arrives in Aither to prepare for the wedding, Arden is tasked with helping him settle in at court. As they spend more time together, Edmund and Arden develop a close friendship, then stronger feelings, but with Edmund's wedding approaching, they must hide their feelings, even from themselves. When someone tries to assassinate the queen, Edmund is blamed, and Arden rescues him before he can be executed for a crime he didn't commit. To prevent a war between their kingdoms and protect them from a dangerous enemy, Edmund and Arden will have to discover who wants to pit Aither and Thalassa against each other and mend relations between the two kingdoms as they evade those searching for them—all while finding a way to be together.
A Dance of Water and Air
Word Count:

12600
Summary: Carmen is eleven years old and wants to get her dragon. Since she was seven years old, she understood two things. One, she was going to be the strongest Dragon Keeper there ever was. The second was that she was going to marry her best friend, Mattie. As Christmas approaches the magical charms Carmen has to use to fight off her curse are taking a toll on her health. But that can't stop her from taking her final test to become a Dragon Keeper. If she passes her test she gets her dragon, if not, she has to start all over, relying on different magical charms to fight the curse for her. That is something Carmen doesn't want to have to go through. The testing is difficult and charms make her sick. Carmen has decided that if she doesn't get her dragon this Christmas she's not going to go for a third attempt, even if that means she can't marry Mattie when she grows up.
A Dragon for Christmas
Word Count:

86611
Summary: Prince Edmund of Thalassa and Prince Arden of Aither are eagerly anticipating their upcoming wedding, but the danger to their kingdom hasn't lessened. They have a plan, but they won't be able to carry it out alone: they need a strong wielder of each Element, whom they can trust implicitly, to carry out the magic. Rhys is a commoner and wielder of Earth magic. He and his sister have made a living from the use of their magic for years and have become highly respected in scholarly circles, though he prefers a more simple life with his plants. When a message from Prince Arden reaches them asking for their help, they don't hesitate. They stop only to request that Gaz, a strong Fire wielder and the man Rhys has long been enamored of, accompany them on the journey to Thalassa's royal palace. What no one knows is that Gaz was once known as Prince Gareth of Thalassa and is Edmund's younger brother, long believed dead. He fled his home after his Fire Affinity made itself known and put him in danger, and he had no intention of ever going back. But he can't keep himself from going to his brother's aid, despite the risk of discovery and of the weight of his secrets potentially crushing his fledgling relationship with Rhys. Working against time, they must find a way to come together in a magical working the likes of which none of them has ever imagined, or their homelands will surely burn.
A Harmony of Fire and Earth
Word Count:

56000
Summary: New Hopeland was built to be the centre of the technological age, but like everywhere else, it has its dark side. Assassins, drug dealers and crooked businessmen form a vital part of the city's make-up, and sometimes, the police are in too deep themselves to be effective. But hey, there are always other options … For P.I. Cassie Tam, business has been slow. So, when she's hired to investigate the death of a local VR addict named Eddie Redwood, she thinks it'll be easy money. All she has to do is prove to the deceased's sister Lori that the local P.D. were right to call it an accidental overdose. The more she digs though, the more things don't seem to sit right, and soon, Cassie finds herself knee deep in a murder investigation. But that's just the start of her problems. When the case forces Cassie to make contact with her drug dealing ex-girlfriend, Charlie Goldman, she's left with a whole lot of long buried personal issues to deal with. Then there's her client. Lori Redwood is a Tech Shifter, someone who uses a metal exoskeleton to roleplay as an animal. Cassie isn't one to judge, but the Tech Shifting community has always left her a bit nervous. That wouldn't be a problem if Lori wasn't fast becoming the first person that she's been genuinely attracted to since splitting with Charlie. Oh, and then there's the small matter of the police wanting her to back off the case. Easy money, huh? Yeah, right.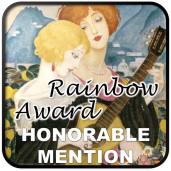 Honorable Mention: Rainbow Awards 2017 - Lesbian Sci-Fi Category
Addict
Word Count:

36000
Summary: Being invisible makes it really hard to get laid. When half-human Kai Schiffer steps into the Interstices—the post-creation gaps between realms—his supernatural half kicks in and he literally disappears unless…well, don't ask. But in a stroke (heh) of good fortune, Kai finally has a chance to show his face (and other parts, stars willing) to his long-time crush Jovan Kos—Interstitial Law Enforcement agent, wolf warrior, occasional berserker, and best man at their mutual best friends' Imbolc wedding. Jovan, who's half in love with Kai already, is grateful his best man duties are light enough that he can focus all his attention on Kai. After all, with Enchanted Occasions Event Planning handling the Olesson-Pakulski wedding, what could possibly go wrong?
Best Beast
Word Count:

55300
Summary: Luxor City, a once lawless metropolis on the brink of civil war, is now at peace, but even in lighter times there are always shadows. In the technicolor streets of the Southern Empire, Junsu Sun, the Alpha heir to one of Luxor City's great crime families, busies himself by dealing with a blacklisted group known as the Underground. After taking down one of the Underground's notorious leaders, Junsu assumes he'll be given time to rest and recuperate, but his mother, Alpha Xijuan Sun, has a new mission for him, involving a luxury cruise and a new mate, Omega Kaito Yamaguchi, of the powerful Yamaguchi family. Ever the dutiful son, Junsu obeys his orders as if it were any other mission, but this sort of engagement isn't exactly the type of thing he's used to and Kaito Yamaguchi certainly isn't the sort of Omega he's used to either. Kaito is impatient, impassable, and impossible. He's a spoiled Omega who is pissed off that his family have reorganized his life and thrust him into this arranged mating with some Luxor City Alpha he's never met before. Kaito hasn't even seen a picture of Junsu Sun, a fact that Junsu uses to his advantage. Faced with a week spent trapped on a luxury cruise with a rude, bratty Omega who doesn't even know who he is, Junsu decides to play a little trick on his future mate. But just how far will he let things go and where is the line between a little trick and a painful deception? Meanwhile, other secrets floating between empires and continents are about to spill out onto the deck.
Between Empires and Continents
Word Count:

126,000
Summary: A little blue world, the third planet from the sun. It's home to 7 billion people with all manner of faiths, beliefs and customs, divided by bigotry and misunderstanding, who have been told they are not alone in the universe. Anyone watching from the outside would pass by this fractured and tumultuous world, unless they had no other choice. It's been a little over a year since Todd Landon's life changed with the arrival of the Nentraee. Continuing his duties as Special Envoy for Terran Affairs, Todd finally feels at home with the aliens; gaining more responsibility and influence with both races. Plans are underway for two Interplanetary spaceports and additional solar exploration. It's an exciting time for both the humans and the Nentraee. Not everything is as perfect as some hope. Speaker General Mirtoff and Vice-Speaker Mi'ko of the Nentraee are worried that the Liberi Dei plot additional terrorist attacks and may have inside help. Threats are clear, but who can they trust? Could Todd be helping them unknowingly or worse covertly? Will these new space endeavors continue to bring the human and the Nentraee together or will a conspiracy hiding in the shadows fracture an already shaky alliance?
Conspiracy
Word Count:

71800
Summary: A little blue world, the third planet from the sun. It's home to 7 billion people with all manner of faiths, beliefs and customs, divided by bigotry and misunderstanding, who will soon be told they are not alone in the universe. Anyone watching from the outside would pass by this fractured and tumultuous world, unless they had no other choice. Todd Landon is one of these people, living and working in a section of the world called the United States of America. His life is similar to those around him: home, family, work, friends and a husband. On the cusp of the greatest announcement humankind has ever witnessed, Todd's personal world is thrown into turmoil when his estranged brother shows up on his front porch with news of ships heading for Earth's orbit. The ships are holding the Nentraee, a humanoid race who have come to Earth in need of help after fleeing the destruction of their homeworld. How will one man bridge the gap for both the Humans and Nentraee, amongst mistrust, terrorist attacks and personal loss? Will this be the start of a new age of man or will bigotry and miscommunication bring this small world to its knees and final end?
Contact
Word Count:

103900
Summary: A little blue world, the third planet from the sun. It's home to 7 billion people with all manner of faiths, beliefs and customs, divided by bigotry and misunderstanding, who will soon be told they are not alone in the universe. Anyone watching from the outside would pass by this fractured and tumultuous world, unless they had no other choice. Todd Landon is one of these people, living and working in a section of the world called the United States of America. His life is similar to those around him: home, family, work, friends and a husband. After the attack on San Jose, Todd is appointed to Special Envoy for Terran Affairs by the nentraee, a position many world leaders question. Undeterred Todd wants to build bridges between both people. However, this new position brings with it a new set of problems that not only he, but his new allies Mi'ko and Mirtoff must overcome. Will the humans and nentraee learn to work together despite mistrust and threats of more attacks by a new global terrorist group, or will the terrorists win? Will this bring an end to an already shaky alliance between nentraee and humans?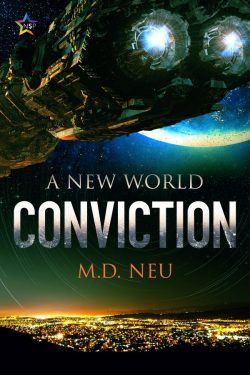 Conviction
Word Count:

110100
Summary: Nate's no supernatural expert, but even he knows a murdered man coming back to life to kill him can only mean one thing—the necromancer is back and out for revenge. Recruited by Department Seven in a desperate attempt to stop Peter before he claims new victims, Nate quickly realizes he's in way over his head. His powers are failing him, he's haunted by Peter's ghost, and he can't even remember how he stopped Peter the first time—or why he feels that someone very important is missing from his life. Ben is fighting for his afterlife. Trapped in the supernatural version of solitary confinement, he knows freeing himself will destroy New Camden's fragile peace—but what choice does he have? The longer he spends in his magical prison, the harder it becomes to resist his inner vampire. But if Ben wants to help Nate prevent Peter taking over the city, he has to prove himself to his sire—Saltaire, a thousand-year-old vampire with no qualms about using his immense power to suppress Ben's free will. As the casualties mount and the city descends into chaos, Ben and Nate must overcome their worst fears and impossible odds—or be written out of existence entirely.
Dead Wrong
Word Count:

55000
Summary: Can a chance meeting rekindle their incendiary attraction? While cutting through the Interstices—the post-creation gap between realms—Smith, half-demon tech specialist for Enchanted Occasions Event Planning, spies the person he yearns for daily but dreads ever seeing again: the ifrit, Hashim of the Windrider clan. On their one literally smoldering night together, Smith, stupidly besotted, revealed his true name—a demon's greatest vulnerability. When Hashim didn't return the favor, then split the next morning with no word? Message received, loud and clear: Thanks but no thanks. Although Hashim had burned to return Smith's trust, it was impossible. The wizard who conjured him holds his true name in secret, and unless Hashim discovers it, he'll never be free. When their attraction sparks once more, the two unite to search for Hashim's hidden name—which would be a hell of a lot easier if they didn't have to contend with a convention full of food-crazed vampires on the one day out of the century they can consume something other than blood. But if they fail, Hashim will be doomed to eternal slavery, and their reignited love will collapse in the ashes. Luckily Smith is the guy who gets the job done—and Hashim is never afraid to heat things up. Devouring Flame is a 54,000-word enemies-to-lovers, second-chance paranormal rom-com featuring a down-at-heels carnival with sinister undertones, a minotaur with an affinity for flowers, a prima donna goblin berserker chef with serious knife skills, and a guaranteed HEA.
Devouring Flame
Word Count:

103456
Summary: In the wake of birth and betrayal, Ushna takes the God Ashur to Tristan in a last desperate bid to save Tristan's life—and is helpless to do anything but watch as Ashur instead buries him in a grave. Though he has no desire to go on living, having now lost Brian and Tristan, Ushna has no choice. Not only do their children need him, the mysterious Simurgh has come out of hiding and forces him to continue on—for there is much to do and little time to do it, especially with treachery and danger closing in on them from every side. Note: Dragon's Eye is the 5th book in the Sumeria's Sons series and features a poly (M/M/M) relationship. This book was previously released by another publisher and has been re-edited.
Dragon's Eye
Word Count:

62836
Summary: For Tristan and Ushna, nothing comes easy. With each passing day the challenges grow and the dangers multiply. The safe home they are building for their family and tribe is threatened from all sides, and the peace they seek is being torn apart by enemies and internal strife. Tristan dares not reveal his condition to any but those closest to him, all the while he's plagued by dreams he cannot remember upon waking... Over it all hangs the knowledge that his time with Ushna is running out. Ushna already has a Flame awaiting rebirth, and though Tristan would die to protect that bond, he constantly struggles against his beast who demands they bind Ushna to their side. Dreams of the Forgotten is the 3rd book in the Sumeria's Sons series and features a poly (M/M/M) relationship and includes male pregnancy (mpreg).
Dreams of the Forgotten
Word Count:

76600
Summary: The Fredamine Project was just the beginning. Shadow dealings and conspiracies regarding variants intertwine until Damien and his cohorts can no longer tell who the bad guys are. Several months have passed since Blaze and the infamous Variant activist Shudder McKenzie helped Damien rescue the captives of the sinister Fredamine Project. Professionally, everything's great. He's back to working with Damien again and they have a new lead on the three kids who are still missing. Personally, not so much. Blaze has made his peace with Shudder, though nothing between them has even been easy, but his relationship with Damien has taken several steps back. Blaze no longer has any idea where he stands. Adding to the tense atmosphere are the anti-Variant members of legislature who have been slowly gaining popular approval, and the cryptic messages Damien receives from an unknown source. Shudder's back to his old haunts and his old tricks, trying to raise public awareness of imperiled Variant rights—such as the draconic Horace Act that strips due process during Variant trials—and to rescue Variant kids in trouble. His almost mythical luck runs out though when he's arrested for murder only three days after the passage of the Horace Act and a whirlwind trial and sentencing lands him in the most notorious maximum security facility for Variants—San Judas Tadeo. ​ With too many conspirators on both sides of the aisle, Damien, Blaze and Shudder no longer know whom to trust. Peeling through the layers of deceit and half-truths puts them on shakier ground with every discovery and in greater danger than ever before. Variant Configurations takes place in a future Earth where humanity is reclaiming its spot in a gradually healing world. This book contains mentions of past abuse, action-adventure style mayhem, and the sparks of a slow burn, series-spanning relationship.
From The Noblest Motives
Word Count:

48,300
Summary: The final book in The Cassie Tam Files is here! With Angel Tanner, the android that runs California's criminal underworld, pulling the strings, PI Cassie Tam finds herself thrust into a conflict with New Hopeland's biggest and baddest. But working with the murderous AI may be the only way that Cassie can get to the bottom of her home's greatest mystery: What is New Hopeland City? As she struggles to balance her dealings with allies and enemies alike, Cassie is left with a difficult choice. She has always straddled the line between light and dark. Now, the time to decide which side she's on is drawing close…if she can figure out which is which.
Half-Light
Word Count:

52900
Summary: Havesskadi has won the Rainbow Award for Best Asexual Debut Book (2018-2019), and second place in the Best Asexual Book (Asexual – Contemporary, Fantasy and Paranormal Romance & Romantic Comedy | 2018-2019) category. The red dragon is hunting her own. Up in the icy peaks of the northern mountains, Orsie Havesskadi spends his days hiding from her, but eventually he is found and his dragon magic stolen. Cursed to wander the lands as a mortal unless he recovers his magic before twenty-four rising crescents have passed, Orsie embarks on an arduous journey. Spurred by the whispers in his mind, his quest takes him to a castle hidden deep in a forest. Arkeva Flitz, a skilled garrison archer, discovers an abandoned castle in the woods. Trapped there, he spends his days with his two companions, one cruel, the other soothing. One day, a young man arrives at his gates, and soon they are confined by heavy snowfalls and in danger from what slumbers in the shadows of the castle.
Havesskadi
Word Count:

119,0000
Summary: Ben is a recovering vampire determined to pick up the pieces of the life that came to a halt when he was murdered over a year ago—even if that means distancing himself from his few remaining friends. Nate, struggling to navigate his new identity as a Class 3 Unknown paranormal, knows it will take more than mastery of his affinity with plants to convince Ben they belong together. When Ben's application for human status is denied, he must fight to leave the paranormal world behind him while Nate's generous impulses drag him into conflict with a werewolf pack with designs on ruling New Camden. As Ben's vampire family draws closer to finding him, his vampire instinct awakens—throwing his continued existence into jeopardy. The hunt for the missing werewolf continues, and Nate and Ben become pawns in Councilor Wisner's plans to take control of the city. Their only hope is each other—if they can see that before all is lost.
Life After Humanity
Word Count:

66400
Summary: New Hopeland City may be the birthplace of Tech Shifter gear, but it isn't the only place that likes to blend technology with folklore. Now, a new nightmare is stalking the streets… When PI Cassie Tam is attacked on the way home one night, she expects the police to get involved. What she doesn't expect is to be forced into acting as bait to lure out a lunatic in a tech-suit that's literally out for blood. But past actions have consequences, and doing so may be the only way she can get a clean slate from the city's law makers. If only that didn't mean having to face down a wannabe vampire.
LV48
Word Count:

58198
Summary: Puberty is hard. Highschool's harder. Growing up in a house full of vampires? Priceless. Jake Reinbach is the son of vampires. He is also a high-school senior, hoping to live as normal a life as possible within the human world, but his bright purple eyes and vampire parents make him an outcast. When falsely accused of threatening a classmate, Jake is forced to withdraw from school, and back into the clan in which he was raised. He is devastated, but a young human comes to his door one evening with a startling confession. Will Hayden is secretly attracted to Jake, and is bereft when the young vampire leaves public school. Fascinated with immortals, Will unfortunately lives in a household where hatred of vampires is part of the daily diet. He realizes his father is entangled in a conspiracy against the vampires, and he goes to Jake's family and tells them of his suspicions. When he then confesses his feelings toward Jake, he sets in motion a series of events that will change his life—and Jake's—forever.
Not Human Enough
Word Count:

54000
Summary: With his heart's desire at stake, can he resist giving Fate a little nudge? Half-norn event planner Anders Skuldsson is under strict orders from Asgard not to meddle with Fate. But with Enchanted Occasions' latest booking—the competition for the hand of Faerie's one true prince—crashing around his ears, it's really, really, really difficult to toe that particular line. So… if Andy just happens to pose as a contender for the prince? It's an emergency, damn it. Besides, it's only temporary, so Odin can hardly blame him. Right? If Conall of Odstone hadn't sworn a blood oath to protect his half-brother, Prince Reyner, he'd murder the idiot himself. Rey was supposed to be here, choosing a mate before being crowned and wed. Instead, he's disappeared, leaving Con to impersonate him. Again. But when Con meets Andy, his anger turns to desire… and despair. Even if Andy forgives him for pretending to be someone he's not, how could a man as appealing and accomplished as Andy—a man who's eligible for a prince's hand, for pity's sake—settle for the court outcast? As for Andy, his burgeoning feelings for the prince are both unfortunate and hopeless because hello? Half-norn? Faerie prince? Not exactly a match made in Valhalla. When the Faerie Queen herself hands down an ultimatum, the double deception isn't their only obstacle. Unless Andy makes the right decision, both their fates could be sealed by… well… Fate. Nudging Fate is a 54,000-word paranormal rom-com featuring mistaken identity, royalty in disguise, interfering coworkers, an iron knight with a soft heart, a temperamental goblin chef, and a guaranteed HEA.
Nudging Fate