Word Count:
21000
Summary: Aurora Rose slumbers in the city of Oldpass, a cursed kingdom once allied with Grimvein. The victim of a malicious spell, she is powerless to control her own fate. At least, that's how the story goes. Now, as Grimvein faces attack, Prince Amir has been tasked with the life-threatening rescue of Aurora, his parents hopeful he will marry the princess and secure safety for their kingdom. Talia, the strongest spell-caster in the known lands, protects and guides the prince in his quest to save a woman that threatens to change their lives forever. In finding Aurora, the pair will realise the truth about themselves and each other, coming to understand just what – and who – they really want in life.
Finding Aurora
December 24, 2018
Word Count:
48,300
Summary: The final book in The Cassie Tam Files is here! With Angel Tanner, the android that runs California's criminal underworld, pulling the strings, PI Cassie Tam finds herself thrust into a conflict with New Hopeland's biggest and baddest. But working with the murderous AI may be the only way that Cassie can get to the bottom of her home's greatest mystery: What is New Hopeland City? As she struggles to balance her dealings with allies and enemies alike, Cassie is left with a difficult choice. She has always straddled the line between light and dark. Now, the time to decide which side she's on is drawing close…if she can figure out which is which.
Half-Light
February 20, 2020
Word Count:
52900
Summary: Havesskadi has won the Rainbow Award for Best Asexual Debut Book (2018-2019), and second place in the Best Asexual Book (Asexual – Contemporary, Fantasy and Paranormal Romance & Romantic Comedy | 2018-2019) category. The red dragon is hunting her own. Up in the icy peaks of the northern mountains, Orsie Havesskadi spends his days hiding from her, but eventually he is found and his dragon magic stolen. Cursed to wander the lands as a mortal unless he recovers his magic before twenty-four rising crescents have passed, Orsie embarks on an arduous journey. Spurred by the whispers in his mind, his quest takes him to a castle hidden deep in a forest. Arkeva Flitz, a skilled garrison archer, discovers an abandoned castle in the woods. Trapped there, he spends his days with his two companions, one cruel, the other soothing. One day, a young man arrives at his gates, and soon they are confined by heavy snowfalls and in danger from what slumbers in the shadows of the castle.
Havesskadi
Word Count:
50800
Summary: Dr. Grady Hunter has a vampire infestation on his hands in the town of Shady Pines but he's been deserted by those best suited to help. After enlisting Chris Reed, a techno-mage, they find the vampires might only be the tip of a deadly iceburg. Returning home from his dream travels, Ethan Roam is eager to experiment with his newly discovered powers. But Ethan isn't the only familiar arrival in Grady's life. As more reminders of his dark past crop up daily, Grady and Ethan are swept up in a mystery of cosmic proportions. Grady must fight to keep an ever-evolving Ethan on his side while being challenged by the ghosts of his past.
HUNTER
April 8, 2019
Word Count:
119,0000
Summary: Ben is a recovering vampire determined to pick up the pieces of the life that came to a halt when he was murdered over a year ago—even if that means distancing himself from his few remaining friends. Nate, struggling to navigate his new identity as a Class 3 Unknown paranormal, knows it will take more than mastery of his affinity with plants to convince Ben they belong together. When Ben's application for human status is denied, he must fight to leave the paranormal world behind him while Nate's generous impulses drag him into conflict with a werewolf pack with designs on ruling New Camden. As Ben's vampire family draws closer to finding him, his vampire instinct awakens—throwing his continued existence into jeopardy. The hunt for the missing werewolf continues, and Nate and Ben become pawns in Councilor Wisner's plans to take control of the city. Their only hope is each other—if they can see that before all is lost.
Life After Humanity
January 15, 2018
Word Count:
66400
Summary: New Hopeland City may be the birthplace of Tech Shifter gear, but it isn't the only place that likes to blend technology with folklore. Now, a new nightmare is stalking the streets… When PI Cassie Tam is attacked on the way home one night, she expects the police to get involved. What she doesn't expect is to be forced into acting as bait to lure out a lunatic in a tech-suit that's literally out for blood. But past actions have consequences, and doing so may be the only way she can get a clean slate from the city's law makers. If only that didn't mean having to face down a wannabe vampire.
LV48
December 10, 2018
Word Count:
58198
Summary: Puberty is hard. Highschool's harder. Growing up in a house full of vampires? Priceless. Jake Reinbach is the son of vampires. He is also a high-school senior, hoping to live as normal a life as possible within the human world, but his bright purple eyes and vampire parents make him an outcast. When falsely accused of threatening a classmate, Jake is forced to withdraw from school, and back into the clan in which he was raised. He is devastated, but a young human comes to his door one evening with a startling confession. Will Hayden is secretly attracted to Jake, and is bereft when the young vampire leaves public school. Fascinated with immortals, Will unfortunately lives in a household where hatred of vampires is part of the daily diet. He realizes his father is entangled in a conspiracy against the vampires, and he goes to Jake's family and tells them of his suspicions. When he then confesses his feelings toward Jake, he sets in motion a series of events that will change his life—and Jake's—forever.
Not Human Enough
April 1, 2016
Word Count:
54000
Summary: With his heart's desire at stake, can he resist giving Fate a little nudge? Half-norn event planner Anders Skuldsson is under strict orders from Asgard not to meddle with Fate. But with Enchanted Occasions' latest booking—the competition for the hand of Faerie's one true prince—crashing around his ears, it's really, really, really difficult to toe that particular line. So… if Andy just happens to pose as a contender for the prince? It's an emergency, damn it. Besides, it's only temporary, so Odin can hardly blame him. Right? If Conall of Odstone hadn't sworn a blood oath to protect his half-brother, Prince Reyner, he'd murder the idiot himself. Rey was supposed to be here, choosing a mate before being crowned and wed. Instead, he's disappeared, leaving Con to impersonate him. Again. But when Con meets Andy, his anger turns to desire… and despair. Even if Andy forgives him for pretending to be someone he's not, how could a man as appealing and accomplished as Andy—a man who's eligible for a prince's hand, for pity's sake—settle for the court outcast? As for Andy, his burgeoning feelings for the prince are both unfortunate and hopeless because hello? Half-norn? Faerie prince? Not exactly a match made in Valhalla. When the Faerie Queen herself hands down an ultimatum, the double deception isn't their only obstacle. Unless Andy makes the right decision, both their fates could be sealed by… well… Fate. Nudging Fate is a 54,000-word paranormal rom-com featuring mistaken identity, royalty in disguise, interfering coworkers, an iron knight with a soft heart, a temperamental goblin chef, and a guaranteed HEA.
Nudging Fate
May 15, 2018
Word Count:
284
Summary: Third-gender operative Dalí Tamareia thought their life as an ambassador ended when they joined a galactic intelligence agency. When they're yanked out of the field and tapped to negotiate the surrender of deadly bio-engineered warriors who crashed into hostile territory, Dalí is thrust headfirst back into the tumultuous world of galactic diplomacy. Dalí has faced Shontavians before, but not like these. The stranded mercenaries are highly intelligent and have an agenda of their own. Dalí can't afford to be distracted from the negotiations by their own demons or the presence of a charming diplomat with a mysterious past. As a brewing civil war threatens to derail the entire mission, Dali must use all their skills to bring this dangerous situation to a peaceful end—but the Shontavians may not be the biggest monsters at the table. Someone is determined to see Dalí and their team dead before they discover the brutal truth hidden in the wreckage.
Peacemaker
March 2, 2020
Word Count:
68810
Summary: Variant children are vanishing at an alarming rate. It will take a uniquely mismatched pair of trackers to untangle a web of conspiracy and misdirection to find them. In his isolated cabin, variant Damien Hazelwood avoids human contact as much as possible to prevent attacks of blind berserker panic. But his rare talent as a locator makes him the go-to contractor for tricky missing person's cases and when agents bring him a troubling contract involving missing variant children, he finds it impossible to refuse. Licensed tracker Blaze Emerson can't help being irritated when he's expected to follow the strange, twitchy locator's lead on his latest case. He works alone, he's damn good, and as a variant sparker, he has both the fire and the firepower to take on anything out there. Though he has to admit there's something intriguing about a man who can find people with his brain. ​ With vastly different temperaments and backgrounds, Damien and Blaze need to negotiate quickly how to work together if they're going to crack this case. Add in the sudden appearance of Blaze's outlaw ex, the perils of tracking in the wilds, and a maddening lack of discernible motive or method, and they soon find themselves in as much danger as the kids they're trying to rescue. Variant Configurations takes place in a future Earth where humanity is reclaiming its spot in a gradually healing world. This book contains mentions of past abuse, action-adventure style mayhem, and the beginning sparks of a slow burn, series-spanning relationship.
Rarely Pure And Never Simple
June 28, 2022
Word Count:
141270
Summary: Everything Tristan, Ushna, and Brian have fought for comes down to the moment they face Inanna and Marduk. Before then, Ushna must embrace his destiny and be transformed by Tiamat. But he returns with a fractured mind and will need the help of the new firebird or he'll be lost to the insanity of a primordial God. If he's lost, so is the balance Brian and Tristan sorely need. Tristan has vowed to care for his ex-Flame, Theo Sullivan, who is doomed to forget more and more with each use of his new ability. When not dealing with his stubborn ex, Tristan must free the warriors stolen by the government and devise a trap for Inanna. And that's only the start of the challenges, and everything that can still go wrong. Note: Releasing Chaos is the final book in the Sumeria's Sons series and features a poly (M/M/M) relationship. This book was previously released by another publisher and has been re-edited.
Releasing Chaos
December 9, 2019
Word Count:
49000
Summary: Will the bond of blood outweigh the passions of the heart? While sketching the Temple of Dendur, graduate student Carter Denwright meets—and is seduced by—a powerful vampire by the name of Alder. Once kept secret from the human world, now everyone knows of their existence. Blinded by mistaken feelings for Alder, Carter allows himself to be drawn into his life. Too late, he realizes two things: one, Alder is vicious and cruel, and two, Carter's true love is Alder's brother, Freyr. The attraction between Carter and Freyr is strong, but they must fight this feeling or face the wrath of Alder. Despite their best efforts, Alder discovers the truth, and punishes Carter, hiding him from Freyr in a cruel game of cat and mouse. Freyr is not as strong as his brother, but he vows that he will find Carter again and will stop at nothing to get him back. Carter, caught in Alder's cruel grip, commits an act of desperation which will change all their lives forever. The question is: can Freyr find Carter and is the bond between him and Carter enough to break Alder's hold and spoil his plans to ruin them both? *Note: There are scenes of mental/sexual abuse in the first chapter of this book.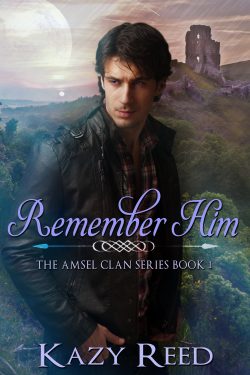 Remember Him
August 8, 2015
Word Count:
57800
Summary: Ethan Roam suffers from night terrors and vivid daydreams, which lead him to the doorstep of the eccentric Dr. Grady Hunter, who thrusts him into a world of supernatural misfits. Ethan quickly learns that there's more reality to his dreams than he suspected. As Ethan unravels the truth behind his nightmares and falls into his first experience with love, he also finds himself the target of a sinister plan. Ethan's trust in his new companions will be tested and he'll have to decide who he can rely on and who he must defy in order to survive a fatal Halloween night.
ROAM
October 1, 2018
Word Count:
59,100
Summary: Shadows of the Past is the new novella collection set in The Cassie Tam Files universe! Enjoy two new stories that follow PI Cassie Tam and her girlfriend Lori Redwood as they deal with the fallout from LV48. This book is part of a series and needs to be read in sequence. A Week in New Hopeland When Lori Redwood agrees to help out her girlfriend, PI Cassie Tam, by going undercover at a local shipping firm, she gets more than she bargained for. Her 'boss' Mr. Graves is a misogynist and a bully, and has been targeting one girl in particular. Cassie is known to him, and he tends to be cautious around Tech Shifters. Which means that Lori may be the best person for the job. Will Lori be able to help Cassie gather enough evidence for the police to act, or will she become the next target? Shadows of the Past PI Cassie Tam is not the only person who lives with regrets, and like most people, she just wants to get on with her life. But in New Hopeland, the past never remains buried. When she's hired to track a stalker that's been using some interesting tech to mask their identity on the city's security cameras, Cassie ends up face-to-face with her darkest memory. Can Cassie find out who's responsible before her past mistakes tear her – and her friends – apart?
Shadows of the Past
November 4, 2019
Word Count:
49000
Summary: Thrust into the role of Prince of the Lycans, Tristan strives to find his footing in a life suddenly rife with secrets and lies—and danger. Betrayed by a Goddess meant to safeguard him, desperate to protect his consort and their growing tribe, he can only prepare for the worst and struggle to hope. And then the worst comes to kill them...
Songs of the Earth
January 7, 2015
Word Count:
95000
Summary: When Orion joins an established coven of powerful mages he is unsure how he will fit into the group. The four elemental mages have had centuries to build both their powers and their relationships while Orion is little more than a stranger. As a light mage, Orion has the power to heal, but as he comes to know the other members of the coven, he learns that not all wounds are visible, and healing tortured souls and broken hearts isn't as easy as fixing broken bones. Orion must bring them all together before they tear themselves apart. Only when the coven is strong will they be able to welcome the dark mage who will complete the circle and give them the power to defeat a mage who has waited centuries to exact revenge on the former members of his coven. READER ADVISORY: This story is a ménage and more story with emphasis on the more.
Soul Magic
October 31, 2020
Word Count:
15473
Summary: Three superheroes in love! Or one superhero, one former sidekick, and one redeemed supervillain, at least... Ryan, John, and Holiday have been partners -- in every sense of the word -- for two years. They've saved the world, fallen in love, and remodeled the secret base to include bookshelves and a bigger bed. But Ryan and John have always been the public face of the team. The world still believes Holiday's a villain. And he's been using that reputation to stay undercover and share information. Tonight, though, Holiday comes home injured, and his partners aren't sure the mission's worth his life. Contains lasagna, superhero theatrics, home renovation, a thunderstorm, and very enjoyable use of superpowers in bed.
Sundown, Holiday, Beacon
September 11, 2019
Word Count:
49112
Summary: Tristan has agreed to bond with Ushna, but there is still much to do. Returning to Tribe Enkidu puts everyone on edge, and Tristan is being stalked like prey. It doesn't help that he fights depression as he mourns the loss of Nikita, or that claiming his birthright becomes a battle of wills with the Elder Council. The pleading of his adoptive daughter only adds to the oppressive feeling. Stumbling onto a secret prison while searching for Ushna leads Tristan to risk everything to free a lost God. But breaking the bond to his Twin Flame all those years ago has more repercussions than Tristan knew, and the assistance of a forgotten Goddess and a centuries-old lover may not be enough to save him. Surrounded by Crimson is the 4th book in the Sumeria's Sons series and features a poly (M/M/M) relationship that includes male pregnancy (mpreg). This book was previously released by another publisher and has been re-edited. Surrounded by Crimson is the 4th book in the Sumeria's Sons series and features a poly (M/M/M) relationship and includes male pregnancy (mpreg).
Surrounded by Crimson
November 4, 2009
Word Count:
53100
Summary: Tad loves bouncing around in time and watching mankind grow and change. He loves humanity and helping when he can. However, his job isn't conducive to helping people.  He's an Angel of Death. Doug is fun loving and a drama queen.  Despite his witty exterior, he has a dark history and is prone to self-destruction. He's also an amazing drag queen and hairstylist with big dreams. When Tad pushes the boundaries of his duties too far, his angel wings are stripped away from him, and he is sent to New York City to live as a human. Lost and alone he ends up meeting Doug, and the two start a friendship that will shape them both and last a lifetime.  But nothing is simple when you're dealing with a former Angel of Death and a Drag Queen. Could these two cause the fabric of our world to collapse or will they manage to keep the future as it should?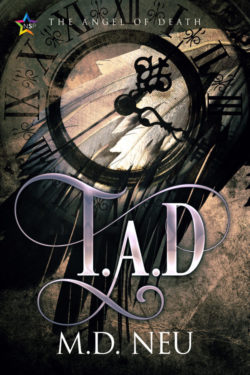 T.A.D.-The Angel of Death
September 23, 2019
Word Count:
56000
Summary: Take one final ride with the crew of the Scarlet Lucidity. One year after saving the Neek homeworld and redefining the people's religion, the crew of the Scarlet Lucidity returns to the Charted Systems for a much-need break. For Nicholas and Yorden, the Systems will always be home, but for Emn and Atalant, too many memories compound with Emn's strange new illness to provide much relaxation. TALES FROM ARDULUM continues the journey of Atalant, Emn, Yorden, Nicholas, and Salice as they try to define their place in a galaxy that no longer needs them while battling the artifacts of Ardulan colonization. Other stories include Yorden's acquisition of the Mercy's Pledge (and his grudge against the galaxy), Atalant's exile from her homeworld, Ekimet and Savath's romance, and many others. TALES also has FOUR full page illustrations of the crew by Micah Epstein!
Tales From Ardulum
June 10, 2019