Word Count:
26000
Summary: Being an OIL (Onsite Inter-species Liaison) for the Interplanetary Multispecies Pact has never been an easy job. In fact it's a crap job when stuck on a backwater nowhere planet like Earth. But cobra Yervath Sissal Naganos manages. The demotion was swift and heavy-handed, but he'll climb back out of this hell eventually. Humans don't meet his social needs, so, yes, it's been lonely and he tells himself he likes the solitude. That is, until IMP sends him an irritating  new assistant he never asked for. Now his peace is well and truly disturbed and his paranoid diplomatic reflexes have reawakened. The worst part is the kid didn't have to be so cute.
A Message From The Home Office
August 25, 2020
Word Count:
136000
Summary: With his career firmly established and his reputation as a successful PI growing, Hades should have the perfect life with his human lover, his faithful ferryman, his dogs and the parts of his family still speaking to him. But murder and chaos are never far away for death lords as his nephew Dionysus and his oldest friend Charon are drawn into the maelstrom. Includes: Books, Bulls & Bacchanals: Brandywine Investigations #4 Midwinter Dancing: Brandywine Investigations #4.5 Pack Up The Moon: Brandywine Investigations #5 Please note: Books, Bulls & Bacchanals has been re-edited for this edition.
Brandywine Investigations: Family Matters
February 28, 2018
Word Count:
38000
Summary: An Imperial prince can only hide for so long—but his solution of a hastily invented engagement could backfire spectacularly. Marsh Kensinger's work as the utility mechanic for Bremen Station keeps his life interesting - but never quite as interesting as finding a pilot still hidden inside a hibernation drawer in what should have been a salvage craft. He knows he shouldn't get involved, but the Altairian Imperial crest on the private craft and the semi-conscious pilot's odd questions pique his always-whirling curiosity. Still unattached at a concerning age for an imperial son, Prince Shiro Shinohara hadn't been running from the endless, mind-numbing rounds of omiai his mother, the Empress, had mandated. Not exactly. He'd just wanted a break from persistent suitors at the family retreat on Ceti Tau. The short respite becomes a panicked flight for his life when one of the suitors stalking him attacks the family compound. Worried for the soldiers he was forced to leave behind, afraid there's a conspiracy to kidnap him, Shiro confides in the handsome mechanic who found him and in a moment of panic, concocts the fiction of a serious relationship with Marsh. It's only until Shiro's people can reach him and he can press charges back home. Marsh is willing to play along and Shiro's just going to have to keep himself together and not, under any circumstances, fall for the wonderful, generous man who refuses to stop helping him.
By Imperial Decree
November 17, 2020
Word Count:
40000
Summary: An outcast necromancer and a half-demon clerk need to save the world from seashell zombies. No pressure. Everyone's always told Aspic that trouble can't help following him because of his heritage. Determined to put the lie to half-demon stereotypes, he's finally landed a good, quiet job as an herbalist's clerk where the owner trusts him to man the shop alone. What could go wrong selling coriander and thyme? When Geoffrey first enters the shop, Aspic finds the little man's eccentric appearance startling, then intriguing. Geoffrey explains, in stops and starts, that he is a theoretical necromancer researching replacements for blood magic. His current line of inquiry involves seashells—do they have any in stock? Aspic's co-workers warn him that Geoffrey is a walking disaster, but he finds himself more and more drawn to a necromancer concerned with ethical death magic. Aspic is with Geoffrey in his lab when he has his first success, but the results aren't at all what he was aiming for. Instead of raising the dead rabbit on his table, the ritual animates the seashell and rock spell components, which flee the lab and cause havoc. They soon discover that the spell-animated objects are "zombies" in that they can "infect" other inanimate things. An unorthodox necromancer and an exasperated shop clerk are going to need some unconventional help to find a working de-animation spell before the world is overrun by zombie seashells and stones gone mad. Geoffrey the Very Strange is part of the Magic Emporium series. Each book stands alone, but each one features an appearance by Marden's Magic Emporium, a shop that can appear anywhere, but only once and only when someone's in dire need. This book contains theoretical necromancy, unexpected spell outcomes, some extraordinarily angry seashells, and a guaranteed HEA.
Geoffrey the Very Strange
March 18, 2021
Word Count:
14000
Summary: As a security officer on an interspecies ship, Growlan Raskli's experienced in heading off species-specific aberrant behaviors in order to keep the peace. But when her captain asks her to find out what's bothering their sole human crew member, Raskli's out of her depths. She hardly knows anything about humans and she's not a psych doctor. Something's definitely upset Human Jen, something to do with human holidays. The more time Raskli spends studying humans and interacting with the intriguing Human Jen, the more personal the assignment becomes. Determined to lift the dark cloud from Human Jen, Raskli will do whatever it takes—within safe parameters, of course.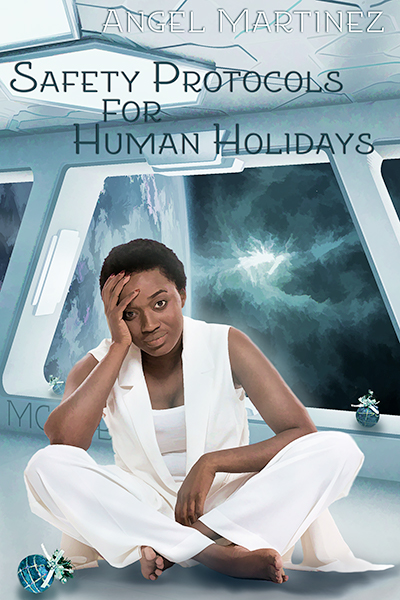 Safety Protocols For Human Holidays
December 9, 2017
Word Count:
45500
Summary: Brave paladin. Royal princess. Fierce dragon. Simple. Being all three at once? Way too complicated. Paladin Snillek's mother was human and ruled a planet. That's about the extent of her knowledge since they didn't see each other much. When her mom dies in a freak accident, her father tells Snillek she's inherited the title, and she has to learn how to pass as the mostly human Princess Siel for a planet she never thought about much. The dresses alone are horrifying and the courtiers aggravating. ​ In a moment of frustrated rage, Snillek's princess persona slips and frightened palace staff misinterpret what they see. Now Paladin Snillek has been called upon to rescue Princess Siel…from herself. Gruyere wants desperately to journey into the wilds of Tarribotia, but it's too dangerous to go alone and so far, everyone's laughed at her for suggesting it. When she spots a Dzedek paladin sulking in a tavern, she offers her services, hoping to pass herself off as a rogue guide. Two women with secrets and possibly opposing goals head out into the hinterlands of a planet neither one of them knows well. They might both make it back by Winterfest if nothing eats them first. This book contains one out-of-her-element paladin, the perils of academia, deadly cake, and unconventional dragons.
The Anti-Quest
April 13, 2021
Word Count:
24000
Summary: Chief Engineer Shandi Leavenworth has been crushing on Major Tyra Sur ever since she joined station staff, though the laconic customs officer doesn't give up personal information easily. A few scraps of information lead Shandi to the perfect Solstice present, until of course everything goes horribly wrong. Major Sur took the job on Onwa Station for the stability, the quiet, and out of a need to be useful. It's been all of those things up until the moment the woman she's been quietly flirting with at the bar puts in a desperate call for help. There's no question they need to save the station, but Tyra's not so sure about saving their budding relationship.
The Solstice Pudding
December 17, 2019
Word Count:
29000
Summary: Sofia Cancino is tired of her mundane life, her artificial environment and her large, boisterous family descending every holiday season. She's promised herself this year will be different and books a stay on the exclusive—and expensive--holiday-themed resort, Yule Planet. She looks forward to being pampered while reconnecting with Old Earth traditions steeped in the magic and mysticism of nature. Everything will be perfect and she'll leave as a more authentic human, better connected to her roots. Naturally, things go horribly wrong. Sofia's landing pod goes off course and instead of stepping out on the landing pad at the resort, she finds herself in the snow-swept perpetual winter of the planet's hinterlands. If that wasn't bad enough, she's "rescued" by a band of criminals on work release who run deliveries to the resort from far-flung shuttle delivery sites. They refuse to take her, a paying customer, to the resort and insist on dragging her along on their parcel run. Riding giant monsters. In frigid weather. Not to mention, Marta, who handles the monsters, obviously hates her. If Sofia survives her vacation, she's definitely yelling at someone's supervisor until she gets a refund.
Yule Planet
December 22, 2018