Word Count: Information not available
Summary: Memories of another life and lover guide her, but are they even hers? She is a Bearer—keeper of past lifetimes and gifted with strange talents. Ember must find her answers away from safe Longquan Village, snared instead in the sensuality and dangers of The City. Hidden among spider farmers and slaves, prostitutes and weavers, a nest of people like her are waiting. A powerful man outside The City raises his forces, determined to hunt down the 'demons' who could taint his followers. Threatened from without and within, can the Bearers even trust each other? Powers will rise and alliances will be forged in a dark new world. The Memory Bearers are coming. This book includes violent and mature content. Reader discretion is advised.
After the Garden
Word Count: Information not available
Summary: It's her first job...and it's already going wrong. Freshly graduated from university with a degree in engineering, Crystal approaches her placement on the wormhole-constructive ship Crossing Paths with nothing but enthusiasm. But while Crystal gets used to the ins and outs of a multispecies, multicultural ship, tension brews both at work and back home. Not murdering her coworker Jai is hard enough; the last thing she needs are the terrifying errors cropping up on her maps. Reality and space are either tearing themselves apart - or someone else is attacking them. With conspiracies lurking everywhere, friendship won't be enough to see her through these dangerous new problems... Fans of Becky Chambers' Wayfarers series will enjoy this sometimes joyful, sometimes dark personal adventure set in a world of politics, bureaucracy - and piracy.
And The Stars Will Sing
Word Count:

89180
Summary: Lenth grew up in a lie. Apparently there's more than five people in the world. Savage Citizens, orderly Providers, keepers of ignorance, and a damaged killer stand in the way of the world's simple truths. Four Brothers live their lives in an enclosed habitat as directed by the silent Rubberman above them. When they disobey, they get shocked. This is normal. It always has been. When a Brother dies, they learn of death. When he is replaced by someone new, they learn they are replaceable. When the ceiling above the ceiling cracks open, Lenth plans a journey beyond the known universe: A third floor. Up.
Rubberman's Cage
Word Count:

92782
Summary: A story of oppression and loss, of uprising and joys. Rubberman's Citizens pushes through grim tyranny with the courage, compassion, and humour of those forced to fight troubled times. In Citizenry, Leena knew cruelty was normal. Order was kept by Warren, through intimidation and abuse. Normal meant deliveries from above, supplies from the great, unknowable, Actual. Normal meant hating the lessers who live below. Normal meant routine public degradation. Normal meant hearing screams, and knowing no one dared help. Normal was knowing that tomorrow, it could be your own screams being ignored. Leena found a way to help. Leena found a chance. Leena discovered revolution.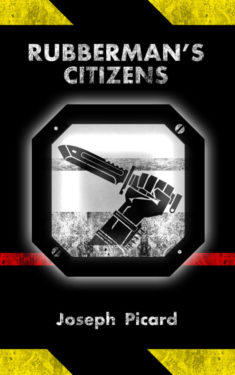 Rubberman's Citizens
Word Count:

110725
Summary: 133 years. Time is up. Lead Engineer Tara and her partner Sasha face the coming end of the facility generator. For generations It has served thousands of people who have been hiding underground from the ravages of the war, and the lingering Enemy above. Up and down the Grand Elevator, though the entire facility, every resident's life will be shaken when the generator sparks its last amp. The Great Actual, the anarchistic Citizens, and all of the regressed sub-societies in between will have to face the unknowns of the surface. Old fears will pale against new circumstances beyond their imagination, and new attention brings judgment upon all.
Rubberman's Exodus
Word Count: Information not available
Summary: Nightmares bleed into the waking world. A city of shadows lurks underground. Restless ghosts, eerie dolls, and spiteful stepmothers. Haunting stories of love, madness, and small disasters. Featuring a full-length novel and eleven stand-alone short stories, this collection blends fairy tales, horror, and science fiction. The Underlighters is a dystopian horror coming-of-age adventure that follows the life of Janelle Cohen from insignificance to bitter-sweet triumph. Footsteps in the Snow is a Lovecraftian nightmare set in a Canadian winter. A Shot of Vodka, a darkly realistic exploration of life after trauma, rounds out the collection. More and stranger stories fill in the gaps. Gender and sexual mores are rewritten, primal fears take physical form, and dreams and reality merge. Prepare yourself: nothing is safe.
The Loved, The Lost, The Dreaming
Word Count: Information not available
Summary: Worlds collide and peace shatters in Book 3 of The Meaning Wars… On the way to a new wormhole-building gig, Crystal and her husband Jai fight over the future of their family. But the safe haven of their base is paradise compared to Pluto. Recovering from her imprisonment, Sarah and her cousin Toby try to scrape their lives back together and stay out of trouble on the icy planetoid. Rebel leader Patience Ngouabi's actions have triggered a growing insurrection on the colony planet of Indus, and the shock waves have reached even the Solar system's worlds. Both Crystal and Sarah will have to decide between uneasy peace and constant danger - if they get to choose at all. Content advisory: this book contains references to abuse, sexual scenes, torture, and mental health issues. Reader discretion is advised.
The Meaning Wars