High fantasy is usually epic in scope, and takes place in an entirely different world. Return to general Fantasy
Note: these books are currently sorted by release date, with newest first.
Word Count:

130600
Summary: Cursed with fearsome eyes and a dangerous gift, any chance of Damian Sires having an ordinary life was dashed the moment she was born. All her life, she has hidden her abnormalities and fought for acceptance behind the shadow of a veil and her respected merchant father. When Damian's power spirals out of control and casts her out alone into the world, she finds herself caught up in plots as old as the gods themselves. Bitter exiles, deposed nobility, clandestine knights, and a divine being with an ancient grudge all close in on the unstable power radiating from Damian. Desperate to keep that power contained, she sets out with mysterious allies in an attempt to find someone who can help her in a world that fears magic. Yet the source of Damian's ability is far more deadly than she imagined.
Enduring Chaos
Word Count:

103000
Summary: First I was a sorcerer. Then I was a hermit. For so long—for years that seemed to go on forever—I couldn't bear to be touched. I put up not just walls but whole stone bunkers to keep everyone out, emotionally, and physically as well. I was protected from people, from ghosts, from specters real and imagined. Sure, I was alone. But I felt safe. Only, after a while, I wasn't sure any longer whether a totally "safe" empty life was really worth living. Then Tobin came along. Out of the blue, out of my past, with a summons from the king that he wouldn't let me ignore. I tried to cling to my isolation, but he wouldn't give up on me. Tobin never believed in walls. This story was written as a part of the M/M Romance Group's "Love Has No Boundaries" event. Group members were asked to write a story prompt inspired by a photo of their choice. Authors of the group selected a photo and prompt that spoke to them and wrote a short story. 103,000 words
Nor Iron Bars a Cage
Word Count: Information not available
Summary: Brute leads a lonely life in a world where magic is commonplace. He is seven and a half feet of ugly, and of disreputable descent. No one, including Brute, expects him to be more than a laborer. But heroes come in all shapes and sizes, and when he is maimed while rescuing a prince, Brute's life changes abruptly. He is summoned to serve at the palace in Tellomer as a guard for a single prisoner. It sounds easy but turns out to be the challenge of his life. Rumors say the prisoner, Gray Leynham, is a witch and a traitor. What is certain is that he has spent years in misery: blind, chained, and rendered nearly mute by an extreme stutter. And he dreams of people's deaths—dreams that come true. As Brute becomes accustomed to palace life and gets to know Gray, he discovers his own worth, first as a friend and a man and then as a lover. But Brute also learns heroes sometimes face difficult choices and that doing what is right can bring danger of its own.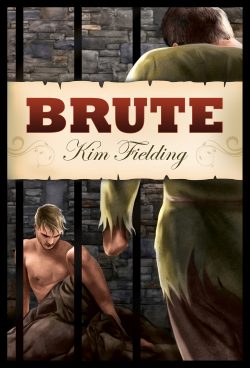 Brute
Word Count:

125,000
Summary: For the past few years Yarroway L'Estrella has lived in exile, gathering arcane power.  But that power came at a price, and he carries the scars to prove it. Now he must do his duty: his uncle, the king, needs him to escort Prince Garith to his wedding, a union that will create an alliance between the two strongest countries in the known world. But Yarrow isn't the prince's only guard. A whole company of knights is assigned to the mission, and Yarrow's not sure he trusts their leader. Knight Duncan Purefroy isn't sure he trusts Yarrow either, but after a bizarre occurrence during their travels, they have no choice but to work together—especially since the incident also reveals a disturbing secret, one that might threaten the entire kingdom. The precarious alliance is strained further when a third member joins the cause for reasons of his own—reasons that may not be in the best interests of the prince or the kingdom. With enemies at every turn, no one left to trust, and the dark power within Yarrow pulling dangerously away from his control, the fragile bond the three of them have built may be all that stands between them and destruction.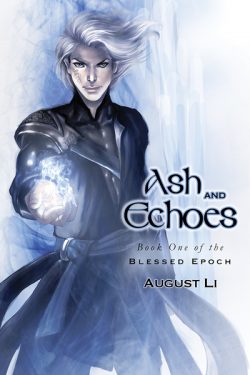 Ash and Echoes
Word Count: Information not available
Summary: The Triangle Anchorpoint City, 2082. Half a year after the death of his lover Takeshi, Rory remains devastated, deflecting Nick's attempts to drawhim out. Lorcan takes it upon himself to coax Rory back to life. Thenan innocent gesture of affection explodes into a sensational scandal,forcing them to make choices they would otherwise never have considered. Will their friendship survive the pressure of Nightwalker politics, or will their relationship be just another casualty of war? The Spacers In memory of his love for Tobias, Rafael became Antonio's closest friend and ally, supporting his protege's advancement in the Spacer Guilddespite Nick's deep disapproval. Captain of the Jumpvessel Singularity,Antonio has spent his entire adult life navigating the void between thestars, blissfully avoiding any part of the fate decreed for him in thewar between the White Wind and the Red. Mentor and student are reunited when Antonio returns home on the one hundredth anniversary of hisfather's death, intending to stay only long enough to pay his respectsto a man he never had a chance to know and the family he left behind.But in a world where immortality is commonplace, death is not alwayswhat it seems, and destiny is not so easily cast aside. The Spy Razheel has served the Court of Shadows with honor for over a century as the Night's Herald, never openly taking sides in the divide betweenNightwalker and Daywalker alliances. Now, after thirty thousand yearsof conflict, something new walks the Earth, which may be the greatestweapon yet in the battle between the races. As Antonio's fate becomesclear, she steps seamlessly into the role of revolutionary, and hercarefully planned insurrection will set the Nightwalker race on the path to final victory, or to total extinction.
Starlight
Word Count: Information not available
Summary: The Magician Washington, D. C., 2042. Toby Jameson is accustomed to being overshadowed by his brother Nick, but he doesn't have to like it. While attending the funeral of the First Lady of the United States, he finds a kindred spirit in Andrea Daniels, the President's daughter. When Nick discovers Andrea's supernatural destiny as a latent leader of the Sentinel race, Toby is happy to accept a secret assignment to protect her as she leaves the Armistice Zone, if only to gain a little distance from his relationship with his lover, Layla. The Daywalker Layla, the leader of the Daywalker race, has had three thousand years to earn her reputation as the Prince of Wrath. Her romance with the strong-willed young Sentinel has been contentious at best, but neither is willing to walk away nor give voice to a deeper commitment. When her protective overtures go awry prior to Toby's departure, provoking them into frank combat, it seems their relationship is finally doomed. Then a shocking discovery changes everything, casting the very nature of Sentinels and Daywalkers into question. The Wind In the wake of her mother's death, Andrea returns to England to escape the watchful eye of her estranged father. When Toby shows up on her doorstep unannounced, she knows he has a hidden agenda, but is willing to overlook his silence in the spirit of friendship that kindled between them at their last meeting. But nothing stays buried forever, and it's only a matter of time before they find themselves fighting for their lives against both the enemy they know, and a new menace that has emerged from within the virtual world.
Moonlight
Word Count: Information not available
Summary: Steel and Shadow San Francisco, 2015. A group of friends celebrating a windfall in their musical careers take a wrong turn down a deserted alleyway, only to find their path blocked by two creatures out of nightmare. Surviving only through the arcane intervention of a cryptic savior, they find themselves thrust unwillingly into the center of a war of extermination between two mystical races. The Gauntlet Rory loved his best friend Takeshi for as long as he can remember, though he never had the courage to speak of it. The discovery of their supernatural destinies as the leaders of the Sentinel race only compounded the danger of a relationship, so he kept silent. When Rory is captured, his soul hangs in the balance as the Nightwalkers delve into ancient magic to corrupt his spirit. Takeshi attempts a desperate rescue, but is unprepared to face the enemy that waits in the depths of the vampire fortress. In the end, his own damnation may be the key to Rory's salvation. Night and Day Nick was surprised to see Rory at a Christmas party so many years after the other musician disappeared from public life. Renewing their friendship, he remains completely unaware that Rory is not at all what he appears to be. Nick's ignorance costs him dearly when Rory's enemies attack. To save Nick, Rory and his allies must find a way to triumph over the first and greatest of the vampire lords, before Nick's soul is twisted forever by the torments of the Prince of Nightmares.
Sunrise
Word Count: Information not available
Summary: An unlikely savior emerges to prevent the advent of mass destruction and genocide descending on the world… By Day Los Angeles, 2040. When the terrorist known as Medusa threatens to kill millions with a stolen nuclear bomb, Nick Jameson makes a fateful decision. He reveals himself on global television as a Daywalker - a vampire with a soul. To save Los Angeles, Nick exposes not only his own gifts but three separate cultures based on millennia-old magic. By Night The three metahuman races exist in careful balance, working to maintain a fragile peace. Nick and his fellow Daywalkers successfully master their natural bloodlust. The Sentinels, armed with both magic and steel, repress their warlike instincts. And even some Nightwalkers, normally their natural enemies, have deserted the Court of Shadows to join the triple alliance. Nick Jameson is deeply involved with two such Nightwalkers - handsome Lorcan and powerful Rory. Both men love Nick. But neither can protect the new Ambassador to Humanity from the events he has set in motion. By the Sword Jeremy Harkness was lured into Medusa's service under false pretenses. A loner with no one and nothing to cling to, he was willing to die for his cause. But the night Medusa tried to obliterate Los Angeles, Jeremy met Nick Jameson, triggering the onset of his own psychic gifts. For Jeremy is the third race of metahuman, a Sentinel, born to kill the Nightwalkers with no quarter asked or offered. And neither Medusa nor the Court of Shadows will settle for peace when they can make war. Betrayal and treachery lurk around every corner on the road to coexistence, and at every turn, Nick must question who to trust among his metahuman allies, friends, and lovers—before their civilization is plunged into the depths of darkness and bloodshed. With millennia-old magic, emerging romance, and ever-shifting allegiances, this inventive series unveils a scintillating, homoerotic world of Nightwalkers, Daywalkers, Sentinels, and Humans, who battle for world dominance in the not-too-distant future.
Sunset
Word Count:

90500
Summary: Starting from the fabled holy city of Ravan, two paths diverge that will take their respective travelers to the farthest reaches of Parsina. The black-hearted thief Hakem Rafi comes into possession of the ultimate power of evil, while the storyteller Jafar al-Sharif and his daughter Selima begin a longer involuntary journey that will test the limits of their ingenuity. But first, they must fool the world's greatest wizard into believing that they, too, are practitioners of the mystic arts. Thus begins the Parsina Saga, a journey through a world of djinni, flying carpets and high adventure in exotic realms -- with the fate of the world at stake.
Shrine of the Desert Mage
Word Count:

108100
Summary: Starting on his reluctant odyssey with a small party of friends, the storyteller Jafar al-Sharif must cope with treacherous nomads, a desert djinn, a king of an underground realm and an army of animated corpses as he attempts to save the life of his beloved daughter. This is Book 2 of the Parsina Saga, a journey through a world of djinni, flying carpets and high adventure in exotic realms -- with the fate of the world at stake.
The Storyteller and the Jann
Word Count:

115800
Summary: Continuing his reluctant odyssey, the storyteller Jafar al-Sharif must cope with fiendish assassins, a city of apes, the King of the Winds, the Isle of Illusions and a mysterious long-vanished underwater city as he attempts to save the life of his beloved daughter. This is Book 3 of the Parsina Saga, a journey through a world of djinni, flying carpets and high adventure in exotic realms -- with the fate of the world at stake.
Crystals of Air and Water
Word Count:

96200
Summary: As the empire of evil sweeps across the land, the fate of Parsina rests on Jafar al-Sharif, the storyteller impersonating a wizard, and the exiled Prince Ahmad from the holy city of Ravan. But peril continues to dog their footsteps on the way to Mount Denavan and the final piece of the Crystal of Oromasd. They must confront the dangers of a mysterious island, the City of Faces, and the dragon demon who guards the fourth piece of the crystal. And even these threats pale before the betrayal by a trusted member of their company -- while within the heart of the dark enemy, Aeshma, king of the daevas, plots treachery against his own master to unleash an unimaginable tide of evil to engulf the world and destroy mankind. TREACHERY OF THE DEMON KING is the long-awaited conclusion to Stephen Goldin's Parsina Saga, a sweeping epic across an Arabian Nights world of imagination and wonder.
Treachery of the Demon King
Word Count:

52900
Summary: Havesskadi has won the Rainbow Award for Best Asexual Debut Book (2018-2019), and second place in the Best Asexual Book (Asexual – Contemporary, Fantasy and Paranormal Romance & Romantic Comedy | 2018-2019) category. The red dragon is hunting her own. Up in the icy peaks of the northern mountains, Orsie Havesskadi spends his days hiding from her, but eventually he is found and his dragon magic stolen. Cursed to wander the lands as a mortal unless he recovers his magic before twenty-four rising crescents have passed, Orsie embarks on an arduous journey. Spurred by the whispers in his mind, his quest takes him to a castle hidden deep in a forest. Arkeva Flitz, a skilled garrison archer, discovers an abandoned castle in the woods. Trapped there, he spends his days with his two companions, one cruel, the other soothing. One day, a young man arrives at his gates, and soon they are confined by heavy snowfalls and in danger from what slumbers in the shadows of the castle.
Havesskadi
Word Count: Information not available
Summary: The world of Avern has moved on. It has been almost a thousand years since the day the entire pantheon disappeared. Since the Abandonment, the mortals have learned to live without gods and goddesses. The world became mundane with little magic, and even less hope. Tyrants have risen, and those able to wield what is left of magic are powerful. Forces surge in the darkness that threaten to topple the already fragile world. The plight of the world of Avern is not unknown, however, and those that watch from a distance have decided to intervene. The mortals are sleeping, however, unknowing that two great powers will soon by vying for control.Then something happens that changes things. A young princess makes a bid for power by murdering her father. She then attempts to murder her sister, the crown princess of Lineria, Keiara. Despite a true strike, aided by dark powers, Keiara doesn't die. Instead, the strike pierces the barrier between her human soul and the soul sleeping within her, the soul of the Dark Phoenix. More than a goddess, the Dark Phoenix is the legendary mother of the gods. She is a part of the Eternal Phoenix that brought life to their world eons ago, one of the primal forces of the cosmos.
Dark and the Sword