Fantasy stories that include queer characters and/or a queer storyline. Return to general Fantasy
Note: these books are currently sorted by release date, with newest first.
Word Count: Information not available
Summary: It's not easy being the child of legends When her brother goes missing, the first hint of a larger plot against her famous family, Beau must find her inner hero--if she & her friends can avoid getting killed first. CHASING SUNSET is a stand-alone sequel to the WOODSPELL SERIES and one of the TALES OF ARDONNA.
Chasing Sunset
Word Count:

69,153
Summary: Krish Butala believed himself to be the typical college student until his latent werewolf abilities unexpectedly manifested. This came as a big surprise since he was bitten by Josef Cartwright nearly two years ago, and nothing has happened to him in all that time. Krish has to learn how to navigate through his new life without a pack. After accidentally killing a fellow college student, Krish has to figure out how to cover up the murder. He is grateful for all the help Tyler Turner, his roommate has given him, but he isn't entirely sure he can trust Tyler, seeing that he is a witch. Tyler's brother Derek and the rest of the witch community don't trust Krish, and they're keeping a close eye on him, which makes being a nascent werewolf that much harder. Krish is plagued with haunting, vividly sexual dreams of Josef, his progenitor, which leaves him questioning his decision to leave him. Krish is surprised to find help in the most unlikely of places. An elder werewolf named Luther from another pack. Luther helps Krish and promises to protect him. But at what cost? Krish has to figure out who he can trust and find his path on his own. The Omega is an exciting M/M erotic thriller about werewolves, witches, and other supes.
The Hallowed Bloodline: The Omega
Word Count:

87000
Summary: In the interstellar kingdom of Valoris, the balance of power has changed. Dressa Rhialden has all she ever wanted—except she only wanted Lesander, gorgeous prince of an enemy high house, not the kingdom meant for her sister. Unfortunately, her betrothal came with both, and now she has a lot of catching up to do. But she's falling hard for Lesander in the meantime, and with her kingdom on the line and Lesander maybe her enemy, is falling in love really a good idea? When alien attacks that shouldn't be possible plague her kingdom's distant worlds, Dressa's new position is put to the test. Why are the pacifist Kidaa attacking now, and were the attacks made by the Kidaa at all? There's more going on than an internal power shift, and she has far more secrets to uncover to keep her kingdom safe. Ari Rhialden had her whole life planned out: excel at being the Truthspoken Heir, controlling her kingdom with her shapeshifting powers, and then one day excel at ruling the kingdom. But when she contracts an incurable illness and loses her ability to shapeshift, those plans are derailed. Ari's sent undercover to a resort world for treatment, but all is not right in paradise. A young gardener with a mysterious past is taking too much interest in Ari's new persona, and a possessive duke is bent on capturing her attention for himself. Are these just the ordinary machinations of noble guests or something far more sinister? In a kingdom where subterfuge is the norm, coincidence is never just that, and now events are rapidly spinning out of control. Can Dressa and Ari find their way to truth before the kingdom comes crumbling down around them? The Shadow Rule is the second season of The Stars and Green Magics, an epic space fantasy serial set in a diverse, queernorm universe with shapeshifting royals, plotting nobles, and space magic! The Shadow Rule collects episodes 37-93, the complete second season. This book has main characters who are queer, nonbinary, trans, agender, genderfluid, ace and/or aro, lesbian, fat, POC, disabled, ND, and generally awesome. (Not all rep is stated, some is implied.) Barring the occasional burst of strong language, this book is PG-13.
The Shadow Rule
Word Count:

11500
Summary: A dark fairy tale in a modern Greek setting. Hiding in the mountains, a harpy and her adopted daughter struggle to survive. Iphis has always known that survival comes hand in hand with loneliness, but when she catches feelings for a girl in the nearby town, her heart yearns for a different kind of future. When she's suddenly attacked by a group of enraged harpies, things only become more complicated... and dangerous.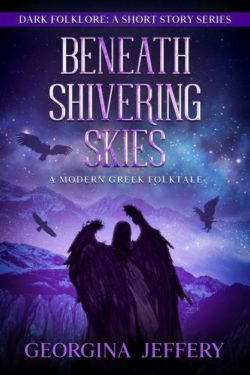 Beneath Shivering Skies
Word Count:

117,600
Summary: The Action Packed Conclusion to the Peridot Shift Trilogy Peridot is on the edge of annihilation. Once life-giving, the world's Trade Winds are transforming people into soulless monsters. The surviving Alchemist gods neglect their followers or take advantage of them. Even worse, a delicate peace has been wasted, and everything and everyone is at stake, especially Meran, the mistreated embodiment of the planet. Captain Talis and the crew of Fortune's Storm must try to do some good with what's left of Peridot in the hope that, together, they'll reclaim the hidden pieces of Meran's soul before the chaos seals her disastrous fate.
Cast Off
Word Count: Information not available
Summary: "Now is the time to release the burdens you have been carrying." The holiday season is traditionally one of reunions, homecomings, and family gatherings, but for the LGBTQIA+ community, it can be a time of anxiety and dread—a time we must hide our true selves in order to feel welcome. Too often, the holidays bring about loneliness and pain—a longing to be unequivocally accepted, seen, and loved for who we are. This season, we invite you to be Queer for the New Year! Enter nine fantastical worlds and witness rebirth and release as individuals let go of the past and welcome the new year with open arms and fearless hearts. In the final minutes to midnight, journey with us as we discover that acceptance can be found in the most unlikely of places, pain is not forever, and if nothing feels okay, then it is not the end. Move from the heartaches of old, make a fresh start with hope and renewal in your heart, and join us in being— queer for the new year.
Queer for the New Year
Word Count:

18619
Summary: Varon Cambeul has made it to the top: Royal Magician of the Kingdom of Lothia, at the right hand of the King, who is his lover. He has always kept the promise he made to his mother and his apprenticeship master: he has used his magic for good. This promise is tested when the King asks him to make a curse, a curse that will be cured by the King and so everyone will love him. Helping the King is using his magic for good, right? But, is Varon doing this because he has fallen in love with the King? What about those who will suffer from the curse and slowly transformed into ghosts, people like Theo and Russell in the town where the curse is released? Can Varon undo this great wrong? Can he save Theo and Russell and the others as they turn invisible? How can he love someone who is not doing good?
Susurrus
Word Count:

81,000
Summary: Explore the birth of a new world! Journey through time and space to the intricate biosphere of Juno, where three species have been birthed by the gods. First the Kuhifadi, inheritors of sun magic, able to do great deeds with magic stored in their bodies. Second the fearsome Uchafumlaji, technological savants who live in the depths of the ground. Third the weird Ngisikaa, a species uplifted from animals through communal memories. Small decisions and single individuals will affect the tide of history. Learn of the first Ngisikaa to meet death, whether a Kuhifadi will make the sacrifice to become a mage, and if an Uchafumlaji can build a bridge to the past. These stories and more will create The World of Juno! With content by: Nick Bright and Brent Lambert, C.J. Hosack, Nate Battalion, Daniel Eavenson, Malcolm F. Cross, Katie Cordy, William C. Tracy, N.L. Bates, Reese Hogan, Cedan Bourne, Robin C.M. Duncan, and X.M. Moon Genres: Science Fiction / Fantasy / Adventure / LGBT and Non Binary Market: Adult
The World of Juno
Word Count:

443
Summary: Dive into this collected edition of the first three volumes of The Darkly Enchanted Romance series. Sweet and sultry historical romances with just the right amount of spookiness! ~ THE HARVEST MOON In the shadows of late autumn, Malcolm comes across a quaint village tucked away in the forest. It seems the perfect spot for a weary traveller to lay his head, and maybe find a little company. But there is dark magic afoot, and lots of local gossip swirls around the seductive titian-haired weaver, Daniel. All Malcolm sought was a night's pleasure. He never suspected he would have to worry about losing his life. Or his heart. THE GHOST OF HILLCOMB HALL On a stormy night, landscape designer Jonas arrives at the cheerless and fog enswathed Hillcomb Hall. He finds an odd trio of ladies in residence and an eerie portrait of the hauntingly attractive portrait of a stately ancestor, which constantly seems to watch his every move. His nights are filled with weird dreams and otherworldly visitations. Is the manor house truly haunted? Or is it all just a trick of the mind, a sinister game being played by the inhabitants of Hillcomb Hall? MANCHESTER LAKE Monty, along with his best friend Bishop, discovers a mystical selkie in Manchester Lake who transforms into a gorgeous man of his dreams. Together they adventure through a tastefully debauched house party, an Edwardian novelty called a "night club," and a macabre Parisian cabaret. As their journey unfolds, they come face-to-face with ghoulish agents of the occult as well as startling discoveries - including Monty's realization that he is falling for the beautiful creature from the lake. Can he really be in love so soon, or is there a past connection? And what does it all have to do with his past trip to Paris? Before their adventure ends long-hidden secrets will erupt in a storm of magic and passion!
The Darkly Enchanted Omnibus
Word Count:

8000
Summary: Halloween is supposed to be a night for safe scares and harmless tricks, not terror ... or romance. College student Colin agrees to take his little cousin trick-or-treating, anticipating nothing worse than having to shepherd a bunch of sugar-crazed third-graders and a poorly-trained puppy. When the kids run ahead to peek into the local supposedly-haunted house, it seems like a harmless bit of mischief until the puppy crawls through a basement window and is lost. Colin promises to get her back. The place may be dark and creepy, but it can't really be haunted. When the house turns out to be occupied by an attractive man who is willing to let him in, it seems like a lucky break ... at first. Secrets. Sometimes Cat feels like he has nothing but secrets. No family, no freedom, not even a real name. Colin seems nice, but Cat doesn't owe him anything, not when the risk of punishment for helping a stranger is so high. But he's looking for a puppy, and Cat has a soft spot for dogs. And possibly also a soft spot for kind boys with soft lips. But the apparently simple task of finding a missing pet won't be as easy as it sounds, because the house isn't what it seems ... and neither is Cat. Could Colin possibly still want Cat if he learns the truth? They won't find out unless they manage to escape the darkness of the house.
Tricks with Cats and Dogs
Word Count:

97000
Summary: The seas spell freedom. Pirates and kraken, boats and submarines, deadly sirens, mermaids, and the women who face them all. These are our heroes. High seas adventure, fantasy, and magic weave together in this sapphic anthology focusing on the joy of the unbounded oceans. If you like diverse stories with lesbian and sapphic heroines exploring oceans, battling sea monsters, and seducing pirates, buy Farther Reefs today! With stories by: Sarah Day and Tim Pratt, Kim Pritekel, Kyoko M. Sara Codair, William C. Tracy, N.L. Bates, Robin C.M. Duncan, Vanessa Ricci-Thode, Margaret Adelle, and J.S. Fields Genres: Science Fiction / Fantasy / Adventure / Lesbian / LGBT and Non Binary Market: Adult
Farther Reefs
Word Count:

78740
Summary: Dare to explore the darkest tales where sunlight never touches. Etaski's dark fantasy epic, Sister Seekers, begins underground with its denizens living and dying in eternal night. A novice Red Sister leads us through much of the series, but her Elven ancestors have their own stories to share. Tales of Miurag: The Deepearth is a same-world anthology exploring critical moments in the history for the Dark Elves of Sivaraus. This collection contains explicit and sometimes grim content, though we are never lacking all hope. Stories included in this collection: House Aurenthin - a novella on the dramatic origins of the lowest-ranking noble house in Sivaraus. Auranka the Keeper - a chilling horror tale on the monstrous Mistress of the Driders. Rohenvi - the tragic romance in the early reign of the Matron of the Twelfth House. Gaelan - a "dark slice of life," how future Red Sisters sometimes make connections long before their trials Sister Seekers is dark epic fantasy for adults with an ever-broadening scope. The saga genre-hops a bit so things never get stale. Found Family is a core theme throughout. Perfect for fans of entwined plots, challenging themes, immersive worldbuilding, and elements of erotic horror. Sexuality and inner conflict play into character growth with nuanced intrigue, intense action, and fantastical magic.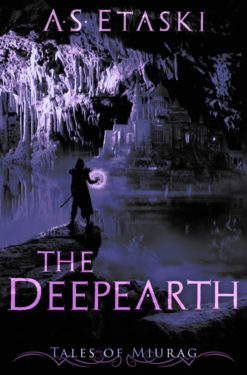 The Deepearth: Tales of Miurag 1
Word Count:

33000
Summary: Clarity (noun) Four definitions to inspire writers around the world and an unlimited number of possible stories to tell: 1) Coherent and intelligible 2) Transparent or pure 3) Attaining certainty about something 4) Easy to see or hear Clarity features 300-word speculative flash fiction stories from across the rainbow spectrum, from the minds of the writers of Queer Sci Fi.
Clarity
Word Count:

101,085
Summary: Attracted by passion, repelled by war. Can two shieldmaidens navigate battlegrounds of the sword and the heart? Sigrid the Valiant is legendary throughout the kingdoms of Norvegr for her heroic deeds, but her love has yet to find a home. Now, racing on the heels of her father's murder, a neighboring kingdom's raids signal an all-out conflict. Elyn is a young shieldmaiden with a score to settle, fighting her own insecurities along with enemies who threaten her homeland. However, she suspects a more menacing danger lurks in the shadows. When the two clash on opposite sides of their shield walls, sparks fly from both their swords and passions. But when they talk, the fierce women discover an antagonist's plot has pitted their kingdoms against each other. Can Sigrid and Elyn move past their suspicions and differences to forge a binding love and foil the villain's scheme, or will the enemy's assassins end their search for the truth? Action, adventure, and intrigue ride together with romance in this enemies-to-lovers saga from the pre-Viking land of Norvegr. Award-winning, best-selling author Edale Lane brings history to life in this fast-paced sapphic novel. Grab your ax and rönd and join the quest!
Sigrid and Elyn
Word Count: Information not available
Summary: "Pain is pain. It all hurts the same." Inflicted with dark desire, one man chooses between idyllic pretense and disturbing reality. Haunted by the silence of deep space, an engineer chases an eerie melody. Torn between penance and pride, a dishonored prince challenges the course of history. Suffering cracks our hearts and splinters our minds. It scars and alters us in irreversible ways. Yet while pain breaks us apart, it also binds us together. Our broken pieces can never rejoin as they once were, but they fit together to create new and distinctive wholes. Like the Japanese art of kintsugi, we can fill the velvety darkness of our scars with gold. Inflicted with life, an intelligent machine questions the illogic of family. Tempted by the desire to die, a shop clerk confronts the promise of his life. Offered the chance to transform his disfigurement, a ruined being looks to the smallest of lives for acceptance. An amalgamation of science fiction and fantasy subgenres, Inflicted invites you to peer into your own pain, examine your scars, and remember you are not alone. Pain binds us all, and how we face our brokenness redefines us. Immerse yourself in the brokenness of others and come away with a new understanding of self.
Inflicted
Word Count:

99000
Summary: Gavin Booker, a school librarian at Cooper Road Elementary, Raleigh, Northern Carolina, leads an orderly, normal life. Work, jogging, friends from work, his son every other weekend. Gavin is also a secret. He is a hybrid, or part-fairy, and in the Columbian Empire, hybrids are under an automatic death sentence. Magic is illegal. So is loving another man, another capital crime. Fairies are locked away in ghettoes, magical beasts, such as gryphons, unicorns, and pegasi are kept in zoos. The others, the tree and water spirits, the talking beasts, fauns, and the rest, are in hiding. This is the world in which Gavin grew up. He survived, thanks to his mother. He can never forget he is different: ministers preach against people like him constantly; hating the other is a part of every school's curriculum. But now, things are changing fast, and apparently, for the worst. Earthquakes, volcanoes, killer storms are all frequent occurrences. The medicine Gavin takes to suppress his body's glowing, isn't working. The spells cast by his doctor, a witch, are losing their power. If anyone finds out what Gavin is, he is dead. Under threat, the Empire always goes after its marginalized people. Can Gavin survive the coming catastrophe? Will he ever recover from losing the boys he loved? Can he find the fairy man who has haunted his dreams all his life before it is too late? Can his scarred heart ever heal?
In Light's Shadow
Word Count:

105,192
Summary: NEIMUS GRUNDLY TAKES the reigns and becomes the new alpha of an elite order of werewolves. His first day on the job isn't going so well. He has to deal with his hybrid wolf problem, the werecats, angry witches, and the moral decline amongst his subordinates. Oliver Grimes, one of his wolves, has discovered a way to gift magic. After bestowing himself with powers, Oliver can now create hybrid werewolves with a single bite, putting the pedigree of the pack in jeopardy. Thereby forcing Neimus to call upon the pack physician, who has been separated from the pack for 950 years, to help rid them of hybrid werewolves. In conjunction, Neimus has to walk a fine line with Phelan, the alpha of the werecats, with whom they are on the verge of war. The werecats attacks are more frequent and deadly, but Neimus fears the growing threat of the witches the most. He is thrust into uncharted territory. He must find a way to safely get his pack through these trying times. A challenge he isn't sure he can manage.
The Hallowed Bloodline: Resurgence
Word Count:

115000
Summary: Frontiers have always attracted the Other - where they find that the Other is always already there. These 22 stories explore what happens when queer characters encounter weirdness on the edge of the worlds they know. Authors include: Julie Bozza, J.A. Bryson, Dannye Chase, S.E. Denton, Miguel Flores, Adele Gardner, Roy Gray, KC Grifant, Peter Hackney, Bryn Hammond, Narrelle M Harris, Justin Warren Jackson, Toshiya Kamei, Catherine Lundoff, Bunny McFadden, Angus McIntyre, Atlin Merrick, Eleanor Musgrove, Jennifer Lee Rossman, Lauren Scharhag, Sara L. Uckelman, and Dawn Vogel.
Queer Weird West Tales
Word Count:

174300
Summary: My sister is in grave danger, captive in the city of Witch Hunters. As Manalar prepares for war, her only chance lies with infiltrators from Augran. I shall join them. The prosperous port of Augran thrives in diverse trade with the Dwarven Clans. The Bishops of Manalar have withdrawn defiantly into the Temple of the Sun, scorning their past allies. The Ma'ab Empire has sent their dark army out of the Far North, seeking not riches but a small, well-protected spring high upon a mountain. The sacred pool of Manalar is said to bless all mages who control it. On the fringe, there's Gavin and me. Each dedicated to our purpose, we garner allies from Augran and the Clans of Taiding willing to see them through. My Dragonblood bodyguard, Mourn, reinforces our strengths as we expect others like us to jump out of hiding and into the fray. I failed one sister. I will not fail another. Sirana's desperate search upon the Surface reaches its culmination in Battle for Manalar, where foes and allies unite and clash in this transformative event driven by opportunity, righteousness, and reprisal. Sister Seekers is dark epic fantasy for adults with an ever-broadening scope. The saga genre-hops a bit so things never get stale. Found Family is a core theme throughout. Perfect for fans of entwined plots, challenging themes, immersive worldbuilding, and elements of erotic horror. Sexuality and inner conflict play into character growth with nuanced intrigue, intense action, and fantastical magic.
Battle for Manalar: Sister Seekers 8
Word Count:

74000
Summary: Sometimes you have to fight fire with fire. Darien's ready for a quiet life— back to studying, sleeping with his ridiculously appealing necromancer, playing magical Fetch with his dog-familar. But breaking the demon portals was only a temporary solution, when there are sorcerers out there rebuilding them. Much as he'd like to shove the rest of the job on someone else, Darien's not willing to see his world burn. Silas is ready to turn the whole hunting-dark-sorcerers mess over to the Guild. Except he doesn't trust his council members as far as he can throw them, the sorcerer Chicago has sent sets his teeth on edge, and if they get it wrong, Darien's life is at risk. So with Grim at his side, and Pip encouraging Darien, they, Jasper, and Magda will take on one more hunt to find and stop the portal-builders.
Consumed by Fire