Word Count:
98263
Summary: Quinn and Valerian have come through the trials of facing an undead lich queen and the perils of falling in love. Now they work to restore AURA to its previous strength and efficiency while navigating their new life with each other. Fortunately, they're not in this alone. Kai Hiltas has taken over as the head of the research department at AURA and has become everyone's favourite workaholic, everyone except his lover Tenzin, who has had enough of his late nights and broken promises. As Kai tries to salvage his relationship, he finds a teacher for Quinn, who also happens to be one of Valerian's new officers, Flax Wolfheart, a sexy elf with trouble written all over him. Flax has motives beyond simply teaching Quinn to control his magic. He's trying to recover from his own losses and failures, but he has a plan. The two newest elvish crossovers, Ash and Sage, are sizzling hot and might even like him. With them as backup as he tracks a deadly stone mage and figures out how to teach Quinn, Flax sees his chance to impress Val and snag a place by his captain's side. On the hunt for both danger and redemption, Flax's pursuit leads him ultimately down trails he never expected.
Flax's Pursuit
July 14, 2015
Word Count: Information not available
Summary: "I have great responsibilities, but my path ahead is as foggy and blurred as the path behind me." With forester Taruif freed, Kelnaht has claimed him openly at Solstice before tribe and Ma'terra as his partner, but with their third, Ianys, bound by an old promise, their triad is still incomplete. Sneaking around puts the most strain on Ianys. He and Kelnaht must keep their relationship a secret or he will lose his daughter, Atèn. When several children fall ill with more than a summer bug, truth seeker Kelnaht is assigned once more to investigate. What he finds is deadly and threatens the life of every underage child in the tribe, including Atèn. Then a wounded traveller is found in the forest, left to die after a vicious attack. With Taruif and his apprentice on the hunt for a cure, Kelnaht focusses on the attacks, but the clues are few and more children are infected. Nothing seems to connect until both the traveller and Atèn dream of the same grey-haired elf. Driven by fear for his daughter, Ianys pulls away from his lovers. Kelnaht can only pray Ma'terra will guide him to a solution that brings them all together and keeps Atèn safe from harm.
Full Circle
August 15, 2016
Word Count: Information not available
Summary: Conall Dary is the mightiest mage born to the Fae race in more than two thousand years, ever since the Sundering of the Fae and human worlds. But that power condemns him to an untouched, virginal life — sex calls to power, and his power is enough to drain the magick, the life, from his entire world. Exiled from the Realm for refusing to turn his talent to service a Noble's petty revenge fantasies, his soul is torn in two and his magickal gifts blocked. Josh LaFontaine is a gifted tattoo artist with a heart of gold. While doing a good turn for an ex-boyfriend, he's stunned when a gorgeous red-haired twink appears out of nowhere at his feet during New York City's Pride march. The Marfach was thwarted in its first attempt to capture a Fae. But when a terrible accident separates Conall and Josh before they bond, it's a race to see who finds the mage first, the monster who will use him as a weapon to destroy his race, or his SoulShare.
Gale Force
June 10, 2015
Word Count:
40000
Summary: An outcast necromancer and a half-demon clerk need to save the world from seashell zombies. No pressure. Everyone's always told Aspic that trouble can't help following him because of his heritage. Determined to put the lie to half-demon stereotypes, he's finally landed a good, quiet job as an herbalist's clerk where the owner trusts him to man the shop alone. What could go wrong selling coriander and thyme? When Geoffrey first enters the shop, Aspic finds the little man's eccentric appearance startling, then intriguing. Geoffrey explains, in stops and starts, that he is a theoretical necromancer researching replacements for blood magic. His current line of inquiry involves seashells—do they have any in stock? Aspic's co-workers warn him that Geoffrey is a walking disaster, but he finds himself more and more drawn to a necromancer concerned with ethical death magic. Aspic is with Geoffrey in his lab when he has his first success, but the results aren't at all what he was aiming for. Instead of raising the dead rabbit on his table, the ritual animates the seashell and rock spell components, which flee the lab and cause havoc. They soon discover that the spell-animated objects are "zombies" in that they can "infect" other inanimate things. An unorthodox necromancer and an exasperated shop clerk are going to need some unconventional help to find a working de-animation spell before the world is overrun by zombie seashells and stones gone mad. Geoffrey the Very Strange is part of the Magic Emporium series. Each book stands alone, but each one features an appearance by Marden's Magic Emporium, a shop that can appear anywhere, but only once and only when someone's in dire need. This book contains theoretical necromancy, unexpected spell outcomes, some extraordinarily angry seashells, and a guaranteed HEA.
Geoffrey the Very Strange
March 18, 2021
Word Count: Information not available
Summary: Tiernan Guaire was exiled from the Fae Realm a century and a half ago for his brother's murder. His soul torn in half, he lives by his vows - never to trust, never to love. And if he can only be whole by finding and loving the human with the other half of his soul? He's content to live broken and half-souled. Kevin Almstead's future, the career he's worked for as long as he can remember, has been taken away by a vote of the partners at his law firm. Chance brings him to Purgatory, the hottest all-male nightclub in Washington, D.C., to a meeting with a Fae, with long blond hair, ice-blue eyes, and a smile promising pleasures he's never dreamed of. But there's no such thing as chance. But Tiernan isn't the only one to find Kevin in Purgatory. The most ancient enemy of the Fae race sees in the handsome lawyer a way to destroy the world from which it, too, was exiled. And only the strength of a true SoulShare bond can keep it from what it seeks.
Hard as Stone
May 25, 2015
Word Count:
84000
Summary: Cursed with immortality, Dermot MacKay craves death. To lift the faerie curse placed upon him and his men over 1,600 years ago, he must return the soul of his reincarnated wife to the exact place and time of her murder. But her soul is currently residing in the very modern Sidney St. George—and first he has to convince her to accompany him to Scotland. Sidney doesn't believe Dermot's wild claims of immortality and rebirth, yet she cannot deny that she is drawn to the sexy Scot. Nor can she explain the sense of déjà vu his touch elicits. Desperate for answers, she agrees to go with him—only to learn too late that to help the man she loves is to lose him forever… 84,000 words
Heart of the Druid Laird
September 19, 2011
Word Count:
99000
Summary: Gavin Booker, a school librarian at Cooper Road Elementary, Raleigh, Northern Carolina, leads an orderly, normal life. Work, jogging, friends from work, his son every other weekend. Gavin is also a secret. He is a hybrid, or part-fairy, and in the Columbian Empire, hybrids are under an automatic death sentence. Magic is illegal. So is loving another man, another capital crime. Fairies are locked away in ghettoes, magical beasts, such as gryphons, unicorns, and pegasi are kept in zoos. The others, the tree and water spirits, the talking beasts, fauns, and the rest, are in hiding. This is the world in which Gavin grew up. He survived, thanks to his mother. He can never forget he is different: ministers preach against people like him constantly; hating the other is a part of every school's curriculum. But now, things are changing fast, and apparently, for the worst. Earthquakes, volcanoes, killer storms are all frequent occurrences. The medicine Gavin takes to suppress his body's glowing, isn't working. The spells cast by his doctor, a witch, are losing their power. If anyone finds out what Gavin is, he is dead. Under threat, the Empire always goes after its marginalized people. Can Gavin survive the coming catastrophe? Will he ever recover from losing the boys he loved? Can he find the fairy man who has haunted his dreams all his life before it is too late? Can his scarred heart ever heal?
In Light's Shadow
September 3, 2022
Word Count: Information not available
Summary:
Even the grittiest blue collar city has a spark of magic under the surface; but in Baltimore, graffiti holds secret messages and artists are the spellcasters. Abandoned buildings hide ancient beings, and at the local club, you might find yourself rubbing shoulders with menacing and otherworldly creatures. If you know how to look, of course.
---
Merrick Moore is just a regular guy with dreams of making it big with his garage band, but not much else – until he crashes a party thrown by reclusive eccentrics. He gets more than he bargained for: new powers, a girlfriend who can visit him in his dreams, and a seven year bond with the local Fae court. When the mortal enemies of his new friends show up to his band's first gig, Merrick finds himself trying to prevent the start of a war that will have consequences for everyone, Fae and human alike.
In Sleep You Know
May 1, 2021
Word Count: Information not available
Summary: Genevieve doesn't know if her unhappiness and feelings of not fitting in are different from anyone else's on her college campus. Recovering from a break-up and struggling with depression, she takes comfort in her impulsive sketches of strange creatures to try to escape the dark cloud that looms over her. But the truth is her place in this world is a lot more complicated than she could ever imagine. With two strange men following her, vines that engulf her dorm overnight, and a cactus that overruns the campus library, she is forced to face the possibility that her origins are more mysterious than the fact that she was abandoned as a baby. Especially as a powerful urge takes hold of her to draw something new and frightening. Can it be that her reality is stranger than her imagination? The one thing she can't imagine is that her happiness and talents just might be the key to save or destroy an invisible world.
In The Drawing
August 8, 2019
Word Count:
36000
Summary: INK (NOUN) Five definitions to inspire writers around the world and an unlimited number of possible stories to tell: 1) A colored fluid used for writing 2) The action of signing a deal 3) A black liquid ejected by squid 4) Publicity in the written media 5) A slang word for tattoos Ink features 300-word speculative flash fiction stories from across the rainbow spectrum, from the minds of the writers of Queer Sci Fi.
Ink
August 10, 2021
Word Count:
36000
Summary: IN-NO-VA-TION (Noun) 1) A new idea, method, or device. 2) The introduction of something new. 3) The application of better solutions to meet unarticulated needs. Three definitions to inspire writers around the world and an unlimited number of possible stories to tell. Here are 120 of our favorites. Innovation features 300-word speculative flash fiction stories from across the rainbow spectrum, from the minds of the writers of Queer Sci Fi.
Innovation
August 8, 2020
Word Count:
69478
Summary: The staff at AURA has had a busy summer. Between chronic understaffing, dealing with warring goblin factions and an unusual number of hazardous Events, everyone is overworked. Sinistrus the incubus, newly hired as an AURA medic, actually enjoys his busy new life of responsible employee and faithful lover to his gorgeous police sergeant, Ness the centaur. Life would be perfect, except for a niggling suspicion about a colleague. Everyone else seems to disagree, but Sin's certain something's not right with that pixie. Kellen, a pixie crossover, loves his job working in AURA medical, even if he is something of an outsider. His job and the friends he manages to make are happy spots in an otherwise dark and secretive life. As the rest of AURA tries to discover the root of the inexplicable rise in violence and large-scale Events, Kellen fights to preserve his own life and what dignity he has left. These two unlikely heroes must put their differences aside and navigate tragedy and ever-escalating disaster together in order to stop the sinister forces that hold Kellen in thrall.
Kellen's Awakening
May 3, 2016
Word Count:
42000
Summary: Due to a misunderstanding, the troll that lives underneath one of the most romantic bridges in Paris inadvertently unlocks every single padlock lovers have left there over the years. L'Authoritié de Fée Folklorique are up in arms. He has no idea what all the fuss is about. The noise was driving him mad. He just wanted a bit of peace and quiet. A spell is cast, leaving the troll in a bit of a predicament. He is charged with the seemingly impossible task of fixing the locks before the spell can be reversed and he is allowed to return to his home. There are other complications, the least of which is the insistence and persistence of a fairy who is determined to help him against the wishes of his own people. Now the troll has a dilemma. What is more important to him? The only home he has known for two thousand years, or a fairy he has just met? * * * A story from Love Unlocked - a collection of seven short stories and novellas - unique LGBTQ romances inspired by the Love Lock Bridge.
Locked in the Moment
February 14, 2016
Word Count:
35000
Summary: The guide mentioned puddles, but I envisioned lakes, deep treacherous lakes, and I was drowning. One turn has passed, another Solstice is just around the corner, and having an illicit affair with not one but two lovers—smith Ianys and shunned forester Taruif—is taking its toll on truth seeker Kelnaht. A stripling has gone missing from the tribe, and heavy rainfall hides all traces of his whereabouts. With days creeping by without a lead, it's hard to keep the tribe's spirits up, more so when Kelnaht's own future depends on the elders. Taruif has been shunned for almost twenty turns, but now that a possible forester's apprentice is coming of age, the elders consider reducing his sentence. Taruif could be set free. In gaining one lover, Kelnaht may lose another. Ianys seems to be pulling away from them both. He doesn't want to hinder Taruif's happiness while an old promise keeps Ianys from loving Kelnaht openly. But Taruif needs Kelnaht and Ianys' support more than ever. If they lose faith in each other, the puddles in their paths will swallow them all.
Lost and Found
August 15, 2016
Word Count: Information not available
Summary: Love defies time, crosses the infinite distance of space, and sparks formidable magics in the hearts of those it touches. And immortality? Yeah, it's got that covered, too. In this powerful volume, Pop Seagull Publishing presents twelve science fiction and fantasy short stories on the theme of love and its role as a force of nature. Follow an ambitious 1930's journalist and her high-society boyfriend as they defend the world from evil beings that hide in shadows. Can love prevail when science fails? Take a wild ride with Zephraim Cochrane as he searches for his long lost love through inter-dimensional travel. After all, the best inventions are always made to get dates. Embark on a whirlwind romance with a creature of the Fey in seven days, a beautiful story of friendship and finding self-love before all else. Descend into a very Torontonian sort of hell in search of lost love in Melanie in the underworld... just don't forget to pet the corgi. You'll find these adventures, and many more, inside.
Love, Time, Space, Magic
March 29, 2015
Word Count: Information not available
Summary: In the sixth novel in the Rainbow Award-nominated paranormal M/M SoulShares series, Fiachra Dubhdara is a Fae living a stolen life, in a body that isn't his own. He's also the most junior detective on the D.C. Vice squad, assigned the task of infiltrating and shutting down Tiernan Guaire's Purgatory. Peri Katsura is the newest and hottest masseur at Lochlann Doran's Big Boy Massage, inexplicably drawn to the gorgeous cop assigned to bust him but needing to hide a dark secret of his own. And the owner of Fiachra's body has a plan to get it back – a plan that may cost Fiachra his SoulShare and close the doors of Purgatory forever. Unless the Marfach gets there first…
Mantled in Mist
January 20, 2016
Word Count: Information not available
Summary: Michael likes to pretend. When he rescues a tiny elf in his parents' garden, however, a witch threatens to stop Michael from pretending. Can he believe in himself?
Michael And the Elf
November 30, 2012
Word Count:
94000
Summary: A CHILD OF TWO WORLDS – BELONGING TO NEITHER, DANGEROUS TO BOTH. All Kisaki wants is a place where she can belong, but there are few safe havens for half demons such as her. Raised in isolation within the celestial palace, she longs to escape and explore the world below – Earth. So when an opportunity presents itself, she takes it, inadvertently stealing the Blade of Heaven – her mother's greatest treasure – in the process. Exploring a new land is terrifying enough, but hot on her heels is the tiger-spirit Shitoro. If he catches her, he'll drag her straight back home. She thinks it's to punish her. But in actuality it's to protect her. Kisaki doesn't know it yet, but there's a good reason she's been kept hidden. Half-breeds aren't tolerated by the great demon lords. If they find her, they'll stop at nothing to take the blade and use it to destroy her, her mother, and the new world she hopes to call home.
Midnite's Daughter
Word Count:
36000
Summary: MI-GRA-TION (Noun) 1) Seasonal movement of animals from one region to another. 2) Movement of people to a new area or country in order to find work or better living conditions. 3) Movement from one part of something to another. Three definitions to inspire writers around the world and an unlimited number of possible stories to tell. Here are 120 of our favorites. Migration feaures 300-word speculative flash fiction stories from across the rainbow spectrum, from the minds of the writers of Queer Sci Fi.
Migration
July 24, 2019
Word Count:
43,000
Summary: What do you do when your heart contradicts everything you know? Ieuan is a young morgen in a lot of trouble. The storm he sung up to soothe his broken heart attracted the attention of the Cursed One, an underwater sorcerer exiled from the morgen group for a terrible crime. But the Cursed One wants Ieuan's help to save a life -- that of Zane, a sailor shipwrecked in Ieuan's storm. Ieuan finds himself drawn into the Cursed One's impossible task against his better judgement. But as his morgen kin mount a search for him, Ieuan's help might be all of their undoing. Set in the same world as Deep Magic, Morgen Curse explores what happened to the morgen who left the Llyn Peninsula.  Morgen Curse is not a sequel, exactly. And it's not exactly a romance either. It's a beginning.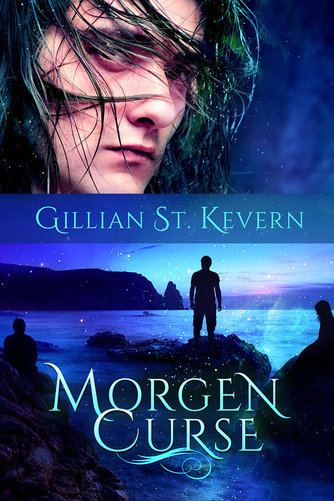 Morgen Curse
May 30, 2016