Word Count: Information not available
Summary:
Lucee Fearney legitimately inherited the leadership of the Fae faction known as Eleriannan, but what will happen when they find out that she still only has the magical skills of a Mortal?
---
When unexpected, dangerous visitors show up at the door of Maithe House, they bring word of an enemy that none of the Fae know how to fight. Even if Lucee can learn to trust herself and lean on her friends for help, will it be enough to take down the powerful and mysterious foe  known as the Mealladhan? Rejoin Lucee, Cullen, Merrick, Vali, Sousa, and all the other Mortal-born and Fae of Baltimore in another magical, musical adventure! 
Now with 100% more outdoor summer music festivals, uncanny graffiti, and shadowy forces.
Cast a Shadow of Doubt
Word Count:

22000
Summary: All Jet wants is a fun night out at the club he's finally old enough to get into. Okay, not all -- he also wants mystery, adventure, love, college tuition, and a new best friend who isn't too busy to spend time with him. But he wasn't expecting any of those to find him at Club Nox. And he definitely wasn't expecting a gorgeous stranger to offer him his heart's desire in exchange for ... his actual heart? What kind of crazy deal is this? And what does the alluring Darken mean when he says it's too late for Jet to change his mind? Why can't Jet take off the heart-shaped pendant? Darken feels a little guilty about tricking the cute goth boy at the club into taking on his curse. But what choice did he have? Any one person can only wear the heart pendant for so long before it drains them, and he's served his three years. As curses go, this one honestly isn't so bad. And maybe Jet will let Darken sweeten the deal with a few kisses. He isn't sticking around now that he's free, though. And he definitely isn't falling in love again. That's what got him into this mess in the first place. Soon Jet realizes Darken told him the truth: Jet has made a bargain he can't escape. Does he even want to, if Darken is part of the package? If only human hearts were as easy to win as magical ones...
Dark Arts For Bright Hearts
Word Count: Information not available
Summary:
Even the grittiest blue collar city has a spark of magic under the surface; but in Baltimore, graffiti holds secret messages and artists are the spellcasters. Abandoned buildings hide ancient beings, and at the local club, you might find yourself rubbing shoulders with menacing and otherworldly creatures. If you know how to look, of course.
---
Merrick Moore is just a regular guy with dreams of making it big with his garage band, but not much else – until he crashes a party thrown by reclusive eccentrics. He gets more than he bargained for: new powers, a girlfriend who can visit him in his dreams, and a seven year bond with the local Fae court. When the mortal enemies of his new friends show up to his band's first gig, Merrick finds himself trying to prevent the start of a war that will have consequences for everyone, Fae and human alike.
In Sleep You Know
Word Count:

38000
Summary: RISE (noun / verb) Eight definitions to inspire writers around the world, and an unlimited number of possible stories to tell: 1) An upward slope or movement 2) A beginning or origin 3) An increase in amount or number 4) An angry reaction 5) To take up arms 6) To return from death 7) To become heartened or elated 8) To exert oneself to meet a challenge Rise features 300-word speculative flash fiction stories from across the rainbow spectrum, from the minds of the writers of Queer Sci Fi.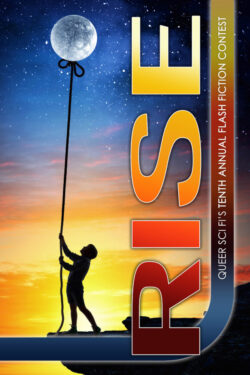 Rise
Word Count:

97000
Summary: Los Angeles is an apocalyptic wasteland. Without orientation, Colton stumbles through the vast, deserted city. He doesn't remember who he is and where he came from. Scavengers save his life from mutants and bring him to the only remaining inhabited area and safe Zone in former Hollywood. There he learns that after a devastating catastrophe called The Glitch, reality shifted, allowing nightmarish creatures from another dimension to enter our world. These co-called Dark Ones feed on suffering and violence, wanting nothing less than the complete annihilation of humanity. Colton discovers that he has extraordinary abilities and joins a league of unusual defenders: ex-cop Eric, female cyborg Bombshell and Vincent, a mighty entity from another world, disguised as a human soldier. But the Dark Ones are evil beyond imagination and with their ice-cold enforcer, the traitor Eurydice, they are a threat nearly impossible to overcome. Cunning and ruthless, Eurydice sets a ploy in action, which leads to the destruction of the Zone's defenses weakening the tiny community from within. It's up to Colton and his friends to take a desperate stand against the superior enemy and save what is left of humanity from extinction. Fast-paced, action-driven, and cinematic – an eternal fight of good vs. evil told in a way as never before.
Shadow City