Word Count: Information not available
Summary:
Lucky Denver has wandering feet, sticky fingers and an unreliable moral compass—he's never had a home and he's not so sure he cares about what he's missing.
Arnold Kreed who runs a small-town B&B knows what a home should be. So does his home, The Oaks—aka Mildred—and she has some very definite opinions on who should stay and who should go.
Mildred wants Lucky to stay—and while Kreed is surprised, he can't really blame the old girl. He's getting sort of attached himself. Lucky might be fine with the house's eccentricities, but he's not so sure Kreed will be fine with the man attached to Lucky's real name. When Kreed falls ill, Lucky needs to make a decision—wander away like he's always done or stay and be his better self. Kreed's hoping he'll stay—and so is The Oaks, and Mildred has a way of getting what she wants.
Thief in the Light
Word Count: Information not available
Summary: Real estate is hell - sometimes literally! Wedged between real estate speculators, startup bros, and gentrified neighborhoods, it's gotten hard to get by in San Francisco and it's getting even harder all the time. Now two witches have decided the time has come to do something about it. Using all their arcane skills, Iria – tall, dark, and genderqueer – and their partner and mentor, Madge – the granddaughter of Chinese immigrants and a powerful magician – have summoned back to the world of the living one of San Francisco's greatest eccentric heroes: Joshua Norton, self-declared Emperor of the United States and Protector of Mexico. In the 19th century he issued imperial proclamations intended to combat prejudice and advance the interests of the destitute and downtrodden. Binding him to themselves and to the city, Iria and Madge need Norton's charisma and tireless dedication to the city to help them save the city from a demon of greed. With an exciting combination of spell-slinging and derring-do, Norton and his modern-day patrons embark on a series of adventures across San Francisco's past and present in search of the keys to the city: objects from its past they can use in the present to save the city's future from a demon of greed and his tireless efforts to rob San Francisco of its soul forever!
Through the Doors of Oblivion
Word Count:

93765
Summary: Home, a place where we belong and are safe and loved. Home, the house in which we grew up, a neighborhood, a culture, even a country. Home is a state of mind, it is a place of the heart, and in the heart. Finding home, coming home, and bringing home the one we love is a journey, a journey that can be a dangerous adventure. For the lovers in these stories, adventures can include quests and fighting dragons and demons, past and present, physical as well as mental and emotional. Rocket launchers need to be dodged, the Wild Hunt needs to be outrun. For some of the lovers here, home has been lost, or they have been forced to leave, as is too common for LGBT+ youth. In this collection queer positive speculative fiction stories, explore the idea of what and where home is in the lives of these lovers. Will they survive their quests, defeat their monsters? Will they find a place to call home?  
To Bring Him Home and Other Tales
Word Count:

54000
Summary: Silas Thornwood's worst nightmare has come to life. Darien's familiar Pip is gravely injured, and Darien and Jasper have been kidnapped. Someone ruthless and violent is holding the man Silas loves prisoner, for purposes he doesn't want to imagine. Silas needs help from his friends to locate and rescue Darien. And when he does, those responsible― whether sorcerer, human, or demon― are going to be truly, utterly sorry…
Trapped by Greed
Word Count:

121650
Summary: The helpless Noble I was once is no more. I am Red Sister Sirana, watching my city from the shadows. Once silent and disposable, I've found a place among the Sisterhood of Sivaraus, coarse, crude, and stirring to my blood. In crimson uniform I walk among sensual consorts, studious wizards, and sadistic Priestesses. I am an initiate with true influence in my underground city, a power both freeing and addicting. Everyone keeps secrets which bind them up if they jerk on the web too hard, and none are more vulnerable than novices wielding new power. Should my own secret come to the surface, I know I can't survive alone. I won't give up what I've found. Neither will the Sisterhood. Sivaraus will always need new Red Sisters, no matter what strangeness we bring with us. In Treasure Revealed, A.S. Etaski weaves threads of intrigue and action in this second tale of the Sister Seekers, where a new fighter tastes her potential in new connections that she must dare to strengthen by choice. Sister Seekers is dark epic fantasy for adults with an ever-broadening scope. The saga genre-hops a bit so things never get stale. Found Family is a core theme throughout. Perfect for fans of entwined plots, challenging themes, immersive worldbuilding, and elements of erotic horror. Sexuality and inner conflict play into character growth with nuanced intrigue, intense action, and fantastical magic.
Treasure Revealed: Sister Seekers 2
Word Count:

8000
Summary: Halloween is supposed to be a night for safe scares and harmless tricks, not terror ... or romance. College student Colin agrees to take his little cousin trick-or-treating, anticipating nothing worse than having to shepherd a bunch of sugar-crazed third-graders and a poorly-trained puppy. When the kids run ahead to peek into the local supposedly-haunted house, it seems like a harmless bit of mischief until the puppy crawls through a basement window and is lost. Colin promises to get her back. The place may be dark and creepy, but it can't really be haunted. When the house turns out to be occupied by an attractive man who is willing to let him in, it seems like a lucky break ... at first. Secrets. Sometimes Cat feels like he has nothing but secrets. No family, no freedom, not even a real name. Colin seems nice, but Cat doesn't owe him anything, not when the risk of punishment for helping a stranger is so high. But he's looking for a puppy, and Cat has a soft spot for dogs. And possibly also a soft spot for kind boys with soft lips. But the apparently simple task of finding a missing pet won't be as easy as it sounds, because the house isn't what it seems ... and neither is Cat. Could Colin possibly still want Cat if he learns the truth? They won't find out unless they manage to escape the darkness of the house.
Tricks with Cats and Dogs
Word Count:

31600
Summary: Can love last when one won't leave, and the other can't stay? Fear of moving farther away from his family had cost Eer the love of his life, but now, after twenty-five turns, Kat has returned…with a son, and Eer's feelings resurface as if it had been only yesterday since they'd first kissed. But any hope Eer has of rekindling their love seems doomed to fail when a murderer's taste for revenge forces Kat to choose between endangering their family or running… and leaving Eer behind, again. ___________________________ wordcount: 31,600 words TALES OF THE FOREST is an ongoing series of standalone stories linked by a forest world. Content warnings are available in the book's front matter and on the author's website.
Twenty-Five Turns
Word Count:

35454
Summary: A poltergeist haunts Taro, dogging his international travels. It washes glasses, puts dishes away, and even dusts. At least he hopes it's a cleaning-obsessed poltergeist and not his own anxieties burbling over into neat freak fits he doesn't remember. When his property manager suggests he call paranormal expert, Jack Montrose, Taro's skeptical but desperate enough to try even a ghost hunter. Jack's arrival crushes Taro's hopes of a dashing Van Helsing-style hero. Instead of an invincible hunter, he gets Ichabod Crane. As the paranormal puzzles multiply and Jack begins to suggest the entity might not be a ghostly one, Taro adds a budding friendship with Jack to his pile of anxieties. It's a race to see whether Taro's poltergeist or his relationship with the obviously-not-ace Jack will reach maximum strangeness first.
Uncommonly Tidy Poltergeists
Word Count:

120000
Summary: Some bonds are strong enough to last a lifetime, and change the world. Rory O'Sullivan has spent his life alone. Once upon a time, he made one real human connection as a gay man. That moment happened in Nazi captivity, and the wolf he escaped with was a Soviet soldier. They had a taste of what love might mean, but in 1944, personal happiness had to come second to survival. Now, seventy years later, when he feels the presence of Nikolai, somehow close and needing him after all that time, no one— not gay Alpha Aaron of the Minneapolis West pack, or rising political threats, or even top Alpha Rick Brown himself— will stop him. Rory's going to answer the appeal he's waited a lifetime for. Some bonds can't be denied. This is a new novel in the Hidden Wolves series.
Undeniable Bonds
Word Count: Information not available
Summary: The sequel to The Seer. Finally liberated from her captor, Amarta—The Seer of Arunkel—travels south to Perripur, her former hunter—and lover—at her side. She needs all the help she can get, because more hunters are tracking her, close behind. As Amarta's fame spreads across two countries, so does her need to understand herself, and to find others who can also see into the future. Back in Arunkel, the man who once held Amarta's freedom—the queen's Lord Commander and Royal Consort—plays a deadly game with the aristocratic Houses. He must win if his queen and his child are to survive. He has not forgotten the Seer whom he once hunted, and held captive. Amarta has not forgotten him, either. Unmoored—the first book of The Stranger Trilogy—begins new adventures for Amarta, The Seer. Come explore this rich world, follow the court intrigue, and learn the truth about power. Be sure to pick up the other books in the trilogy: Maelstrom and Landfall.
Unmoored
Word Count:

37000
Summary: He'll get by with a little help from his mate. When Paul's long-buried past reaches out for him, having Simon at his back should make all the difference. The shy, studious teen who ditched his hometown is now a grown man with a good life, an honorable profession, and a werewolf boyfriend. So why is still so hard to go home? A new 37,000 word novella in the same time frame as book 6 in the Hidden Wolves series brings challenges, pain, love, and their HEA for our favorite guys. Content warning for assisted suicide.
Unplanned Coda
Word Count:

48000
Summary: Bound by a dark act of hate and despair, high school freshmen, Andrew and Kiernan, learn that their untimely deaths did not bring an end to their pain, but only began the suffering of those left behind. While his lost memories return, Andrew must master seemingly impossible feats, both spiritual and physical. As a dark spirit stalks Kiernan through the borderlands of life and death, he must also face the pain his actions have caused his loved ones. To save both their souls, Andrew must convince Kiernan to return to life and open his eyes to the love and beauty which had always been there.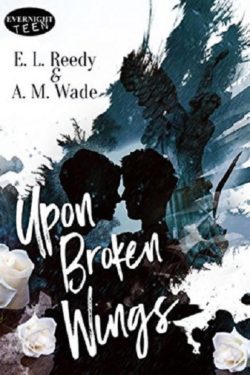 Upon Broken Wings
Word Count:

103061
Summary: SISTER. ASSASSIN. VESSEL. Echo Rodrigal isn't just a survivor; she's a success. But in a land where the law is there are no laws, the terms of success rest on a knife's edge, and Echo's luck is about to change. The Vindicata are one of the top vengeance crews in the Ten Realms of Interra. Their oaths to only commit crimes of justice have earned them the respect of their peers. But the Vindicata are more than a crew, they're a family. And ever since they adopted Echo, she's cared about one thing: making her family proud. For years, that's meant becoming the continent's most feared assassin. But each kill wreaks havoc on her soul, no matter how justified. Echo's unraveling fast, complicated by the mysterious rift growing between her and her beloved sister. Miyala's keeping dangerous secrets, and Echo cannot find the key to unlock her sister's trust. When the Warlord orders the Vindicata to transport foreign dissidents to a new prison, they must put their personal issues aside to face an impossible choice: die for defying orders, or die for breaking their oaths to uphold justice. Between meddling gods returning to the continent, mercenaries around every corner, and an ancient prophecy that foretells the end of all worlds, the pressure on Echo is mounting fast. Can she make enough right moves to save her family? The fate of many worlds rests in Echo's next choice.
Vessel of Starfire
Word Count:

88,500
Summary: When secrets and lies threaten the throne, can a fierce champion tame her passion in time to stop a cruel enemy's ruthless march? Viking Warrior Princess Lena craves revenge. Hunting a killer after her husband is brutally slain, she discovers a shadowy traitor is at play behind the scenes, working to disrupt the balance of power. Placing her need for vengeance on hold when the king falls gravely ill, Lena leads an expedition to locate a fabled healer across a treacherous sea. Caitlin had been snatched from her home in Eire and sold into slavery. She prayed for a means of escape, and in storms Lena to her rescue. She is grateful, but realizes her feelings for Lena run far deeper. Mighty warrior Gunnar is loyal to the core. But when his lord orders him to sabotage the princess's royal mission, he's plagued by doubt, uncertain he's fighting for the right side. Beset by a plethora of dangers and delays, Lena battles foes on every front, even within her own heart as her love for Caitlin grows. Gunnar must choose between honor and fealty, but in the end, will a traitor's blade end all their lives? Viking Quest is a breathtaking historical fantasy novel. If you like principled characters, battles of conscience, and tender F/F romance, then you'll love Edale Lane's action-packed epic. Buy Viking Quest to destroy a fearsome foe today!
Viking Quest
Word Count:

41778
Summary: Content with the quiet isolation of their lake house, Snowden and Rowan Hadley survive on summer jobs and winter hunting, unable to move on since their parents died. Their peace is shattered by a strange, human-acclimated bear who insists on following Rowan like a giant hunting dog and again by the discovery of a naked, surly stranger in the snow. Both bear and man lead the Hadley brothers into a strange, surreal world where sorcery and RPG software intertwine. Curses and magical traps lie in wait around every turn. Rowan and Snowden will need to adjust their view of how the world works, and quickly, if they want to live through rescuing their enchanted princes.
Wild Rose, Silent Snow
Word Count: Information not available
Summary: With Midwinter just around the corner, Mark's Nanna decides that it is time he learnt more about his family heritage. Learning witchcraft shouldn't be too difficult, right? Balancing school, magic, and the distractions of the gorgeous new guy, should make this a very interesting winter. Free to download from most ebook retailers.
Winter Trials (Northern Witch #1)
Word Count: Information not available
Summary: Mobsters, Monsters, and Magic. It's 1929 at the height of Prohibition in Plymouth, Massachusetts. Bill Chiavo and his twin sister Millie are learning Wisdom, the family magic. Wise families should take care of their own but when the stock market crashes, their Irish Uncle Finn hoards his visions. He reaps the rewards and the Chiavos head to the poor house. Now the twins are on the outs while their uncle's got the money, the power, and the connections to take over. Bill and Millie need allies and the mob-run Supper Club just might have the muscle they need. Millie wants them to skip town but Bill refuses to leave his family or friends at Finn's mercy. The twins will need to wise up if they are to thwart their uncle's conquest. But how do you defy a man who sees the future? The Wise and crime families clash in this small town for big stakes. But who will claim the prize?
Wiser Guys
Word Count:

73000
Summary: When supernatural secrets collide, it'll take more than coffee to brew the perfect love. When Ky Hernández bonded with his familiar, Zuri, his life changed forever. Their connection turned him into a practicing witch and led him to his calling as a medimagical professional. However, it totally tanked his love life—what guy would settle for eternal second place behind a parrot? So Ky keeps his witchy nature under wraps and sticks to hookups with humans, which can never go anywhere. But the mouthwatering barista at the coffee shop next door makes him thirst for more than a caffeine fix. The charms Ewan Jones uses to appear human are inconvenient, disorienting, and . . . necessary. Ewan and his siblings are achubyddion, metaphysical healers whose powers are coveted by unscrupulous supernatural beings. And let's face it: all supes are unscrupulous, given the right incentive. He's grateful for the protections that hide his little family, and for the barista job that keeps them housed and fed. He's just so lonely. And his regular, Ky, the super-hot, commitment-averse EMT, seems like the perfect candidate for a one-night shot at intimacy. After all, humans are no threat. It takes a clumsy coffee shop intern, a mysterious werewolf epidemic, and one snarky parrot to unravel their pasts—and give them a chance at a future.
Witch Under Wraps
Word Count: Information not available
Summary: Don't you long for heroines who win each other? In this anthology you can find erotic romance and wild adventure with women who use their wits and/or weapons and come together in a blaze of passion. These twelve wonderful writers present a wide range of stories. Some adapted traditional tales, and some updated old ones to contemporary times, not merely changing the gender of a character but making the female aspect essential. Some created original plots with a fairy tale sensibility, while others wrote with merely a subtle aura of fantasy. Their heroines are witches, princesses, brave, resourceful women of all walks of life, and even a troll and a dryad. There are curses and spells, battles and intrigue, elements of magic and explorations of universal themes, and, yes, sex, sensuality and true love, all bound skillfully together into complex and many-layered stories.
Witches, Princesses and Women at Arms: Erotic Lesbian Fairy Tales
Word Count:

87200
Summary: What do you do when you finally prove the existence of the otherworld, but the ghosts kick your ass? For Trent Pielmeyer, the answer is run like hell—away from his hostile family, away from the disbelieving cops, and far, far, far away from anything that smacks of the supernatural. After seven years' captivity in a whacked-out alternate dimension, he is so over legend tripping. When Christophe Clavret spots Trent in a Portland bar, he detects a kindred spirit—another man attempting to outrun the darkness of his own soul. But despite their sizzling chemistry, Trent's hatred of the uncanny makes Christophe hesitant to confide the truth: he's a werewolf, one of a dwindling line, the victim of a genetic curse extending back to feudal Europe. But dark forces are at work, threatening more than their growing love. If Christophe can't win Trent's trust, and if Trent can't overcome his fear of the paranormal, the cost could be Trent's freedom and Christophe's humanity. Or it might be both their lives.
Wolf's Clothing