Word Count:

97,641
Summary:
A quest for power. A growing evil. Can a scholar of magic keep an incredible discovery from the forces of chaos?
Wizard and bookworm Athala Dohn pursues her research with a fiery passion. So when she uncovers evidence of an ancient spell buried deep within the city, she won't rest until she's the one who makes the find. Determined to outwit potentially-deadly magical protections, Athala brings help: a Conscript, Elise Bresch, and a barbarian, Ragan Ermolt. Together they enter the sewers completely unprepared for what awaits… With undead skeletons, giant rats, and even a dragon in their path, Athala never expected a set of metal bars to thwart her. But when a corrupt man imprisons and tortures her and her friends, the scholar realizes her curiosity may have unleashed destruction upon all of Neuges. Athala has one chance to escape captivity and claim the spell before the Age of Mortals slips from humanity's grasp.
Ancients
is the first book in the Heroes by Necessity saga of sword and sorcery fantasy novels. If you like magical Dungeons and Dragons inspired worlds, multifaceted and diverse characters, and pulse-pounding action, then you'll love Riley S. Keene's epic tale.
Buy Ancients today!
Ancients
Word Count: Information not available
Summary: One month after her childhood friend Gilbert appeared on the doorstep of her library seeking help in fleeing from the Blue Crescent Brotherhood, Lenna Faircloth - librarian, self-proclaimed dormouse, and lover of all things alcoholic - finds herself in the unlikeliest of situations: roughing it in the forest with her mother's people, the Freewomen of Laur. With his dying words Gilbert bequeathed to Lenna one of three powerful artifacts, dubiously named the Godjewels, and it had formed a unique psychic bond with her that only the wards of the Freewoman settlement could mask from the other parties interested in acquiring her gem. As for Lenna? She's just interested in taking a bath, having a tall glass of wine, and forgetting the past month even happened. APPRENTICE continues the tale of LIBRARIAN and follows the adventures of a young woman forced to confront and discover what it means to be a hero (albeit a sometimes tipsy one), a friend, and a person with far too much power at their ready disposal.
Apprentice
Word Count:

171995
Summary: There will be time to crown a king, but first a warlord must rise. Arthur's battle summer is upon him, and he must be victorious if he is to claim his throne and rid the land of Saxon invaders. The teenage king has pulled the sword from the stone, but still the petty kings will not accept his rule. The Saxons are invading, Lot and Uriens are united against him, and he still has to prove himself to the common folk of the land. Next stop: the mysterious standing stones of the Giants' Dance and the Beltane ritual. Warfare does not wait for Arthur to catch his breath. Battle follows battle. Love is lost and found. Allies fall, enemies rise, and betrayals come to the young High King. If he stays strong, he can lead his people through a bloody summer. If not, all of Britannia will fall. Arthur alone will be responsible for the glory or ruin to come. Merlin will help him to see it through. But what secrets is the druid keeping? Arthur Rex: Dux Bellorum is the third installment in an epic retelling of the King Arthur legend. You only think you know the story.
Arthur Rex: Dux Bellorum
Word Count:

82290
Summary: Merlin has devised a test. All of the petty kings have gathered in Londinium to see who will be the next High King. Arthur and his retinue travel to the city in secret, but they are not the only ones with an interest in the Sword in the Stone. Morgana, Arthur's half-sister and the renegade queen of Rheged, has journeyed there with her Saxon lover, and petty kings have come with no kind welcome for the young High King. Arthur pulls the sword, but the kings will not accept him. He is given the temporary title of Dux Bellorum, and with Merlin at his side, he sets out to unite the tribes of Britannia as the Saxon threat grows more menacing on their eastern shore. Some battles are easy. Others are carried out in secret. It is the secret battles that Arthur will need to fear. "Arthur Rex: Ex Lapis" is the second installment of an epic retelling of the Arthurian legend. You only think you know the story.
Arthur Rex: Ex Lapis
Word Count:

100260
Summary: The High King is dead. While royal bastards and petty kings squabble for the power to take the vacant throne, only the druid Merlin and his succubus mother know where to find the late king's only legal heir. Arthur is young, idealistic, and living a quiet life at Caer Gai, protected by his foster father. Merlin put him there, and he will take him back out when the time is right, but first he has to set the stage and sweep away distractions… like the boy that Arthur loves. Merlin and his mother have plans for the hidden king, and they will stop at nothing to get him where they want him to go. But Arthur is no mere pawn, and though Merlin is a master manipulator, Arthur has ideas of his own about how his life should be. "ARTHUR REX: In Principio" is the first installment of an epic retelling of the Arthurian legend. You only think you know the story.
Arthur Rex: In Principio
Word Count: Information not available
Summary: A quest for vengeance. A battle for dominance. Anything is for sale at the Auction of Souls. Max and his party start down a dark path with only an echo to remind them why they're fighting. Finding their target in the game isn't enough, they need to find them in real life. Perhaps for this very reason, they're no longer harmless misfits: they're the most infamous players in the game. They get invited to an auction that offers contract items to the highest bidder, a golden opportunity to prepare for the battles that loom in their future. Weapons aren't the only thing they need. Down a party member, they need a new ally to fill the void in the team. House Lockheart wasn't the only group invited: the top players in Noctum gather like moths to a flame. With this many lords, villains, thieves, and assassins in one place, finding an ally is easy; trusting them is far harder. The auction is open, and the price could be everything.
Auction of Souls
Word Count:

135500
Summary: The Dragon is awake, and he's ready to rejoin the game. When the Valsharess compelled the novice Sister Sirana to leave for the Surface, she also commanded the Lead Sister Jaunda to leave her beloved city for the dark labyrinth of the underground wilderness. Jaunda seeks the lair of a legendary creature who's been asleep since before she was born. After spans of searching, she approaches her goal at last, only to discover he just woke up ... and he wants to play. Meanwhile, Sirana waits for her bodyguard to rise out of an abrupt and powerful sleep. In the aftermath of the Temple City's fall, surrounded by battle-weary refugees and bustling Dwarves, she and others around her discover the wounds which must be healed before fighting continues. Sister Seekers is dark epic fantasy for adults with an ever-broadening scope. The saga genre-hops a bit so things never get stale. Found Family is a core theme throughout. Perfect for fans of entwined plots, challenging themes, immersive worldbuilding, and elements of erotic horror. Sexuality and inner conflict play into character growth with nuanced intrigue, intense action, and fantastical magic.
Awake in the Dark: Sister Seekers 9
Word Count: Information not available
Summary: Twenty four short stories, written by E.D.E. Bell between 2014 and 2020. Primarily a fantasy collection – sprinkled with humor, romance, and hope. Stories of wizards, Beatles, and a great many frustrated women.
Awkward Tomatoes
Word Count:

21,400
Summary: When do dreams become reality? Orin sells dandelion latex at a no-name market, barely scraping by. Mette is a princess. Maybe. What Orin does know is that for thirty seconds every night, Mette visits Orin in xir dreams. Orin has long since written the fancy ghost woman off as a recurring nightmare, but when Mette insists upon meeting in real life, Orin's inner world turns out to be more substantive than imaginary. Along with best friend Blathnaid, Orin embarks on a journey to discover the truth behind xir otherworldly connection--determined to free xir mind and finally get a good night's sleep. But it's an ancient, planetary magic that binds Orin to Mette, and Orin's dandelions may be their only chance to survive the separation. If you want a fun, queer romp through a sci-fi planet with magic and dragons (of a sort), download Awry with Dandelions today! Note: this book uses xie/xir pronouns for Orin. Genres: Space Opera / Science Fiction / Romance / LGBT Lesbian Non Binary Market: Adult and New Adult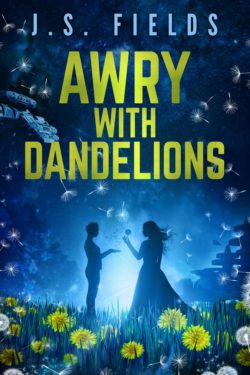 Awry With Dandelions
Word Count:

70000
Summary: As far as rock star Gareth Kendrick, the last true bard in Faerie, is concerned, the only good Unseelie is . . . well . . . there's no such thing. Two centuries ago, an Unseelie lord abducted Gareth's human lover, Niall, and Gareth has neither forgotten nor forgiven. Niall O'Tierney, half-human son of the Unseelie King, had never lost a wager until the day he swore to rid the Seelie court of its bard. That bet cost him everything: his freedom, his family—and his heart. When he's suddenly face-to-face with Gareth at the ceremony to join the Seelie and Unseelie realms, Niall does the only thing inhumanly possible: he fakes amnesia. Not his finest hour, perhaps, but he never revealed his Unseelie heritage, and to tell the truth now would be to risk Gareth's revulsion—far harder to bear than two hundred years of imprisonment. Then a new threat to Gareth's life arises, and he and Niall stage a mad escape into the Outer World, only to discover the fate of all fae resting on their shoulders. But before they can save the realm, they have to tackle something really tough: mending their own broken relationship.
Bad Boy's Bard
Word Count:

95877
Summary: A bargain must be struck before the Age of Mortals can be truly realized. For Elise, Ermolt, and Athala, the price is high. Not only do they have to find the dragons that have been hidden for centuries, but they have to kill them. ​ Their first stop is Jalova, home of Teis, God of the Sky, and their enemies the overseers, a group of thieves led by Merylle Callac, former High Priest of Teis. ​ Merylle wants help them, and her terms are simple - she wants revenge of her former God. Elise and her companions are more than willing to comply. ​Will Elise, Athala, and Ermolt be able to slay Sirur with Merylle's help, or will they face the wrath of Meodryt for their failure?
Bargain
Word Count:

174300
Summary: My sister is in grave danger, captive in the city of Witch Hunters. As Manalar prepares for war, her only chance lies with infiltrators from Augran. I shall join them. The prosperous port of Augran thrives in diverse trade with the Dwarven Clans. The Bishops of Manalar have withdrawn defiantly into the Temple of the Sun, scorning their past allies. The Ma'ab Empire has sent their dark army out of the Far North, seeking not riches but a small, well-protected spring high upon a mountain. The sacred pool of Manalar is said to bless all mages who control it. On the fringe, there's Gavin and me. Each dedicated to our purpose, we garner allies from Augran and the Clans of Taiding willing to see them through. My Dragonblood bodyguard, Mourn, reinforces our strengths as we expect others like us to jump out of hiding and into the fray. I failed one sister. I will not fail another. Sirana's desperate search upon the Surface reaches its culmination in Battle for Manalar, where foes and allies unite and clash in this transformative event driven by opportunity, righteousness, and reprisal. Sister Seekers is dark epic fantasy for adults with an ever-broadening scope. The saga genre-hops a bit so things never get stale. Found Family is a core theme throughout. Perfect for fans of entwined plots, challenging themes, immersive worldbuilding, and elements of erotic horror. Sexuality and inner conflict play into character growth with nuanced intrigue, intense action, and fantastical magic.
Battle for Manalar: Sister Seekers 8
Word Count:

11500
Summary: A dark fairy tale in a modern Greek setting. Hiding in the mountains, a harpy and her adopted daughter struggle to survive. Iphis has always known that survival comes hand in hand with loneliness, but when she catches feelings for a girl in the nearby town, her heart yearns for a different kind of future. When she's suddenly attacked by a group of enraged harpies, things only become more complicated... and dangerous.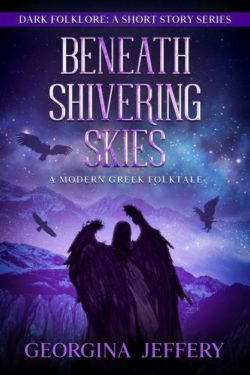 Beneath Shivering Skies
Word Count:

68000
Summary: They'll take a leap into the unknown to protect the world. There's something seriously wrong with Earth's magic. A demon has appeared unsummoned out of thin air, familiars can't return Home, and as Grim points out, rats smell like summer in the middle of winter. Grim and Pip can deal with rats; Silas can banish one wayward demon. But soon there are other demons, more each day, and Silas's old mansion is full of mysteries. He and Darien will need their familiars, their friends, plus a whole lot of luck, as they search beyond Earth for the forces that have changed their world. And to have any chance of getting safely home, Silas will have to confront a past he's avoided for ten long years.
Beset by Demons
Word Count:

36000
Summary: Being invisible makes it really hard to get laid. When half-human Kai Schiffer steps into the Interstices—the post-creation gaps between realms—his supernatural half kicks in and he literally disappears unless…well, don't ask. But in a stroke (heh) of good fortune, Kai finally has a chance to show his face (and other parts, stars willing) to his long-time crush Jovan Kos—Interstitial Law Enforcement agent, wolf warrior, occasional berserker, and best man at their mutual best friends' Imbolc wedding. Jovan, who's half in love with Kai already, is grateful his best man duties are light enough that he can focus all his attention on Kai. After all, with Enchanted Occasions Event Planning handling the Olesson-Pakulski wedding, what could possibly go wrong?
Best Beast
Word Count:

135000
Summary: I am the dark foreigner among pale-skinned mercenaries, crossing exposed grasslands. My only ally is a sinister scholar hiding scars from past rituals. He alone knows I carry a child. Each day assaults my senses and leads me farther away from home. Inevitably, my mission will lead out of isolation to the first Human settlement in my path. With few watching my back and more tempted to exploit it, I wade into an unforgiving test of my training and vigilance, determined not to be pulled down. Twisted portents and pious zealotry expose danger in every direction, while new, threatening dreams of distant sands muddle my Queen's past with my present. As all close in around me, I must find a way to serve the Valsharess and slip free of man-made chains which would enslave me. In Black Witch, Death Mage, far-reaching threads and mystical visions constrict to bind those within it, pulling the tales of present and past closer than they've been in thousands of years. Sister Seekers is dark epic fantasy for adults with an ever-broadening scope. The saga genre-hops a bit so things never get stale. Found Family is a core theme throughout. Perfect for fans of entwined plots, challenging themes, immersive worldbuilding, and elements of erotic horror. Sexuality and inner conflict play into character growth with nuanced intrigue, intense action, and fantastical magic.
Black Witch, Death Mage: Sister Seekers 5
Word Count:

75000
Summary: Sleepwalking may be the death of me… again. I thought things would get better now that I no longer had assassins after my head. Although it's fun eating people who misgender me, I'm just so thirsty all the time. And until I improve, I'm barred from seeing Jack, my were-jackal boyfriend. My babysitter, I mean 'vampire mentor,' isn't much help either. As if things weren't bad enough, the amulet that started this mess is whispering to me. Calling me somewhere. I think it might be my mysterious maker. Judging by the trail of bodies they're leaving across the globe, I don't want to know what will happen if I can't keep resisting.
Bloodline of the Ancients
Word Count:

30020
Summary: Willem's father never approved of his artistic talents, his choices in life, or the fact that he's gay. When the only thing Horst leaves to Willem is the family cat, he thinks it's his father's last insult from the grave. That is, until the cat starts talking to him. Though Willem's lost his boyfriend, his home, and his job, Kasha, who claims to be a magic cat, reassures him that all will be well. All he needs is Willem's trust and a good pair of boots. But giving boots to a talking cat has unexpected consequences when odd events ambush Willem at every turn, such as the appearance of a handsome stranger in his arms at night. While he begins to suspect Kasha's plans might be dangerous for all involved, how can he distrust such a charming kitty in cowboy boots?
Boots
Word Count:

136000
Summary: With his career firmly established and his reputation as a successful PI growing, Hades should have the perfect life with his human lover, his faithful ferryman, his dogs and the parts of his family still speaking to him. But murder and chaos are never far away for death lords as his nephew Dionysus and his oldest friend Charon are drawn into the maelstrom. Includes: Books, Bulls & Bacchanals: Brandywine Investigations #4 Midwinter Dancing: Brandywine Investigations #4.5 Pack Up The Moon: Brandywine Investigations #5 Please note: Books, Bulls & Bacchanals has been re-edited for this edition.
Brandywine Investigations: Family Matters
Word Count:

125662
Summary: When humans forsake the temples, the gods need to find other employment. Hades opens Brandywine Investigations after his divorce and his subsequent move to the modern world. If he was hoping for boring infidelity cases and lost dogs, he's sorely mistaken as murder and mayhem find his agency and his extended family at an astonishing rate. Includes: Canines, Crosshairs & Corpses: Brandywine Investigations #1 No Enemy But Time: Brandywine Investigations #2 Dragons, Diamonds & Discord: Brandywine Investigations #3
Brandywine Investigations: Open For Business (BI 1-3)