Word Count:
22277
Summary:
Witch's corpse. Witch's ticket. Witch's party.
As a counter-boy at a high-end men's boutique, Charlie Jessup's life consists of little more than work and sleep. That, and enough flirting to help guarantee his commission on sales will pay his rent. So when a twist of fate, and some behavior unbecoming that of a Ganymede employee, leaves him in possession of a dead man's pass to a mysterious Club 669, Charlie has no desire to waste it.
Every seventeen years, the House of Witches throws a party like no other. It's invitation-only, and for centuries it has helped ensure peace between the covens. It's the last place Caspian wants to be, but with the death of Queen Avel, and his own imminent rise to the throne, it's more important than ever that he attends. The stability of the House depends on it.
In four days a new king will be crowned, but when Charlie unintentionally crashes a gathering of the most secretive of all the Great Houses, he sets in motion a series of events that could disrupt the transition of power, and threaten the future of the House of Witches forever.
Club 669
March 26, 2021
Word Count:
72000
Summary: Vampires and werewolves live long lives. The Sleepless City saga might have ended but the story continues… Welcome to the Vampire Guard, where legend and myth meet science and technology.   Vampires make the best spies. Throw a smart-mouthed werewolf in with three vampires, mix well, and The Vampire Guard's newest team is bound to become one of their greatest assets. Super spies with a full range of skills. Warrior, hacker, thief, and scientist.  They get in, do the job and get out before the bad guys ever know what hit them. Forge, Blair, Declan, and Lucas are thrust into the world of high-tech spies and top-secret espionage conspiracies. Recruited into the world's most elite and secret organization with one singular mission. Protect those who can't defend themselves from ruin. Life becomes complicated when an impending Presidential visit to their town, Boggslake, throws them headlong into the world of the vampires and werewolves of the Vampire Guard. Very quickly they uncover and confront a werewolf terrorist organization known as the Qiguan. Together they must thwart an assassination attempt on the open waters of Lake Superior while tracking a previously unknown biological weapon controlled by the Qiguan—a weapon which may very well mean death for one of them.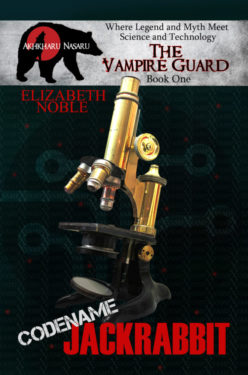 Code Name Jack Rabbit
January 12, 2021
Word Count: Information not available
Summary: Eclectic, imaginative, and unexpected, Community of Magic Pens features forty genre-spanning flash and short stories--including fantasy, humor, science fiction, romance, historical fiction, satire, and mystery--bringing together a rich group of diverse voices from a wide range of backgrounds and intersections. Fountain pens, markers and ink, charcoals, spy pens, a braille writer, a printing press, virtual reality, and a supernatural pizza: whether revealing unspoken truths, fighting injustice, or finding friendship and love, our pens have power. Join us as a recent graduate of superhero school struggles to understand her gift, a disabled android interviews for a job, a queen's conscripted artist must pull reality from illustrations on parchment, and a grandmother's secret room is…better kept a secret. Tales of struggle and triumph, compassion and hope: Community of Magic Pens is a celebration of our shared story.
Community of Magic Pens
Word Count: Information not available
Summary:
A long forgotten god. An abandoned Temple full of undead. Can the Favor of Isadon really bring the dead back to life?
The Age of Mortals temporarily forgotten, Elise Bresch and Ragan Ermolt regroup to focus on returning their friend and companion, Athala Dohn, from the Nether. Or wherever Meodryt's fateful bite sent her. Following instructions that are little more than campfire tales leads them to Marska, a long-abandoned city full of rumors - and bandits. Finding the fabled Temple of Isadon - a relic of centuries past - is easy, but getting inside proves to be a bit tougher. Elise and Ermolt refuse to leave empty handed; their goal is to retrieve the Favor of Isadon, a magic relic of the forgotten God of Death, and use it to bring Athala back. But the guardians of the Temple - including the fearsome Champion - refuse to just let them take it. Will Elise and Ermolt overcome the trials of Isadon's Temple, or will the long-dead God of Death gain two new servants?
Crossroad
 is the fourth book in the Heroes by Necessity saga of sword and sorcery fantasy novels. If you like magical Dungeons and Dragons inspired worlds, multifaceted and diverse characters, and pulse-pounding action, then you'll love Riley S. Keene's epic tale.
Crossroad
March 31, 2019
Word Count:
15180
Summary: A traumatic event in his childhood keeps Tuxtax from being able to shift into his were-griffin form. Ashamed of his looks and terrified of rejection, he spends his life in seclusion, with his sister Eleuthereia and centaur friend Rixa as his only connections to the outside world. Even though Tuxtax yearns to be with the elfin soulmate he had met before the accident, the vanth's insecurity and self-doubt keep him from reaching out. But now Rixa needs his help. Tuxtax joins his friend on a desperate rescue mission to save the centaur's pregnant soulmate, hoping that the quest will give him a chance to overcome his insecurities and prove himself. Their rescue mission leads him back into the land of the elves, where Tuxtax must confront his past and the fears that are holding him back. The further Tuxtax travels, the louder he hears his soulmate's call. Can Tuxtax find the courage he needs to return to his soulmate and reclaim the man of his dreams?
Cupid's Ax
September 2, 2020
Word Count:
75000
Summary: Temp worker David Evans has been dreaming of Dr. Alun Kendrick ever since that one transcription job for him, because holy cats, that voice. Swoon. So when his agency offers him a position as Dr. Kendrick's temporary office manager, David neglects to mention that he's been permanently banished from offices. Because, forgiveness? Way easier than permission. Alun Kendrick, former Queen's Champion of Faerie's Seelie Court, takes his job as a psychologist for Portland's supernatural population extremely seriously. Secrecy is paramount: no non-supe can know of their existence. So when a gods-bedamned human shows up to replace his office manager, he intends to send the man packing. It shouldn't be difficult—in the two hundred years since he was cursed, no human has ever failed to run screaming from his hideous face. But cheeky David isn't intimidated, and despite himself, Alun is drawn to David in a way that can only spell disaster: when fae consort with humans, it never ends well. And if the human has secrets of his own? The disaster might be greater than either of them could ever imagine.
Cutie and the Beast
July 24, 2017
Word Count:
64000
Summary: When ghosts cry out, Dan and Chad heed their call. Daniel and Chad are on the road to Hawk Lake, Maine, to investigate rumors of a haunting. With his new role in Daniel's life, Chad feels like he has something to prove. He is determined to make the Hawk Lake haunting videos the best Hauntastic Haunts has ever aired. Daniel gets sidetracked when he realizes that he might have gotten in over his head with his long distance apprenticeship to a genuine medium. Old insecurities rear their heads and threaten the budding relationship between Dan and Chad. Neither member of the Hauntastic Haunts crew is ready for what they uncover when they discover the truth behind the ghost ship haunting Hawk Lake. Secrets and lies that threaten to tear apart a community that is still healing from their grief might be better left buried. Daniel and Chad have to decide which is more important, telling the stories of the living or preserving the memories of a handful of ghosts. Get ready for another hauntastic adventure with this paranormal trans M/M romance.
Dan's Hauntastic Haunts Investigates: Hawk Lake
June 20, 2020
Word Count:
78000
Summary: A blind merman fleeing the sunken city of Atlantis is torn between the family he left behind and the love he swims toward. When Dax lost his family to a shark attack he swam away from everything he had ever known. Now he has come to Atlantis, hoping to reconnect with those he left behind. When he finds his birth clan torn apart, he realizes his journey is just beginning. Kai is an Oracle, a blind merman, who only has sight when he has a vision. Atlantis, a sanctuary for so many merpeople, is his prison. Desperation drives him to beg the Atlantean Goddess of Love for help. With the goddess's promise of love to tempt him, Kai persuades Dax to take him along when he leaves the sunken city. Although Dax has some reservations about traveling through the ocean with a blind merman in tow, he quickly discovers Kai isn't as helpless as he appears. Attraction comes easy, but Kai doesn't seem to feel the same way. Kai knows he must seduce Dax if he hopes to win his heart, but his inexperience may be his downfall. With Dax's former lover waiting at the end of their journey, he knows time is running out. A goddess can only help so much, especially when another immortal would see them part. If the two stubborn mermen want a life together, they will have to learn to communicate and fight for their love.
Dangerous Waves
October 4, 2016
Word Count:
79,025
Summary: Solving mysteries is her business. Finding love is her dream. Will combining the two get her killed? Victorian Era England. Stetson revels in being unconventional. So when society shies away from her independent nature, the bold woman creates an imaginary boss and opens her own detective agency. And her keen observational skills, convincing disguises, and Holmesian methods quickly bring in a string of tough-to-crack cases. Struggling to squeeze a personal life in around a series of hazardous investigations, Stetson worries she'll never find a woman of like-passions. But with her heart set on true love despite the risk, she carries on hunting for the perfect relationship. Will her clever escapades lead to death… or delight? Daring Duplicity: The Wellington Mysteries, Vol. 1, Adventures of a Lesbian Victorian Detective is a collection of five sequential novellas, each encompassing its own exciting mystery while furthering the story of Stetson's life in London. If you enjoy crime dramas, Victorian era fiction, or a sweet lesbian romance, then you'll love award-winning author Edale Lane's Daring Duplicity. Order yours today!
Daring Duplicity
January 19, 2022
Word Count: Information not available
Summary: The world of Avern has moved on. It has been almost a thousand years since the day the entire pantheon disappeared. Since the Abandonment, the mortals have learned to live without gods and goddesses. The world became mundane with little magic, and even less hope. Tyrants have risen, and those able to wield what is left of magic are powerful. Forces surge in the darkness that threaten to topple the already fragile world. The plight of the world of Avern is not unknown, however, and those that watch from a distance have decided to intervene. The mortals are sleeping, however, unknowing that two great powers will soon by vying for control.Then something happens that changes things. A young princess makes a bid for power by murdering her father. She then attempts to murder her sister, the crown princess of Lineria, Keiara. Despite a true strike, aided by dark powers, Keiara doesn't die. Instead, the strike pierces the barrier between her human soul and the soul sleeping within her, the soul of the Dark Phoenix. More than a goddess, the Dark Phoenix is the legendary mother of the gods. She is a part of the Eternal Phoenix that brought life to their world eons ago, one of the primal forces of the cosmos.
Dark and the Sword
Word Count: Information not available
Summary: Date With Death is a lighthearted romp through the cemetery of romance, where new love may rise from a shallow grave like a body washed out in the rain. Trekking across the veil to the great beyond and back, that thing that goes bump in the night, seeks the one whom to bump in the night, as mutual passion flares up from the shadows. The usually stoic Dustin Ney has a more interesting and complicated past than even his dearest friend Arman had thought imaginable. Invited by his parents to their home out west, Dustin embarks on a road trip with his companions. When worlds collide, Dustin's true self emerges as Date With Death explores the beginning's of new love, the dying of old one's and the rotting shells of stagnate friendships being cast off like husks.
Date With Death
May 5, 2020
Word Count: Information not available
Summary: To fulfill her destiny, Athala Dohn must slay the dragon of the God of Night. There's just one small problem: everyone is trying to stop her. The city of Jirda is under the control of an interloper known as the Prophet. They have convinced the people of Jirda that Athala and her companions are the enemy, and they've sworn to stop Elise, Ermolt, and Athala from carrying out Ydia's plans to bring about the Age of Mortals. Athala has never heard of the Prophet before coming to Jirda. But she has a sinking suspicion she knows who they are. With a whole city against them, will Athala and her companions have any chance of taking on the dragon Undyt, or will the Prophet's darkest desires be filled? Destiny is the third book in the epic Heroes by Necessity series, a Dungeons-and-Dragons inspired take on the fantasy genre, overflowing with rich world building, diverse characters, and heart-pounding adventure
Destiny
July 31, 2018
Word Count:
26900
Summary:
Lord Marcus is on a quest to slay the dragon, rescue the princess, and live happily ever after. Falling for the dragon was never part of the plan.
When Lord Marcus set out on his quest, it seemed a simple enough task to accomplish. Slay the dragon and rescue the princess, securing his father's approval and earning his happily ever after--only the princess is a witch and the dragon is nowhere to be seen. Instead he finds a young man who has a very big secret and is in far greater need of rescuing. Marcus's well planned quest might have taken an unexpected turn, but his happy ending could still be within his grasp, if he can earn the trust of a dragon who has been betrayed and hurt by everyone he has ever known.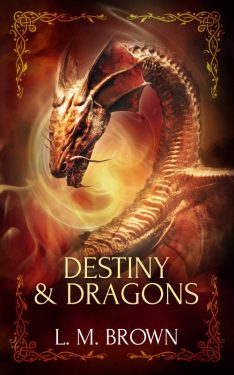 Destiny & Dragons
June 25, 2019
Word Count:
55000
Summary: Can a chance meeting rekindle their incendiary attraction? While cutting through the Interstices—the post-creation gap between realms—Smith, half-demon tech specialist for Enchanted Occasions Event Planning, spies the person he yearns for daily but dreads ever seeing again: the ifrit, Hashim of the Windrider clan. On their one literally smoldering night together, Smith, stupidly besotted, revealed his true name—a demon's greatest vulnerability. When Hashim didn't return the favor, then split the next morning with no word? Message received, loud and clear: Thanks but no thanks. Although Hashim had burned to return Smith's trust, it was impossible. The wizard who conjured him holds his true name in secret, and unless Hashim discovers it, he'll never be free. When their attraction sparks once more, the two unite to search for Hashim's hidden name—which would be a hell of a lot easier if they didn't have to contend with a convention full of food-crazed vampires on the one day out of the century they can consume something other than blood. But if they fail, Hashim will be doomed to eternal slavery, and their reignited love will collapse in the ashes. Luckily Smith is the guy who gets the job done—and Hashim is never afraid to heat things up. Devouring Flame is a 54,000-word enemies-to-lovers, second-chance paranormal rom-com featuring a down-at-heels carnival with sinister undertones, a minotaur with an affinity for flowers, a prima donna goblin berserker chef with serious knife skills, and a guaranteed HEA.
Devouring Flame
January 8, 2019
Word Count: Information not available
Summary: Diamondsong is a unique high fantasy saga told in ten parts. For lifetimes, the Ja-lal have prevented contact with the dangerous fairies of the forest. As tensions grow, those barriers are beginning to crumble. Blending rich worldbuilding with progressive themes, Diamondsong is a tale of power, identity, relationships—and magic. Part 01: Escape Dime has just left her career as a Ja-lal Intelligence agent, ready to roll her own dice. When, instead, she's accosted by winged invaders, some truths quickly fade—while others solidify. Begin Dime's journey with this unexpected tale of pursuit and discovery.
Diamondsong: Escape
June 19, 2017
Word Count:
84000
Summary: Diego and Finn's peaceful life in Montana shatters when Diego unwittingly rips a hole in the Veil to the Otherworld---mysterious prophecies, dying fae, hostile government agents, and there's so much more that could still go wrong. After defeating an evil wendigo, a man and his pooka lover deserve a little quiet. Unfortunately, Diego and Finn's hard-won peace is disturbed when Diego, in a jealous rage, unwittingly rips a hole in the impenetrable Veil to the Otherworld. Separated, stuck on the other side of the Veil where Finn has to face old conflicts and Diego is the only human in a land of fae, the two of them navigate rocky waters between huge egos and ancient feuds. Worse still, some of the fae are dying of a mysterious illness and everyone believes Diego is the key to a cure. Things can't possibly get any worse, can they? Oh, yes---they can when the US government gets involved.
Diego
June 5, 2014
Word Count:
51700
Summary: The Mythric Kingdom has raided the Five Cities. Sebastian has been rescued and Christopher is now the one in chains. The leader of the rescue team, the ice dragon Prince Azanel, says that Sebastian is his Mate. The face Sebastian dreamed while he was in captivity belongs to Azanel, but he still loves Christopher – but is that love real, or is it only conditioning? A soldier named Cavan claims to be Sebastian's closest friend, and the King of Mythria, Goxtli, has sent him and a strange creature named Kliyo to bring Sebastian home. Nothing feels familiar, and Sebastian knows that he's surrounded by lies. His time in the Countess's custody is over, but the battle for Sebastian's soul is just beginning. And the Countess and Lord Ashmar cast a very long shadow... This is a dark LGBT science fiction/fantasy romance not suitable for anyone under 18 years of age. Contains dark, adult themes, graphic gay sex and BDSM elements.
Dragon's Gambit
April 25, 2020
Word Count:
51200
Summary: Sebastian is a cryptomorph, a lab-created creature blending the DNA of man and beast. He is not a man. He is an object. A pet. A product. This is the story he's been told, but his heart tells him it's a lie. The truth is out there somewhere, and if he can escape from the Countess and the Community that wants to breed more golden dragonels like him, he might be able to find it. Christopher is a veterinarian tasked with the care of the dragonel, and he's not supposed to see the man behind the dragon. Sebastian calls to a part of him that he thought was long dead, and he would do anything for him now. Anything but tell him the truth. "Dragonel" is a M/M dystopian science fantasy intended for mature audiences. Not suitable for anyone under 18 years old.
Dragonel
November 15, 2019
Word Count: Information not available
Summary: Ethan Roam has faced a lot of nightmarish challenges—finding out he's a sandman, falling in love with the man who once hunted him, and thwarting attacks from The Order of Azoth, a secret occult organization set on using his bloodline to conquer the universe by controlling immortality. And the battle is far from over. To defeat The Order and its leader, Phantom, Ethan must first find the original Sandman and then bring the fight to the Dream World. Saving the universe might be too tall an order for one dream creature, but with the help of his friends and some Celestial beings with questionable motives, Ethan just might be able to weave a trap of surreal proportions.
DREAM WEAVER
April 27, 2020
Word Count:
5008
Summary: Kolya Agapov is handsome, wealthy, intelligent ... and desperately wants to be someone else. Trapped between his family's ties to the Russian Mob and his father's impossible expectations, he can't find a way out until he visits the opera and meets a beautiful performer named Alyona. Notoriously uninterested in anyone trying to take her on a date, Alyona nevertheless sees something in Kolya Something that might just lead to something deeper, and more dangerous. Alyona might be able to offer him a new life, but will Kolya be willing to pay the price?
Drown The Man
October 27, 2021