Word Count:

80000
Summary: What if there were a place that nobody else knew about – a secret place – where everyone was queer?" That's the question Guy, an elderly, lonely gay anthropologist asks Richard, his young psychiatrist, as he searches for his tolerable truth. During each session, Guy tells Richard a story in which he survives the sinking of a cargo ship and is washed ashore on an uncharted tropical island along side the ship's first mate, Luca. There, the two young men discover a world counter to everything they have ever known – a complex society in which almost everyone is homosexual and sex is considered the most basic form of communication. In his naive, awkward way, Guy attempts to integrate himself and win the love of a local man but first he must undergo a brutal initiation ritual, endure a crazed shaman, and swim across shark-infested waters. Meanwhile, Luca, who is unable to accept his sexuality, becomes obsessed with being rescued and degenerates into drug dependency. When Luca attempts to steal a large stash of gold salvaged from an old Spanish galleon and leave the island, Guy is forced choose between staying with the man he loves, or saving the life of the man who saved his. For more than 40 years Guy has been consumed by his longing to return to the island and recapture what he believes he has left behind. Although enthralled by his tale, Richard must be constantly wary of Guy's attempts to manipulate him and meddle in his personal life, threating to upend his own sense of truth, leaving him to question if there could really be such a society, or does it only exist within the fantasy of a lonely old gay man? Rich with legends inspired by ethnography, this is a story within a story; the two collide when the depth of Guy's subterfuge is revealed.
Eating the Moon
Word Count: Information not available
Summary: Mankind's survival hangs in the balance… In the year 2066, the artist haven of Santa Fe, New Mexico emerges as ground zero for the conquest and destruction of Earth by the evil Zolteots. Nick Clements and Daniel Vigil-Cruz — a writer and an artist still deeply in love after 12 years together — become the improbable fulcrum through which Earth might survive. As they weigh what must be done to save our planet, they are forced to confront shocking truths which will transform the Earth — as well as their future together — forever.
El Nuevo Mundo
Word Count:

222000
Summary: Two people find themselves in a quandary: Aderri, a powerful dragon shifter with some light defensive magic, and Ellys, a half-elven swordswoman for hire, one of the best across the six nations. When Aderri gets news that she must come home for the naming ceremony of a new hatchling, she's forced to hire Ellys and her telepathic steed, Roccotári, to see her safely there. Of course, things are never as simple as they seem. Not only do they have to traverse the land between two kingdoms on the brink of war, but Aderri's Clan expects her to return with a romantic interest. So, for the added promise of triple Ellys's normal fee, the half-elf agrees to pretend to be Aderri's suitor. Ellys and Aderri have to convince a Clan full of magical mixed-shifters for a week that creatures of differing elements can burn with the flames of love, without actually lying. A situation made even more difficult by a matchmaking mare, steamy baths, and an innkeeper with mischief on the mind. Caught between the weight of the past and expectations of the future, they must find their true destiny within the heat of fire.
Elemental Attraction
Word Count:

62,900
Summary: A werewolf and seven vampires are all that stand between the world and complete annihilation. When Kai Richter and Ori Bier met, sparks flew. Then a train blew up. Tracking an organism deadly to not only humans, but vampires and werewolves alike, brings Kai and Ori into the Vampire Guard. Decades later, they, along with Operative Team Jack Rabbit, come face to face with the horrors that same virus produces. Dead bodies are coming back to life, and rational people are becoming violent and brutal killers. A massacre is taking place nearly a mile under the Atlantic Ocean. Two teams of The Vampire Guard are in the thick of it, fighting to survive.
Endosymbiont
Word Count: Information not available
Summary: The Dissolution approaches, and all will change. "Science fantasy with fantastic queer rep" -J.S. Fields, Author of the Ardulum Series The Dissolution approaches. Sam has saved the Assembly of Species, but at a terrible cost. Locked in his apartment, his memories gone and his best friend abducted, he is once again crippled with anxiety. Meanwhile, Enos struggles to free her brother from imprisonment, alone for the first time in her life. Her true species has been revealed, and there are hints the deadliest of her kind survived an ancient war. But the Nether contains more secrets. A musical chime disrupts daily life, signaling changes to its very fabric. To solve this mystery, Sam must face his anxiety and confront truths about his memories and unique abilities. Only then can he save his friends from the machinations of the Life Coalition, by understanding the reality behind the Facets of the Nether. If you like epic fantasy, space opera and music-based magic, you'll love William C. Tracy's Dissolution Cycle. Download Facets of the Nether today and discover the diverse cultures, genders, and alien species of an epic science fantasy space opera! The Dissolution Cycle (Epic Space Opera, LGBT): Book 1: The Seeds of Dissolution Book 2: Facets of the Nether Book 3: Fall of the Imperium Book 4: Tales of the Dissolutionverse (Novella collection)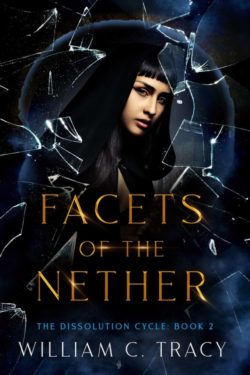 Facets of the Nether
Word Count: Information not available
Summary: The Dissolution is here. It is both an end, and a beginning. "Science fantasy with fantastic queer rep" -J.S. Fields, Author of the Ardulum Series The Dissolution has begun. Sam is finally reunited with Enos and Inas, only to see his new home under siege by beings that dissolve reality at a single touch. Even as they battle their personal demons, the three apprentices must also fight to save their home. Enos lashes out at those she loves, plagued by voices she's consumed, and Inas must risk his sanity to access ancient memories of the Nether. Sam must learn how he uniquely affects the Symphony, but there is little time to master what usually takes a lifetime. The Nether is leaderless and the Assembly is in chaos. The three apprentices must counter an invasion by aliens who rip the Symphony, and the very universe, apart. Ancient antagonists will resurface, a battle must be fought, and the secrets of the Nether and the universe will be laid bare in this final book of the Dissolution Cycle. If you like epic fantasy, space opera and music-based magic, you'll love William C. Tracy's Dissolution Cycle. Download Fall of the Imperium today and discover the diverse cultures, genders, and alien species of an epic science fantasy space opera! The Dissolution Cycle (Epic Space Opera, LGBT): Book 1: The Seeds of Dissolution Book 2: Facets of the Nether Book 3: Fall of the Imperium Book 4: Tales of the Dissolutionverse (Novella collection)
Fall of the Imperium
Word Count:

97000
Summary: The seas spell freedom. Pirates and kraken, boats and submarines, deadly sirens, mermaids, and the women who face them all. These are our heroes. High seas adventure, fantasy, and magic weave together in this sapphic anthology focusing on the joy of the unbounded oceans. If you like diverse stories with lesbian and sapphic heroines exploring oceans, battling sea monsters, and seducing pirates, buy Farther Reefs today! With stories by: Sarah Day and Tim Pratt, Kim Pritekel, Kyoko M. Sara Codair, William C. Tracy, N.L. Bates, Robin C.M. Duncan, Vanessa Ricci-Thode, Margaret Adelle, and J.S. Fields Genres: Science Fiction / Fantasy / Adventure / Lesbian / LGBT and Non Binary Market: Adult
Farther Reefs
Word Count: Information not available
Summary: What happens when a Highland witch falls for the Loch Ness Monster? When Cam Walker, the last remaining Witch of the Highlands, heads to Loch Ness to investigate a potentially dangerous monster, the last thing he expects is to wind up working with that monster… let alone be attracted to him. But the friendly, cheerful Lachlan is hard to resist, and turns out to be a powerful ally in the hunt for the real monster behind the killings around Loch Ness… M/M paranormal romance with a sweet relationship and medium spice. This novella is the first in a trilogy following the same characters: it has a HFN conclusion and NO cliff-hanger!
Finding Nessie
Word Count:

60000
Summary: Diego's impulse to rescue a naked bridge jumper starts as just that—talk the man down and get him to social services. But there's something odd about this homeless person, more than just his delusions of being a pooka, and something so vulnerable that Diego's determined to help him stabilize rather than see him institutionalized or deported. Finn went into the dreaming centuries ago to escape a heartbreak he couldn't bear. Now that he's back, he finds the Veil to the Otherworld closed. The fae courts have abandoned him in a poisoned human world where a displaced pooka has little chance of survival. His human rescuer is kind and compassionate—and shockingly familiar. One thing at a time, though. He needs Diego to believe he's not human first.
Finn
Word Count:

23000
Summary: Alex always thought love was enough to keep him and Gio together. Why did they need wedding rings or legal certificates? But now, with Gio lost in a coma after a fire has destroyed their home, his partner's mother banishes Alex from his side. Locked in a gray limbo inside his head, memories are all Gio has left, and the urge to let go is getting stronger. Nothing can keep Alex from Gio's side, even if he has to break the rules. In their stolen moments alone together, Alex fights to reach Gio, one memory at a time. What if Alex's voice is the only thing that can bring Gio back?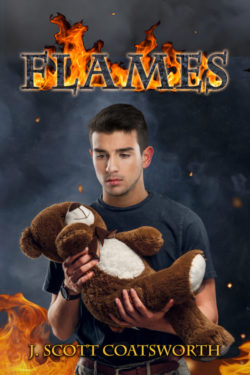 Flames
Word Count:

98263
Summary: Quinn and Valerian have come through the trials of facing an undead lich queen and the perils of falling in love. Now they work to restore AURA to its previous strength and efficiency while navigating their new life with each other. Fortunately, they're not in this alone. Kai Hiltas has taken over as the head of the research department at AURA and has become everyone's favourite workaholic, everyone except his lover Tenzin, who has had enough of his late nights and broken promises. As Kai tries to salvage his relationship, he finds a teacher for Quinn, who also happens to be one of Valerian's new officers, Flax Wolfheart, a sexy elf with trouble written all over him. Flax has motives beyond simply teaching Quinn to control his magic. He's trying to recover from his own losses and failures, but he has a plan. The two newest elvish crossovers, Ash and Sage, are sizzling hot and might even like him. With them as backup as he tracks a deadly stone mage and figures out how to teach Quinn, Flax sees his chance to impress Val and snag a place by his captain's side. On the hunt for both danger and redemption, Flax's pursuit leads him ultimately down trails he never expected.
Flax's Pursuit
Word Count:

120600
Summary: Captain Talis just wants to keep her airship crew from starving, and maybe scrape up enough cash for some badly needed repairs. When an anonymous client offers a small fortune to root through a pile of atmospheric wreckage, it seems like an easy payday. The job yields an ancient ring, a forbidden secret, and a host of deadly enemies. Now on the run from cultists with powerful allies, Talis needs to unload the ring as quickly as possible. Her desperate search for a buyer and the fallout from her discovery leads to a planetary battle between a secret society, alien forces, and even the gods themselves. Talis and her crew have just one desperate chance to make things right before their potential big score destroys them all.
Flotsam
Word Count: Information not available
Summary: Even a pirate will stop at nothing to help his little sister. When Grip, the first mate, is dismayed by his little sister's surprise engagement, Revin accompanies him home to learn who arranged her marriage and why.
For the Favor of a Lady
Word Count:

86500
Summary: To save his clan from the ever-increasing shark attacks, merman Kyle seeks sanctuary for his people in the sunken city of Atlantis, even though he knows that as a homosexual merman he will be sacrificing his own chance for love. Love finds him anyway in the form of Prince Finn, the rebellious young heir to the Atlantean throne. When their relationship is discovered Kyle is the one to pay the price. Banished from the oceans he seeks shelter in England and finds a new love with human, Jake Seabrook. For Jake, Kyle is the chance to move on from the crush he has on his straight best friend. The strange man he found naked on the beach seems to fit into his life with ease.  If only Kyle weren't keeping secrets from him, Jake could see them having a future together. Things are not what they seem for either of the men and when Kyle discovers the truth about Finn he knows he must return to Atlantis. Three men, a tangled relationship, and one chance for happiness, if they can trust enough to take it.
Forbidden Waters
Word Count:

40000
Summary: An outcast necromancer and a half-demon clerk need to save the world from seashell zombies. No pressure. Everyone's always told Aspic that trouble can't help following him because of his heritage. Determined to put the lie to half-demon stereotypes, he's finally landed a good, quiet job as an herbalist's clerk where the owner trusts him to man the shop alone. What could go wrong selling coriander and thyme? When Geoffrey first enters the shop, Aspic finds the little man's eccentric appearance startling, then intriguing. Geoffrey explains, in stops and starts, that he is a theoretical necromancer researching replacements for blood magic. His current line of inquiry involves seashells—do they have any in stock? Aspic's co-workers warn him that Geoffrey is a walking disaster, but he finds himself more and more drawn to a necromancer concerned with ethical death magic. Aspic is with Geoffrey in his lab when he has his first success, but the results aren't at all what he was aiming for. Instead of raising the dead rabbit on his table, the ritual animates the seashell and rock spell components, which flee the lab and cause havoc. They soon discover that the spell-animated objects are "zombies" in that they can "infect" other inanimate things. An unorthodox necromancer and an exasperated shop clerk are going to need some unconventional help to find a working de-animation spell before the world is overrun by zombie seashells and stones gone mad. Geoffrey the Very Strange is part of the Magic Emporium series. Each book stands alone, but each one features an appearance by Marden's Magic Emporium, a shop that can appear anywhere, but only once and only when someone's in dire need. This book contains theoretical necromancy, unexpected spell outcomes, some extraordinarily angry seashells, and a guaranteed HEA.
Geoffrey the Very Strange
Word Count:

75000
Summary: The neon lights of Las Vegas mask the horrors hiding in the shadows. Horrors like my ancient vampiric maker, the Goddess Tawaret. Tawaret promises me power in exchange for helping her. She wants to be worshiped again, and has me gathering vampire followers. My boyfriend, Jack, tries to warn me about her, but I don't listen. Too late, I realize my mistake in accepting. Now there is no escape. After the slaughter she left behind in Portland, no one wants to risk her wrath. With Jack suddenly abandoning me, no one will come to my rescue. I'd rather die than be bound to her for eternity. It just might come to that.
Goddess of the Ancients
Word Count: Information not available
Summary: Daring the old gods. Defying the new. The making of a legend—and a truly innovative re-imagining of Robin Hood. --- Rob of Loxley and his older sister Marion have been groomed from birth to take their parents' places within the Old Religion. Despite this, when Rob finds an injured nobleman's son in the forest, neither he nor Marion understand what befriending young Gamelyn could mean for the future of their beliefs. Already the ancient spirits are fading beneath the iron of nobleman's politics and the stones of Church subjugation. More, the druid elders warn that Rob and Gamelyn are cast as sworn adversaries, locked in timeless and symbolic struggle for the greenwood's Maiden. Instead, in a theological twist only a stroppy dissident could envision, Rob swears he'll defend the sacred woodland of the Horned God and Lady Huntress to his last breath—if his god will let him be lover, not rival, to the one fated as his enemy. But in the eyes of Gamelyn's Church, sodomy is unthinkable... and the old pagan magics are an evil that must be vanquished.
Greenwode
Word Count: Information not available
Summary: There's just nothing sexier than a man who loves kids and knows how to show it. Everyone knows that's a man who can be trusted with your heart. And, as they grew older and hotter (and so do we), it's equally sexy to see a man treat his teenaged or young adult offspring with love and respect. So curl up in your favorite chair and read these radically different tales of fathers we love from new dads to old dads, gay dads, vampire dads and even some dad ménage! With stories by Guy New York, Trinity Blacio, Ryan Field, Jon Jockel, John Michael Curlovitch, Stacy Brown, Stephen B. Pearl and Misha Martin.
Happy Dilf Day
Word Count:

52900
Summary: Havesskadi has won the Rainbow Award for Best Asexual Debut Book (2018-2019), and second place in the Best Asexual Book (Asexual – Contemporary, Fantasy and Paranormal Romance & Romantic Comedy | 2018-2019) category. The red dragon is hunting her own. Up in the icy peaks of the northern mountains, Orsie Havesskadi spends his days hiding from her, but eventually he is found and his dragon magic stolen. Cursed to wander the lands as a mortal unless he recovers his magic before twenty-four rising crescents have passed, Orsie embarks on an arduous journey. Spurred by the whispers in his mind, his quest takes him to a castle hidden deep in a forest. Arkeva Flitz, a skilled garrison archer, discovers an abandoned castle in the woods. Trapped there, he spends his days with his two companions, one cruel, the other soothing. One day, a young man arrives at his gates, and soon they are confined by heavy snowfalls and in danger from what slumbers in the shadows of the castle.
Havesskadi
Word Count: Information not available
Summary: If ultimate power corrupts, how does one learn to be incorruptible? I'm Aliyah Morgenstern. All of my life, I grew up on tales of my great-grandfather's magic bringing light and healing to the world. Then, I bonded with my dragonet Ember on my sixteenth birthday, which means I'll be scary powerful someday. There's one problem. Mom's kept secrets that everyone at my new school seems to know. Turns out, I've got an infamously criminal uncle and now everyone's waiting for me to do something evil. After my first horrible day at school I'm convinced I'm going to do something evil. My biggest challenge this year isn't history, math, Gym, or even the dreaded Magiscience Lab. No, it's keeping a devastating secret from almost everyone, including my own family. I'm an extramagus. Is evil really my destiny, or can I fight it somehow?
Hawthorn Academy Year One