Word Count:

121000
Summary: A child's memory. A journey's end. Lance doesn't remember the time before Ulfr found him. It's a dark pit in his mind that he avoids at all costs. And yet, despite his best efforts, pieces start to fall, and echoes from the past begin to ring. However, he has little time to comprehend their meaning, since the Captain of the Imperial Army herself has come to collect him and bring him to the capital city of the Nifdem Empire. Whisked away to the gilded streets and glittering court of the Hill of Tarran, and then to the snowy reaches of Swenen, Lance and Gust will learn the answers to questions they've had from the start. And be forced to acknowledge their roles in the survival of the empire and the ripple effects of their actions. But such knowledge can come at a steep price. As allies and enemies begin to step from the shadows, Lance will learn the truth of his past and the price of his redemption, and all the pain that comes with them. While Gust will have to decide what he's willing to sacrifice to safeguard the one he loves.
Avenging Lance
Word Count: Information not available
Summary: Twenty four short stories, written by E.D.E. Bell between 2014 and 2020. Primarily a fantasy collection – sprinkled with humor, romance, and hope. Stories of wizards, Beatles, and a great many frustrated women.
Awkward Tomatoes
Word Count:

33000
Summary: Clarity (noun) Four definitions to inspire writers around the world and an unlimited number of possible stories to tell: 1) Coherent and intelligible 2) Transparent or pure 3) Attaining certainty about something 4) Easy to see or hear Clarity features 300-word speculative flash fiction stories from across the rainbow spectrum, from the minds of the writers of Queer Sci Fi.
Clarity
Word Count: Information not available
Summary: Eclectic, imaginative, and unexpected, Community of Magic Pens features forty genre-spanning flash and short stories--including fantasy, humor, science fiction, romance, historical fiction, satire, and mystery--bringing together a rich group of diverse voices from a wide range of backgrounds and intersections. Fountain pens, markers and ink, charcoals, spy pens, a braille writer, a printing press, virtual reality, and a supernatural pizza: whether revealing unspoken truths, fighting injustice, or finding friendship and love, our pens have power. Join us as a recent graduate of superhero school struggles to understand her gift, a disabled android interviews for a job, a queen's conscripted artist must pull reality from illustrations on parchment, and a grandmother's secret room is…better kept a secret. Tales of struggle and triumph, compassion and hope: Community of Magic Pens is a celebration of our shared story.
Community of Magic Pens
Word Count:

80000
Summary: Cling to the edge of your seat in this high-finance, high-stakes adventure. What do we do with knowledge of the future? Clairvoyant Ariel has been doing her best to ignore it, finding the whole thing a nuisance. But when she comes across people using similar abilities to get extremely rich, her interest is piqued. Then she discovers a second collection of gifted people. Their cause is less about money and more about ensuring the survival of the human race. That doesn't stop them from being as dangerous and crazy as the first group, however. Soon Ariel finds herself the object in a game of tug of war as each faction fights to have her--and her particular talents--on their side. She can't possibly help both groups. Aligning with either could be a terrible idea. But how can she stay out of it when so much is at stake?
Flickers of Fortune
Word Count:

92000
Summary: A tragic secret. A trial of pain. Gust holds a secret close to his heart, and it festers like an infected wound. While part of him wants to tell Lance so they can deal with it together, he fears what it will do to his friend. The last thing he wants to do is hurt the man he is falling in love with. And it never seems the right time as they pursue Ulfr's warriors and elude hunting parties of royal soldiers. Lance wants nothing more than to confess his love and undying loyalty to Gust. But he fears rejection. He has Gust's friendship and dares not ask for more. He's not yet a man worthy to ask for more. And as he continues on his self-imposed mission to cut down Ulfr's warriors, he begins to wonder if he will ever find the redemption he so fiercely seeks. When word of a new Scourge reaches them, their journey brings them to the war-ravaged kingdom of Grekenus. It is there that Lance is forced to face the actions of his past, and once again his life hangs in the balance. Now it is only Gust who can defend him against those thirsty for blood… and to Lance himself.
Forgiving Lance
Word Count:

7000
Summary: Emma and her Aunt Agathe share a family resemblance - they can both speak to ghosts. But Agathe, rejected by her family and constantly beset by heartache, has spent her whole life fleeing her unusual gift. Emma, however, embraces it. Grave Songs for the Dead is a cycle of three interconnected short stories, gothic with a touch of magic realism, set in the late 19th century.
Grave Songs for the Dead: A Short Story Cycle
Word Count:

47,956
Summary: *Enjoy three out-of-print stories for the price of one!* Sometimes the greatest romance can be found in the vastness of space... TRASH AND TREASURES Tucker has spent his entire life as an interstellar trash man. But ever since his mother died, he's been alone, and certainly lonely. So when he discovers the derelict ship he scooped up has an occupant—a beautiful young man named Ronan—Tucker is thrilled. Ronan is royalty and running from his tyrannical mother, determined to keep a powerful object out of her hands. But when he strikes a deal with the adorable Tucker, he wonders if it's time to stop running. Or during one's loneliest hour... NIGHT GUARDIANS William was a soldier until an IED severely wounded and scarred his body. Now he lives a quiet life in a small village in the Black Forest and is the caretaker of the church and caregiver to the local priest. He's grown fond of the two stone gargoyles on the bell tower and often speaks to them, reminding himself of Quasimodo. But on his thirty-seventh birthday he learns a stunning secret—the gargoyles aren't what they seem. Or among dear friends in their darkest time of need... A GIANT'S FRIEND For three years, Jeth and Kodie and their soldiers have guarded a hostile mountain pass against the invading Dathians in a war that has waged for decades. Jeth has the blood of giants running through his veins, and it has caused bigotry and death to dog his steps his entire life. After a childhood tragedy shatters his world, it takes the courage and loyalty of his best friend, Kodie, to protect him from himself. Jeth knows he's a danger to everyone around him and joins the army to control and focus the black rage inherited from his bestial bloodline. Kodie follows his friend into the army, determined to stay close to the one he loves most. He has never revealed his deeper feelings for Jeth, and is ignorant of Jeth's own feelings. Their bond is too precious for either of them to risk rejection. Yet they might have to take the chance when Kodie's life is threatened, and their enemy forges an alliance with a giant clan. Jeth must call upon his darker heritage to brave the hostile environment to make an alliance of his own—with a giant clan that knows more about him than he does himself.
Guardians of a Giant's Treasure
Word Count:

81000
Summary: A baby's laughter. A mind uncaged. Lance is known as Scourge, the warrior in the black armor, the dog of the warlord Ulfr Blackwolf. He was just a boy when Ulfr found him and molded him into the perfect weapon. He slaughters and pillages on command, merciless and numb, devoid of emotions. Then a baby girl laughs at him during a raid. And everything changes. When Gust, a talented healer, is out deer hunting and stumbles across a magnificent horse bearing a mortally wounded rider, he has no idea that his life is about to change forever. Gust applies all his skills to his patient, determined to save the rider's life, and is rewarded when the man opens his eyes. As friendship, and more, bloom between warrior and healer, so does the danger over the horizon. Ulfr has not forgotten, and Lance must take his first steps on the long road to redemption.
Healing Lance
Word Count: Information not available
Summary: Twenty stories of fantasy, science fiction, pirates, horror, spies, and kindergarten noir. From the space-based lothario to the diminutive thief each looking for their next score, and from the jilted romantic traveling through time to the kingdom refugee whose day never ends, there's something for everyone In A Flash!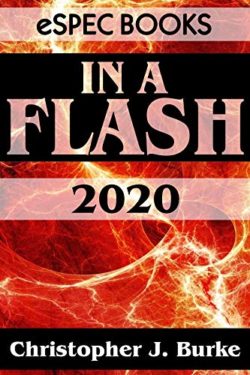 In A Flash 2020
Word Count:

99000
Summary: Gavin Booker, a school librarian at Cooper Road Elementary, Raleigh, Northern Carolina, leads an orderly, normal life. Work, jogging, friends from work, his son every other weekend. Gavin is also a secret. He is a hybrid, or part-fairy, and in the Columbian Empire, hybrids are under an automatic death sentence. Magic is illegal. So is loving another man, another capital crime. Fairies are locked away in ghettoes, magical beasts, such as gryphons, unicorns, and pegasi are kept in zoos. The others, the tree and water spirits, the talking beasts, fauns, and the rest, are in hiding. This is the world in which Gavin grew up. He survived, thanks to his mother. He can never forget he is different: ministers preach against people like him constantly; hating the other is a part of every school's curriculum. But now, things are changing fast, and apparently, for the worst. Earthquakes, volcanoes, killer storms are all frequent occurrences. The medicine Gavin takes to suppress his body's glowing, isn't working. The spells cast by his doctor, a witch, are losing their power. If anyone finds out what Gavin is, he is dead. Under threat, the Empire always goes after its marginalized people. Can Gavin survive the coming catastrophe? Will he ever recover from losing the boys he loved? Can he find the fairy man who has haunted his dreams all his life before it is too late? Can his scarred heart ever heal?
In Light's Shadow
Word Count: Information not available
Summary: "Pain is pain. It all hurts the same." Inflicted with dark desire, one man chooses between idyllic pretense and disturbing reality. Haunted by the silence of deep space, an engineer chases an eerie melody. Torn between penance and pride, a dishonored prince challenges the course of history. Suffering cracks our hearts and splinters our minds. It scars and alters us in irreversible ways. Yet while pain breaks us apart, it also binds us together. Our broken pieces can never rejoin as they once were, but they fit together to create new and distinctive wholes. Like the Japanese art of kintsugi, we can fill the velvety darkness of our scars with gold. Inflicted with life, an intelligent machine questions the illogic of family. Tempted by the desire to die, a shop clerk confronts the promise of his life. Offered the chance to transform his disfigurement, a ruined being looks to the smallest of lives for acceptance. An amalgamation of science fiction and fantasy subgenres, Inflicted invites you to peer into your own pain, examine your scars, and remember you are not alone. Pain binds us all, and how we face our brokenness redefines us. Immerse yourself in the brokenness of others and come away with a new understanding of self.
Inflicted
Word Count:

36000
Summary: INK (NOUN) Five definitions to inspire writers around the world and an unlimited number of possible stories to tell: 1) A colored fluid used for writing 2) The action of signing a deal 3) A black liquid ejected by squid 4) Publicity in the written media 5) A slang word for tattoos Ink features 300-word speculative flash fiction stories from across the rainbow spectrum, from the minds of the writers of Queer Sci Fi.
Ink
Word Count:

36000
Summary: IN-NO-VA-TION (Noun) 1) A new idea, method, or device. 2) The introduction of something new. 3) The application of better solutions to meet unarticulated needs. Three definitions to inspire writers around the world and an unlimited number of possible stories to tell. Here are 120 of our favorites. Innovation features 300-word speculative flash fiction stories from across the rainbow spectrum, from the minds of the writers of Queer Sci Fi.
Innovation
Word Count:

115000
Summary: Battles and adventure crisscross the Viking Age! From monumental sea clashes to beleaguered mountain strongholds to war with the tribes of Eire, circumstance drives the scattered Agneson clan across the known world. And beyond the lands of Midgard, mythic hidden folk challenge our forerunner hero. The award-winning Forerunner Series epic continues…. Fleeing an arranged marriage, Kara escapes across the narrow sea to follow her warrior dreams. Escaping slavery, Cub joins Rollo's horde in Britany, while his outlawed brother Sorven fights for survival in the Welsh mountains. Uncle Karl and his warriors rally to Harald Tanglehair in his ambition to unify the wild kingdoms of the North Way, and young Thorfinn is left behind, safe and secure in a tiny fishing village... or is he? Kara gains her place in king of Dublinn's ranks to prove her mettle, but being a warrior is not what she expected, and what of these new feelings she finds for her closest companion? Will Karl and his crew perish in the great battle of Hafrsfjord? And how will an unprepared Thorfinn survive kidnapping by an 8-armed giant, leaving behind worried friends and a very angry dragon? Don't miss this 5-star epic fantasy critics are calling "whimsical and gritty," with "fabulous, engaging characters." If you enjoy the history of The Last Kingdom and Nordic myths and legends, the Forerunner Series is a grand tale not to be missed!
Kara Shieldmaiden of Eire
Word Count:

80000
Summary: Celebrate those who light a candle in the darkness in this compelling and eye-opening tale. Teddie is into country music, her old pick-up truck and getting through high school with as little drama as possible. Yet somehow her best friend, Michelle, talks her into spending a semester in Darjeeling, India. The thrilling adventure turns treacherous when she uncovers a seedy underworld in which young women are bartered and sold—including her friends. As she fights to understand a depravity she never dreamed existed, a stranger makes her an unexpected offer. He will train her to find her missing friends, but she will need to have trust in abilities she barely believes exist and more courage than she ever thought she could summon. And there will be no going back. Given the choice between this and abandoning her friends to their horrifying fate, the decision is simple. She must rise to the challenge. But how can she be a superhero when she doesn't know what her power is? (Layers of Light is part a collection of interrelated stand-alone novels. It contains some non-graphic mature content and references to human trafficking and the sex trade.)
Layers of Light
Word Count:

53000
Summary: England, 1910 Monty, along with his best friend Bishop, investigates an odd seal-like creature swimming in Manchester Lake. The pair soon realize they've found a selkie when the magnificent animal transforms into the most gorgeous man either of them has ever seen. Determined to discover the origins of the mystical man, they bundle him into Bishop's brand-new electric automobile and whisk him off to London. There they find a host of distractions: a tastefully debauched house party hosted by silver-tongued aristocrats, and a queerly European-inspired novelty called the night club. Both are filled with a cast of characters sometimes amusing and sometimes frightening. And as the night unfolds, Monty comes face-to-face with ghoulish agents of the occult as well as revelations from the past. Most surprisingly of all, Monty finds himself falling for the beautiful creature from the lake, who seems equally interested in him. Can he really find himself in love with a man he has only just met? Or do they have a deeper connection which goes much further back? And what does it all have to do with the memories of his trip to Paris three years prior? The mystery of the selkie from Manchester Lake is only the beginning, and before their adventure is finished Monty will see the culmination of long suppressed secrets explode in a firestorm of magic and passion!
Manchester Lake
Word Count:

80000
Summary: Celebrate the superhero in each of us in this unique exploration of the connections we forge. A young Nigerian telepath faces a crisis when her sister is forced into a frightening marriage, then disappears. Once Somadina cannot locate her sibling's thoughts, she seeks another telepath to help. What she finds is Lola, a busy Texan scientist who has ignored the disturbing phenomenon in her mind for decades, and has no intention of embracing this nonsense now. Yet these two women have more in common than they know, and a powerful link will be forged. When Somadina discovers her sister is a pawn in a dangerous political game, the stakes rise for everyone, including an ancient organization of telepaths compelled to intervene. For both women are stronger than they realize, and they have ignited the wrath of a fanatic willing to kill anyone to alter his nation's future.
One of One
Word Count:

90000
Summary: Join an extraordinary family on a heart-pounding adventure as they face mortal danger. Telepathy creates as many problems as it solves, as everyone in the secret organization x0 would admit. Those problems become much worse when budding psychic Lola discovers another group of telepaths associated with a powerful media empire. This group is willing to destroy anyone capable of challenging them. Soon, Lola's family and friends are in danger. Fortunately, they are gifted with astonishing abilities of their own. Yet, none of them know how to fight. It will take every power they possess, and the allegiance of a helpful warrior, to bring down the arrogant adepts who do the bidding of a man hell-bent on promoting destruction. Can the talented people Lola cares about learn to trust each other and work together in order to save the world?
One of Two
Word Count: Information not available
Summary: "Now is the time to release the burdens you have been carrying." The holiday season is traditionally one of reunions, homecomings, and family gatherings, but for the LGBTQIA+ community, it can be a time of anxiety and dread—a time we must hide our true selves in order to feel welcome. Too often, the holidays bring about loneliness and pain—a longing to be unequivocally accepted, seen, and loved for who we are. This season, we invite you to be Queer for the New Year! Enter nine fantastical worlds and witness rebirth and release as individuals let go of the past and welcome the new year with open arms and fearless hearts. In the final minutes to midnight, journey with us as we discover that acceptance can be found in the most unlikely of places, pain is not forever, and if nothing feels okay, then it is not the end. Move from the heartaches of old, make a fresh start with hope and renewal in your heart, and join us in being— queer for the new year.
Queer for the New Year