Word Count:

87000
Summary: In a world where everyone has a soulmate, uniquely powerful mage Royiora and reluctant assassin Kalo collide in the worst of ways. Royiora Daralkaen, the only mage alive able to use all five kinds of magic, has a near idyllic childhood in the country of Porescalia - before war breaks out with their antagonistic neighbors, Kloria. Kalo Porla, a naturally magic-proof individual known as a Null, is trained to be as an assassin by the authoritarian empire known as the Domain. When Kalo and his partner assassin are sent to kill a mage and his apprentice, it starts a journey neither man was prepared to begin. Content warnings: harm to children, physical and psychological abuse, implied (off-page) rape, violence, mature language, minors in implied sexual situations (teenaged romance), implied sexual situations, bigotry towards fictional races, and suggestive language.
All or None
Word Count: Information not available
Summary: When Centriel roams the Earth in a dark mood and atypical despair, in a mountain clearing, far from humankind, he unexpectedly discovers a runner, followed by a petite hunter. The way the woman treats the giant fugitive amuses the Archangel, but he quickly learns that neither of them are what they seem to be. Simin Arnatt is an extraordinary woman. Her occupation as a Bounty Hunter takes her all over the world, as she follows her prey to the most unusual places. She would have never expected to meet the famous Centriel while on a hunt. When he offers to help her, she feels the enormous attraction, but she knows, with the secret she holds, she could never dare to hope for love. Neither of them could guess that with her next assignment, Hell is breaking loose… [embed]https://youtu.be/dK4mKAhhvow[/embed]
Bounty Hunter
Word Count: Information not available
Summary: Eclectic, imaginative, and unexpected, Community of Magic Pens features forty genre-spanning flash and short stories--including fantasy, humor, science fiction, romance, historical fiction, satire, and mystery--bringing together a rich group of diverse voices from a wide range of backgrounds and intersections. Fountain pens, markers and ink, charcoals, spy pens, a braille writer, a printing press, virtual reality, and a supernatural pizza: whether revealing unspoken truths, fighting injustice, or finding friendship and love, our pens have power. Join us as a recent graduate of superhero school struggles to understand her gift, a disabled android interviews for a job, a queen's conscripted artist must pull reality from illustrations on parchment, and a grandmother's secret room is…better kept a secret. Tales of struggle and triumph, compassion and hope: Community of Magic Pens is a celebration of our shared story.
Community of Magic Pens
Word Count:

22000
Summary: All Jet wants is a fun night out at the club he's finally old enough to get into. Okay, not all -- he also wants mystery, adventure, love, college tuition, and a new best friend who isn't too busy to spend time with him. But he wasn't expecting any of those to find him at Club Nox. And he definitely wasn't expecting a gorgeous stranger to offer him his heart's desire in exchange for ... his actual heart? What kind of crazy deal is this? And what does the alluring Darken mean when he says it's too late for Jet to change his mind? Why can't Jet take off the heart-shaped pendant? Darken feels a little guilty about tricking the cute goth boy at the club into taking on his curse. But what choice did he have? Any one person can only wear the heart pendant for so long before it drains them, and he's served his three years. As curses go, this one honestly isn't so bad. And maybe Jet will let Darken sweeten the deal with a few kisses. He isn't sticking around now that he's free, though. And he definitely isn't falling in love again. That's what got him into this mess in the first place. Soon Jet realizes Darken told him the truth: Jet has made a bargain he can't escape. Does he even want to, if Darken is part of the package? If only human hearts were as easy to win as magical ones...
Dark Arts For Bright Hearts
Word Count:

34000
Summary: Zepheira is the best Demon Tracker working for the Good side. With her unusual looks, her phenomenal sense of smell, and her bravery, she quickly draws 'The Big 7's attention to her talent. They hire her to find one of them. Leaving her familiar surroundings and regular work environment unsettles Zepheira at first. But the challenge to prove herself and to increase the reputation of her infallibility tempts her. She is convinced she will be a great asset to 'The Big 7'. Little does she know she will be a much greater asset in Heaven's fight against Evil. Zepheira suddenly becomes more than a hired tracker. She finds herself an important pawn in the game of love, heat, and fire. Will her courage and sacrifice be sufficient to dance with the flames? [video width="1920" height="1080" mp4="https://www.limfic.com/wp-content/uploads/2023/02/Demon-Tracker-Book-Trailer-v2.mp4"][/video]
Demon Tracker
Word Count: Information not available
Summary: They told him he was chosen, but everything they told him was a lie. Sookahr believes he's destined to change the world. With his rodent companion and a motley crew of fellow serpents, he journeys to the farthest outpost of Serpentia, determined to prove himself. The quest leads him to the very edge of the jungle, where Sookahr encounters, not only sabotage, but a dark secret that could shake the foundation of his civilization. Betrayed and abandoned, Sookarh must discover his own power, harness the magic inside his dreams, and decide who he really wants to be. Because if he can't rise to the challenge, expose his enemy, and uncover the truth, he won\'t just lose his way. He'll lose his friends, his place in society… and his life. In a world ruled by reptiles, one snake must fulfil his destiny to overthrow corruption, expose a dark secret, and save his people… from themselves. 2020 Leo Literary Award Winner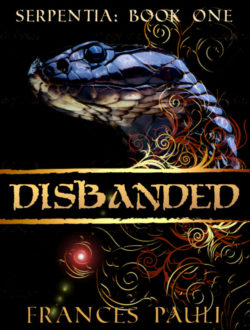 Disbanded
Word Count:

7300
Summary: Two brothers find misery in California's Gold Rush until a Chinese doctor promises them riches. They should have asked, at what price? Set in the Trinity Mountains, this is the first book - a single story - in a series of short reads in science fiction and fantasy.
Dragon Bones - A Fantastic Tale
Word Count:

34000
Summary: Koyu thought she had done her duty, but deep inside she knows it will never be over. She is bound to her master forever and will have to execute his every command. But when he demands she'll invade his sworn enemy's dreams, she chooses to rebel. Koyu risks her existence to help the 'other side' by purposely disobeying her master's orders. Koyu knows she'll pay with her life for her impertinence. Is there, indeed, no hope for her? [embed]https://youtu.be/ASa3ptKCwjo[/embed]
Dream Walker
Word Count:

89000
Summary: An uneasy truce between the four races has lasted for twenty years. Until now. The Dusters, a race of cat people from the north, have invaded and now former soldier Mika must make a grim choice: take up the sword again or watch everything he loves burn. With his old friend from the military, Gair, and a mysterious, half-breed Duster, Mika makes his way from his Northern border home to the southern capital, across the frozen wastes of the Duster homelands, and deep underground where the legendary Gallochs dwell. He is desperate to unravel the mystery of the invasion and how it's connected to his origin. But hunted by his own kind and unable to trust his companions, he discovers that to save his family, he may have to defeat not only the Duster army but the very Gods themselves. Penned by award-winning author, Adam Stemple, Duster is an epic, page-turning fantasy for adult readers who like their tales grim and dark but with just enough light at the end of the tunnel to keep them wanting more. Fans of Martin's Game of Thrones, Abercrombie's The First Law Trilogy, and Estes' Fatemarked will all find something to enjoy within. "I can, without reservation, recommend everything Adam Stemple has written, and Duster is no exception." — Steven Brust, best-selling author of The Baron of Magister Valley "No one writes bastard-son-of-a-bitch characters as brilliantly as Adam Stemple." — Naomi Kritzer, Hugo-Award-Winning Author of Catfishing on Catnet Praise for Adam's first novel, Singer of Souls "One of the best first novels I have ever read." — SFWA Grand Master, Ann McCaffrey *STARRED REVIEW* "A dour, nihilistic, absolutely marvelous grunge fantasy!" — Ray Olson, Booklist "Fans of Charles de Lint and Clive Barker will find much to like!" — Publishers Weekly
Duster
Word Count: Information not available
Summary: The Dissolution approaches, and all will change. "Science fantasy with fantastic queer rep" -J.S. Fields, Author of the Ardulum Series The Dissolution approaches. Sam has saved the Assembly of Species, but at a terrible cost. Locked in his apartment, his memories gone and his best friend abducted, he is once again crippled with anxiety. Meanwhile, Enos struggles to free her brother from imprisonment, alone for the first time in her life. Her true species has been revealed, and there are hints the deadliest of her kind survived an ancient war. But the Nether contains more secrets. A musical chime disrupts daily life, signaling changes to its very fabric. To solve this mystery, Sam must face his anxiety and confront truths about his memories and unique abilities. Only then can he save his friends from the machinations of the Life Coalition, by understanding the reality behind the Facets of the Nether. If you like epic fantasy, space opera and music-based magic, you'll love William C. Tracy's Dissolution Cycle. Download Facets of the Nether today and discover the diverse cultures, genders, and alien species of an epic science fantasy space opera! The Dissolution Cycle (Epic Space Opera, LGBT): Book 1: The Seeds of Dissolution Book 2: Facets of the Nether Book 3: Fall of the Imperium Book 4: Tales of the Dissolutionverse (Novella collection)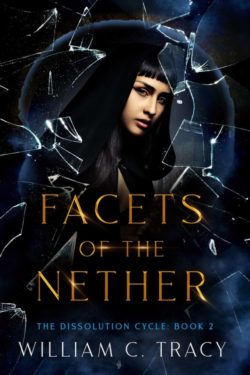 Facets of the Nether
Word Count: Information not available
Summary: The Dissolution is here. It is both an end, and a beginning. "Science fantasy with fantastic queer rep" -J.S. Fields, Author of the Ardulum Series The Dissolution has begun. Sam is finally reunited with Enos and Inas, only to see his new home under siege by beings that dissolve reality at a single touch. Even as they battle their personal demons, the three apprentices must also fight to save their home. Enos lashes out at those she loves, plagued by voices she's consumed, and Inas must risk his sanity to access ancient memories of the Nether. Sam must learn how he uniquely affects the Symphony, but there is little time to master what usually takes a lifetime. The Nether is leaderless and the Assembly is in chaos. The three apprentices must counter an invasion by aliens who rip the Symphony, and the very universe, apart. Ancient antagonists will resurface, a battle must be fought, and the secrets of the Nether and the universe will be laid bare in this final book of the Dissolution Cycle. If you like epic fantasy, space opera and music-based magic, you'll love William C. Tracy's Dissolution Cycle. Download Fall of the Imperium today and discover the diverse cultures, genders, and alien species of an epic science fantasy space opera! The Dissolution Cycle (Epic Space Opera, LGBT): Book 1: The Seeds of Dissolution Book 2: Facets of the Nether Book 3: Fall of the Imperium Book 4: Tales of the Dissolutionverse (Novella collection)
Fall of the Imperium
Word Count:

80000
Summary: Cling to the edge of your seat in this high-finance, high-stakes adventure. What do we do with knowledge of the future? Clairvoyant Ariel has been doing her best to ignore it, finding the whole thing a nuisance. But when she comes across people using similar abilities to get extremely rich, her interest is piqued. Then she discovers a second collection of gifted people. Their cause is less about money and more about ensuring the survival of the human race. That doesn't stop them from being as dangerous and crazy as the first group, however. Soon Ariel finds herself the object in a game of tug of war as each faction fights to have her--and her particular talents--on their side. She can't possibly help both groups. Aligning with either could be a terrible idea. But how can she stay out of it when so much is at stake?
Flickers of Fortune
Word Count:

81000
Summary: BORN OF SUPERNATURAL MONSTERS. HUNTED BY HER ENEMIES. READY TO KICK ASS. Secrets are hard to keep in a town like High Moon, especially the one hanging over Tamara Bentley's head like the sword of Damocles. Her mother's a witch and her father's a werewolf. The blood of two ancient races flows through her veins. Pity that they hate each other's guts. When the leader of the wolf pack finds out what she is, he decides she's an abomination that needs to die – even if it means slaughtering everyone who gets in his way. Too bad for him she's not willing to go down without a fight. His army of werewolves is terrifying enough, but now they're about to become even more powerful thanks to a rare lunar event. Tamara will need to call upon every last ounce of her strength if she wants to survive the night, protect her home, and stop the rampage before it carves a bloody path through everything she's ever cared about.
Get Bent!
Word Count: Information not available
Summary: Treading the straight and narrow is not natural to one who summons demons. Michael LeBonte is set free after five years in magic prison. All he has to do is stay on the straight and narrow path for the rest of his life. However, because he summoned demons to "take care of things," it's easier said than done. Now his plan is to make a new life for himself. His sister has welcomed him back, he's met a cute guy, and he's found a nice job assisting the local private investigator. But his expertise does not go unnoticed and he gets pulled back to do what got him sent to prison in the first place.
Grimaulkin
Word Count: Information not available
Summary: Protect your present or suffer from your past. It's Scott's birthday, and Mike LeBonte has big plans for his boyfriend. First, he has to deal with losing his magic. However, he's well-known to the police as a consultant, and someone has summoned a demon in the North Burial Ground in Providence. Not just any demon, but Lucifer himself. As Mike fights to try and regain his magic to help the police, a man from his past comes into town and tries to make inroads on his boyfriend. That, Mike cannot abide.
Grimaulkin Redeemed
Word Count: Information not available
Summary: Stress affects people differently. Then, there's magic. Mike LeBonte is house-sitting while his sister and her new husband go on their honeymoon. What could happen in two weeks? First, his cousin Becky calls him saying she's being followed. It could be the Mafia. Or it could be the church she's trying to separate from. Then his boyfriend tells Mike his ex is coming to visit. Then Mike meets his parole officer — a Knight of the Rosicrucians, the very people who put him in prison. With all this stress, it's no wonder that Mike resorts to magic to cope. But like any drug, it could very well alter his own perception of reality.
Grimaulkin Tempted
Word Count:

94000
Summary: With Ruben missing and no sign of their enemy, Donovan races to uncover the mysteries of blood magic and train a new generation in New Seeking. Away from the familiar halls of the Order, he trains with Annette to develop the skills to lie and secret his true self amongst the nobility and whatever spies may skulk in their midst. Donovan encounters changed relationships, rediscovered and more complex than he ever wished, and he longs for Whitman's good humor, which is in short supply. Whitman himself struggles to unearth and connect his own threads of insight through heartbreak and daunting challenges as he digs through layers and centuries of deception and historical indoctrination. Throughout all, Ruben drowns in fear and danger, managing breaths of revelation and enlightenment that threaten to unravel everything he once understood to be true. He is determined to be of use to his friends when they come for him before his resolve trickles away, taught and taunted by the Smiling Man whose knowledge appears to stretch for generations.
Hunter
Word Count:

99000
Summary: Gavin Booker, a school librarian at Cooper Road Elementary, Raleigh, Northern Carolina, leads an orderly, normal life. Work, jogging, friends from work, his son every other weekend. Gavin is also a secret. He is a hybrid, or part-fairy, and in the Columbian Empire, hybrids are under an automatic death sentence. Magic is illegal. So is loving another man, another capital crime. Fairies are locked away in ghettoes, magical beasts, such as gryphons, unicorns, and pegasi are kept in zoos. The others, the tree and water spirits, the talking beasts, fauns, and the rest, are in hiding. This is the world in which Gavin grew up. He survived, thanks to his mother. He can never forget he is different: ministers preach against people like him constantly; hating the other is a part of every school's curriculum. But now, things are changing fast, and apparently, for the worst. Earthquakes, volcanoes, killer storms are all frequent occurrences. The medicine Gavin takes to suppress his body's glowing, isn't working. The spells cast by his doctor, a witch, are losing their power. If anyone finds out what Gavin is, he is dead. Under threat, the Empire always goes after its marginalized people. Can Gavin survive the coming catastrophe? Will he ever recover from losing the boys he loved? Can he find the fairy man who has haunted his dreams all his life before it is too late? Can his scarred heart ever heal?
In Light's Shadow
Word Count: Information not available
Summary: Genevieve doesn't know if her unhappiness and feelings of not fitting in are different from anyone else's on her college campus. Recovering from a break-up and struggling with depression, she takes comfort in her impulsive sketches of strange creatures to try to escape the dark cloud that looms over her. But the truth is her place in this world is a lot more complicated than she could ever imagine. With two strange men following her, vines that engulf her dorm overnight, and a cactus that overruns the campus library, she is forced to face the possibility that her origins are more mysterious than the fact that she was abandoned as a baby. Especially as a powerful urge takes hold of her to draw something new and frightening. Can it be that her reality is stranger than her imagination? The one thing she can't imagine is that her happiness and talents just might be the key to save or destroy an invisible world.
In The Drawing
Word Count:

90.000
Summary: One week to save the child, bargain with Death and get the girl…  Child Protective Services Attorney Maeve Malveaux is sure that Chrysandra Arneson needs to be rescued from her rich, powerful and abusive family. But how? Her boss won't listen to her and neither will the judge. But after she gets taken off the case and sent on involuntary leave to get her out of the way, she's determined to find out what's going on. She's not counting on joining forces with Jill, the gorgeous law librarian from work, and a mismatched collection of fairy folk. Or getting the ghostly assistance of the long-defunct Minneapolis streetcar system. And, perhaps, even a hand from Death himself. Mae and Jill are about to be caught up in a supernatural power struggle that will take them on an adventure from the Uptown neighborhood in Minneapolis into faery realms and beyond. All they need is a dime for the streetcar fare and a little help from their new allies to be on their way. But will it be enough to save a little girl and get them where they need to go? They've only got a week to find out.
Last Car to Annwn Station