Word Count:
87000
Summary: In a world where everyone has a soulmate, uniquely powerful mage Royiora and reluctant assassin Kalo collide in the worst of ways. Royiora Daralkaen, the only mage alive able to use all five kinds of magic, has a near idyllic childhood in the country of Porescalia - before war breaks out with their antagonistic neighbors, Kloria. Kalo Porla, a naturally magic-proof individual known as a Null, is trained to be as an assassin by the authoritarian empire known as the Domain. When Kalo and his partner assassin are sent to kill a mage and his apprentice, it starts a journey neither man was prepared to begin. Content warnings: harm to children, physical and psychological abuse, implied (off-page) rape, violence, mature language, minors in implied sexual situations (teenaged romance), implied sexual situations, bigotry towards fictional races, and suggestive language.
All or None
August 15, 2020
Word Count: Information not available
Summary: Eclectic, imaginative, and unexpected, Community of Magic Pens features forty genre-spanning flash and short stories--including fantasy, humor, science fiction, romance, historical fiction, satire, and mystery--bringing together a rich group of diverse voices from a wide range of backgrounds and intersections. Fountain pens, markers and ink, charcoals, spy pens, a braille writer, a printing press, virtual reality, and a supernatural pizza: whether revealing unspoken truths, fighting injustice, or finding friendship and love, our pens have power. Join us as a recent graduate of superhero school struggles to understand her gift, a disabled android interviews for a job, a queen's conscripted artist must pull reality from illustrations on parchment, and a grandmother's secret room is…better kept a secret. Tales of struggle and triumph, compassion and hope: Community of Magic Pens is a celebration of our shared story.
Community of Magic Pens
Word Count:
7300
Summary: Two brothers find misery in California's Gold Rush until a Chinese doctor promises them riches. They should have asked, at what price? Set in the Trinity Mountains, this is the first book - a single story - in a series of short reads in science fiction and fantasy.
Dragon Bones - A Fantastic Tale
October 19, 2018
Word Count:
89000
Summary: An uneasy truce between the four races has lasted for twenty years. Until now. The Dusters, a race of cat people from the north, have invaded and now former soldier Mika must make a grim choice: take up the sword again or watch everything he loves burn. With his old friend from the military, Gair, and a mysterious, half-breed Duster, Mika makes his way from his Northern border home to the southern capital, across the frozen wastes of the Duster homelands, and deep underground where the legendary Gallochs dwell. He is desperate to unravel the mystery of the invasion and how it's connected to his origin. But hunted by his own kind and unable to trust his companions, he discovers that to save his family, he may have to defeat not only the Duster army but the very Gods themselves. Penned by award-winning author, Adam Stemple, Duster is an epic, page-turning fantasy for adult readers who like their tales grim and dark but with just enough light at the end of the tunnel to keep them wanting more. Fans of Martin's Game of Thrones, Abercrombie's The First Law Trilogy, and Estes' Fatemarked will all find something to enjoy within. "I can, without reservation, recommend everything Adam Stemple has written, and Duster is no exception." — Steven Brust, best-selling author of The Baron of Magister Valley "No one writes bastard-son-of-a-bitch characters as brilliantly as Adam Stemple." — Naomi Kritzer, Hugo-Award-Winning Author of Catfishing on Catnet Praise for Adam's first novel, Singer of Souls "One of the best first novels I have ever read." — SFWA Grand Master, Ann McCaffrey *STARRED REVIEW* "A dour, nihilistic, absolutely marvelous grunge fantasy!" — Ray Olson, Booklist "Fans of Charles de Lint and Clive Barker will find much to like!" — Publishers Weekly
Duster
July 11, 2020
Word Count: Information not available
Summary: The Dissolution approaches, and all will change. "Science fantasy with fantastic queer rep" -J.S. Fields, Author of the Ardulum Series The Dissolution approaches. Sam has saved the Assembly of Species, but at a terrible cost. Locked in his apartment, his memories gone and his best friend abducted, he is once again crippled with anxiety. Meanwhile, Enos struggles to free her brother from imprisonment, alone for the first time in her life. Her true species has been revealed, and there are hints the deadliest of her kind survived an ancient war. But the Nether contains more secrets. A musical chime disrupts daily life, signaling changes to its very fabric. To solve this mystery, Sam must face his anxiety and confront truths about his memories and unique abilities. Only then can he save his friends from the machinations of the Life Coalition, by understanding the reality behind the Facets of the Nether. If you like epic fantasy, space opera and music-based magic, you'll love William C. Tracy's Dissolution Cycle. Download Facets of the Nether today and discover the diverse cultures, genders, and alien species of an epic science fantasy space opera! The Dissolution Cycle (Epic Space Opera, LGBT): Book 1: The Seeds of Dissolution Book 2: Facets of the Nether Book 3: Fall of the Imperium Book 4: Tales of the Dissolutionverse (Novella collection)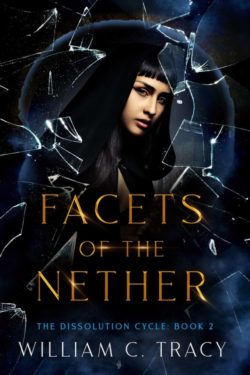 Facets of the Nether
June 22, 2020
Word Count: Information not available
Summary: The Dissolution is here. It is both an end, and a beginning. "Science fantasy with fantastic queer rep" -J.S. Fields, Author of the Ardulum Series The Dissolution has begun. Sam is finally reunited with Enos and Inas, only to see his new home under siege by beings that dissolve reality at a single touch. Even as they battle their personal demons, the three apprentices must also fight to save their home. Enos lashes out at those she loves, plagued by voices she's consumed, and Inas must risk his sanity to access ancient memories of the Nether. Sam must learn how he uniquely affects the Symphony, but there is little time to master what usually takes a lifetime. The Nether is leaderless and the Assembly is in chaos. The three apprentices must counter an invasion by aliens who rip the Symphony, and the very universe, apart. Ancient antagonists will resurface, a battle must be fought, and the secrets of the Nether and the universe will be laid bare in this final book of the Dissolution Cycle. If you like epic fantasy, space opera and music-based magic, you'll love William C. Tracy's Dissolution Cycle. Download Fall of the Imperium today and discover the diverse cultures, genders, and alien species of an epic science fantasy space opera! The Dissolution Cycle (Epic Space Opera, LGBT): Book 1: The Seeds of Dissolution Book 2: Facets of the Nether Book 3: Fall of the Imperium Book 4: Tales of the Dissolutionverse (Novella collection)
Fall of the Imperium
August 24, 2020
Word Count:
80000
Summary: Cling to the edge of your seat in this high-finance, high-stakes adventure. What do we do with knowledge of the future? Clairvoyant Ariel has been doing her best to ignore it, finding the whole thing a nuisance. But when she comes across people using similar abilities to get extremely rich, her interest is piqued. Then she discovers a second collection of gifted people. Their cause is less about money and more about ensuring the survival of the human race. That doesn't stop them from being as dangerous and crazy as the first group, however. Soon Ariel finds herself the object in a game of tug of war as each faction fights to have her--and her particular talents--on their side. She can't possibly help both groups. Aligning with either could be a terrible idea. But how can she stay out of it when so much is at stake?
Flickers of Fortune
December 21, 2014
Word Count:
81000
Summary: BORN OF SUPERNATURAL MONSTERS. HUNTED BY HER ENEMIES. READY TO KICK ASS. Secrets are hard to keep in a town like High Moon, especially the one hanging over Tamara Bentley's head like the sword of Damocles. Her mother's a witch and her father's a werewolf. The blood of two ancient races flows through her veins. Pity that they hate each other's guts. When the leader of the wolf pack finds out what she is, he decides she's an abomination that needs to die – even if it means slaughtering everyone who gets in his way. Too bad for him she's not willing to go down without a fight. His army of werewolves is terrifying enough, but now they're about to become even more powerful thanks to a rare lunar event. Tamara will need to call upon every last ounce of her strength if she wants to survive the night, protect her home, and stop the rampage before it carves a bloody path through everything she's ever cared about.
Get Bent!
Word Count: Information not available
Summary: Genevieve doesn't know if her unhappiness and feelings of not fitting in are different from anyone else's on her college campus. Recovering from a break-up and struggling with depression, she takes comfort in her impulsive sketches of strange creatures to try to escape the dark cloud that looms over her. But the truth is her place in this world is a lot more complicated than she could ever imagine. With two strange men following her, vines that engulf her dorm overnight, and a cactus that overruns the campus library, she is forced to face the possibility that her origins are more mysterious than the fact that she was abandoned as a baby. Especially as a powerful urge takes hold of her to draw something new and frightening. Can it be that her reality is stranger than her imagination? The one thing she can't imagine is that her happiness and talents just might be the key to save or destroy an invisible world.
In The Drawing
August 8, 2019
Word Count:
80000
Summary: Celebrate those who light a candle in the darkness in this compelling and eye-opening tale. Teddie is into country music, her old pick-up truck and getting through high school with as little drama as possible. Yet somehow her best friend, Michelle, talks her into spending a semester in Darjeeling, India. The thrilling adventure turns treacherous when she uncovers a seedy underworld in which young women are bartered and sold—including her friends. As she fights to understand a depravity she never dreamed existed, a stranger makes her an unexpected offer. He will train her to find her missing friends, but she will need to have trust in abilities she barely believes exist and more courage than she ever thought she could summon. And there will be no going back. Given the choice between this and abandoning her friends to their horrifying fate, the decision is simple. She must rise to the challenge. But how can she be a superhero when she doesn't know what her power is? (Layers of Light is part a collection of interrelated stand-alone novels. It contains some non-graphic mature content and references to human trafficking and the sex trade.)
Layers of Light
January 29, 2014
Word Count:
94000
Summary: A CHILD OF TWO WORLDS – BELONGING TO NEITHER, DANGEROUS TO BOTH. All Kisaki wants is a place where she can belong, but there are few safe havens for half demons such as her. Raised in isolation within the celestial palace, she longs to escape and explore the world below – Earth. So when an opportunity presents itself, she takes it, inadvertently stealing the Blade of Heaven – her mother's greatest treasure – in the process. Exploring a new land is terrifying enough, but hot on her heels is the tiger-spirit Shitoro. If he catches her, he'll drag her straight back home. She thinks it's to punish her. But in actuality it's to protect her. Kisaki doesn't know it yet, but there's a good reason she's been kept hidden. Half-breeds aren't tolerated by the great demon lords. If they find her, they'll stop at nothing to take the blade and use it to destroy her, her mother, and the new world she hopes to call home.
Midnite's Daughter
Word Count:
100000
Summary: Qwyrk is having a bad day; several, in fact. One of the Shadow folk tasked with keeping an eye on humanity, she's ready for a well-earned break in Yorkshire, but now she's (literally) run into a girl, Jilly, who just saw something quite supernatural and truly awful happen in her town. As Qwyrk tries to unravel the mystery, layers of villainy are exposed, and she's stuck with an assortment of unlikely folk that she'd rather not have "helping" her. Together, they confront ancient magic, medieval conspiracies, and the possible end of the world (that again?). It's not the holiday Qwyrk was hoping for! Qwyrk is the first in a series of four novels about the adventures of a group of misfits at the edge of reality in modern northern England, a world of shadows, Nighttime Nasties, sorcery, intergalactic councils, tacky nightclub attire, an abundance of sarcasm, and even elves… though they are a bit silly.
Qwyrk
May 25, 2021
Word Count:
111,000
Summary:
New York: two years after the Third World War. Humanity is rebuilding its cities brick by brick; the damage done to the people, however, is a lot harder to repair.
Dan Hardacre is one of those people. An aspiring stage actor and experienced draft-dodger, Dan struggles to find his place within the Utopic rebuild of New York City. When he's not caught up with the duties of work, Dan lives a quiet life in mourning for his mother, Dyani, who went missing when he was a teenager.
One night, Dan experiences a vivid, terrifying nightmare that puts him right on the front lines of the war for which he dodged the draft; it ends with him facing Death itself in the form of a metallic, faceless humanoid creature that calls itself the Valkyrie. To investigate the reason behind his haunting experience, Dan seeks out a meeting with his estranged father, who reveals the startling truth about Dan's dream: it wasn't a dream.
With this newfound knowledge and the powers it brings, Dan makes it his mission to return to the scene of his nightmare. However, he soon comes to know that confronting the Valkyrie not only endangers him but the war-withstanding world he leaves behind.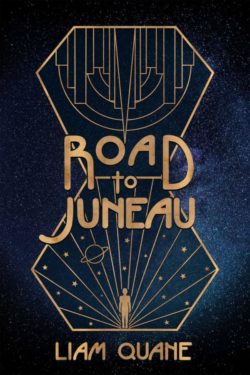 ROAD TO JUNEAU
May 18, 2021
Word Count: Information not available
Summary: JESSIE FLORES IS HAVING THE ULTIMATE BAD HAIR DAY. Imagine going to bed with mousy brown locks and waking up with a headful of supernova scarlet. It's a hot new look for me – literally, because it bursts into flames whenever I'm threatened. My magical makeover is all Gary's fault. I knew there was something off from the moment he transferred to my school. Go figure. He's a wizard with a trust fund and an inferiority complex. Now, thanks to him, I've graduated from high school bullies to supernatural terrors and that's not all. Fate has chosen me to face the legendary vampire destined to destroy the world. If I want to survive, I'll have to dig deep and discover whether I'm truly worthy of this new power. Because if not, everything I hold dear will soon burn even hotter than my hair.
Second String Savior
Word Count:
80000
Summary: Sail the Pacific in this mystery adventure where things are not always as they appear. Zane, a young man who can change his physical appearance, is starting his first job at Penthes Pharmaceuticals. It's nothing like what he expects. Soon he is drawn into a world of corporate secrets and dangerous knowledge. But the deceptions are only beginning. Sent on a sales trip to the South Pacific, Zane finds new friends with abilities as surprising as his own. Too bad an unsolved murder sends them all fleeing, as issues from back home threaten to destroy lives half a world away. Can Zane use his unique talents to unravel the mysteries he's encountered? Can he find love in a world so different from his own? More importantly, can he find out who framed his friend for murder before it's too late?
Shape of Secrets
September 1, 2012
Word Count:
71000
Summary: I've got a secret. Two, actually. I'm not that powerful. My best friend Gerald, though, he's got enough superpowers to fill the role of two heroes. His abilities are so strong, he can even make everyone believe I'm destined to be more than a sidekick. My other secret? I love him. My crush is getting harder to hide now that we're headed off to superhero university together. With Gerald as my roommate, it's only a matter of time before he figures out how I feel. And from there, our other secrets will inevitably unravel, too. Including what truly happened the night we stumbled on a League of Villains meeting. I never counted on the League ruining my plans to enjoy the university experience with my bestie. Or the nemesis who haunts my nightmares turning his telepathy on the city I grew up expecting to protect with my powers. One thing's for sure, superhero school isn't for the faint of heart. Super U: Rising Storm is an M/X superhero slow-burn best friends to lovers romance. It is part of a multi-author shared universe following the university adventures of superheroes in training. Gerald is a trans man who commands the wind and electricity. Ignatius is his non-binary and autistic best friend, who controls electric sparks. Read now to watch them turn their spark into a storm.
Super U: Rising Storm
October 12, 2021
Word Count:
53100
Summary: Tad loves bouncing around in time and watching mankind grow and change. He loves humanity and helping when he can. However, his job isn't conducive to helping people.  He's an Angel of Death. Doug is fun loving and a drama queen.  Despite his witty exterior, he has a dark history and is prone to self-destruction. He's also an amazing drag queen and hairstylist with big dreams. When Tad pushes the boundaries of his duties too far, his angel wings are stripped away from him, and he is sent to New York City to live as a human. Lost and alone he ends up meeting Doug, and the two start a friendship that will shape them both and last a lifetime.  But nothing is simple when you're dealing with a former Angel of Death and a Drag Queen. Could these two cause the fabric of our world to collapse or will they manage to keep the future as it should?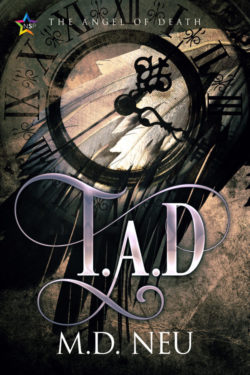 T.A.D.-The Angel of Death
September 23, 2019
Word Count: Information not available
Summary: Discover ten planets, joined through music-based magic and an immense sentient crystal. This anthology contains nine stories from the popular Dissolutionverse universe! Join Origon as he investigates the Pixie homeworld and tries to avert a war! Learn how to change the Symphony with Rilan, as she searches for Origon's lost brother. Travel with merchants in an old war train with some suspicious cargo. Fly with the first majus in space! Discover the food and culture of the ten species. Learn what lurks in the basement of the House of Potential. Music, magic, and murder is afoot with Mandamon, as someone plots to bring down the secret Society of Two Houses! An ancient being confronts other-dimensional entities. And a climbing crew searches for the top of a miles-high wall, riding a giant steampunk beetle! If you like space opera, fast-paced adventure, music-based magic, and complex, diverse characters, then you'll love this collection of stories from William C. Tracy's Dissolutionverse. Pick up Tales of the Dissolutionverse to discover the music today! There's more adventure in The Dissolution Cycle (Epic Space Opera, LGBT): Book 1: The Seeds of Dissolution Book 2: Facets of the Nether Book 3: Fall of the Imperium Book 4: Tales of the Dissolutionverse
Tales of the Dissolutionverse
May 20, 2019
Word Count:
119688
Summary: Throughout five years at a strict boarding school, Mara has turned to her friend Annie-Rose for comfort. Now Annie has disappeared. Mara teams up with two other students – bold Gretchen and soft-spoken Ginny -- to find her missing friend. Together, Mara, Gretchen and Ginny take on a conspiracy involving some of the most dangerous people in their world.
The Rebels of Caer City
March 1, 2020
Word Count: Information not available
Summary:
Music and magic. Steampunky science. The Dissolution is coming.
Eighteen year old recluse Sam van Oen lives with his aunt, takes online college courses, works in technical support, and tries not to remember the freak storm that killed his parents ten years ago. But anxiety and reclusion bring up memories he doesn't want. Just as Sam gathers courage to send in his application for college away from home, the temperature drops and the sun goes dim. Ice forms in August, and a portal opens in his fireplace. This time, Sam can't run. This time he's sucked in. Now Sam must survive in the flourishing capital of ten alien species, home to thousands who can change the Symphony underlying the universe and alter reality. Sam's anxiety attacks and fear of crowds transforms the Nether into a frightening, expansive city. To find his home again, Sam must learn to control the music inside him, while devastating voids threaten to destroy the Nether and everyone he has grown to love. "
Simply Put, This is a Brilliant Book. Read it Now.
" -Scattered Thoughts and Rogue Words Blog If you're looking for an awesome ride across multiple homeworlds filled with magic, science, music, and diverse alien species, don't miss the first book in William C. Tracy's Dissolution Cycle! The Dissolution Cycle (Epic Space Opera, LGBT): Book 1: 
The Seeds of Dissolution
Book 2: 
Facets of the Nether
Book 3: 
Fall of the Imperium
Book 4: 
Tales of the Dissolutionverse
 (Novella collection)
The Seeds of Dissolution
December 19, 2017