Word Count:

22700
Summary: When yet another wave of colonizing Felters arrives to strengthen their fortress on the forest's edge, Velu, an indigenous hunter, knows they bring only pain and death. But with them arrives an intriguing older woman who hunts legends. When Velu learns the woman, Lady Greyback, shares his terrifying visions of the ancient scorpion god, Ajakava, she invites him to research what they mean. But the Felters grow hostile, blaming Velu and the other hunters for deaths in a doomed expedition through the forest. Meanwhile, the visions become ever more persistent, hinting the god is awakening. When a second Felter expedition seeks to extend their reach to the capital beyond the forest, only Velu and Lady Greyback know they will walk straight into Ajakava's clutches. While the lady sees new destruction, Velu sees memories of a long-forgotten massacre. What vengeance does the old god have in store, and for whom? Find out what happens in Ajakava by Chaitanya Murali
Ajakava
Word Count:

99000
Summary: Look to the skies! Brave adventurers face new relationships and adversity in all sizes, from steampunk dirigibles to harpies, giant bees to garden gnomes, and winged dinosaurs to sky pirates. Isolated mountain peaks, clifftop cities, and battles in the sky abound in this sapphic anthology focused on overcoming challenges awaiting in the clouds. If you like diverse stories with lesbian and sapphic-centric heroines enjoying the thrill of adventure high in the air, buy Lofty Mountains today! With stories by: Seanan McGuire, Rosiee Thor, Rebecca Kim Wells, Maya Gittelman, Carmen Loup, Sara Codair, William C. Tracy, N.L. Bates, L.R. Gould, Robin C.M. Duncan, and J.S. Fields
Lofty Mountains
Word Count:

38000
Summary: RISE (noun / verb) Eight definitions to inspire writers around the world, and an unlimited number of possible stories to tell: 1) An upward slope or movement 2) A beginning or origin 3) An increase in amount or number 4) An angry reaction 5) To take up arms 6) To return from death 7) To become heartened or elated 8) To exert oneself to meet a challenge Rise features 300-word speculative flash fiction stories from across the rainbow spectrum, from the minds of the writers of Queer Sci Fi.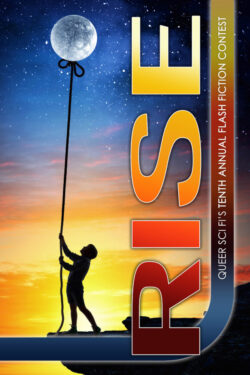 Rise