Word Count: Information not available
Summary:
Some fight evil with swords and force. But for Evie and Hesta, they stand against evil with no more than their will and a song.
In a series of violent and horrific murders, The Butcher of Bristelle, strikes terror into the heart of the city. No one is safe. When Evie Chester encounters the remains of one such victim she knows that this is the work of no ordinary killer.
With mistrust of the gifted rising, can Evie and Hesta solve the case and keep the city safe. Will their wits and their gifts be enough against brute force.
The Evie Chester Files - Case 3: Fur and Fangs
January 12, 2021
Word Count:
54000
Summary: He was the shameful cause of his sister Elena's death and he stole state papers from England, yet Adrian Hart is feted by the best of society in Rome, and boldly dubs himself 'Iago'. Determined to avenge Elena, his unrequited love, Lieutenant Andrew Sullivan asks the advice of poet and Shakespearian John Keats, and his artist friend Severn. Soon Percy and Mary Shelley join them, then Lord Byron and his servant Fletcher. But how can the seven of them work against this man, when they can't even agree what he is? The atheist Shelley insists that Hart is an ordinary man, while Byron becomes convinced he's the Devil incarnate, and Keats flirts with the idea that he's Dionysius… As death and despair follow in Hart's wake, Sullivan knows he must do something to stop Hart before even Sullivan himself succumbs – but what…?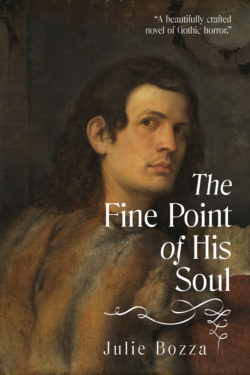 The Fine Point of His Soul
July 1, 2016
Word Count: Information not available
Summary: Mikal despised the idea of working with an Imperial, for reasons both personal and political, but only the invaders' magic could repair the artifact weapon that was the last link to a family he'd left behind. Rian was a magician by trade, trying to escape the obligations of his noble birth, and the life his family planned out for him. Living incognito at the border of Imperial territory, he found his solitude interrupted by a mysterious visitor with an impossible commission. Their meeting will set in motion a chain of events that will irrevocably alter everything they know of the world, and set their two civilizations on a course to ruin.
The First Age
December 25, 2019
Word Count:
153,500
Summary: Twin witches Robbie and Rowan spend the bulk of their time conjuring up ways to get their hands on a magical chest which is closely guarded by their lifelong nemesis.  The twins and their longtime friend Colter devise a plan to conceal the chest in wulfenite to hide it away from Drew. To obtain the mineral they begin working at a mineral mine in Schickard, AZ. They quickly learn that things are not as they seem. They realize that some of the miners are disappearing. They discovered a coven of witches, a mysterious instructor, and an unknown force lurking about the mine. Robbie, Rowan and their friends are propelled back in time to the year 1647. During an intense battle Robbie and Tillis, a nascent witch with Chrono-telekinetic abilities, are catapulted forward in time to the year 1918. Robbie meets his young grandfather in post-war Connecticut. Robbie finds he is tethered to Tillis, who is unaware of the connection. Robbie is forced to witness the secret relationship between his grandfather and Tillis. Robbie tries desperately to get back to Rowan. When he finally succeeds in getting back he has a disastrous encounter with a werewolf. Upon returning to 1647 Robbie finds himself in another predicament this time Drew and his friends come to Robbie's aid.  The two former rivals become friends forging a lifelong bond.  Robbie comes around to Drew's way of thinking.   Robbie helps Drew fortify the chest to keep it out of Rowan's hands, causing a rift between the twins.  Robbie will have to find a way to get Rowan and his clique to come together with Drew and his friends to fight a bigger battle that has the potential of becoming the next apocalypse.
The Hallowed Bloodline: The Guardian
February 20, 2020
Word Count:
23850
Summary: We interrupt our regularly scheduled program to take a side trip with SYN Consulting's resident cyber genius and top bear. Matt and Xander take a surprise honeymoon to Hawaii. It's not all private beaches and swimming with the fishes, though. Truths from Xander's past are revealed that give Matt new insight into his mate. Just as they get comfortable, the unforeseen appearance of a new enemy cuts their trip even shorter. What unexpected information will they find out and how will that shape the future? Find out this, and Danica's reaction, in this new adorable yet heartfelt installment of Dragon War Chronicles. Dragon War Chronicles is a continuous series. It is best read in order. SYN Consulting Secrets Revealed First Strike Dragon's Hoard The Honeymooners Cold Revenge (Coming Winter 2021)
The Honeymooners
May 11, 2021
Word Count:
7500
Summary: In sunny San Cicaro, a new app is dominating the city's streets – and its people. Max loves her city, and believes everyone deserves to enjoy its hidden treasures. So when she launches the SC Hub, a new social app to connect people and places, she couldn't be happier with its blazing overnight success. But her reclusive girlfriend, Ellie, can't help but worry about the magnetic pull the app is having on its creator, and the strange occurrences in town that seem linked to it. Are people driving the app… or the other way round?
The Hub
July 28, 2021
Word Count:
90000
Summary:
Jack Hansard is the man who can sell you anything. Luck in a bottle, fame in a box, dreams on a leash... anything is possible when you're a trader on the occult Black Market.
Jack is used to a life of handling dangerous goods, dodging disgruntled customers, and sometimes running away very fast. But when Ang (a two-and-a-half-foot tall coblyn right out of Welsh folklore) buys his help to find her missing kin, Jack suddenly finds the goods are riskier, the customers more treacherous, and escape is anything but guaranteed.
The Jack Hansard Series is an episodic urban fantasy with a wide streak of humour and a lot of British folklore. Season One contains the first fifteen episodes in the series.
The Jack Hansard Series: Season One
September 27, 2020
Word Count:
83000
Summary: For Jack Hansard, Purveyor of Occult Goods, things are looking up. With the coblyn Ang as his new business partner, he has a solid friend to back him up in every dangerous situation. Together the pair face shapeshifters, piskies, and ancient magics in their quest to track down Ang's missing kin. A new lead means the trail is about to get a whole lot hotter. But when an old enemy presents Jack with an offer he can't refuse, will he risk Ang's trust to see it through? Read Jack's latest misadventures to find out what happened to the missing coblynau, and discover how Jack's past is entwined with the true nature of the sinister 'Baines and Grayle'… The Jack Hansard Series is an episodic urban fantasy with a wide streak of humour and a lot of British folklore. Season Two contains the next 14 episodes in the series.
The Jack Hansard Series: Season Two
January 11, 2022
Word Count:
54000
Summary: A young magic user who wants desperately to live. A jaded recluse who has forgotten what living means. They're each other's only chance. Toby's wild magic is killing him. The mage guilds have given up on him, and it's only a matter of time before he dies in a spectacular, catastrophic bang. His only hope is an exiled wizard who lives in seclusion—and is rumored to have lost his mind. The years alone on his hilltop estate have not been good for Darius Valstad. After the magical accident that disfigured him and nearly drowned Pittsburgh, he drifts through his days, a wraith trapped in memories and depression. Until a stricken young man collapses on his driveway, one who claims Darius is his last chance. For the first time in fifteen years, Darius must make a choice—leave this wild mage to his fate or take him in and try to teach him, which may kill them both. The old Darius, brash and commanding, wouldn't have hesitated. Darius the exile isn't sure he can find the energy to try.
The Mage on the Hill
May 7, 2019
Word Count:
90000
Summary: In 1915, gay men don't get married, they don't take care of children together, and if they do, they don't get caught. Gael and Jack are a lot of firsts to each other. Gael is the first other gay man Jack has ever met, kissed, or wanted. Jack is the first really decent man who only see an Irish gangster and whore  that Gael has ever known. Gael and Jack just work for each other. First love is fabulous, even if it's forbidden. Enduring love is hard, extra hard in the face of WWII, Prohibition, and a world that can't know them as they are.  The story is presented as a serial and is free to read.
The Moon's Permission
June 11, 2019
Word Count:
62000
Summary:
Sanderson always envied the townies, all smiling faces and holding hands at his performances. He wanted the happy ever after that came with real life, not the pretend one in the twinkling fairy lights of the Moonlight Market. So when the Weaver of Dreams conjured him a normal life, college classes instead of performances, a chance at a boyfriend instead of an audience, he ran for daylight. Now a year later, he's learned that connecting with someone physically doesn't always lead to a lasting relationship. To get closer to the man of his dreams, Sanderson offers to help Cory find his missing sister. This means navigating the twists and turns of the Moonlight Market, the disorienting world of performers and hawkers, bizarre sights, sounds—and dangers. The sinister Weaver of Dreams offers to forgive Sanderson's obligation in return for a lost soul, for Cory, who is still grieving the death of his parents and the disappearance of his sister. Surrounded by both friends and enemies, Sanderson fights doubts about his budding relationship with Cory while guiding them ever closer to his ultimate dilemma. The debt is valid and the choice is clear–his lover, or his dreams. The Moonlight Market, a paranormal finalist for the 2017 Southern Magic Gayle Wilson Award of Excellence, is a full-length new adult romance brimming with magical realism, fairy tale villains, and quirky characters. If you like your romance to send a shiver down your spine, you'll love The Moonlight Market! Buy your copy now and enter a world of dark fantasy and magic!
The Moonlight Market
August 15, 2016
Word Count:
7000
Summary:
I, Ervyn Morryés of the Black Mountain clan, know all about control.
​As the only fair-haired Dark Elf in the Highlands, I had to learn to control my fists and my temper in the face of derision.  
​To become the best archer amongst my peers, I had to learn to control my breathing and my movements.
​But the day the half-breed called Lochan Féyes arrived at the training camp, my discipline faltered. Because—sweet gods—when I am around that aloof, blue-eyed assassin, my need is uncontrollable.   
The Mutt
January 20, 2017
Word Count: Information not available
Summary: In a world where magic is real and evil walks amongst humanity, a young sorcerer is beset upon by enemies, both old and new. Angelus Salvatore is the only necromancer in all of Boston, and his name is whispered warily by the undead and fellow sorcerers alike. He and his brother Isaac are the lone survivors of an attack by an army of the undead, in which Angel used a spell so powerful it forever marked his place in history. Now, years later, Angel struggles to balance his career as a teacher of the higher magical arts, his role as big brother, and a tenuous relationship with an Elder vampire from the local clan. When his brother's boyfriend is used as a pawn in a mysterious plot to draw Angel out, Angel is once again drawn back into the old hostilities that fueled the Blood Wars and led to his family's death. Leaning on others for help is something Angel cannot do, and while he searches for clues into who may be targeting him and his brother, Angel finds his heart steadily growing occupied with Simeon, Elder and vampire. Dealing with death magic and vampires on a daily basis may leave Angel jaded when it comes to life and staying that way, but the more time he spends fending off the ancient vampire's attention and affections, the more he realizes he wants to give in. Can Angel find out who wants him dead, and keep his heart safe in the process? How can he fall for a vampire, when his whole family was torn apart by an army of the undead? Death stalks the streets of Boston's historic Beacon Hill....and there is no one more suited to battle against death than a necromancer. MATURE CONTENT Contains graphic violence, male/male sexual contact, a cranky necromancer, a sexy Irish vampire, and a pesky demon.
The Necromancer's Dance
February 25, 2016
Word Count: Information not available
Summary: Even love can die without trust. Angel's brother, Isaac, has returned home, and the pair begins to make slow and awkward attempts back to each other. Learning how to be a brother to a grown man instead of a parental figure has Angel adjusting his behaviors and habits, and Isaac still remains a mystery. Was it merely entering adulthood that turned Isaac away from an overprotective Angel, or does Isaac carry a secret that will keep them from finally being a real family? Daniel Macavoy, Angel's new apprentice, is torn between his bond with Angel and the grasping machinations of his father. Dealing with a traumatized apprentice with dangerous holes in his magical education, saving Daniel may be harder than Angel first thought—especially since the biggest problem is not revenge, but guilt. The one shining beacon in his life is Simeon, Elder vampire of Boston's only Bloodclan. Four hundred years old and sexy as sin, Simeon is warrior and sage, patient and cunning. The strength Angel draws from Simeon's devotion and the newborn mate-bond between them is steadfast and true…and the fount of death magic that animates the undead lord places Angel in the midst of a power struggle for control over himself, his lover, and his family. Through it all, Angel is beleaguered by the unwanted attention of a troll-hybrid, the adventures of a dragon in the city, and a serial killer has decided to hunt the back alleys and midnight streets of Boston. **72k words. Contains bonus short story at the end, "The Necromancer's Birthday Surprise", written for Crystal's Many Reviewers, March 2016. Book TWO in a series. Not standalone. **Contains male/male sexual content. Violence, gore, sex, vampires. A cute dragon and some snark. Okay, lots of snark.
The Necromancer's Dilemma
July 2, 2016
Word Count:
85000
Summary: Every action has consequences. For a decade, Angel Salvatore has been the most powerful sorcerer and only necromancer in all the Northeast. Never one to ask permission nor apologies, he has acted with near impunity for years. Until now. The High Council of Sorcery has come to Boston, and Angel is their target. Charged with numerous violations of practitioner laws, his freedom and family are placed in jeopardy. If found guilty, Angel's apprentice Daniel will be imprisoned to serve out the remaining years of his apprenticeship. Isaac, his brother, is too vulnerable to be left unguarded, and Angel fears for his sanity and health. And Simeon, Elder vampire and Angel's mate refuses to see Angel convicted under the laws of the Council and his actions to keep Angel free threaten to start a war that could destroy their world. And Angel faces the severest of punishments—the castration of his gifts. The Council has never cared for the people of Boston, and Angel doubts their motives. They have come for some insidious reason, and it has nothing to do with upholding the law and everything to do with Angel. Dealing with an impending trial, a wayward ghost, and a graverobbing ring of thieves leaves Angel on the edge. He thinks he may have a handle on things until violence erupts across the city, and a stranger comes to town...a stranger with his own dark powers of necromancy. This is book 3 of a series, and the previous books should be read first for full enjoyment. Trigger Warnings are on the Copyright Page and can be seen using the Look Inside feature or by downloading a sample of this book. 85,000 words 340 pages Gay Urban Fantasy Romance
The Necromancer's Reckoning
May 27, 2018
Word Count:
85,000
Summary: Reylan's last assignment for The Arcadia Trust brought a rebellious human servant under his roof, and a volatile werewolf lover named Jorgas into his bed, leaving the self-reliant Blood Shade—known to the outside world as vampires—in no hurry to risk his immortality for them again. But when a new terror starts disappearing humans from a bad part of town, Reylan must do everything in his power to keep Sydney's supernatural factions from the brink of war. Having an ambitious, meddlesome human in the mix is only going to make things worse…especially when that human is Jorgas's father. Reylan will need all his determination and cunning to keep the peace under his roof, between the night's power brokers, and in his lover's troubled heart.
The Orchard of Flesh
August 1, 2016
Word Count: Information not available
Summary: The case: a grandmother who vanished from a locked room. The best lead: a psychic who's as mysterious as she is cute. Detective Jack Duarte is the one called upon when weird cases hit Auckland. A fierce loner with a reputation for solving the unsolvable, she is the perfect choice for the latest odd mystery: the locked-room disappearance of a beloved grandmother, who has vanished without trace and, seemingly, without suspects or a motive. This time around, though, Jack has also been assigned a partner. The fresh young detective Piper, who has transferred in with a difficult history, is determined to prove themself. Smart, perky, and inexperienced. They are exactly the kind of partner Jack manages to scare away. As they dig deeper into the mystery, though, Jack has to put her own reluctance in the back seat and help Piper navigate a whole different world — because the beloved grandmother has her own mysterious past, one that has already cost lives… and souls. With the help of the enigmatic and beautiful psychic Emmaline, Jack and Piper must confront the strange world on the other side of the mirror. Some mysteries can only be solved with magic!
The Other Side of the Mirror
November 27, 2020
Word Count:
120552
Summary: Like a spout pushing its way through soil extending deep mighty roots as it grows firm and tall, Michael like those around him has become renewed in the sun. The Wheel of Creation continues to turn through tragedy and triumph with secrets and mysteries revealed, truth discarding deceit to rot away into dust. Terror still lurks in shadow, hinting at battles yet to come and while the union of souls may reign down catastrophe upon all involved, there is a newly shared optimism that this town, rebirthed and revived again after decades can meet the oncoming storm together. Bonded in battle, humbled in heart new friendships have replaced old animosities as all the residents are finding their place in creation.Despite the odds, the couple continues their path toward blending, but if the sun sets on their hopes or the union is not supported by the Mother, disaster could befall not just Michael and Kurra but the entire Grove.Book four of The Place Of Things is Blood. The blood spilled and shared through trial and combat, forged in a family or spilled through injury, death, or pain and joy. Will the Great Mother approve of a blending of souls, or will the remains and splatter of not just Michael, but all those he holds dear be splashed in chunks upon the wedding alter.As this story concludes in the middle it continues on like the cycle of the seasons. Never ceasing always evolving. Until next time, Love from the Sacred Grove.
The Place Of Things Book Four: Blood
May 5, 2021
Word Count:
216321
Summary: Root by Daniel Fisher, the third book in the Place of Things series is the continuing story of Michael and his new, rather unique fiancée. From the Winter's Solstice to the Vernal Equinox we find our lovers and their friends explore new and creative ways to adapt to life-altering events. Having relocated and now a resident in the sanctuary town of Sacred Grove, Michael is finding his place among the mythical, mystical, and mostly immortal residents who've hidden away from the outside world. Not only is he coming out of his own isolation, but they are also finding he is dragging them out of self-imposed exile as well. Sometimes against their instincts. As his and Kurra's love deepens, new mysteries are added to the mysteries and his and their worlds will never be the same.As the union between two souls from two drastically different worlds draws closer, new mysteries, challenges, and threats crop up for Michael, the mortal, and all the immortals that get caught in his wake. Enchantments and wards may not be enough to hold back the onslaught of supernatural forces if the wedding gets bumpy. Many may yet perish if things go awry. May the Goddess help them all.Book four, the conclusion to this tale coming soon.
The Place Of Things Book Three: Root
January 29, 2021
Word Count:
157790
Summary: Michael Brian Anderson is a cynic, a mess and an agnostic, who in spirit is truly a wayward soul lost in suffering until this person finds their life turned upside down in an epic journey through Myth, Folklore and a world of the strange, the wyrd, and the gifts from creation.Transforming like a chrysalis from a broken body into a full realized and rather imposing figure.This tale I spin is an epic invocation that transcends billions of years through space/time and evolution to cast what one can blossom into when unconstrained by limitations of the mind, and a full realization of the spirit, that a broken body and heart can heal and effect the very outcome of the Great Web of Creation herself.
The Place Of Things, Book One: Bone
August 7, 2020