Word Count:
75000
Summary: Sleepwalking may be the death of me… again. I thought things would get better now that I no longer had assassins after my head. Although it's fun eating people who misgender me, I'm just so thirsty all the time. And until I improve, I'm barred from seeing Jack, my were-jackal boyfriend. My babysitter, I mean 'vampire mentor,' isn't much help either. As if things weren't bad enough, the amulet that started this mess is whispering to me. Calling me somewhere. I think it might be my mysterious maker. Judging by the trail of bodies they're leaving across the globe, I don't want to know what will happen if I can't keep resisting.
Bloodline of the Ancients
July 13, 2022
Word Count: Information not available
Summary: Lasair Faol, Master of the Fade-Hounds to the Royal court of the Demesne of Fire in the Fae Realm, has been exiled to the human world by the Princess Consort for failing to catch her son's kidnapper. Bryce Newhouse, Greenwich Village investment banker, is universally loathed by all who know him. Generally, he's perfectly cool with that, but he discovers what he's been missing—literally — when he finds Lasair chained in his basement. Bryce was supposed to receive half of Lasair's soul at his birth, but thanks to the Fae of Purgatory, the Pattern — the portal between the worlds — has been damaged, and Bryce's soul arrived 31 years too late. Now the exiled Fae is the shunned human's only hope of healing his broken past. And with the fate of two worlds riding on that healing, Lasair is going to have to overcome both his race's innate mistrust of genuine emotion and his own very unFae awkwardness, to have any chance of reaching Bryce's impenetrable heart.
Blowing Smoke
July 12, 2015
Word Count:
30020
Summary: Willem's father never approved of his artistic talents, his choices in life, or the fact that he's gay. When the only thing Horst leaves to Willem is the family cat, he thinks it's his father's last insult from the grave. That is, until the cat starts talking to him. Though Willem's lost his boyfriend, his home, and his job, Kasha, who claims to be a magic cat, reassures him that all will be well. All he needs is Willem's trust and a good pair of boots. But giving boots to a talking cat has unexpected consequences when odd events ambush Willem at every turn, such as the appearance of a handsome stranger in his arms at night. While he begins to suspect Kasha's plans might be dangerous for all involved, how can he distrust such a charming kitty in cowboy boots?
Boots
December 6, 2016
Word Count:
23000
Summary: Christmastime brings out memories, and ghosts. Silas tracks down a poltergeist haunting a local tree farm. Darien hopes to convince Silas that despite experiences with demons and hells, Christmas can still be fun. Pip tries to catch his first rat. And Grim watches from a high vantage point and a position of moral superiority—he has holiday memories of his own, but cats know how to keep a secret. - A 23,000 word holiday novella in the Necromancer series.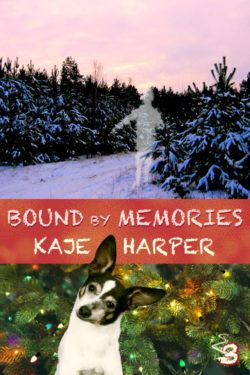 Bound by Memories
December 19, 2020
Word Count:
136000
Summary: With his career firmly established and his reputation as a successful PI growing, Hades should have the perfect life with his human lover, his faithful ferryman, his dogs and the parts of his family still speaking to him. But murder and chaos are never far away for death lords as his nephew Dionysus and his oldest friend Charon are drawn into the maelstrom. Includes: Books, Bulls & Bacchanals: Brandywine Investigations #4 Midwinter Dancing: Brandywine Investigations #4.5 Pack Up The Moon: Brandywine Investigations #5 Please note: Books, Bulls & Bacchanals has been re-edited for this edition.
Brandywine Investigations: Family Matters
February 28, 2018
Word Count:
125662
Summary: When humans forsake the temples, the gods need to find other employment. Hades opens Brandywine Investigations after his divorce and his subsequent move to the modern world. If he was hoping for boring infidelity cases and lost dogs, he's sorely mistaken as murder and mayhem find his agency and his extended family at an astonishing rate. Includes: Canines, Crosshairs & Corpses: Brandywine Investigations #1 No Enemy But Time: Brandywine Investigations #2 Dragons, Diamonds & Discord: Brandywine Investigations #3
Brandywine Investigations: Open For Business (BI 1-3)
April 27, 2016
Word Count:
117000
Summary: Sometimes growing up means giving up your preconceptions. Aaron Anderson and Jake Matthews were childhood sweethearts until Aaron developed psionic abilities that turned both of their worlds upside down and tore them apart. Six years later they reconnect when Aaron returns home to work with a youth summer camp affiliated with SPIRE. Jake is at the same camp, along with his current partners, to protest the organization funding it. Sparks fly when the couple reunites and Aaron discovers hidden abilities that bring him to the attention of SPIRE. Aaron and Jake have every intention of seizing their second chance at love. But once more, forces outside their control are at play. And the organization Aaron believes in is at the center of events targeting vulnerable youth. This M/M urban fantasy contains an open M/M/M relationship as well as an M/M relationship.
Bright Spark
February 22, 2019
Word Count:
22000
Summary: RELEASING IN AUDIOBOOK FORMAT APRIL 26TH, 2021 Colton is a trans man living in a climate-changed world. He plies the canals that used to be city streets, earning a living taking tourists on illicit journeys through San Francisco's flooded edges beneath the imposing bulk of the Wall. Tris is an elf who comes through the veil to the City by the Bay - the Caille - on a coming of age pilgrimage called the Cailleadhama. He is searching for his brother Laris, who went missing after crossing through the Caille years before. The two men find they have common cause, and together they set off to find Laris in a world transformed by the twin forces of greed and climate change. And in the end, they find out more than they ever expected, both about the warming world and their own selves. Note: This story was originally published in the "Myths Untold: Faery" anthology from Wilde City Press. It is presented here in its original form.
Cailleadhama: Through the Veil
SALE
April 26, 2021
Word Count: Information not available
Summary: This book is concurrent with Sunset (Pact Arcanum: Book 1) in story continuity. Child of Twilight Venice, Italy, 2039. When Michael Danvers witnesses a vampire attack, his latent ability to shapeshift awakens. Revealed as a Sentinel, the natural enemy of Nightwalkers, 13-year-old Michael must turn his back on his family and his safe, predictable life. But a supernatural battlefield is no place for a child, not even a genius like Michael. Betrayed by his own kind, he leaves Earth behind, hoping to find a new path with the Spacer Guild – and the stars. Tempered by Moonlight Relocating to the Citadel, Michael quickly makes a name for himself at the Spacer Guild Academy. But each advancement means less to him than the friendships he acquires, of fellow cadets William and Ariel, even as Michael is promoted above them. Forged in Starlight Everyone had plans for Michael's future: his parents, the Sentinels, the Guild—even his best friend, Will. But Michael takes control of his destiny, and when called upon to make a fateful decision with countless lives hanging in the balance, the only sense of honor that matters is his own.
Cathedral of the Sky
September 2, 2012
Word Count:
52000
Summary: Rakurai hunts demons. He doesn't consort with gods. Until he meets Tenzen. Tenzen cares for souls. He despises the callous, self-absorbed Yuvine. Until he meets Rakurai. A rescue and a sacrifice make a death god and a hunter fall in love, but a life of bliss is a long way off. Someone is disturbing the balance of magic and threatening two worlds. And while desire draws Rakurai and Tenzen together, duty, assassins, and clan politics keep them apart. Who will Tenzen and Rakurai save in the end? Two worlds or each other? *** Caught starts a new mm paranormal romance series, A Balance of Magic, featuring mortals and immortals from both sides of the veil, old promises, new revelations, and a bloody fight between love and duty. It is the first book of a trilogy and ends with a HFN. The characters will get their HEA in the final book. *** Tags: Tenzen doesn't look where he's going, how do you rescue a death god, Rakurai is honourable and Tenzen has no social skills, spending all your life alone does that to a god, yes - sharing a hot tub is a great idea; who is so stupid to send human assassins after a Yuvine hunter, Tenzen loses the plot - and his immortality, Rakurai is a mother hen, especially when Tenzen looks like that, this library is out of this world, Tenzen refuses to fall off the bridge, Rakurai can't decide which world he'd rather live in, that's what having a son does to you, a cinnamon roll death god in a rage, that happy ending is a long time coming.
Caught
September 24, 2021
Word Count:
76600
Summary: Werewolves are apex predators. So why does she feel like prey? Territory, honor, the trust of her peers - Jordan Abbey has earned none of these from the supernatural residents of Rancho Robles. The werewolves shun Jordan as a creature without honor for siding with the vampires. The vampires dismiss Jordan as an unruly pet who needs to be kept on a much shorter leash. Chased out of the wilderness and not allowed to shift within the city, she is without any place for her inner wolf to run free. Someone is killing the servants of vampires. Soon vampires themselves fall victim. Each attack is linked directly to Jordan, fueling rumors that she is working to undermine the vampires' grip on the city. The werewolves dog her steps, harassing her whenever and wherever they can. Then, in the heart of vampire territory, the corpse of a werewolf who bullied Jordan is discovered. The children of the Wolf and the Bat are ready to go to war, and Jordan is caught squarely in the crossfire. Can one woman prevent the annihilation of the only place she calls home?
Chaos Hunt
June 21, 2022
Word Count: Information not available
Summary: If he succeeds, he gets angel wings. If he fails, he gets unspeakable pain. What if Charlie wants neither?  Urban fantasy light short story with a touch of gay romance in a slightly noir short story with a very happy ending. In another Los Angeles, two Nephilim take hell-horses into battle against Angels, risking everything in an effort to give Hell's lowliest slaves a chance at freedom. Eventually, every Nephilim must face Choosing Day, and for Charlie Chrysalis, the day has arrived. At Angel Headquarters in Los Angeles, the Angel Sidriel—Charlie's guardian and also his worst enemy—asks the key question: "Spirit or Flesh?" If he chooses Spirit, Sid will certainly do everything he can to make sure Charlie fails, but he's made up his mind. His test: solve Region Six Immigration Crimes Case D665. It looks like a piece of cake. But can Charlie bring down Sidriel's brand of justice upon innocent, unfortunate souls, even if it means he must silence his heart and sacrifice the respect—and possibly love—of the one man he doesn't want to disappoint?
Charlie Chrysalis
February 1, 2021
Word Count: Information not available
Summary: I didn't think things could get worse… …but people started dying, and it was my fault. At first, I thought someone was playing a cruel trick on me, but that didn't explain the bizarre truth that defied scientific explanation: I had unwillingly become part of something ominous and evil. I'm not the kind of guy who cries often, and I'm certainly not a killer. I wouldn't even wish death upon my worst enemy, if I had one. But after losing two of my closest friends, I questioned my morals and beliefs: could I kill to survive? I didn't have time to mourn because I needed to discover where I fit in the supernatural world of Vampires, Lycan, and Spellcasters. If the crazy old priest and the Fae were right, then my place is second only to Lucifer Morningstar himself. Children of the Sun is the third book of The Snakeheart Series (Season 1), a supernatural novella series about Dante Coranguis and the ancient prophecy of the End Times.
Children of the Sun
June 30, 2020
Word Count:
130000
Summary: When the slightest touch triggers visions of horror, you learn not to let anyone close. After more than a decade hiding from society, Seth Albright is sheltered. His visions make it a necessary evil. After a precocious emergence as a seer when he was eight, his mother took him to live in the woods. To protect him. When he can't take another day of isolation, Seth turns to SPIRE. There, he gets partnered with Roy Merchant as his anchor. Enough inexperienced psions have burned Roy by using him as a stepping stone to last a lifetime. Roy has seen scandals come and go in his time with SPIRE. Seth has seen atrocities most people couldn't imagine. But neither of them has seen anything like what's coming for them next. This is MM urban fantasy containing some mild BDSM elements and an age gap.
Clear Sight
March 29, 2020
Word Count:
72000
Summary: Vampires and werewolves live long lives. The Sleepless City saga might have ended but the story continues… Welcome to the Vampire Guard, where legend and myth meet science and technology.   Vampires make the best spies. Throw a smart-mouthed werewolf in with three vampires, mix well, and The Vampire Guard's newest team is bound to become one of their greatest assets. Super spies with a full range of skills. Warrior, hacker, thief, and scientist.  They get in, do the job and get out before the bad guys ever know what hit them. Forge, Blair, Declan, and Lucas are thrust into the world of high-tech spies and top-secret espionage conspiracies. Recruited into the world's most elite and secret organization with one singular mission. Protect those who can't defend themselves from ruin. Life becomes complicated when an impending Presidential visit to their town, Boggslake, throws them headlong into the world of the vampires and werewolves of the Vampire Guard. Very quickly they uncover and confront a werewolf terrorist organization known as the Qiguan. Together they must thwart an assassination attempt on the open waters of Lake Superior while tracking a previously unknown biological weapon controlled by the Qiguan—a weapon which may very well mean death for one of them.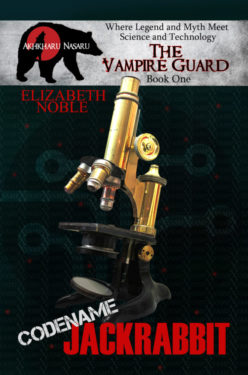 Code Name Jack Rabbit
January 12, 2021
Word Count:
75000
Summary: Temp worker David Evans has been dreaming of Dr. Alun Kendrick ever since that one transcription job for him, because holy cats, that voice. Swoon. So when his agency offers him a position as Dr. Kendrick's temporary office manager, David neglects to mention that he's been permanently banished from offices. Because, forgiveness? Way easier than permission. Alun Kendrick, former Queen's Champion of Faerie's Seelie Court, takes his job as a psychologist for Portland's supernatural population extremely seriously. Secrecy is paramount: no non-supe can know of their existence. So when a gods-bedamned human shows up to replace his office manager, he intends to send the man packing. It shouldn't be difficult—in the two hundred years since he was cursed, no human has ever failed to run screaming from his hideous face. But cheeky David isn't intimidated, and despite himself, Alun is drawn to David in a way that can only spell disaster: when fae consort with humans, it never ends well. And if the human has secrets of his own? The disaster might be greater than either of them could ever imagine.
Cutie and the Beast
July 24, 2017
Word Count: Information not available
Summary: Lucifer has been waiting for me to awaken… …and now I welcome the growing darkness inside me as I become who I'm meant to be. The Vampires are afraid of me, the Lycan want to disembowel me, the Spellcasters want to harvest my power, the Fae want to control me, and the Roman Catholic Church wants to murder me. The Soul Hunters… well, who knows what they want with me. I've never been on the run from anyone before, but after I started running from the Devil, I decided the only way to survive was to run back to him and embrace the evil power within and claim my destiny. My name is Dante Coranguis, but you might know me as The One, the Herald of Satan, or the Antichrist. From here on out, you can call me Snakeheart, the most feared man throughout the ages. Darkness Awakens is the sixth book of The Snakeheart Series (Season 1), a supernatural novelette series about Dante Coranguis and the ancient prophecy of the End Times. Get it now.
Darkness Awakens
October 31, 2020
Word Count:
110100
Summary: Nate's no supernatural expert, but even he knows a murdered man coming back to life to kill him can only mean one thing—the necromancer is back and out for revenge. Recruited by Department Seven in a desperate attempt to stop Peter before he claims new victims, Nate quickly realizes he's in way over his head. His powers are failing him, he's haunted by Peter's ghost, and he can't even remember how he stopped Peter the first time—or why he feels that someone very important is missing from his life. Ben is fighting for his afterlife. Trapped in the supernatural version of solitary confinement, he knows freeing himself will destroy New Camden's fragile peace—but what choice does he have? The longer he spends in his magical prison, the harder it becomes to resist his inner vampire. But if Ben wants to help Nate prevent Peter taking over the city, he has to prove himself to his sire—Saltaire, a thousand-year-old vampire with no qualms about using his immense power to suppress Ben's free will. As the casualties mount and the city descends into chaos, Ben and Nate must overcome their worst fears and impossible odds—or be written out of existence entirely.
Dead Wrong
February 26, 2018
Word Count:
112,000
Summary: Where does magic end and love begin? ​Oliver Evans spent his youth spinning one tall tale after another until it got him over his head in trouble. Now he has returned to his grandmother's cottage in Aberdaron, determined to put his past behind him and settle down. But the misty Llŷn Peninsula hides dangerous secrets and Olly is torn between the Longing, a powerful force driving him away from the only home he has ever known, and the growing conviction that the prince of his childhood make-believe is real and in need of Olly's help. There is more truth in Olly's stories than he realises. If he is to have any chance of righting past wrongs and rescuing his prince, Olly must navigate the truth in his old stories and discover the magic right in front of him. But Olly has a powerful enemy on the ​Llŷn, an ancient king who would like to end Olly's story-telling permanently. Written for the M/M Romance Groups 2015 Don't Read in the Closet event, Deep Magic was produced with the support and effort of members of the M/M Romance Group. You can find out more about the event and discover hundreds of other free stories here. Cover art produced by Bree Archer. Deep Magic does contain adult material.
Deep Magic
August 9, 2015
Word Count: Information not available
Summary: More than two thousand years ago, the healer Lochlann Doran was the first Fae to leave the Realm after the Sundering of the Fae and human worlds. After centuries of wandering the human world, seeking his SoulShare, he has spent all his magick, and lost all his hope. Garrett Templar is the star pole dancer at Purgatory, the hottest gay nightclub in Washington, D.C. If his past hadn't taught him the futility of hope, his present surely would; HIV-positive since age 18, his illness has suddenly and inexplicably mutated into drug-impervious AIDS. A SoulShare bond with Garrett may give Lochlann back his magick, his gift of healing. But it also might kill him. And if he survives the return of his magick, the Marfach and its host are waiting to use the dancer as bait in a deadly trap. Only an impossible love can save them both. And everyone knows Fae don't love….
Deep Plunge
June 22, 2015