Word Count: Information not available
Summary: Michael likes to pretend. When he rescues a tiny elf in his parents' garden, however, a witch threatens to stop Michael from pretending. Can he believe in himself?
Michael And the Elf
November 30, 2012
Word Count:
94000
Summary: A CHILD OF TWO WORLDS – BELONGING TO NEITHER, DANGEROUS TO BOTH. All Kisaki wants is a place where she can belong, but there are few safe havens for half demons such as her. Raised in isolation within the celestial palace, she longs to escape and explore the world below – Earth. So when an opportunity presents itself, she takes it, inadvertently stealing the Blade of Heaven – her mother's greatest treasure – in the process. Exploring a new land is terrifying enough, but hot on her heels is the tiger-spirit Shitoro. If he catches her, he'll drag her straight back home. She thinks it's to punish her. But in actuality it's to protect her. Kisaki doesn't know it yet, but there's a good reason she's been kept hidden. Half-breeds aren't tolerated by the great demon lords. If they find her, they'll stop at nothing to take the blade and use it to destroy her, her mother, and the new world she hopes to call home.
Midnite's Daughter
Word Count:
36000
Summary: MI-GRA-TION (Noun) 1) Seasonal movement of animals from one region to another. 2) Movement of people to a new area or country in order to find work or better living conditions. 3) Movement from one part of something to another. Three definitions to inspire writers around the world and an unlimited number of possible stories to tell. Here are 120 of our favorites. Migration feaures 300-word speculative flash fiction stories from across the rainbow spectrum, from the minds of the writers of Queer Sci Fi.
Migration
July 24, 2019
Word Count: Information not available
Summary: The Magician Washington, D. C., 2042. Toby Jameson is accustomed to being overshadowed by his brother Nick, but he doesn't have to like it. While attending the funeral of the First Lady of the United States, he finds a kindred spirit in Andrea Daniels, the President's daughter. When Nick discovers Andrea's supernatural destiny as a latent leader of the Sentinel race, Toby is happy to accept a secret assignment to protect her as she leaves the Armistice Zone, if only to gain a little distance from his relationship with his lover, Layla. The Daywalker Layla, the leader of the Daywalker race, has had three thousand years to earn her reputation as the Prince of Wrath. Her romance with the strong-willed young Sentinel has been contentious at best, but neither is willing to walk away nor give voice to a deeper commitment. When her protective overtures go awry prior to Toby's departure, provoking them into frank combat, it seems their relationship is finally doomed. Then a shocking discovery changes everything, casting the very nature of Sentinels and Daywalkers into question. The Wind In the wake of her mother's death, Andrea returns to England to escape the watchful eye of her estranged father. When Toby shows up on her doorstep unannounced, she knows he has a hidden agenda, but is willing to overlook his silence in the spirit of friendship that kindled between them at their last meeting. But nothing stays buried forever, and it's only a matter of time before they find themselves fighting for their lives against both the enemy they know, and a new menace that has emerged from within the virtual world.
Moonlight
May 29, 2011
Word Count:
43,000
Summary: What do you do when your heart contradicts everything you know? Ieuan is a young morgen in a lot of trouble. The storm he sung up to soothe his broken heart attracted the attention of the Cursed One, an underwater sorcerer exiled from the morgen group for a terrible crime. But the Cursed One wants Ieuan's help to save a life -- that of Zane, a sailor shipwrecked in Ieuan's storm. Ieuan finds himself drawn into the Cursed One's impossible task against his better judgement. But as his morgen kin mount a search for him, Ieuan's help might be all of their undoing. Set in the same world as Deep Magic, Morgen Curse explores what happened to the morgen who left the Llyn Peninsula.  Morgen Curse is not a sequel, exactly. And it's not exactly a romance either. It's a beginning.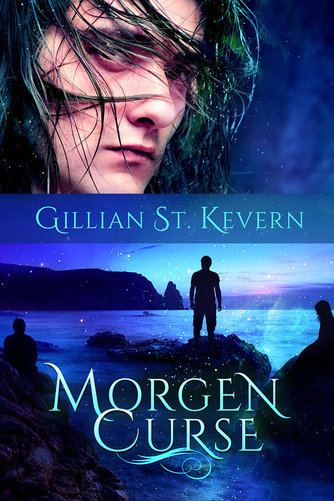 Morgen Curse
May 30, 2016
Word Count:
86,000
Summary: Does an underwater king have a future on land? A wave of near drownings along the Welsh coast can only mean one thing: the morgenau, Welsh sirens, have returned to the Llŷn Peninsula. Myrhydion seizes the chance to prove himself as future king. Instead, he falls under the spell of a cunning underwater sorcerer. Myrhydion fights to free himself, while keeping up the fiction of his human identity. As he loses more and more of his power to the sorceror, Myrhydion risks more than the crown. He could lose the life he's created on land with Olly. As Myrhydion and Olly struggle to protect the people of the Llŷn, Myrhydion faces an impossible choice. Surrender the magical powers that are his only defense against the machinations of the former king, his evil grandfather, or risk the lives of everyone he cares about. Rapidly running out of magic, options and friends, Myrhydion knows that only a king can win this battle--and Myrhydion is prince of nothing. Morgen Song rejoins the cast of Deep Magic eight months after the events of the first novel. Welsh folklore meets modern sensibilities as Olly and Myrhydion fight for their happily-ever-after, facing foes that range from an ancient and bitter king to mothers-in-law and AirBNB guests--as well as some new foes familiar to readers of Morgen Curse. Morgen Song is a modern fantasy perfect for readers of gay romance who like their happy endings with a touch of mythology!
Morgen Song
December 31, 2016
Word Count:
83000
Summary: Go to work. Come home. Repeat. Phil's life is boring and he loves every second of it. No excitement, no boyfriends breaking up with him over cereal in his underwear. When everything's predictable, nothing bad happens. But nothing good does, either. One night, when his best friend forces him to step outside of his comfort zone, he meets Shige who's too enigmatic to really be interested in him. He's trouble, but Phil can't help ignoring his own advice. Decades have gone by while Shige's kept himself locked away. He's tired of the world, of humans and vampires. He was happy collecting dust until one day he wasn't. On a whim, he ventures out and meets Phil, setting them on a path that'll change them both. Whatever this is between them, it won't come easy. Plagued by distrust and danger from within and without, but if they survive, it just might be worth it.
Nasu
November 14, 2017
Word Count:
82000
Summary: Callie, a Classics major, flees home to protect her family from a monster straight out of mythology. Visions lead her to Nectar and Ambrosia: the weirdest pub on Earth, where inter-dimensional travelers with attention seeking issues get drunk in between the A-list celebrity lives they create. They can't pretend to be gods anymore—not since a treaty with the current Supreme Deity promising they won't intervene in human affairs. The Doorkeeper of this threshold, Florian, rides herd on the rowdy Amaranthine and offers her shelter and a job. Callie likes the lonely, mysterious bartender more than she should. For Florian, her presence is a ray of light in the gray monotony of his sentence behind the bar, but he keeps a cautious distance—the truth of how he became Doorkeeper could change Callie's perception of him forever. When angels show up for a war council over Zeus's irrational mutters about a comeback, Callie has uncontrolled visions of an apocalypse. Ex-gods realize she's the first Oracle Priestess in generations. All Callie wanted was keep her parents safe, and now it seems she must sacrifice her future to keep the rest of humanity safe, too. Ambrosia could be the key to harnessing her visions— or it could cost her life. War is coming. The threshold between worlds has never been more fragile. Callie must discover who is pulling Zeus's strings and avert the final battle—before the immortal vying to become the next Supreme Deity kills her first.
Nectar and Ambrosia
June 30, 2018
Word Count: Information not available
Summary: **Also Available in "Guardians of a Giant's Treasure" anthology** William was a soldier until an IED severely wounded and scarred his body. Now he lives a quiet life in a small village in the Black Forest and is the caretaker of the church and caregiver to the local priest. He's grown fond of the two stone gargoyles on the bell tower and often speaks to them, reminding himself of Quasimodo. But on his thirty-seventh birthday he learns a stunning secret—the gargoyles aren't what they seem.
Night Guardians
November 23, 2021
Word Count:
74000
Summary: Three years ago, Danu banished Diego for a time from the human world. Three years and three days doesn't seem that long to be away from home but living among the wild fae can change a man and the human world returns the favor by changing while he's gone. There's a vampire on Tearmann Island's security force. A curious selkie's followed him home. So much to do to keep the world safe...but Diego's no longer sure he has the right to interfere. Theo Aguilar started his vampire life on the wrong side of the law. He's killed and knows he's dangerous if he doesn't stay in control every moment. But the fae took him in and Prince Lugh has given him a position of trust. So when Diego and Finn are arrested on a diplomatic mission far from home, he knows his duty. He's striking out on his own to rescue them, a lone vigilante once again, this time for the good guys. The only glitch? The selkie, Limpet, can't seem to understand the alone part.
No Fae Is An Island
January 15, 2019
Word Count:
54000
Summary: With his heart's desire at stake, can he resist giving Fate a little nudge? Half-norn event planner Anders Skuldsson is under strict orders from Asgard not to meddle with Fate. But with Enchanted Occasions' latest booking—the competition for the hand of Faerie's one true prince—crashing around his ears, it's really, really, really difficult to toe that particular line. So… if Andy just happens to pose as a contender for the prince? It's an emergency, damn it. Besides, it's only temporary, so Odin can hardly blame him. Right? If Conall of Odstone hadn't sworn a blood oath to protect his half-brother, Prince Reyner, he'd murder the idiot himself. Rey was supposed to be here, choosing a mate before being crowned and wed. Instead, he's disappeared, leaving Con to impersonate him. Again. But when Con meets Andy, his anger turns to desire… and despair. Even if Andy forgives him for pretending to be someone he's not, how could a man as appealing and accomplished as Andy—a man who's eligible for a prince's hand, for pity's sake—settle for the court outcast? As for Andy, his burgeoning feelings for the prince are both unfortunate and hopeless because hello? Half-norn? Faerie prince? Not exactly a match made in Valhalla. When the Faerie Queen herself hands down an ultimatum, the double deception isn't their only obstacle. Unless Andy makes the right decision, both their fates could be sealed by… well… Fate. Nudging Fate is a 54,000-word paranormal rom-com featuring mistaken identity, royalty in disguise, interfering coworkers, an iron knight with a soft heart, a temperamental goblin chef, and a guaranteed HEA.
Nudging Fate
May 15, 2018
Word Count:
254
Summary: Nukekubi are a form of Japanese goblin that during the day look like ordinary folk. At night they separate their head from their body and fly around scaring people to death to feed on the energies released. Ray McAndrues, a Pagan wizard/priest, encounters a Nukekubi that is feasting on the people of Toronto and decides that he has got to put a stop to it. Ray gains allies in his quest in the form of two Japanese martial artists who have made hunting Nukekubi their life's work and his on-again, off-again girlfriend Cathy, who is also a mystic. Problems arise when east and west do not communicate wall and Cathy is his on-again, off-again girlfriend. Also, what is the centuries-spanning tie that binds Ray to the Nukekubi and will it help or hinder the quest?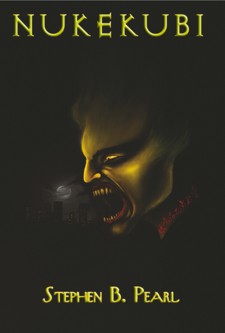 Nukekubi
January 8, 2012
Word Count:
70000
Summary: With a serial killer on the loose, the baffling mystery of Aiden's past, and their tenuous budding romance, Aiden and Fouchard tread through a world of magic and myth on padded shoes, terrified to stir up something neither can control or defeat. Aiden Mercer's life now centers around lounging on the sunny beaches of his adopted country with a beer in one hand and a coffee in the other while admiring the local male population. After a rough life as a respected detective in DC, playing it cool shouldn't be too hard, right? With the magical community on his case and dead bodies piling up around town, the responsibility of finding their killer seems fated to fall on him and deny him of his easy living. Then there is Naël. Cantankerous merman Naël Fouchard's life is focused on bringing up and protecting his little sister. When DNA found at the scene of the murders mark him as the prime suspect, Naël seeks out the help of Aiden, whose reputation as a detective grossly belies his lazy lifestyle and apparent lack of ambition. The chemistry between the strong, stoic Naël and the easygoing Aiden is undeniable, no matter how many walls Aiden builds. If this unlikely pair can't come to terms with their feelings for each other long enough to catch the killer, their emotional turmoil might yet allow the murderer to kill them instead.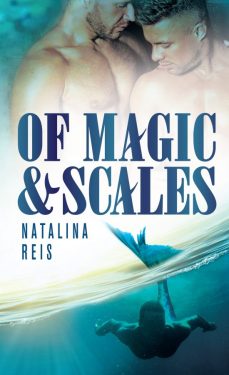 Of Magic & Scales
February 29, 2020
Word Count:
94560
Summary: Leah Corybn was a regular mail carrier who thought she had been bitten by a dog, until the next full moon revealed that she had become a werewolf. After months of hiding her secret in the city of London, she is about to learn she is not alone. As she attempts to navigate a world she never knew existed, can she find her place among the wolves of Londinium, or will she fail to prove herself in time?
Orphan's Cry
February 26, 2022
Word Count: Information not available
Summary: For millennia, the Sentinels have hunted the vampires with steel and magic... Alexandria, Egypt, 2008. Antonio is the Wind of Fire, the strongest Sentinel of that element, the most powerful spellcaster of his generation. Edgar is a capable Fire Sentinel in his own right, and serves as Antonio's lieutenant. Together, the two of them were chosen for a very special mission: to scout out the vampires' greatest citadel in preparation for the Sentinels' final assault. Their actions that night will set in motion a destructive chain of events that will echo across supernatural society for generations... San Francisco, 2015. A group of friends celebrating a windfall in their musical careers take a wrong turn down a deserted alleyway to find their path blocked by two creatures out of nightmare. Surviving only through the arcane intervention of a cryptic savior, they find themselves thrust unwillingly into the center of a war of extermination between two mystical races.
Pact Arcanum
October 5, 2016
Word Count:
52000
Summary: An untrained sorcerer and a reclusive necromancer face a ghost-infested town. Darien is free of his dead invaders, and his eyes have opened to a new reality. In a world of sorcerers and necromancers, he's full of power and potential, but completely ignorant. Necromancer Silas, and Silas's cat familiar, Grim, are teaching him basic skills, but danger won't hold off, just because he's not ready. Silas never planned to share his life with anyone, but after a week of shared battles and shared nights, Darien has become a fixture in his home. Silas has never met anyone with more raw magical ability, or less idea what to do with it. When Silas is offered a job hunting ghosts, he's tempted to refill his depleted bank account, but reluctant to bring untrained Darien along. Darien's eager to help, though, and eventually Silas gives in. It's just a few ghosts. Nothing he hasn't handled before. What could go wrong?
Powered by Ghosts
November 26, 2020
Word Count: Information not available
Summary: The nightmares tormented me for years… …and shortly after my thirty-third birthday, I learned why. My name is Dante Coranguis, and I have a great life, a solid job, amazing friends, and most importantly, lots of crazy sex. But on the night I met the vampires, everything changed, including my nightmare. My life's ambitions and dreams were snatched out of my hands because I was destined to become The One, the Herald of Satan, the Antichrist, the most feared man throughout the ages. And here I thought that was just a crazy horror movie about a poor kid named Damien Thorne. Prophecy Rising is the first book of The Snakeheart Series (Season 1), a supernatural novella series about Dante Coranguis and the ancient prophecy of the End Times.
Prophecy Rising
April 30, 2020
Word Count: Information not available
Summary: At Providence Paranormal College, class is about to start. Who's enrolled? Students who are a bit different: vampires, werewolves, changelings, shifters, psychics, and magi. For one-hundred years, the college has taught and trained only psychics or magi, and for the first time, it's opening the doors to those not different: regular humans. At this Ivy-League school, the students are expected to learn their powers and keep high grades. Unfortunately, grades are slipping, but that's what happens when a mysterious villain is hunting you down… Because someone is angry about this new admissions policy and they'll kill to stop integration. To defeat this rising evil, the students must band together and master their strange powers – because if they don't.. Well, it's pretty hard to graduate when you're dead.
Providence Paranormal College
Word Count: Information not available
Summary: The Education Continues at Providence Paranormal College! Five more books, no waiting. Read. Laugh. Catch a case of the feels. Book 6: Roundtable Redcap: Can Fred rescue his brother from the Fae Queen with just reluctant Psychic Irina to help? Book 7: Better Off Undead: Lane and his vampire punk band Night Creatures are broke and broken. Can they pick up their pieces and shine in a Battle of the Bands? Book 8: Ghost of a Chance: Ghostly Horace and his Medium, Bianca, must solve a mystery to save Professor Watkins. Book 9: Nine Lives: It's time for Olivia Adler to trust her instincts or Tony Gitano just might die for good. Book 10: Fae of Fae Knot: The family that's Fae together can't stay together. The series concludes as they bend the tantamount Faerie Law to its breaking point.
Providence Paranormal College
Word Count: Information not available
Summary: Four members of The Vampire Guard—Forge, Blair, Declan, and Lucas—face a dangerous and elusive enemy. And this time, it's personal. When massive tech outages impact everything from Wi-Fi to traffic control, Blair, Forge, Declan, and Lucas think it's a simple matter of catching troublesome hackers. But they quickly realize far more is at stake. Millions of dollars in art are the target of a thief who's not afraid to kill---and he's no stranger. Not only has he escaped capture, twice, a decade ago, but he's had a hand in life-altering tragedies throughout their lifetimes. Once it becomes clear that art theft is just a fraction of his plan for mass destruction, they realize time is running out. The clock's ticking. Catastrophe is imminent. Can they find and disarm all the bombs in time or will countless lives be lost?
Quarry
May 18, 2021